Chellsie Memmel's Gymnastics Comeback
Chellsie Memmel, 2008 Olympian and Mom of 2, Is Making a Gymnastics Comeback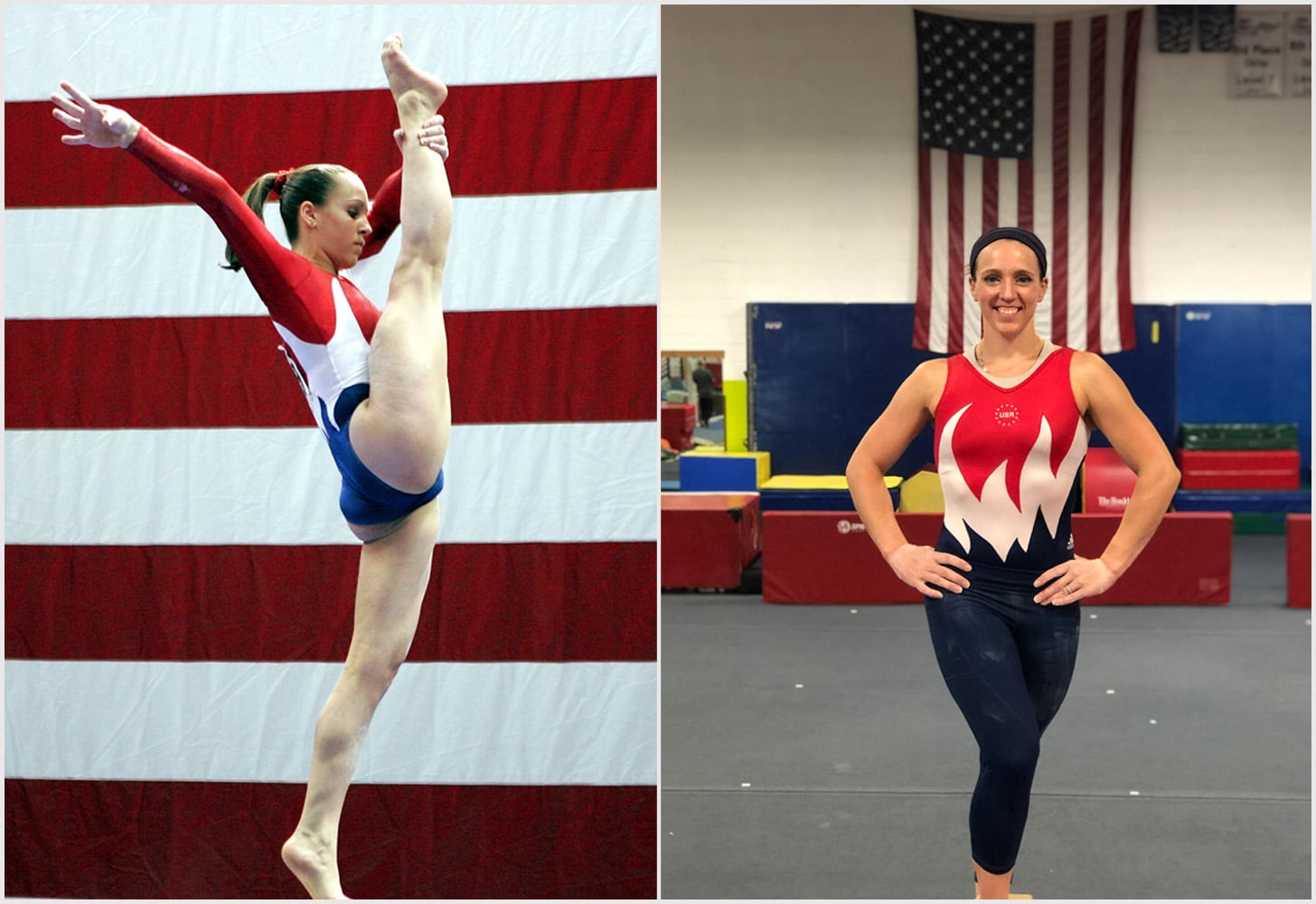 Image Source: Getty / Jim McIsaac and Courtesy of Chellsie Memmel
When gymnast Chellsie Memmel retired in 2012, she had no intention of returning to the sport — especially not at the age of 32. She received silver at the 2008 Beijing Games along with Team USA's Shawn Johnson, Nastia Liukin, Samantha Peszek, Alicia Sacramone, and Bridget Sloan, and she was also the 2005 world all-around champion. Memmel finally realized 12 years after her Olympic debut and eight years post-retirement that her weekly gymnastics practices were shaping into a full-on comeback.
Even a few months ago, Memmel, now a wife and mother of two, didn't consider declaring a comeback quite yet. Her journey started around the fall of 2018 when she began filming herself doing conditioning challenges to build strength. "One of the hardest parts for me was always getting into and maintaining a certain level of physical fitness, and that's what this has been about," Memmel told POPSUGAR. Then, she gradually — one hour a week at a time — played around with skills. "It was like, 'Oh, well, I feel good. Why not try flipping?'"
When the COVID-19 pandemic hit this year, Memmel upped her training to three days a week in the gym, with two separate days dedicated to drills (she coaches girls' levels seven through 10 at her parents' gym in Wisconsin, but the pandemic made it so the gym was empty, she said). Memmel documented this "adult gymnastics" journey on social media — the first weekly recap was in April — where you can witness her learning new flips, perfecting old skills, and deciding to train all four events again.
Memmel realized with each passing week that she's stronger than ever. The turning point came when doing skills felt easier than she remembered. "My body is different. I actually weigh more than I did at the height and the peak of my career," she said, adding that she has more muscle now. It wasn't until after her 15th week documenting her practices that she officially announced this was a comeback with the support of her dad, who coached her throughout her elite gymnastics career.
Here's why Memmel's announcement is groundbreaking: elite gymnasts spend dozens upon dozens of hours training weekly, sometimes as many as you'd dedicate to a full-time job. Memmel, in comparison, is not devoting as much time to gymnastics as she used to. Elite gymnasts also typically don't stay in the sport professionally past their early 20s. To put things into perspective, Aly Raisman went to her second Olympics in 2016 at age 22 and was referred to as "Grandma Aly." Meanwhile, Oksana Chusovitina, representing Uzbekistan, became a gymnastics legend when, at 41, she was the oldest gymnast to ever compete at the Olympics (she'll be 46 when she competes at her eighth Games in Tokyo next summer).
Should Memmel make it to the Tokyo Olympics, she'd be older than any American Olympic gymnast in 60 years, according to NBC Sports. But it's not just about Tokyo — Memmel hasn't said out loud that that's her goal. So far, it's about competing again on the world stage, whether that be in the summer Olympics or at another major competition like the World Championships (Memmel's dad even joked about going for Worlds before she announced her comeback).
Memmel has spoken with Tom Forster, the US women's high-performance team coordinator, about her comeback, and she said he's supportive. Though there's nothing on the schedule for the rest of this year at the USA Gymnastics training center, that's where Memmel would start. "I'm not naive," she added. "I know how hard it is to make an Olympic team, and just the field of athletes right now is incredible. But even if there would be a slim possibility, why not give it a shot and just see what I can do? See what this type of training at this age [is like], and what I can do when my life doesn't fully, 100-percent revolve around gymnastics like it did before."
Memmel has a turn on floor named after her in the Code of Points, but another one of her comeback goals is to lock down a second namesake skill. The specific skill she's going for is a piked Arabian on beam, which is basically a straight-legged front flip where you start the opposite way and do a half turn into the flip. She'd have to be the first to land it at, for example, a World Championship competition. Above, you'll see Memmel practicing a combination on beam that features a piked Arabian.
Memmel isn't piecing together full routines yet — just sets of skills — and she doesn't have all the answers for what her comeback will look like moving forward. Going into this journey, she knew she wanted to take it slow because of her history with shoulder injuries, but she got the go-ahead from her physical therapist and ultimately is confident in her progress.
Memmel is smarter about how she trains, focusing on fewer repetitions of skills but more consistent quality. "I've learned so much about myself and my body, and I already feel proud of the progress that I've made training differently than I was before," she said. "To still be able to make significant progress in 16 weeks, I think already says a lot."
Memmel continued, "I also want to just be able to inspire people and moms, especially moms, to take some time to do something for yourself. Sometimes we get a little bit lost and tied up in our kids, and that's not a bad thing at all, but I feel like I'm a better mom when I have some time to do things for myself." Memmel truly found joy in her comeback, she said, "and now I'm excited to see where it takes me."