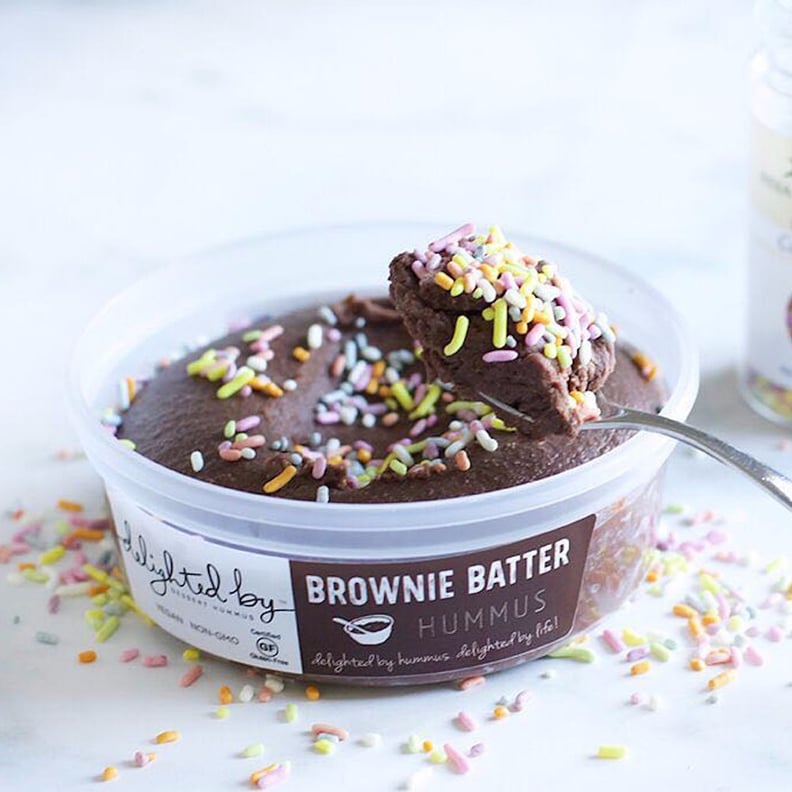 Ladies and gentlemen, it looks like the hummus gods are truly shining down upon us because dessert hummus officially exists. Now, before you go questioning your entire existence over the use of "dessert" and "hummus" in the same phrase, allow us to clue you in on the hype, and you'll definitely hop on the bandwagon along with us.
The source of this heavenly madness is known as Delighted By, a budding company that was featured on a recent episode of ABC's Shark Tank. On the show, founder Makenzie Marzluff pitched her one-of-a-kind dessert hummus to the "sharks," and Mark Cuban invested more than half a million dollars in the business. Why? Because it's a pretty f*cking genius idea that we honestly wish we'd thought of first.
Makenzie's dessert hummus is the perfect healthy treat for both vegan and gluten-free foodies. Made with chickpeas (hello, protein!) and sweetened with either coconut sugar or raw turbinado, it's apparently reminiscent of cookie dough in terms of consistency. As for flavors, Delighted By's dessert hummus comes in four options: Brownie Batter, Choc-O-Mint, Vanilla Bean, and Snickerdoodle. Is your mouth watering yet?
Delighted By has formulated tons of creative ways to enjoy its dessert hummus, including smoothie, muffin, and parfait recipes. But honestly, our personal go-to option would be eating this stuff by the spoonful shovelful.
So where on earth can you find this indulgent yet healthy snack? Delighted By's dessert hummuses are available at a variety of retailers throughout the US, such as Whole Foods, Publix, and Walmart. Before you make a mad dash to your usual grocery store, be sure to use Delighted By's handy store locator to see if it's available near you, and then get the scoop on all four tempting flavors ahead.
Vanilla Bean Hummus
Ingredients: garbanzo beans, water, organic turbinado sugar, coconut milk, vanilla extract, ground vanilla beans, cultured dextrose (dairy-free, all-natural digestive enzyme), and sea salt
Nutritional Info Per 2 Tablespoon Serving Size: 50 calories, 1 gram of fat, 9 grams of carbs, 1 gram of dietary fiber, 6 grams of sugar, and 1 gram of protein
Choc-O-Mint Hummus
Ingredients: garbanzo beans, water, organic turbinado sugar, coconut milk, unsweetened cocoa powder, coconut oil, cultured dextrose, sea salt, and peppermint oil
Nutritional Info Per 2 Tablespoon Serving Size: 60 calories, 2.5 grams of fat, 7 grams of carbs, 1 gram of dietary fiber, 4 grams of sugar, and 1 gram of protein
Snickerdoodle Hummus
Ingredients: garbanzo beans, water, organic turbinado sugar, coconut milk, sesame tahini, coconut sugar, pure vanilla extract, ground cinnamon, cultured dextrose, and sea salt
Nutritional Info Per 2 Tablespoon Serving Size: 60 calories, 2.5 grams of fat, 8 grams of carbs, 1 gram of dietary fiber, 5 grams of sugar, and 1 gram of protein
Brownie Batter Hummus
Ingredients: garbanzo beans, water, organic turbinado sugar, coconut milk, unsweetened cocoa powder, coconut oil, pure vanilla extract, cultured dextrose, and sea salt
Nutritional Info Per 2 Tablespoon Serving Size: 80 calories, 6 grams of fat, 7 grams of carbs, 1 gram of dietary fiber, 4 grams of sugar, and 1 gram of protein