Florida Gymnast Trinity Thomas Is Aiming For Tokyo 2020
Meet Trinity Thomas, a Collegiate Gymnast Also Fighting For a Spot on the Tokyo 2020 Team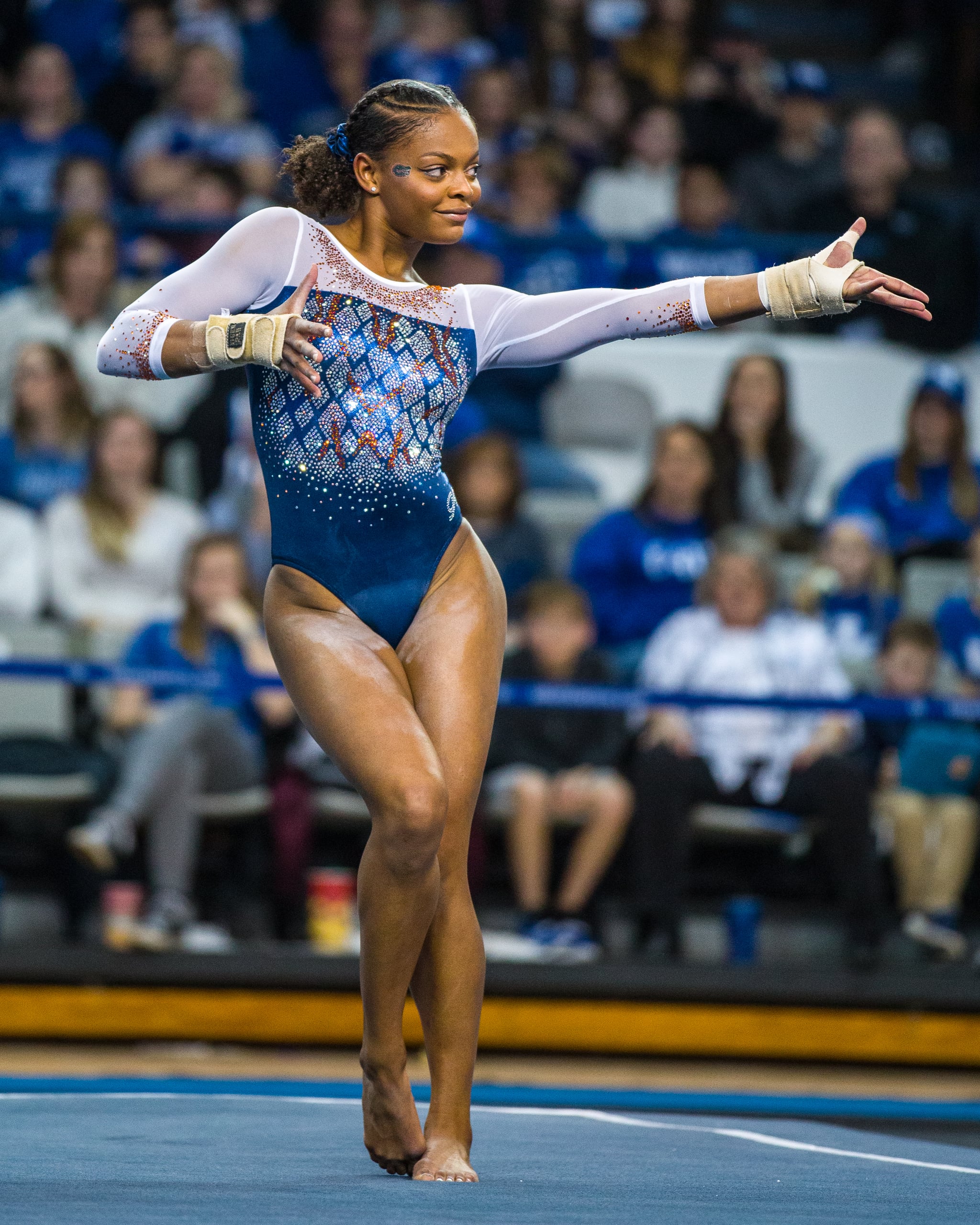 Image Source: Erin Long / Gator Gymnastics
Gymnastics is gravity-defying, requires full-body strength like you wouldn't believe, and brings a whole new perspective to what it means to fight for perfection. However, there are differences between the collegiate level — NCAA gymnastics where athletes (think: Katelyn Ohashi) strive for the perfect 10 — and the elite level, defined by greats like Simone Biles who haven't been limited to the perfect 10 since a scoring system change in 2006.
It's common for elite gymnasts to transition into collegiate gymnastics — it's a chance to join an environment that's less strict and more so about sisterhood. Some Olympians, like Kyla Ross and Madison Kocian, for example, both currently on UCLA's team, have done it. But rarely ever do you hear about collegiate gymnasts balancing their school seasons with elite (note: if you turned pro while you were on a high level like elite gymnastics, you're not even allowed to participate on a college team). Take 2016 Olympic alternate MyKayla Skinner. She deferred her senior year at the University of Utah in order to focus on elite-level training. Her goal? Tokyo 2020. However, University of Florida sophomore Trinity Thomas is defying the odds; she's doing both.
In fact, Thomas is reportedly the only member of the 2019-2020 US women's senior national team who is currently competing in the NCAA (this group includes Skinner, Biles, Morgan Hurd, and others). She told POPSUGAR over the phone that, while she's concentrating on her second season with the Florida Gators, her sights are still set on trying to make that four-person Olympic team this Summer. The key for her is to compartmentalize — work on her collegiate routines now, then switch gears after the NCAA season to compete in two major elite competitions in the hopes of qualifying for the Olympic trials in June.
This might not seem like a big deal on paper, but it's definitely a transition. Not only is the scoring different (as mentioned before), but there's more risk-reward in elite gymnastics. The skills in the collegiate program are generally less difficult. Judges aren't as concerned with the gymnasts throwing more advanced, high-valued moves because, instead, it's all about how clean you are; how close you can get to that perfect 10. In elite, your level of difficulty matters. The event that requires the most changes is floor: you do three tumbling passes in a collegiate floor routine but four in elite. Thomas describes adding in that extra pass as tough, especially if it's a higher level of difficulty. However, if she keeps up with her cardio, she'll be fine, she said.
Thomas knows this because she's done it before. After the 2019 season, where she competed individually at the NCAA Championships — Florida as a team didn't make the cut — she transitioned to elite and competed in competitions such as the GK US Classic in July and August's 2019 Nationals (you'll see a floor routine, complete with four passes, from day one of that competition below). The one mistake she said she made last year was waiting too long to start incorporating those harder skills into her practices. Doing that this time around bit by bit will, she said, make it so she doesn't have as much ground to cover at the end of the collegiate season.
Thomas's aim is to not overdo her training at this point. She might be upgrading her passes on floor or nailing down connections on beam (adding another back layout stepout to her tumbling series, for instance), but she isn't going to do full elite routines just yet. Right now she's in Gator mode, and it's also all about structure for her. "I'm really focused on college gym, obviously. My routines are a little bit easier, but I made sure that the structure of my routines are very similar to what I'm going to do this Summer," she explained.
Now, Thomas trains three days per week and competes every Friday. Once the 2020 collegiate season ends, Thomas said her hours will most likely stay the same because she'll have the Florida Gymnastics gym to herself and she can get in and out fast. This is her fourth year on the women's national team, and she'll be training with her current collegiate coaches Jenny Rowland, Adrian Burde, and Owen Field. For Thomas, staying healthy is a big priority. In the collegiate season, you're competing every week, which she said can tire her out. She needs to remain healthy so that when she does start to upgrade her skills, her body will be well-equipped to take on those changes.
"My goal is just to inspire all the younger gymnasts and push them to follow their dreams and know that there's no limit to what you can do no matter what."
Thomas has received four perfect 10s so far in her collegiate career, all awarded in this 2020 season: two on beam, one on floor, and one on bars (seen ahead). When asked what is more rewarding, nailing that perfect 10 or getting through a difficult routine in elite gymnastics, she said they're both memorable feelings. "It's that difficult routine in elite when you finally hit it in competition, or you just introduced this new skill and you're finally completing it for the first time . . . that's so awesome, and it makes me feel so happy," Thomas explained. But on the other hand, "a 10.00 in college gymnastics is just so exciting, and having your team run up to you screaming, I think, is the best part of it, too."
When it comes down to it, Thomas's heart is with the Florida Gators, and her will is steering her toward Tokyo. For her, deferring a year to focus on the Olympics wasn't what she wanted to do. "I like a challenge," Thomas admitted. Plus, having back-to-back competitions for the Gators boosts her confidence in her abilities. Participating in Tokyo, she said, would be "amazing," but that was never her only goal. She grew up dreaming of one day receiving a gymnastics scholarship, and only when her talent grew did she consider the Olympics a possibility.
Thomas said there were a lot of people who didn't believe in her in the past — and a lot of people who didn't think she could balance both elite and college gymnastics. But she's doing it. "My goal is just to inspire all the younger gymnasts and push them to follow their dreams," she said, "and know that there's no limit to what you can do no matter what."