Forward__Space Virtual Dance Cardio Workout Class Review
Forward__Space's Dance Cardio Workout Had My Nails, Hair, Hips, and Invisible Heels Moving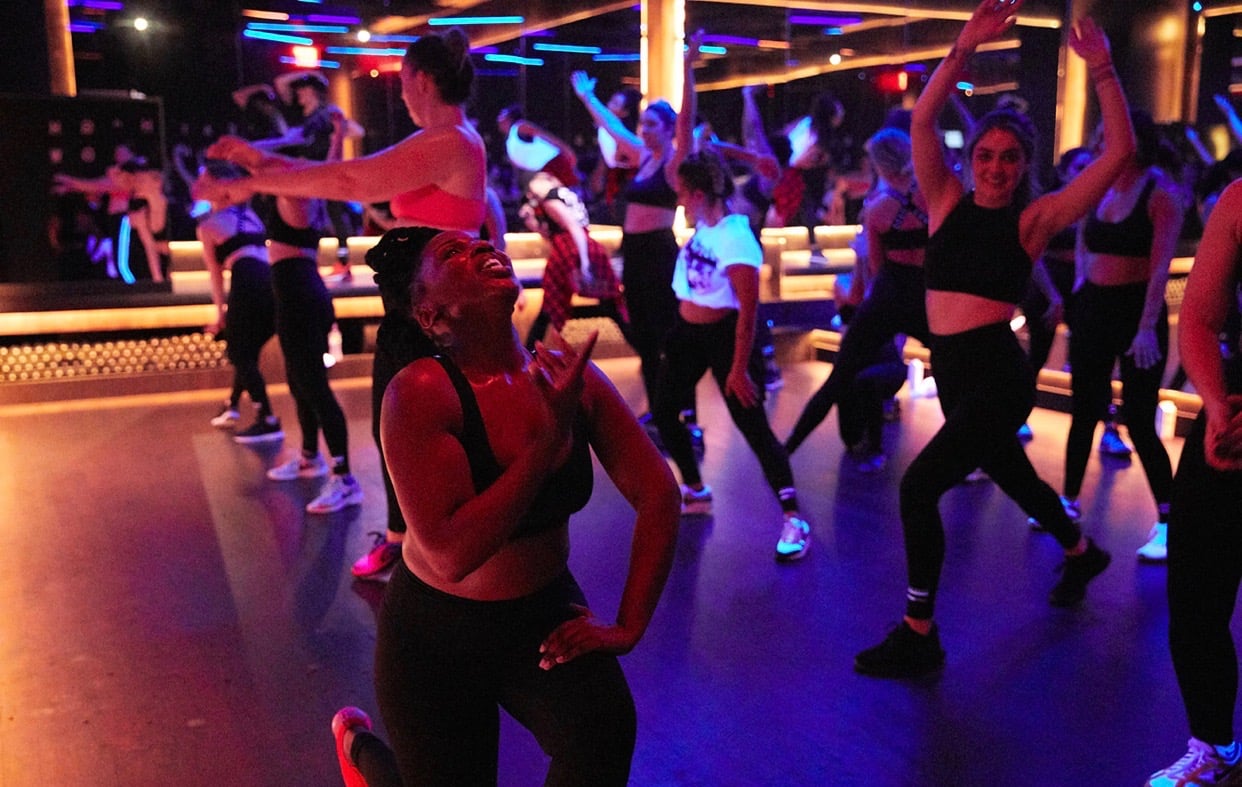 I've danced all my life. From shaking my tailfeather in the womb (according to my mom) to getting my undergraduate degree in dance, my favorite way to move my body has always been dance. So it's no surprise that one of my favorite ways to work out is dance cardio.
I recently got the opportunity to take a 30-minute virtual dance cardio class by Forward__Space, hosted by hair-care brand Gemmist. Forward__Space is a dance cardio workout class that hosts classes on both its virtual platform and studio in New York. Each class "combines dance moves and athletic condition," according to instructor and founding team member Rachel Warren.
Keep reading to find out how I got a full-body and full-face workout from lip-syncing during the entire 30-minute workout.
Forward__Space Virtual Class Experience
At the start of class, I already felt like we were warming up for a dance class. Moving to Dua Lipa's song "Hallucinate," we did moves like alternating reaches, shoulder rolls, and lunges. The lunges made me feel like I was back in a contemporary dance class because we lunged to one side pushing both arms forward then transitioned through a squat, pressing our arms out to the sides, to then lunge to the opposite side.
Perfectly timed to the music, Britney Spears's "Toxic" started playing, and we started punching. Shortly after the intro of the song, we began one of my favorite moves of the class, which Warren described as "reach, reach, reach, drama." This move had us stand with our feet wide while holding one arm out to the side. The other arm reached up three times, then we threw the reaching arm across the body to meet the horizontal arm dramatically.
As we moved through class, I noticed a pattern: we repeated and revisited the moves throughout the song. This allowed for us to get comfortable to dancing to the beat so we could add our own flair to the moves. And with the next song, I got to add my personality into the moves while practicing my rap skills.
The second I heard Megan Thee Stallion's "Thot Sh*t," I could feel it in my bones that we were going to do squats, and squats we did. We started with standard squats, then added punching the arms one on top of the other. After I was done living it up, it was time to get the heart rate up with some cardio.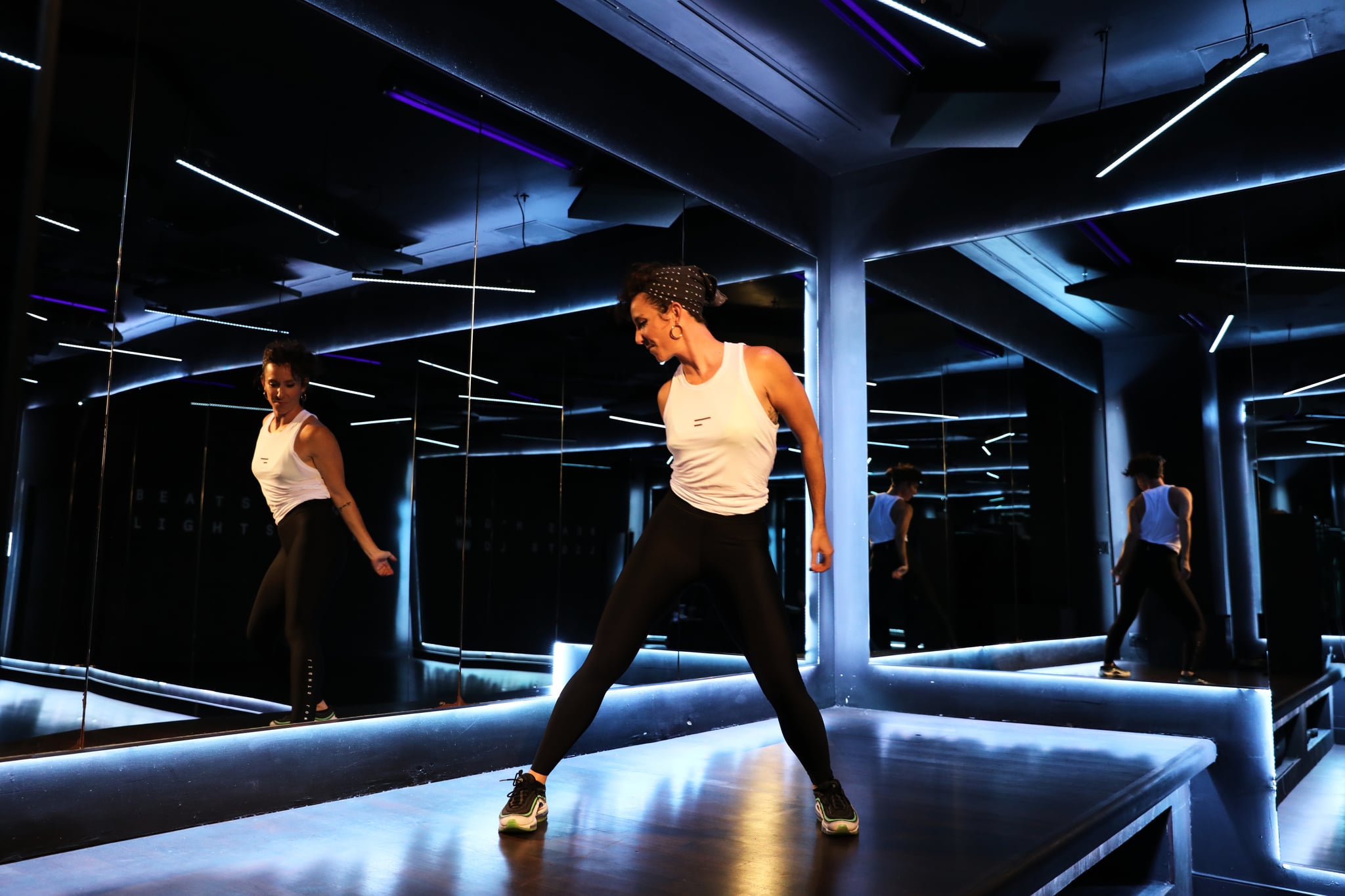 Over the next couple of tracks, we went through heart-pumping moves like jumping jacks, fast feet, and jump squats. Woven between the cardio moves, we did a bit of toning with moves like triceps pulses and flapping our arms like wings while passionately lip-syncing to Adele's "Set Fire to the Rain."
Time flew as we were working out, as it was time for the last song, "Nails, Hair, Hips, Heels" by Todrick Hall feat. Ciara. As someone who's seen Ciara and Hall perform this song live in 2019, I went in on this song. Best of all, after some final jumping jacks and arm reaches, we got to do several poses of our choice to this song!
To cool down from the grand finale, in an encore kind of way, we took a variation of the electric slide to Rihanna's "Talk That Talk." As our cooldown song faded away, we took a big breath together to close.
At the end of class, Warren gave a shout-out to everyone who participated, including those who only did the upper-body moves. Throughout the whole class, I really felt like I was just moving with the music, but it turns out that I also did a full-body workout.
If you want a workout that has you so immersed in the music and moves that you forget you're also working out, then give Forward__Space a try.
Image Source: Forward__Space