GirlTrek Is Empowering Black Women and Girls to Take Up Space — One Walk at a Time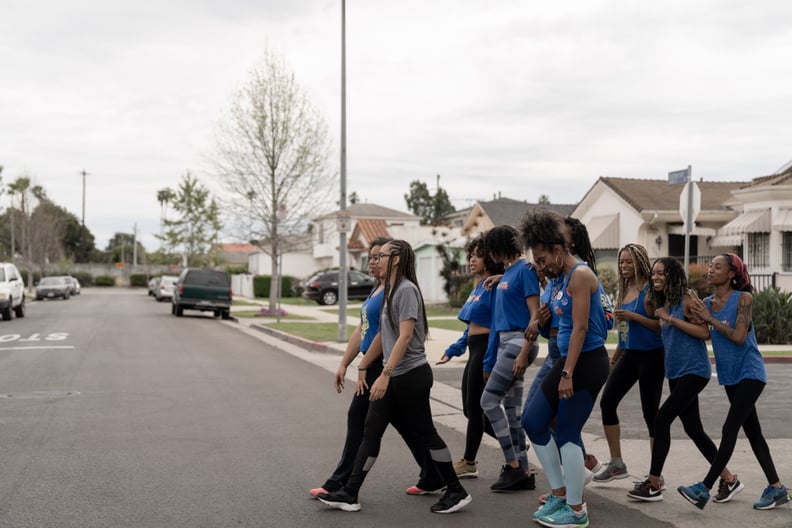 Courtesy of GirlTrek
Courtesy of GirlTrek
Vanessa Garrison and T. Morgan Dixon founded GirlTrek in 2010 as a means to get Black women and girls moving. The goal was to motivate them to walk for at least 30 minutes each day — or as much as possible in their neighborhoods — to help mitigate the risk of heart disease and diabetes that disproportionately affects Black women in America. However, GirlTrek's mission spans well beyond improving health — it's about social change and empowerment, too.
"Although women have lots of different personal fitness and health goals with GirlTrek, and we are a direct solution to the health crisis, we are a movement that is looking at the kind of broader ecosystem around what Black women need to be wholly well," Garrison told POPSUGAR, "and we're trying to address the root causes of why we are unwell."
Since its inception, GirlTrek has grown tremendously to be, according to its mission statement, the largest US public health nonprofit for Black women and girls. The goal is to reach one million members across the country before the end of 2020. Currently, there are over 820,000 members.
In June, GirlTrek launched its first Black History Bootcamp, a 21-day series of walk-and-talk episodes that people could listen to on their walks (members also got a daily story and a "Black power" playlist of music). Each walk-and-talk recording honored Black female activists and leaders such as Audre Lorde, Olive Morris, and Shirley Chisholm, the first Black woman elected to Congress — and each live recording was stored after the fact on Spotify and Apple Podcasts.
"Black women need a way to connect with one another during COVID-19. We also are feeling under attack with social justice issues, and we need to remember where we came from, so we developed Black History Bootcamp," Dixon told POPSUGAR. It was so popular that GirlTrek is doing another 21-day rendition of this starting on Aug. 3, which explores acts of resistance in Black communities across time, or, as Dixon described it, "the 21 most powerful, pivotal moments in Black history." (You can sign up for that here and, remember, the talks will also be available to listen to later on if you can't dial into them live.)
It's activations like this that keep the GirlTrek community motivated and reminded of their togetherness, especially through the current COVID-19 pandemic. And, you don't need to be in a team to walk with GirlTrek. "In fact, of those 820,000, probably 60 percent of the women are what we would call 'solo trekkers,'" Garrison said. "The idea is that you're just out in your community. Those women can then organize at their work, at their place of worship, with their cousins, virtually, et cetera." Teams, she noted, are an added layer of accountability, but they're not a necessity in the movement.
All of GirlTrek's monthly campaigns, Garrison explained, keep in mind that "we have always said that we walk in the footsteps of a Civil Rights legacy, that it is the Black women before us who have paved the way, and that there's nothing on the road that they have traveled that we have not faced, cannot overcome." Just two years ago, the GirlTrek team walked 100 miles on the underground railroad to celebrate Harriet Tubman. GirlTrek members follow in the footsteps of the freedom fighters who came before them.
"What we're telling Black women is to take up space. We're telling Black women to be fearless."
GirlTrek's influence, Garrison noted, is "only as good as the next best idea — the next woman out there in Detroit or Oakland who is walking and organizing — that really is the fire of the movement." She and Dixon gave a powerful TED Talk in 2017, and one of the topics of conversation was around Black women walking to make change (on the GirlTrek website, a call to action reads, "When Black women walk, things change"). That, both founders agreed, is a timeless truth.
"It was really, really relevant when Harriet Tubman actually walked herself to freedom. It was absolutely relevant during the Civil Rights era when Black women were walking into protest buses and boycott buses," Dixon said. It was relevant when GirlTrek first started and the core mission was to combat the health crisis facing Black women by walking to improve health, she added. And, this is equally as powerful and relevant now "because what we're telling Black women is to take up space."
Dixon continued, "We're telling Black women to be fearless. We're telling Black women to audit the needs of their neighborhoods, to inspire their daughters to take to the streets, to come together in collective action in order to solve their own problems at the community level. All of that happens through walking, talking, and solving solutions, and making solutions together."
Dixon added, "It also just started with me and Vanessa as two friends, and so the fact that we now have over 800,000 and by the end of this year we'll have a million women walking by our sides, is such a powerful trajectory of what's possible when people are on one accord. And when people believe in and trust the power of other women to help build alongside of us, it really is a testimony."
"The idea is that no matter where you are, you feel connected and know that your one tiny act of rebellion is being knitted together to form this really powerful movement."
Garrison said that a large part of why women are attracted to GirlTrek is for the social cohesion, the accountability it creates, and the support they receive. "The idea is that no matter where you are, you feel connected and know that your one tiny act of rebellion is being knitted together to form this really powerful movement."
Above all else, Garrison stressed that she wants Black women to know they are the causes worth fighting for; "that our own lives are actually worth saving, and that the daily walking that they do is a protest against every single thing that is trying to kill them. And we want them to survive."
Take the pledge to start walking in your community and commit to 30 minutes of "radical self-care" every day by clicking "Join the Movement" on GirlTrek.org.