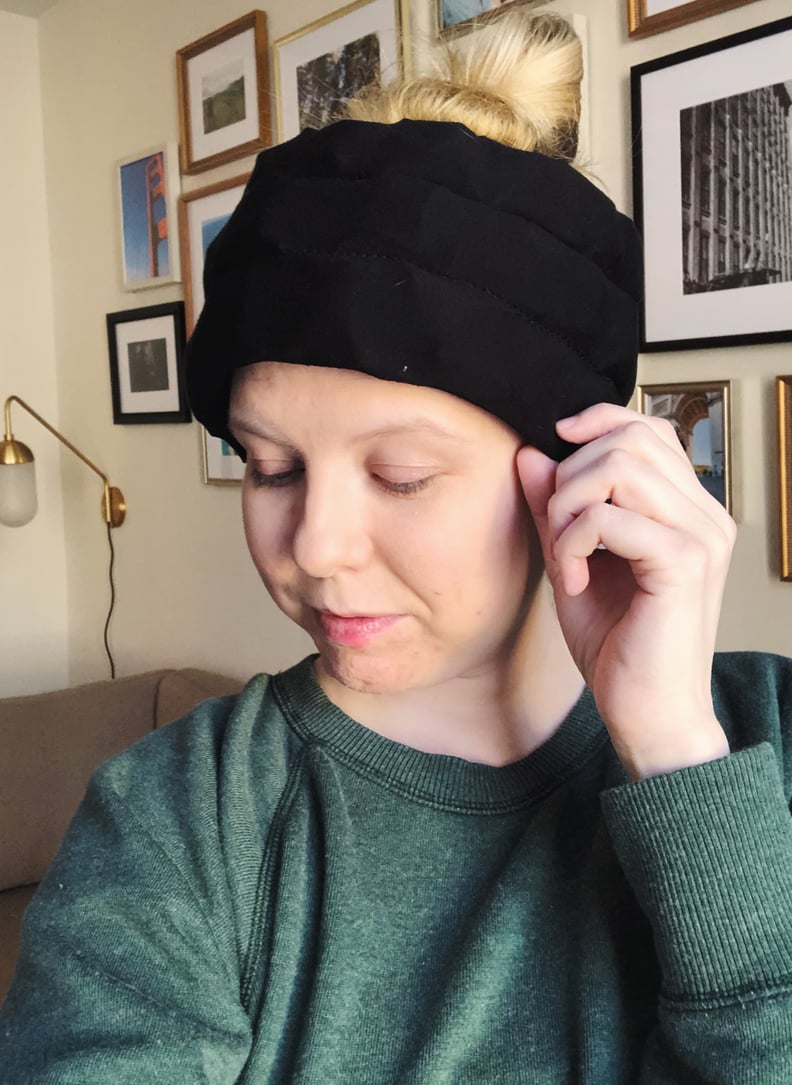 POPSUGAR Photography | Karen Snyder Duke
POPSUGAR Photography | Karen Snyder Duke
As POPSUGAR editors, we independently select and write about stuff we love and think you'll like too. If you buy a product we have recommended, we may receive affiliate commission, which in turn supports our work.
For most of my life, I wasn't a migraine person. Then, one day about five years ago, I got knocked down by searing pain behind my right eye. By the time I went to bed several hours later, my eye was red and puffy from a seemingly endless stream of tears. I woke up in agony throughout the night, only drifting back off to sleep after my husband replaced the ice pack on my head with a fresh one.
That first migraine lasted a grueling 24 hours, and since then, I've had them pretty regularly. Over the years, I've learned to spot the warning signs that a headache is coming on, so I can take pain medicine as quickly as possible, and I try to avoid known triggers, like not drinking enough water or getting too little sleep. But when these preventive measures fail — and they often do — there's one remedy I know will help soothe the pain, at least to the point that I can get a restful night's sleep: ice.
My husband works in physical therapy, so our freezer was stocked with therapy packs long before I began experiencing migraines — but once those headaches struck, the ice packs served a new purpose. Instead of nursing a sprained wrist or ankle, they were tucked between my neck and a pillow, or draped over my eye and the side of my head, in an effort to numb a migraine.
For me, the pain is always centered at two points: behind one eye (which sometimes radiates to the top of my head), and at the base of my skull on the same side. It's near impossible to get an ice pack to stay put on either spot, even when I'm lying down. And sitting up? Let's just say I've sat under the fluorescent lights of a corporate office, trying to recreate that cooling sensation with a few dabs of peppermint oil too many times to count.
When I began working from home during the pandemic, I decided it was time to invest in something better. So, I started researching cooling caps — something I could strap to my head when the pain was just bad enough that working was uncomfortable and that would stay in place during the night when I needed it most. That's when I found the Headache Hat ($40), a flexible ice pack that, when fastened at the base of the head, provides halo-like cooling relief to the forehead, temples, and top and sides of the head. You can even pull it down over your eyes if you're resting, and I often twist it around so that the Velcro is on one side of my head and the ice pack is concentrated on the other, hitting those pain points behind my eye and at the base of my skull.
I've had moments when I started to feel a headache coming on during the workday, and after taking a pain reliever and wearing the Headache Hat for a bit, I was miraculously fine.
The Headache Hat comes with a convenient storage bag for your freezer, and you can buy a Headache Hat Micro Fleece Barrier ($7) separately to protect your skin and make wearing ice for longer periods more comfortable. When I tell you that it's a game changer, I mean it. I've had moments when I started to feel a headache coming on during the workday, and after taking a pain reliever and wearing the Headache Hat for a bit, I was miraculously fine. That may not sound like a big deal to people who have never suffered from migraines — but those of us who have know that trying to stop a headache is a bit like trying to stop a speeding train.
Most importantly, the Headache Hat has made getting adequate sleep so much simpler, and for me, rest is crucial to bouncing back from a migraine. Typically, I'll wear the Headache Hat so that it's fastened behind my head and lay on my back with one of our trusty therapy packs resting beneath my neck for 360-degree relief. My only regret with the Headache Hat is that I didn't buy more — at some point during the night, I usually have to swap it out for another ice pack, and I'm always disappointed to be without it for a few hours. I plan to buy another one (or two) ASAP, because when something makes me this comfortable, it's worth its weight in gold.
While this cooling hat is no replacement for a good pain reliever — or even a prescription medication, if your doctor recommends one — it's become an essential part of my headache toolkit. I would recommend it to anyone. Now how do we petition for this to be acceptable office attire?