Headspace Mini Meditations on Snapchat
Snapchat Just Made Meditating a Lot Easier With Short Headspace Sessions on the App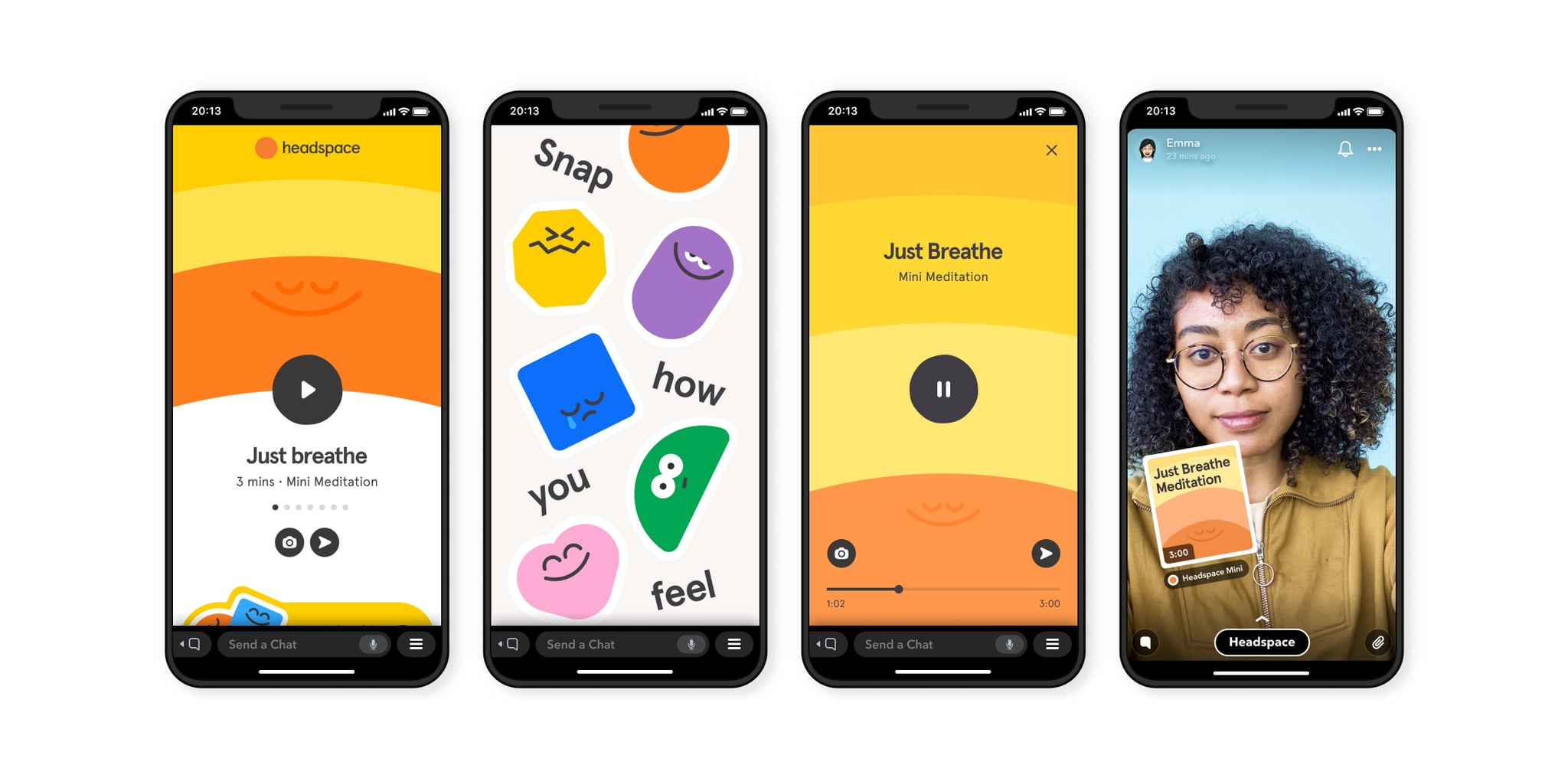 Snapchat just got a lot more . . . calm. Starting July 20, users can access free Headspace meditations directly on the app. You can find them by clicking on the rocket icon when in a chat with a friend or by typing "Headspace" in the search bar. Note: you don't need the Headspace app since this feature lives inside of Snapchat itself, but I personally had to update my Snapchat app to have access to the meditations.
When I opened the Headspace feature on my phone via a chat or the search bar, I got six guided meditations to swipe through, all between three and five minutes long: "Just Breathe," "Get Out of a Funk," "Kick the Panic," "Be Nice to You," "Pressure to Succeed," and "Me Time." I had the option to do them myself and send them to someone on the app.
According to Mashable, if friends are doing a meditation session at the same time, their Bitmojis will appear in the bottom-left corner of each other's screens. What's more, when you scroll, you'll see a "check in with your friends" option, which lets you take a regular Snapchat with a group of "vibe check" stickers. You'll also find other GIFs and stickers you can use to share how you feel or send messages of encouragement. The encouraging icons in particular — doodles that are paired with blurbs like "look for the blue sky" and "show kindness" — provide a nonintimidating way to tell your friends you are here for them.
This is part of Snapchat's Snap Minis rollout announced in June, which is a new way for developers to bring experiences inside the app. You can access these "Minis" on the Snapchat iOS and Android app. Whether you are new to meditation or feel as though you've fallen off your typical practice, the Headspace Mini may serve as a good reminder to both reach out to others and check in on your own mental health.
Considering that, on average, people spend over two hours scrolling through social media per day — and social media use is linked to increased risk of anxiety and depression — these short meditations on Snapchat could be an important tool. Plus, they're easy to access and simple to use with someone else or by yourself.
Image Source: Snapchat