Therapists Explain How to Create a Yoga Practice to Help Calm Anxiety
Yoga has a measurable impact on your mental health. According to a 2019 study from the Boston University School of Medicine, yoga sessions improve sleep quality and feelings of tranquility and positivity, while decreasing symptoms of anxiety and depression. And while the positive effects build up over time — so the more yoga you do, the more of a long-term improvement you'll see — participants also felt better after single sessions. In other words, you don't need a perfectly consistent yoga practice to reap the mental-health benefits; one quick, relaxing practice may offer immediate relief, right now.
Why does yoga ease anxiety like this? And for beginners, what's the best way to start if you want those benefits? We spoke to mental-health professionals and yoga instructors for their insights and advice on beginning a yoga practice in a way that can ease anxiety when you need it most.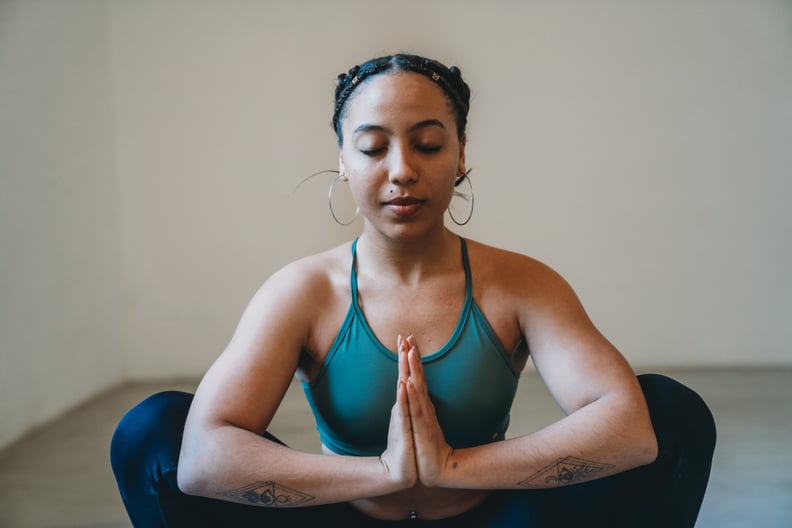 Why Is Yoga Good For Anxiety?
Yoga and meditation actually "help to restructure your brain," said Ashley Watson, MSW, LCSW, a psychotherapist and Kundalini yoga instructor. Two of the brain structures yoga impacts are the amygdala, which Watson described as "our reptilian brain, our fight or flight response," and our prefrontal cortex, which deals with focus, memory, and problem-solving. Yoga and meditation, she explained, help to minimize the amygdala and "expand and rewire the prefrontal cortex," grounding you and calming those urgent feelings of anxiety. "Meditation widens the gap between what you think, how you feel, and how you're going to react," Watson said.
It's an effective complement to other forms of treatment, such as therapy. While therapy "works from the outside in," easing anxiety by talking and receiving feedback from someone else, "yoga and meditation work from the inside out," Watson explained. "Yoga and meditation are healing you on a physical and emotional level, where you don't have to talk, you just have to engage in a practice and the healing naturally follows."
And on a fundamental level, yoga "gets you in touch with your body," said Katie Heeran, LMFT, RYT, a licensed therapist and registered yoga teacher. "When we're in a state of anxiety, people will describe it as feeling ungrounded. With yoga, you really work at grounding, rooting, and getting connected to the physical body." That physical focus can distance you from the chatter of your mind and help you feel calmer and more fully present.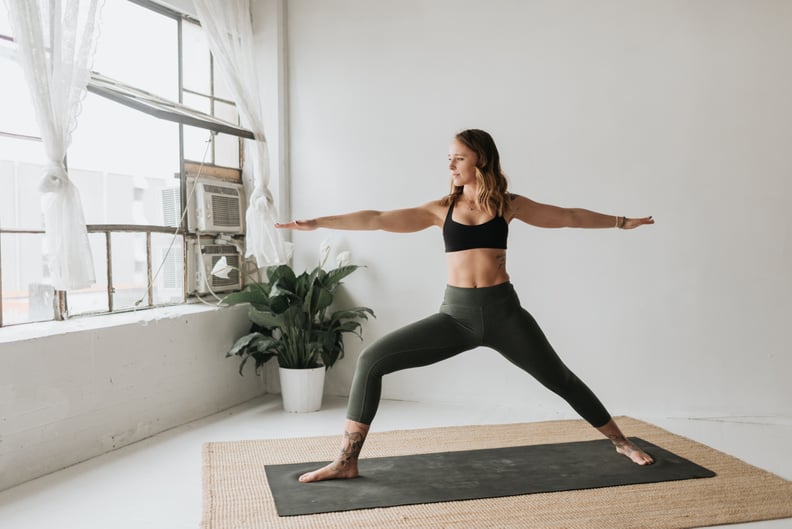 Start as Small as You Need
Uncertain or nervous about starting a new yoga practice? That's normal, and the solution is to start as small as you need. "Just a breath or just a pose is plenty," Heeran said. "You might start with that, especially if you're intimidated. Just do one pose and and see how it feels. That's doing yoga."
One of Heeran's favorite poses for anxiety is Reclined Butterfly (a butterfly hip stretch while lying on your back). "It's really a way of just calming the nervous system and grounding." She also recommended Child's Pose or Legs Up the Wall as accessible beginner's poses.
If the physical aspect still intimidates you, you could also start out with a short, three-minute meditation, Watson said. Combine it with deep breathing, Heeran added: inhale for four counts, hold your breath for four counts, exhale for four counts. You could also try a walking meditation. Ask yourself what you can do to "be more connected to my body rather than the energy of anxiety," Heeran said.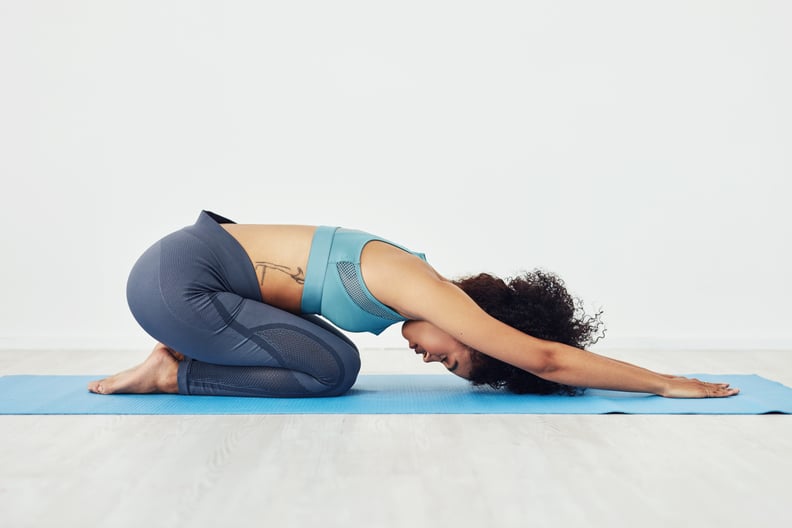 Find a Practice You Connect With
Yoga differs between types of practices, and you might find that some soothe your anxiety more effectively than others. Here are a few to try:
Kundalini: Kundalini yoga combines physical movements with longer periods of meditation and deep breathing. If the movement is too much, Watson recommended trying still meditation. "Sometimes your body might need a break, but you can meditate every single day."
Yin: A Yin yoga class is slower and more restorative, holding poses longer to let your muscles and mind open up. "That can be really great for some people," Heeran said.
Hatha: You may find that more intense classes do more to calm your mind. "For some people, the idea of slowing down is almost too scary," Heeran said. "They may need more of a physical practice that can calm the mind enough to soften and relax." Some styles of Hatha yoga, the genre that most Western yoga classes fall under, may feel more like yoga-style workouts that increase your heart rate and work your muscles.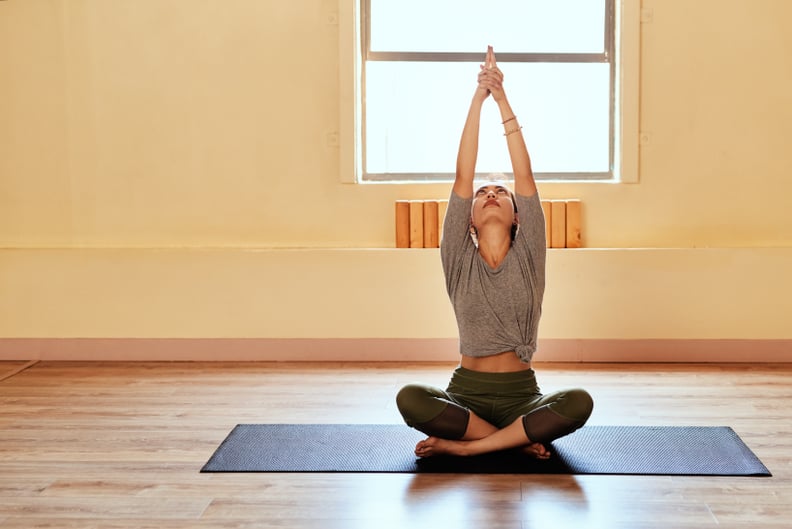 Know That Your Mind May Resist Yoga at First
Don't get down on yourself if you struggle with consistency or finding the motivation to begin. The self-shaming is more likely to worsen your anxiety and drive you further away. The best thing to do, Watson told POPSUGAR, is to forgive yourself and try again.
"We often find resistance to doing the things that we know will help us, because we can feel stuck in our own patterns," she explained. "Don't let the not doing it create more self-doubt or negativity. Just allow yourself the space and the time to learn how to be consistent with it. Any little that you can do always helps."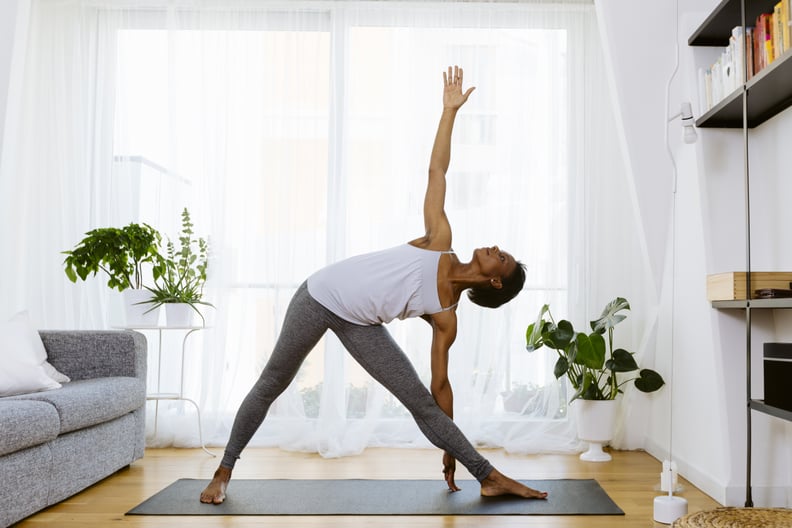 Don't Get Discouraged by Physical Obstacles
Repeat after us: yoga isn't about how flexible or strong you are. "We all get so caught in what we can't do," Heeran said. "Yoga is really about how do we bring mind, body, and spirit together, and stay connected within? When we're in a state of anxiety, we're only in one kind of a state. With yoga, it's saying, 'Let's try to link every part of ourselves together.'" The goal of yoga isn't to twist yourself into complicated poses; it's to connect your mind with your body and center yourself through breath and movement, whatever that looks like for you.
"We want yoga to be inclusive," Heeran said. "We want it to be for everyone."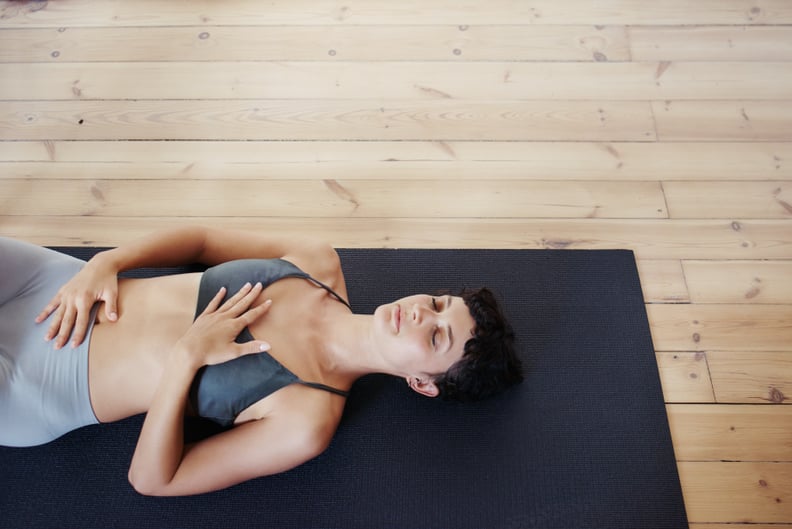 Be Patient With Yourself
There's no right or wrong way to do yoga, Heeran told us. And when you're establishing a practice, especially as a way to ease anxiety, it's key to give yourself "space and grace," Watson said. You probably won't see an overnight mental transformation, which is OK. "Just because you meditate or do yoga doesn't mean you're immune to anxiety," Watson explained. "What it means is that you're building up your nervous system so that, when you meet the challenges in your life, you're able to handle them that much more effectively."