How Allyson Felix Prepared For the 2021 Olympics
How Allyson Felix Prepped For Tokyo After Postponement: "I Can Still Accomplish These Goals That I Have"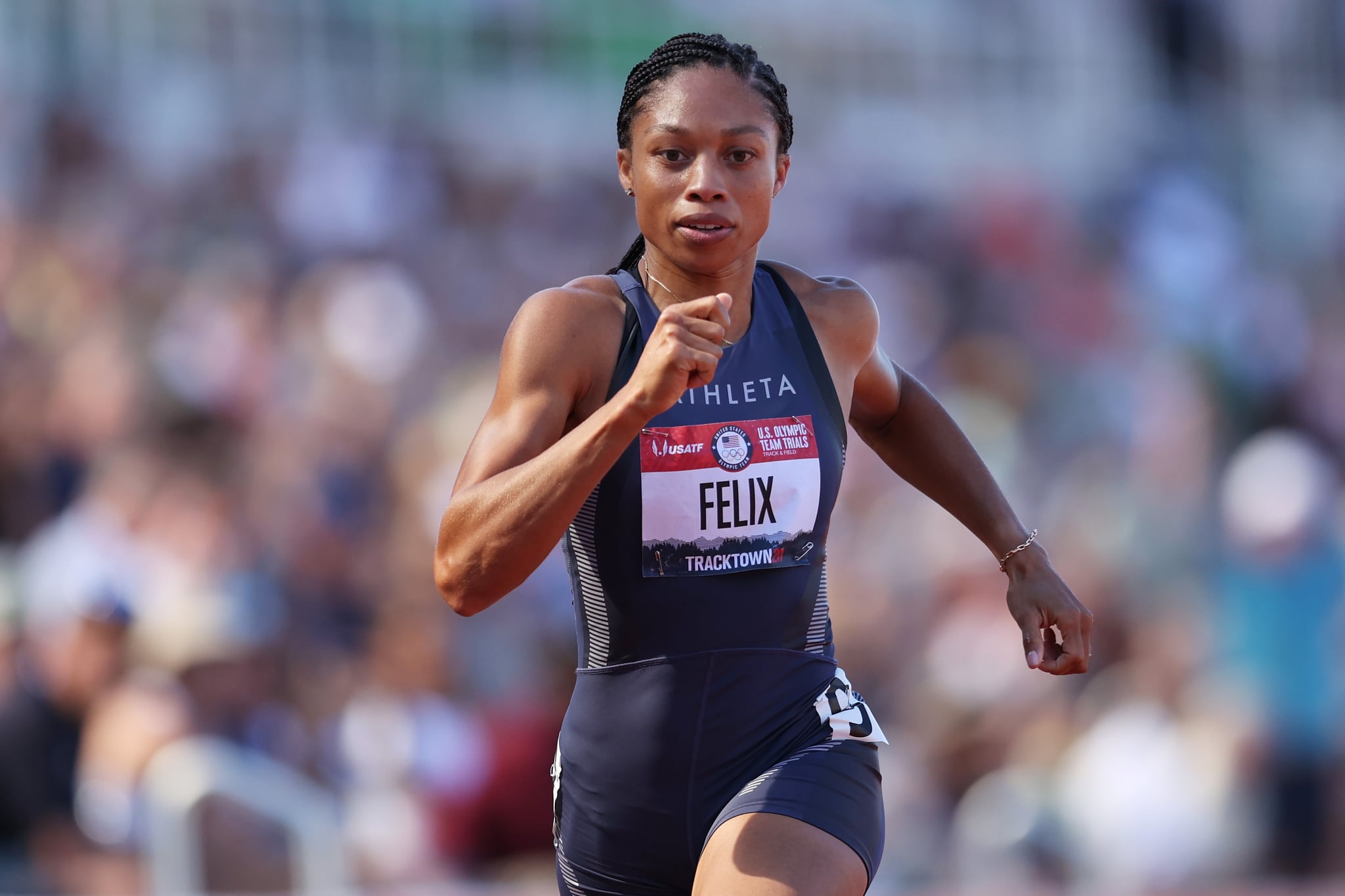 Allyson Felix is ready for the 2021 Olympics. The sprinter — who has nine Olympic medals (six gold) and is one medal away from tying as the most decorated American track and field Olympic athlete, man or woman — is set to compete in her fifth Olympic Games in Tokyo. Felix is running the 400-meter dash and expected to run the 4x400 women's relay and the mixed-gender 4x400, which is making its debut in Tokyo.
Like all Tokyo-bound athletes, Felix was originally prepared to compete in summer 2020 — then the pandemic hit. But while Felix said she had to give herself time to grieve the postponed Games and feel upset, she made the decision to prioritize her mental health and move on to focus on competing a year later than originally planned.
"Being an athlete, everything is so time specific," she told POPSUGAR back in May. After taking some time to process all the emotions of having to extend her training for another year, she started to think, "I can still accomplish these goals that I have, these dreams that I have. I just started to try to figure out how can I use this extra time to my benefit."
At the beginning of the pandemic, tracks and facilities were closed, so Felix had to make the most of what she could access. "[Training] didn't look anything the same," she said. "For a good portion of the year, we were displaced and just kind of training in the streets, and on empty fields, and at the beach in our neighborhood."
And while she eventually got to get back to her home track to train, there is also the mental component to getting ready for a competition as big as the Olympics. However, she said she tries not to make competing in the Olympics bigger than anything else. "I'm running for like 29 seconds. . . it's very easy to make it the huge thing, but I try to think back to my training and to my preparation that I've run this race a million times and the only thing that's different is the environment." Felix then focuses on the technical aspects of the race and works to "block out all the noise and all the outside things that make it feel so monumental."
One way she blocks out noise, quite literally, is with her Bose QuietComfort Earbuds. She prefers to use them outside of the gym to listen to audiobooks, watch shows on her phone, or take calls. Felix predicts she will be doing a lot of FaceTiming with family members back home since spectators aren't allowed at the Games.
In addition to the tough training she brings to the track, Felix's downtime is just as important. Her active recovery days might entail a long run followed by some body work by a chiropractor or getting cryotherapy. She also recovers with foam rolling, using a massage gun like a Theragun, and stretching.
Self-care is also essential, and Felix knows she needs to disconnect from the track every once in a while where she's not thinking about running and not going over races or watching film. That might include watching a movie with her husband, Kenneth Ferguson, or spending time in the park with their daughter, Camryn. She starts off her day with a gratitude journal. "To me, that really is like time for me to connect with the things that I'm so grateful for and kind of set my day off with a positive mindset."
To learn more about Team USA, visit TeamUSA.org. The Tokyo Olympics begin July 23 on NBC.