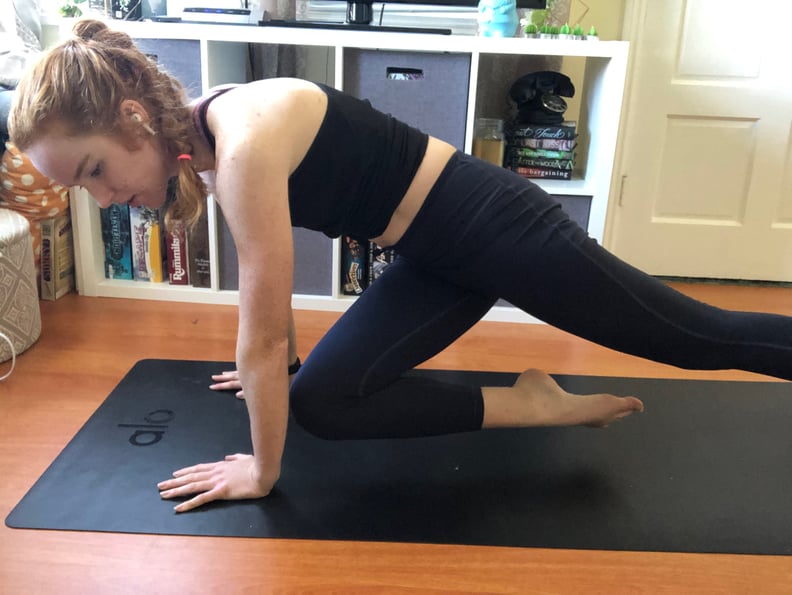 POPSUGAR Photography | Maggie Ryan
POPSUGAR Photography | Maggie Ryan
Reshaping our regular routines is part of the adjustment process as governments continue to fight the novel coronavirus (COVID-19) outbreak. While that might seem like a relatively small sacrifice, it can take a major toll on your mental health and, when it comes to workout routines, physical well-being. Experts say that continuing to exercise (within the precautionary measures taken by your community) is crucial to maintaining the health of your body and immune system, which can ultimately put you in a better place to fight off the virus.
My own workout routine has gone through a few major shifts in recent weeks. On March 19, all of California was put under a "stay-at-home" order, but the San Francisco Bay Area, where I live, has already been operating under "shelter in place" protocol. We're being asked to stay at home as much as possible, leaving for only essential reasons: going to the grocery store, pharmacy, or doctor; exercising (walking or running) in isolation; or commuting to jobs considered essential to the community.
Let me start by saying I support these measures; I've done little else besides read and write about the coronavirus for over a week now, and I don't think we can take it seriously enough. That being said, it's not easy to stay sequestered in a tiny apartment with only your roommate and her temperamental cat for company, especially when it comes to working out.
My usual workout routine is all gym workouts, lap swimming, and runs, so going to full-time at-home fitness has been a challenge. I have a yoga-mat's-worth of workout space in my living room, thin walls, and downstairs neighbors I'm trying not to annoy. Any high-intensity or cardio work needs to be low-impact, and I have no equipment except the aforementioned yoga mat. (Although I did just order a rack of exorbitantly priced free weights from Amazon. It hasn't shipped yet. Keep your fingers crossed.)
My fitness routine has changed enormously over the past few weeks, not just because I'm in isolation, but because my priorities are different: I'm not thinking about burning fat or putting on muscle as much as giving myself a mental break, releasing endorphins, and sweating enough to take my mind off of, well, everything. Ironing out my at-home workout routine is a priority for me because my health depends on it, both mentally and physically.
What My Workout Routine Looks Like Under "Shelter in Place" Protocol
Morning: Barre or Pilates workout video. (I use Alo Moves, a workout subscription app, but here are some free workout services you can try.) My morning workout is usually strength-focused for either core or full-body. I keep it very low-impact, both for the sake of the neighbors and because of a lingering foot injury that's still on the mend. I make equipment substitutions as necessary: instead of light weights, I use cans of chickpeas; instead of a yoga block, I'll use a couple of books or a pillow. Here are more equipment substitutions you can make.
Afternoon: Short walk around the neighborhood. I'm already craving fresh air, plus the mental break that comes with it. I live in a suburban area that's not too crowded, so I can keep space between me and anyone else who's out and about.
Evening: One or two yoga flows. I've been finding it hard to de-stress after a day of work and relentless coronavirus news, but yoga relieves my anxiety by asking me to breathe, stretch, and move with purpose. It's meditative. (Note: this is coming from a person who did yoga maybe twice a month before this injury-pandemic-lockdown trifecta.) I use Alo Moves, but there are plenty of free yoga flows you can find online to work specific parts of your body (here are six videos that target your core) or relieve stress.
When I have time: Dance cardio, because I'm in desperate need of something jumpy and straight-up fun. I'm emphatically not a dancer, so I'm planning to start with some beginner dance videos (shout-out to The Fitness Marshall) and then progress to learning the modified choreography for some of my favorite music videos (read: K-pop). It's a lofty goal, but hey! I have nothing but time!
My workout routine looks nothing like it used to, and even though I'm happy with it, I'm still trying to accept the changes. As you adjust to more time away from your own normal schedule, keep asking yourself what you need, mentally and physically, when it comes to exercise. That might mean adjusting your priorities or your goals. Want to sweat it out with a strength or cardio video? Do it. (Here's a two-week, at-home CrossFit workout plan that one of our editors is doing.) Need a quiet escape from the news? Try yoga, Pilates, or meditation. Desperate to get out of the house? Go for a quick walk or run, if it's safe to do so. Do your best and make sure that whatever your workout routine looks like right now, it's making you feel good.
POPSUGAR aims to give you the most accurate and up-to-date information about the coronavirus, but details and recommendations about this pandemic may have changed since publication. For the latest information on COVID-19, please check out resources from the WHO, CDC, and local public health departments.