Here's How I'm Staying Healthy, Active, and Calm While Social Distancing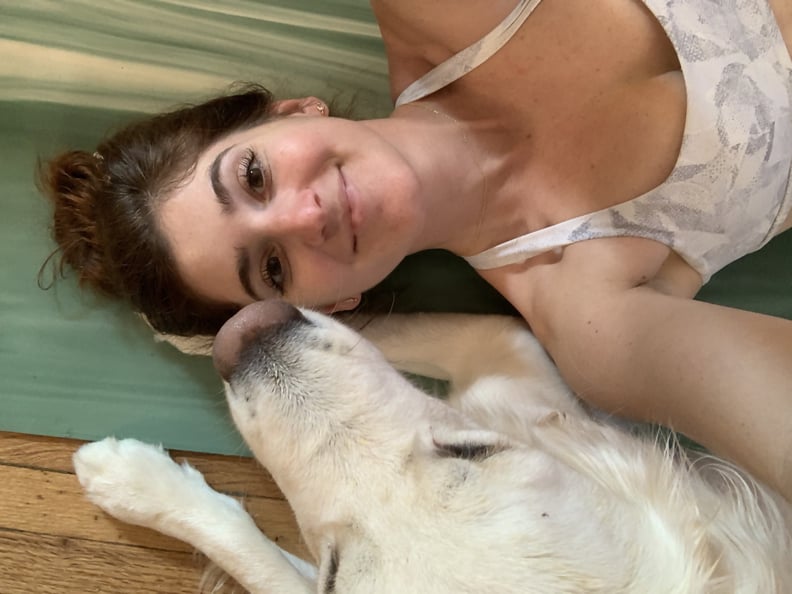 POPSUGAR Photography | Dominique Michelle Astorino
Listen, I try to be a calm, optimistic source of strength for my friends and family, especially because a lot of them look to me for health and wellness advice. But right now I must be extremely candid: I'm super f*cking anxious. My anxiety has perhaps never been at this level, and I've had dissociative panic attacks in the past so . . .
Now that I'm only leaving home for essentials, I'm spending a lot of time alone with my thoughts (and my dog). So how am I staying healthy — mentally and physically? I've made myself a little plan, and of course I'm going to share it with all of you. Because mental and emotional wellness is a foundation for physical health (Can you really have one without the other?), I'm ensuring that my at-home health program focuses on a strong mind and body.
I've been gathering as many resources as I can from my doctors, my own research and investigation, and tips from friends to come up with the best possible at-home program for myself; hopefully these things I've learned along the way will benefit you, too.
And remember: even though I'm gearing this toward anxiety relief and healthy living, it's OK to just feel your feelings and be anxious and couch-ridden, too. This is a strange time, and stress will come in waves. Give yourself grace. But when you're ready to get back into your routine and feel good, check some of this stuff out.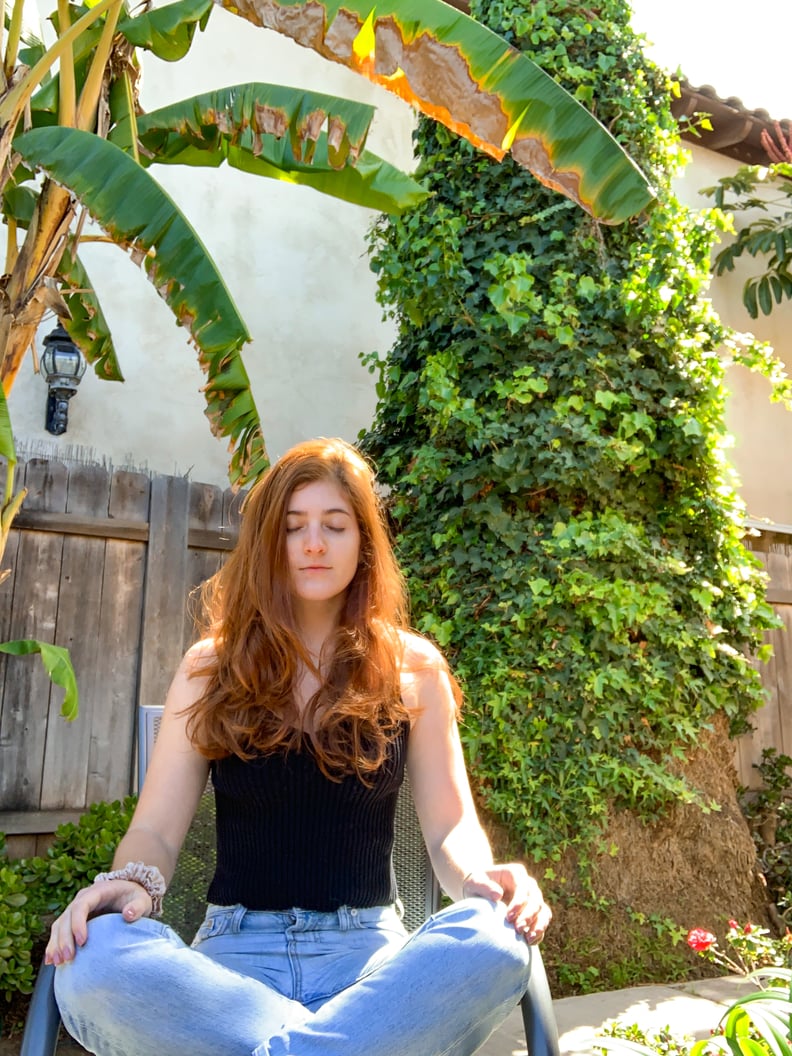 Daily Meditation
I hate when people are like, "Just meditate, it'll be fine," but I really do believe meditation is an exceptionally powerful tool. It's definitely part of my regimen to help ground and center myself, while lowering stress and alleviating anxiety. I use the Calm app almost daily, which is subscription-only, but right now you can access some meditations, sleep stories, and more for free (super cool).
Also, I say daily meditation because that is my goal and what I aspire to . . . but sometimes I wake up and do my 10 minutes, and other mornings I wake up and stare at the ceiling wondering if my dog can just feed herself for once.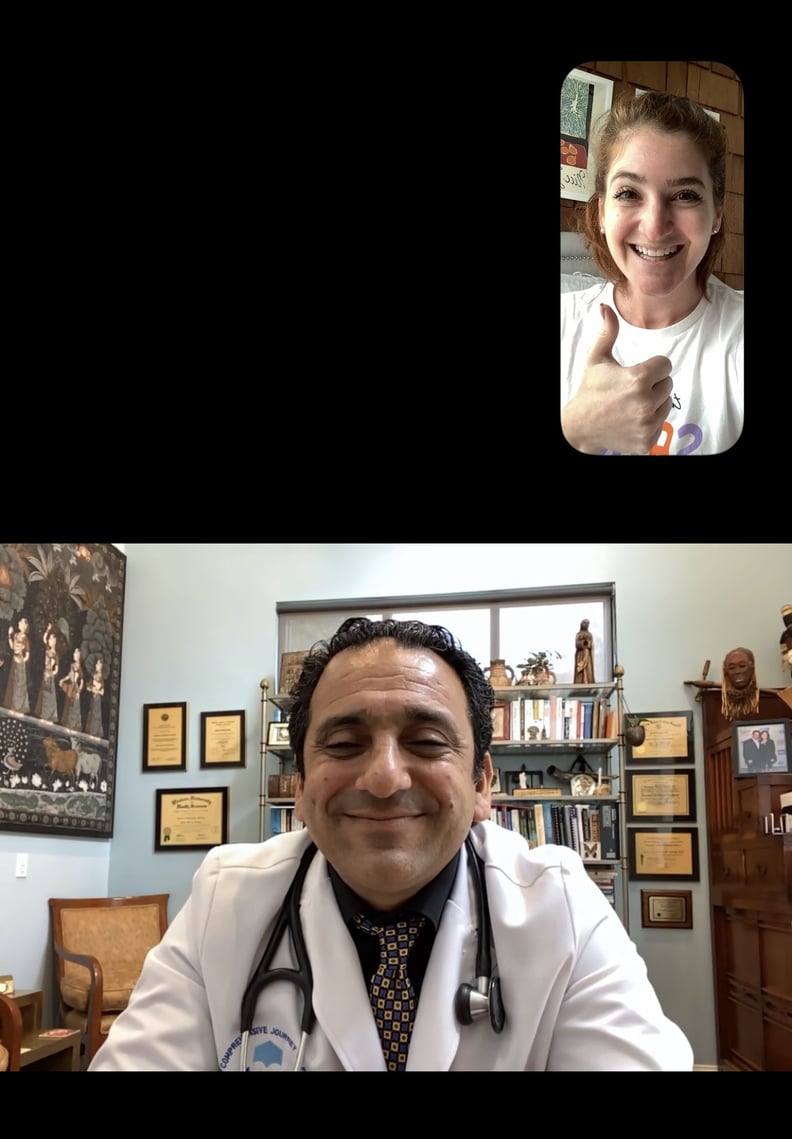 Virtual Appointments
It's so important to have your team in place to support your health. I haven't stopped "going to" my therapy and doctor's appointments, they've just shifted in format. I recently had a FaceTime with my longtime doctor, Habib Sadeghi, DO, to get some advice on managing my anxiety and staying healthy while I'm at home, and I have an ongoing virtual appointment set up with my psychiatrist/psychotherapist. (I'll share some of their advice with you, too!)
Remember to check in with the people who are there to support your health and wellbeing. And your team includes more than your doctor, by the way. Your support system of close friends and family are just as important for your mental and emotional wellbeing. Make "dates" and appointments with them, too!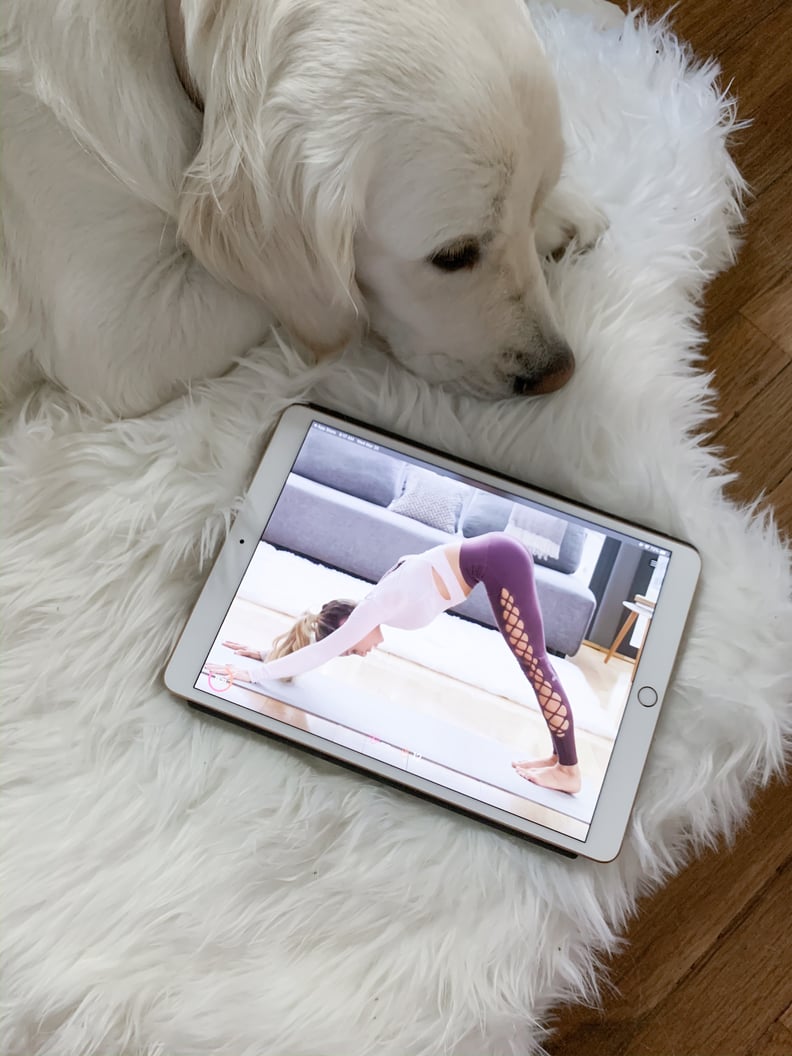 At-Home Yoga
While I'm being super honest on the internet, I had a panic attack at my last in-person psychiatrist appointment before the lockdown (which was an SOS appointment to discuss COVID-19, of course). Instead of prescribing medication, my doctor instructed me to begin a daily at-home yoga practice. He told me: "I know you love Pilates, but yoga is more than an exercise, it's a way of being that I think will really help your anxiety." At that point I relinquished myself to the prospect of daily Sun Salutations.
As for where I'm getting my yoga cues? Again, apps. I'm particularly loving FitOn (pictured here), but there there are tons of additional yoga apps, YouTube channels, live streams, and more available for free if you want to join me in this.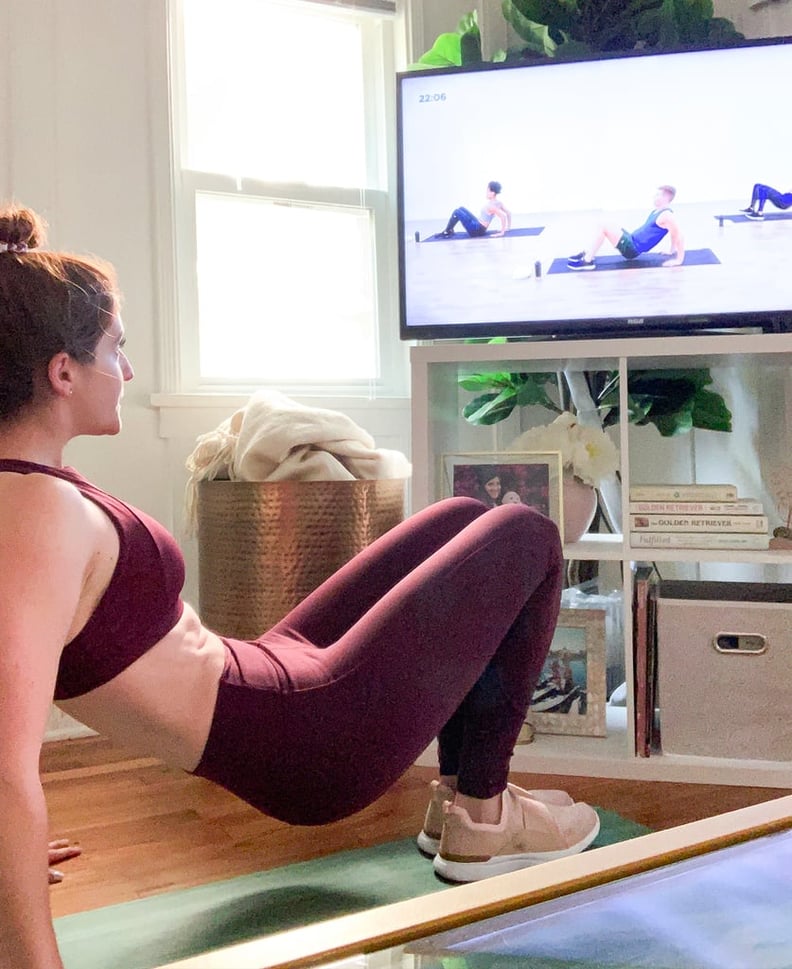 At-Home Workouts
Now that my psychiatrist has told me that I'm not doing yoga for exercise, I need some fitness . . . some good ass-kicking workouts (I hate not being able to go to my favorite studios!). Fortunately, there are so many free workout programs right now — and heavily discounted ones! — thanks to these businesses trying to support the community at large during lockdown. Here's a long list of free services to get you started, including Active by POPSUGAR. (I like the 4-Week Full-Body Fusion program!)
May I also recommend supporting your local trainers and smaller studios by hiring them for some virtual training? Small businesses are taking a huge hit, and if you have the means, you can help support someone whose employment and income is in jeopardy, all while getting healthier and managing stress. It's a win-win.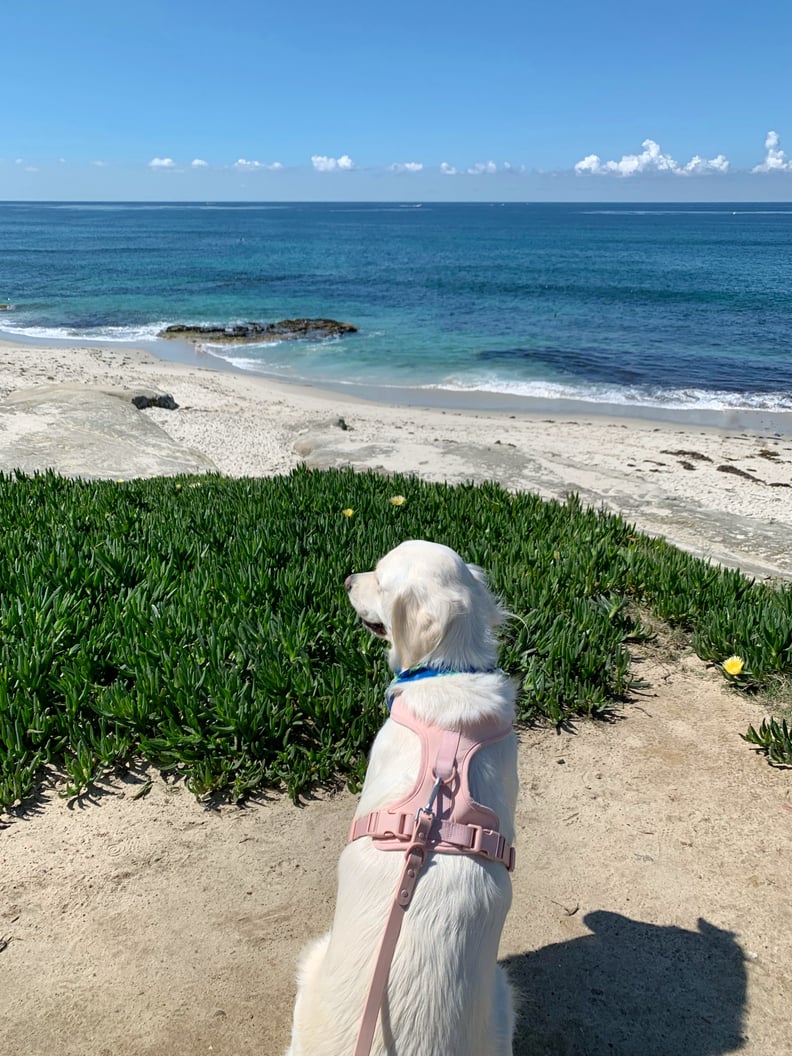 Walking the Dog
Getting outside for some vitamin D and fresh air has been imperative for both me and my nonverbal sidekick. Getting outside to get some steps, cardio, and breathing room is great for your body and brain!
And it's also totally allowed, even if you're sheltering in place by government mandate. Just make sure when you walk you do so alone — or with the dog, obviously — and you don't walk too close to anyone on the road or sidewalk or trail (keep at least six feet of distance).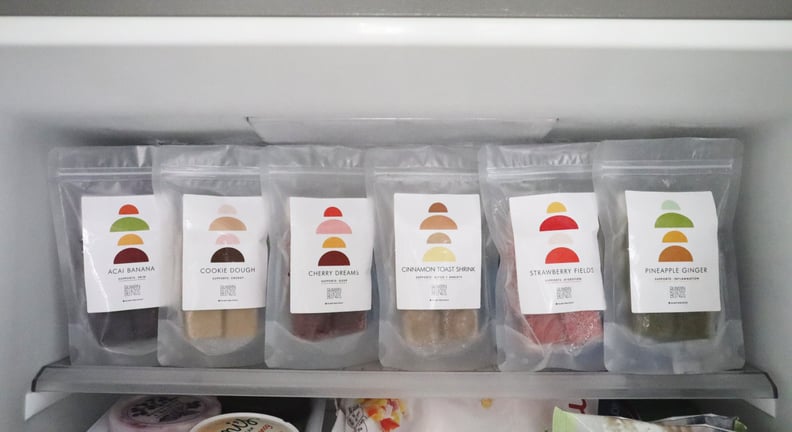 Healthy Eats
If you're like me, you didn't have to panic buy two to four weeks of shelf-stable and frozen foods because you already shop like a Midwestern mother of six (again, I live alone with a dog), and have plenty of frozen and dry goods. That said, dry goods aren't always the healthiest (hello, spaghetti and macaroni and cheese!). Here's what else is keeping me fueled these days:
Plant-Based Foods
I'm trying to veggie-based soups and meals as much as I can to ensure I'm getting a nice array of micronutrients. The other day I made a big meal-prep batch of pav bhaji, my favorite Indian recipe from the Dishoom cookbook I got for Christmas (thanks, mom!). It's essentially a super spiced mash of cauliflower, carrots, peas, green beans, tomato, onion, and potatoes.
Quick and Easy Smoothies
What has also helped: my friend Lisa, a badass dietitian, created a smoothie delivery service and I literally ordered a box of her Woman On The Run smoothie packs (the irony rn) a week before all this went down. Having something ready to blend-up that was put together by an RD has been extremely chill, particularly because she has anti-stress recipes. Of course, you can make your own smoothie packs at home, too.
Doctor-Prescribed Tips
A few diet tips my doctor recommended to me for anxiety relief during our FaceTime:
Eat fava beans: Dr. Sadeghi told me these have the highest levels of dopamine of any other food.
Try dried jujube fruit: I had never heard of jujube (besides the candy), but it turns out it's a Chinese fruit. Dr. Sadeghi told me it's a natural immune booster.
Hydrate: He instructed me to get lots and lots of water, as it's easy to forget drinking enough when you're anxious and stir crazy. He said this is important for immunity, energy, blood pressure, and mood.
80/20: So this is for me personally, but you could benefit from it as well. Instead of obsessing over making all my food healthy or making so many batches of chocolate chip cookies I can't move, Dr. S advised me to stick to an 80/20 diet — that's 80 percent good-for-you foods and 20 percent indulgence — to feel balanced and nourished, while still getting in my comfort foods.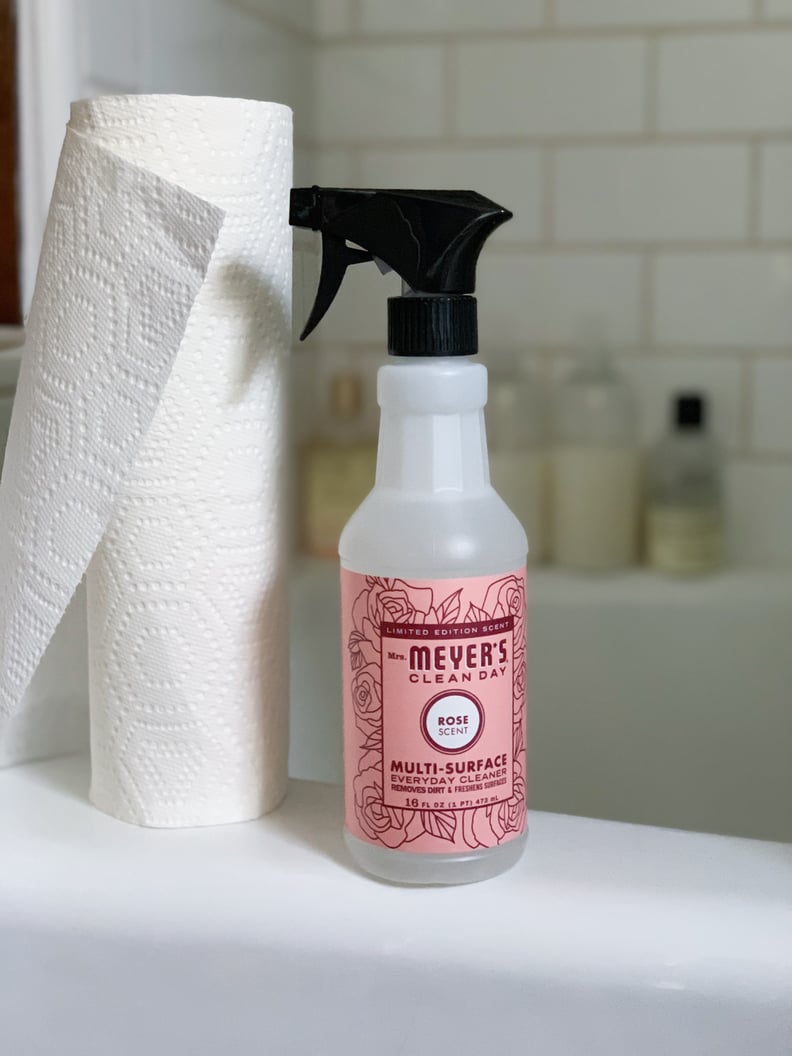 Creating a Healthy Space
A verbatim quote from my doctor's appointment: "If anyone's having a blast right now, it's Marie Kondo." Dr. S advised me to clean my space (and other areas of my life) to improve my mood and mental state. He said to start with clearing out emails and texts — "get rid of the red badges" — and tidying my space externally so I can find clarity internally. He also noted that getting rid of dust and allergens by cleaning is excellent for physical health (and can reduce allergies, therefore reducing potential confusion over what's a symptom of coronavirus and what's just an allergic reaction to dust).
On top of cleaning, tidying, and getting rid of the stuff that doesn't "spark joy" to provide more mental and physical clarity, I'm doing the same kind of self-care things at home that everyone else is talking about: using a coloring book, snuggling my dog, practicing my French language learning, taking online courses, etc. And then sometimes, I just don't have the energy to do any of it at all, and I'm eating CBD gummies on the couch and staring at the ceiling.
A reminder: these tips aren't about creating the picture-perfect, Instagram-worthy healthy routine at home, but hopefully you can use them in bits and pieces to start to build yourself back up.