It's Not You, It's Me: How to Break Up With a Therapist When It's Just Not Working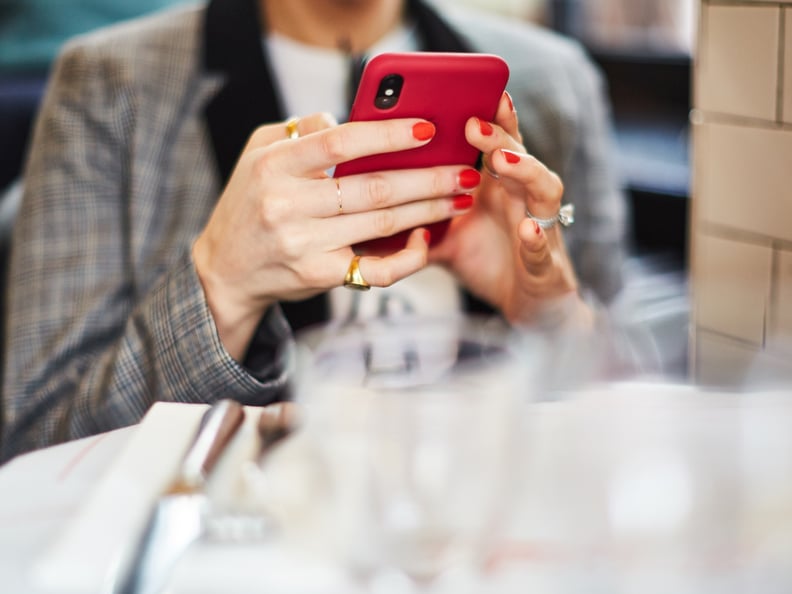 POPSUGAR Photography | Diggy Lloyd
POPSUGAR Photography | Diggy Lloyd
"Come on, Perri, just do it. Rip the band-aid off," my mom instructed me before I pulled the nerve-racking trigger that is breaking up with a therapist. The year was 2018 and I had just moved into a new apartment. I had been seeing a new cognitive behavioral therapist for about seven months, and with all the financial and time constraints that come with a major life change, I made the decision to temporarily end therapy. Of course, everyone's situation is unique. For me, it was a stable time of my life emotionally and mentally, so I didn't feel it was an irresponsible decision to put it on hold.
The moment I came to the realization I was going to end therapy was the moment the tough part began: the conversation. I am not a confrontational person, and like most tasks I do for the first time, I spent hours googling tips on "how to break up with a therapist," as if there was some email template to copy and paste. Spoiler alert: there is not, but there is a proper way to handle the difficult conversation, and it might include rewriting your email multiple times or practicing the conversation with a family member.
Before I get into how I broke up with a therapist, please know that only you and your therapist can decide if this is a safe choice. Once you decide that it is OK, check out how I approached ripping off said band-aid ahead, with some expert tips from the professionals themselves.
Questions to Ask Yourself Before Ending Therapy
Whether you think you're ready to "graduate," you simply aren't finding the connection with your therapist, or in my case, the timing wasn't right, there are a variety of things to ask yourself before making this decision. First, ask yourself if you really gave it your best shot. It can take time to open up to a new person and it's important to give yourself a sufficient amount of time to do so. Reflect on how you felt leaving your sessions. If you felt unfulfilled after sessions, it could be time to seek a different professional.
Marline Francois-Madden, LCSW, a licensed clinical social worker in New Jersey, said that the patient should bring up these feelings with their professional. "If a client feels it is time to end therapy, they should have a discussion with their therapist. This is a great time to review your treatment goals to assess if you have met your goals in therapy."
However, it's also important to recognize that there are times when it's not in the patient's best interest to end therapy. Monica E. Jackson, PhD, LPC, CRC, said she "does not recommend that people break up with their therapist during a crisis." And it's crucial to not make this decision on a whim. "Are we thinking rationally? Are we making a sound decision? Or is this based on the crisis and impulse?" Dr. Jackson asked.
Also, decide if this is a temporary or long-term choice. If it's temporary, you should come up with a plan for the future and a timeline for when you'd want to resume therapy, whether it's with a new therapist or the same one. This will help you hold your future self accountable.
Decide How You're Going to Do It and When
Think about the way you've been communicating with your therapist outside of your sessions. Do you call their office? Do you schedule your appointments over email? It makes the most sense to continue on the communication path you've been on throughout your time together. I personally went with email because that's how she and I had been communicating outside of our appointments.
In my email I noted that if she would like to talk this through on the phone, I am more than happy to do so. At that point, I hadn't had any future sessions scheduled because of my move, and didn't have the opportunity to have the conversation in person. However, I had brought up my hesitations about continuing therapy in sessions leading up to our final one. We spoke on the phone following my email and she supported my decision to end our sessions together. We also developed a plan to help me deal with the things we had been addressing without her weekly guidance.
The most important thing is that a conversation definitely needs to be had. "Communicating your feelings to your counselor is not only the professional thing to do, but it is also a good step toward advocating what is best for you," Dr. Jackson said. Ghosting is not acceptable in dating nor in professional relationships, and ditching your appointments because you don't want to have "the talk" should not be considered an option.
It might be daunting if you're someone who fears conflict with others and avoids starting serious conversations, but remember that this person is a professional and he or she will value your decision if they believe it's the right choice. "Clients have the right to end their therapy when they deem it necessary; however, they should communicate this," Dr. Jackson said.
Francois-Madden added that many therapists have cancellation policies, too. "Do your best to not ghost your therapist, but if you're experiencing anxiety or stress around this, then you can have a conversation with your therapist about avoidance behavior," she said.
Therapy is for you, so if you don't feel like you're bettering yourself in your sessions, then it's in your best interest to call it quits.
Some Reminders
In an article on Psychology Today, Stephanie A. Sarkis, PhD, shared an important reminder. "A good therapist is totally OK with you saying that therapy isn't working for you or that you no longer need therapy. Therapy is completely voluntary. You can decide you no longer want to go to therapy at any time. You don't even need a reason. Sometimes people just don't 'click' with their therapist."
Dr. Jackson echoed that sentiment and said, "You are your best advocate. I believe that most of the fear comes from the therapist's reaction. Even though we are human, therapists should understand that you moving forward is about what you need. Our best interest is for you to reach your goals and we are just a stepping stone during that journey."
Therapy is for you, so if you don't feel like you're bettering yourself in your sessions, then it's in your best interest to call it quits.
Have a Plan For the Interim
When having "the talk," ask them if there are any important lessons or affirmations they want you to keep in mind after your sessions end. Ask them if they have any book recommendations or accessible resources to continue your learnings about the issues you had been confronting together. Francois-Madden has given her clients worksheets and homework to complete while they are taking a break from therapy. For me, I keep my old therapist's business card in my wallet with some helpful tips for dealing with anxiety that she wrote on the back. These are things I had been working on with her in our sessions, so they were relevant and undoubtedly accessible.
"Every client has a right to self-determination and you want them to feel empowered," Francois-Madden said about having a plan for patients ending therapy. "It is important to validate their experiences, but also make sure the client is not [in] any imminent risk or danger."
There does not need to be an on-and-off switch for therapy. When having this conversation, as Francois-Madden shared, ask your therapist if they would be able to see you for an emergency session, either on the phone or in person, if something urgent comes up.
"Clients have to be mindful that therapy does not end when you leave the couch," Dr. Jackson said. "Therapy continues when you walk out of your session and you begin to apply the treatment to your life." Whether it's practicing the deep breathing techniques for stress, grounding techniques for anxiety, or coping skills for depression, she explained that it's essential for patients to take what they learn in sessions into the outside world.
Have a Plan For the Future
Maybe it's your busy season at work or you're going through a difficult time financially and therapy just isn't feasible at the moment; no matter the reason, it's important to consider the options for the future and have a plan in place. If it's the timing, give yourself a deadline to think about starting therapy again. Whether it's three months, six months, or however long you need, an end date can help you hold yourself accountable to getting back into therapy (if that's what you want).
"I cannot control their return; all I do is let them know that my couch is open when they are ready," Dr. Jackson said. "The best tips I can provide a client when they decide to end therapy is to have a plan for what is next." If her clients leave because she isn't a right fit, Dr. Jackson will provide them referrals. If they leave because they feel like their work is done, she'll remind them to utilize the skills they learned while in therapy.
If the way you received therapy wasn't working in the past, think about the different options like online therapy or using an app on your phone. With technology at our fingertips, there are more options for help than ever before, and there are some great apps to try out. Headspace is awesome for using meditation to address anxiety, stress, and overall mental well-being. Talkspace pairs you with a licensed therapist in your state for texting and live video sessions. There are different subscription options for your individual needs, but being able to send your therapist messages (text, audio, video) in a private chat makes Talkspace exceptionally convenient and rewarding. There are also many therapists to follow on Instagram if you're looking for a little lightness on your feed.
There's no rulebook for therapy — you can start whenever you want, and do your sessions over the phone or in person. No matter the approach you take, help is always available . . . even after you've broken up with a therapist.