Laila Ali Quotes on the Importance of Women in Sports
Laila Ali Fought For Her Place in Boxing — and She Wants Women Across Sports to Do the Same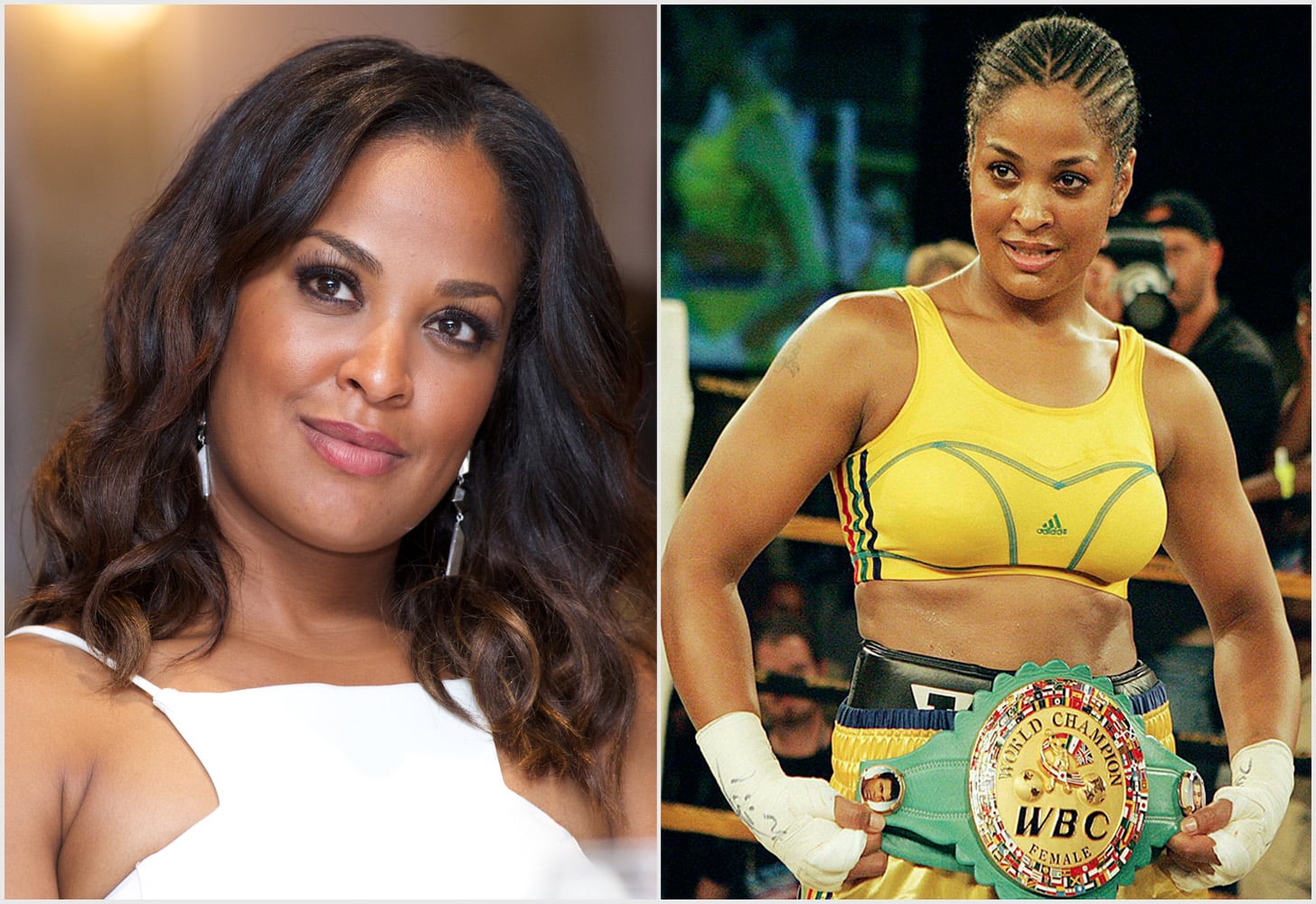 Image Source: Getty / Earl Gibson III and Getty / Gallo Images / Stringer
Laila Ali finished her boxing career undefeated with two dozen wins and four world championship belts — though the reason she got into boxing had nothing to do with her renowned father, the late Muhammad Ali. In fact, she had no idea that women's boxing existed until she saw it on TV one day. And Muhammad Ali, as it turns out, wasn't so keen on the idea of his youngest daughter sparring for sport. He didn't think women could — or should — box, but she proved him wrong.
Ali, who put gloves on for the first time at age 18, told POPSUGAR that her excitement was off the charts. "Just seeing fighters in the ring and seeing how they train and spar was amazing to me. I just remember wanting to learn and wanting to get better quickly, so I worked really, really hard at it in order to do so," she said — and getting the technique down took years to perfect (though she added that she never felt like she was done improving).
"He not only realized he was wrong about me, he was wrong about women in general."
"I would say that by the time I won my first world title, I felt like I definitely had all of what I needed in my arsenal to compete at the professional level to not only become a champion, but stay a champion," Ali recalled. It wasn't until one of her championship fights that Muhammad Ali actually apologized to his daughter for doubting her. Ali said her success was so undeniable that her father finally came to acknowledge it. "I'm knocking people out, I'm winning, I'm undefeated, and I'm going about my career in a very admirable way as far he was concerned."
Ali continued on to say that her father's initial disapproval could have interfered with her success if she let it. "You have to imagine it coming from my father, the greatest boxer of all time, to a young girl who's only 18. Those words could have held me back if I would've listened, and thank God that I didn't." But, she added, "he not only realized he was wrong about me, he was wrong about women in general. I felt like it was a big win, not only for me and our personal relationship as a woman and as a daughter, but also just for women and the limits in his mind of what we could and couldn't do."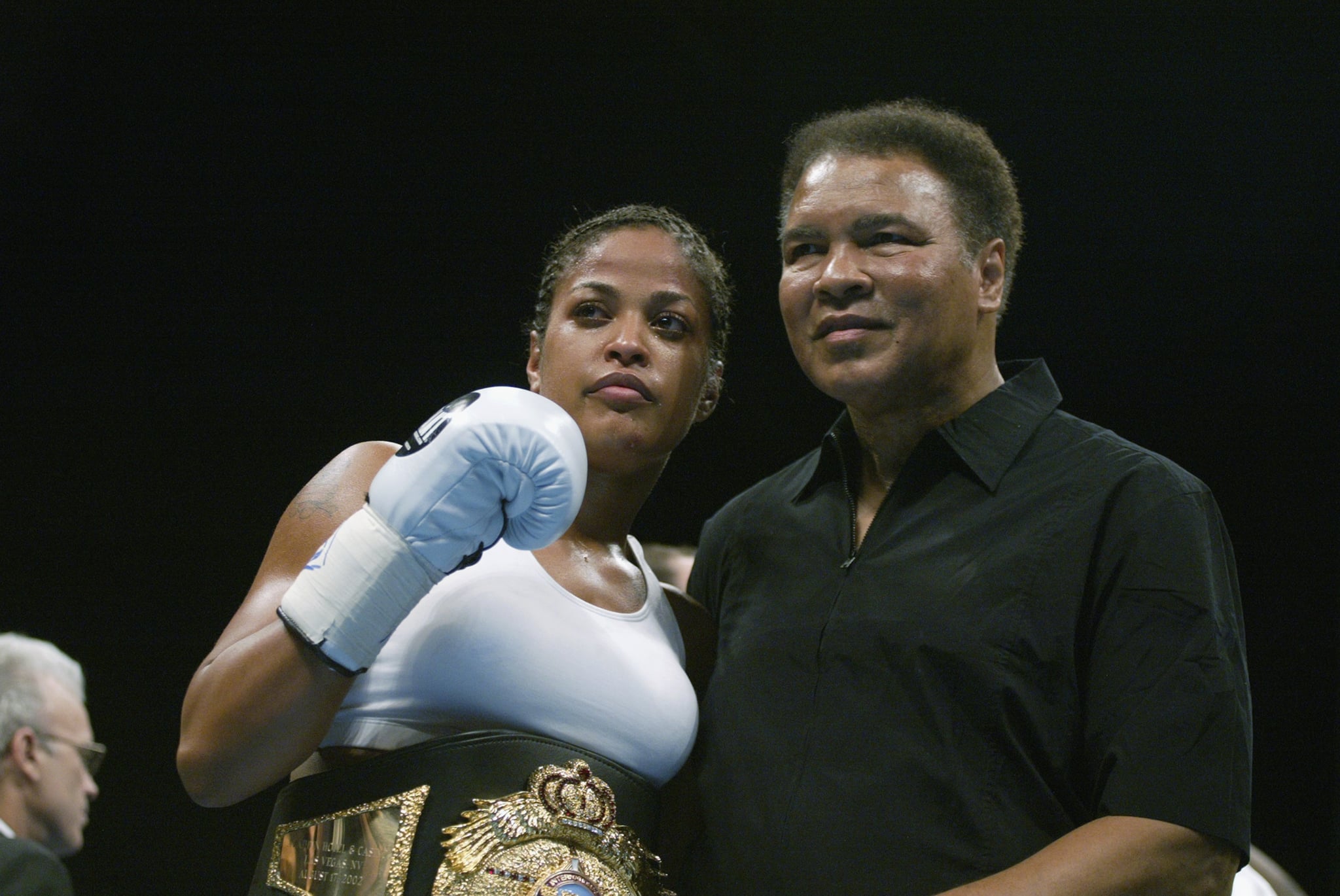 Image Source: Getty / Scott HalleranPhoto: Laila Ali posing with her father Muhammad Ali after a fight in 2002.
Ali said women's boxing has come a long way since she retired in 2007. "When I first ventured my way into the gym there just wasn't a lot of women there," she explained. "And I can remember the way that the men and the trainers kind of looked at you and spoke to you. They didn't really see you as on the same level as them or take it seriously." Women have been inspired by her career, she noted, and the sport being recognized at the Olympics starting in 2012 also helped.
Boxing, above all else, taught Ali inner strength. "The power that I use in the ring that comes through my fist is a certain amount of energy that starts within me, in my spirit, and in my mind. And so to be able to take that and direct it — that strong, powerful energy — at anything that I do, is something that boxing definitely taught me." That goes for, she said, her role as a mom, a wife, an athlete, and a business woman.
When it comes to doubters in women's sports, Ali said it's all about your mindset. She acknowledged that opportunities for women in sports have broadened, and that is one of the missions of the Women's Sports Foundation (WSF), of which she was president for two years. "Whatever you want in life, you got to just go for it, and that's inside sport and outside of sports," she said, adding that you should focus on your goals no matter what other people might say about you. Ali classified her mindset as strong and "unbeatable," and it's been her armor through life — armor, she stated, is what you need.
"At the end of the day, athletes' voices aren't going anywhere."
Ali is happy to be hosting the WSF's 41st Annual Salute to Women in Sports, celebrating the achievements of women. Proceeds from the event are going toward programs that the foundation has fostered like the WSF Athlete Ambassador Program and Sports 4 Life. The Salute is hosted virtually this year, and the theme is "Speak With Sport." In regards to the theme, Ali said it's of utmost importance "because it's in recognition of all the courageous athletes and leaders who are using their platforms and their voices to advocate for a more equitable and just world."
Ali said, "At the end of the day, athletes' voices aren't going anywhere. We're going to continue to use our platform just like we have for many years." She added that she's perfectly OK with athletes who aren't comfortable speaking up about issues they are passionate about, but for the ones who are, she salutes them.
Watch the Women's Sports Foundation's Annual Salute to Women in Sports for free on Wednesday, Oct. 14, at 8 pm ET on Yahoo Sports.