No-Refined-Sugar Low-Fat Granola Recipe
I Tried This Super-Easy Refined-Sugar-Free Granola Recipe — I'll Never Buy Granola Again!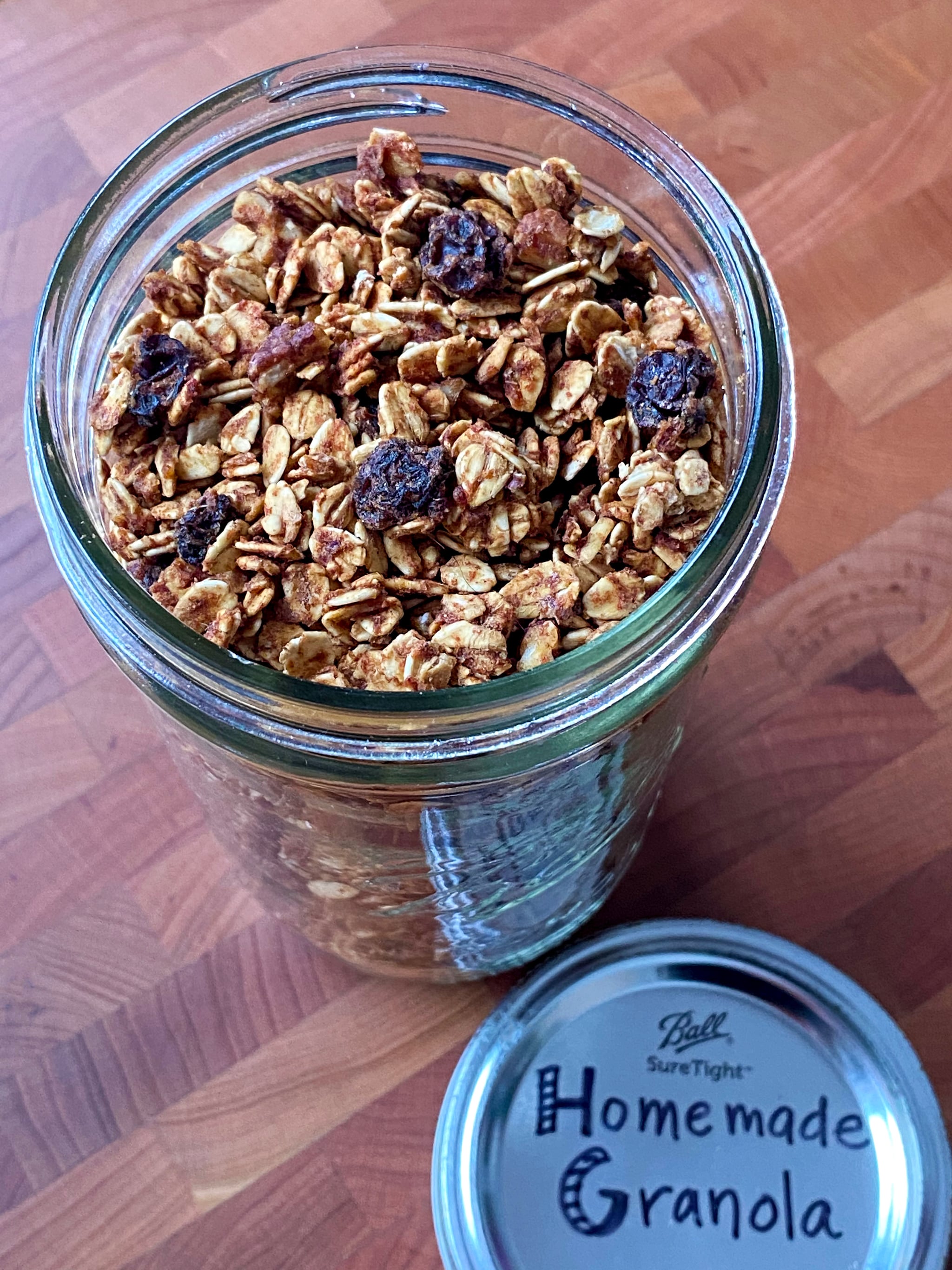 The high sugar and fat contents in granola don't make it the best option for breakfast if you're trying to lose weight — it's basically like crumbled cookies you eat with a spoon! But if you're a granola fan like me, try this super-simple sugar-free recipe. I'm floored at the robustly sweet flavor and addictively crunchy texture — and it's made without sugar or oil! This granola is sweetened naturally with just a handful of dates and some raisins!
At 205 calories per serving (which is about half a cup), it has 2.7 grams of fat, 42.4 grams of carbs, almost five grams of fiber, 12 grams of sugar (but remember it's from the fruit!), and 5.6 grams of protein. For comparison, a similar store-bought brand of fruit and nut granola has 270 calories, 12 grams of fat, 39 grams of carbs, five grams of fiber, 13 grams of sugar, and six grams of protein. See all the calories and fat you'll save by making it yourself? Plus homemade always tastes better!
You will need a high-speed blender or food processor to puree the dates for this recipe, but if you don't have one, you could substitute date syrup (I'm a fan of Joolies since it's just dates!). This recipe also calls for a small amount of nuts, but if you want it to be low-fat, just omit them.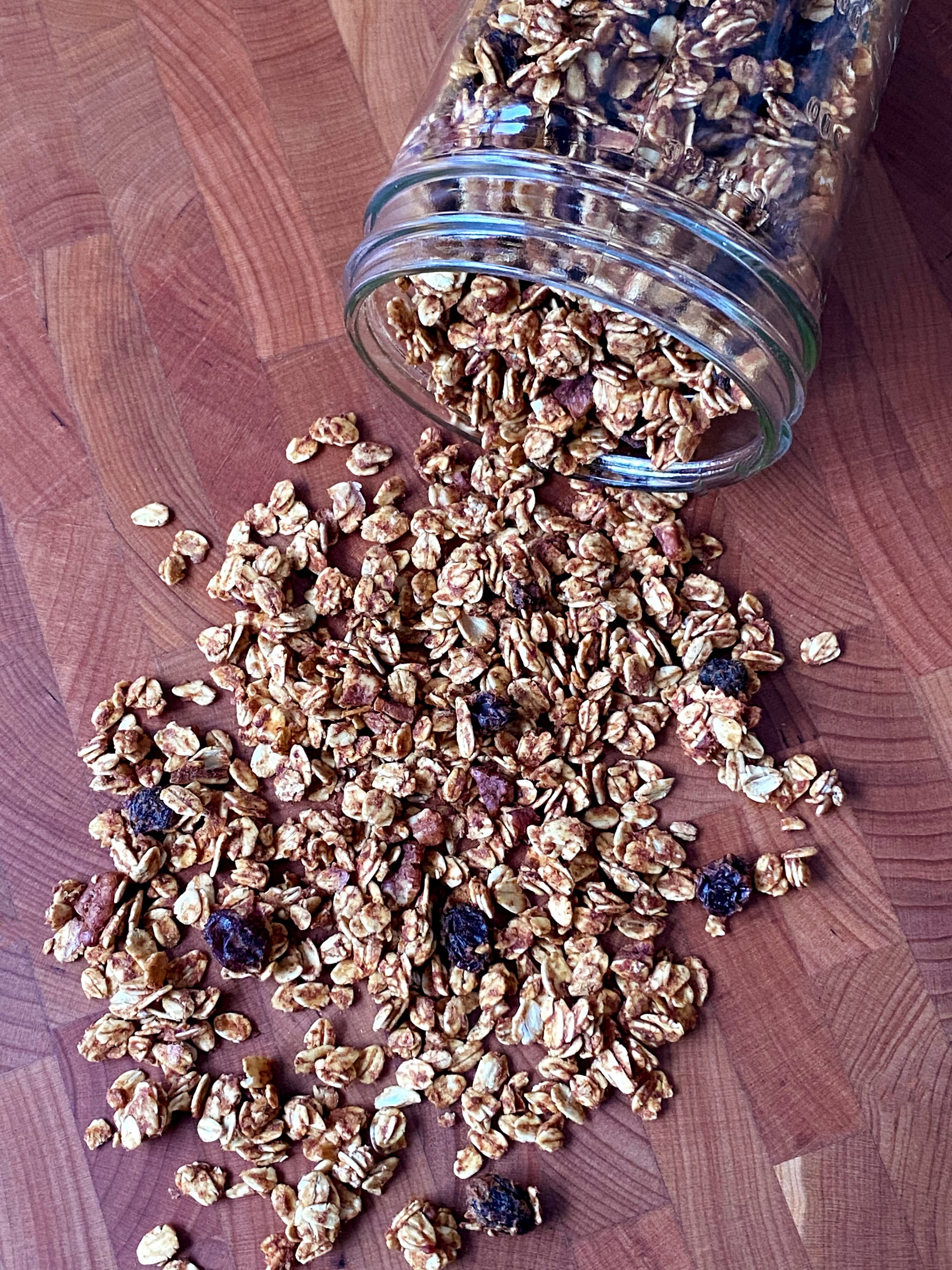 This is a basic recipe that has a deep cinnamon-spice flavor, but you can change it up to suit your taste buds. Use almond extract instead of vanilla, or swap out the raisins for dried cherries, dried cranberries, chopped apricots, or golden raisins. And if you do like nuts, instead of raw pecans, you could use raw walnuts, cashews, almonds, macadamias, peanuts, or seeds like pumpkin, hemp, flax, or chia. Have fun getting creative with different flavor combinations!
This recipe is so simple; it just takes time to soak the dates and bake the granola. But this is something easy you can make while working from home or before bed — then you'll have homemade granola to wake up to! It tastes delicious over unsweetened soy milk, oatmeal, or almond milk yogurt, and it's great to snack on by the handful.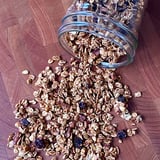 Ingredients
1/2 cup water
4 ounces pitted dates, cut into large chunks (I used 7 Medjool dates)
1 1/2 teaspoons vanilla extract
1 1/2 teaspoons cinnamon
1/2 teaspoon ground nutmeg
2 cups rolled oats
1/2 cup raisins (I used 1/3 cup)
1/2 cup nuts (optional, I used 1/8 cup chopped pecans)
Directions
Add the water, dates, vanilla extract, cinnamon, and nutmeg to your blender or food processor. Allow the dates to soak for 15 minutes. Meanwhile, add parchment paper or silicone baking mats to two cookie sheet pans.
Preheat your oven to 250°F.
Add the rolled oats, raisins, and nuts (if using) to a medium-size bowl.
Blend the date mixture until smooth, about one minute.
Pour date mixture into the oat mixture and mix until the oats are completely coated.
Divide the granola mixture evenly among the two pans, spreading the mixture out so there are no big clumps.
Place one pan on the middle rack and one pan on a rack underneath. Bake for 30 minutes.
Remove from the oven to stir the granola around with a spatula. Return the pans back to the oven, but switch them so they bake evenly. Bake for another 25 to 30 minutes, or until the granola is crunchy.
Remove from the oven and allow to cook completely. Store granola in an airtight container like a mason jar (I used a 16-ounce jar).
Here's the nutritional info from Verywell.com for one serving (makes about four half-cup servings):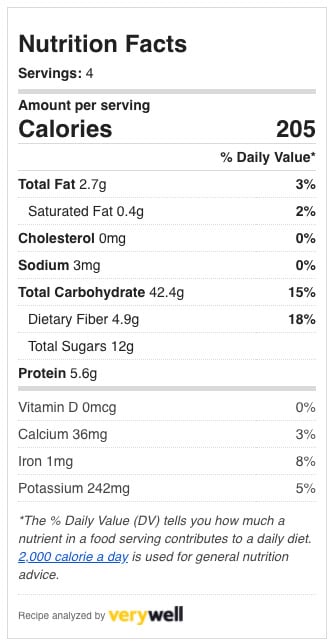 Information
Category

Breakfast/Brunch

Yield

4 servings (3 1/2 cups)

Prep Time

20 minutes

Cook Time

60 minutes

Total Time

1 hour, 19 minutes, 59 seconds
Nutrition
Calories per serving

205