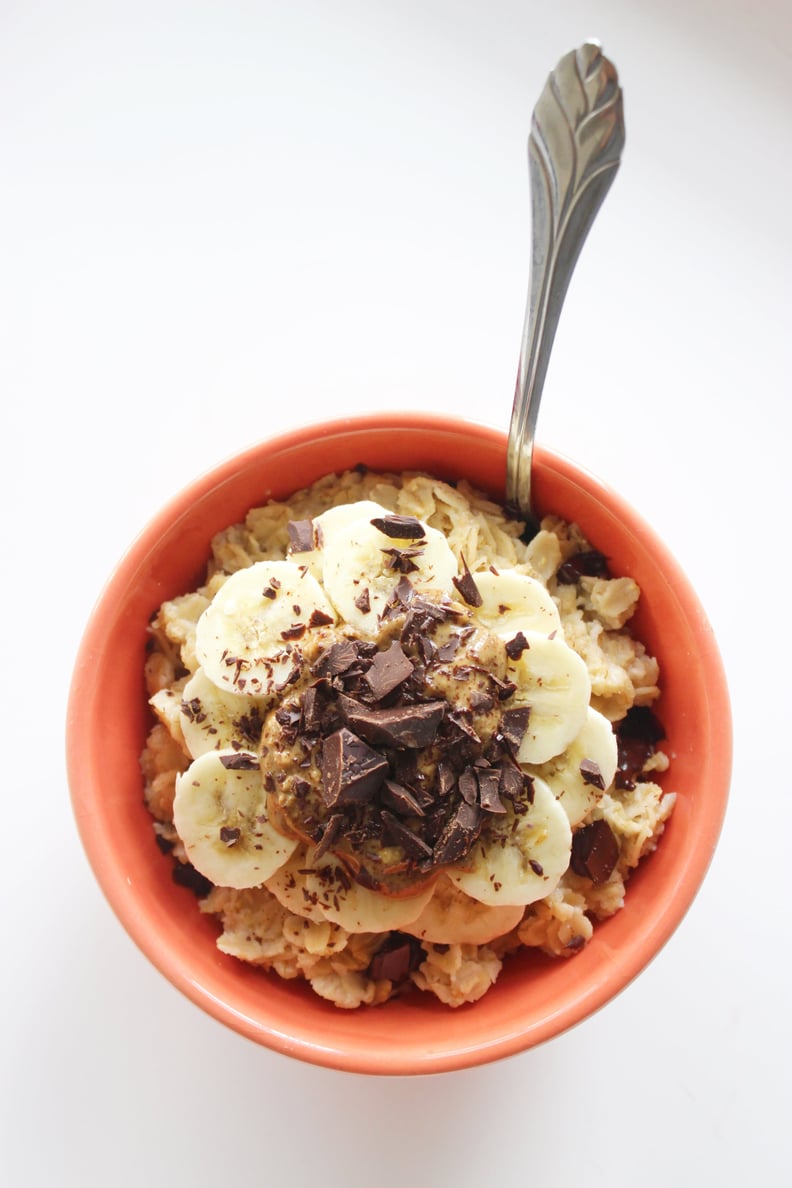 POPSUGAR Photography | Lizzie Fuhr
POPSUGAR Photography | Lizzie Fuhr
If you're looking to lose weight, oatmeal is one of the best foods you can eat. Studies show that eating whole grains such as oats, which are packed with nutrients and complex carbs, can make you feel fuller for longer. Keep reading to learn why nutritionists say oatmeal is good for weight loss, and for some simple oatmeal recipes.
Why Oatmeal Is Good For Weight Loss
Oatmeal is a complex carb: Registered dietitian Leslie Langevin, MS, RD, CD, of Whole Health Nutrition, said in a previous interview, "Complex carbs break down slowly in the body because of their high-fiber content, and help to keep blood sugar levels steady since they are digested slower. They're also richer in nutrients than simple carbohydrates." Go for oat groats, steel-cut oats, or rolled oats, since they're less processed than quick oats.
Oatmeal is packed with fiber: A serving of oatmeal offers 4 grams of fiber, and it's high in soluble fiber specifically, registered dietitian Adrienne Ngai, CDE, MSc, explains. If you add fiber-rich berries, nuts, flaxmeal, and chia seeds, all that fiber in your bowl will help you stay fuller for longer since it digests slower, which can help you lose weight. Ngai says the fiber in oats also help to manage your blood sugar levels, to prevent you from crashing after eating (and reaching for more food to give you energy after crashing).
Oatmeal has protein: A serving of oatmeal offers 7 grams of protein. Getting enough protein helps you feel satisfied longer, registered dietitian Rachel Stahl, MS, RD, CDN, CDE, owner of Rachel Stahl Nutrition, explained in a previous interview, which helps you eat less and, in turn, lose weight. Registered dietitian Nelcy Mylonas, RDN, CDN, says you can increase the protein in your oats by adding weight-loss ingredients like milk (if you're plant-based, go for one that offers 6 or more grams of protein), yogurt, seeds, or nut butter. You can also mix in protein powder, greens like spinach, egg whites, or mashed beans.
Oatmeal is quick to prepare and can be eaten any time of the day: Rolled oats take under 10 minutes to cook, or you can make your oatmeal ahead of time with overnight oats, a batch of baked oatmeal, or by meal-prepping a week's worth of steel-cut oats and freezing portions. Oatmeal isn't just for breakfast! Enjoy a small bowl with your salad at lunch, or a homemade oatmeal bar as a snack. Throw oats in your blender for a creamy afternoon smoothie, or make yourself a bowl of savory oats and enjoy oats for dinner. Or, have satisfying oats for dessert with a square of these gluten-free blondies or these banana-sweetened sugar-free brownies.
Oatmeal For Weight-Loss Recipes
Here is some more oatmeal recipe inspiration: