Meal Prep 5 Days of High-Protein Overnight Steel-Cut Oatmeal
It Takes Just 10 Minutes to Meal Prep a Week of High-Protein Overnight Steel-Cut Oatmeal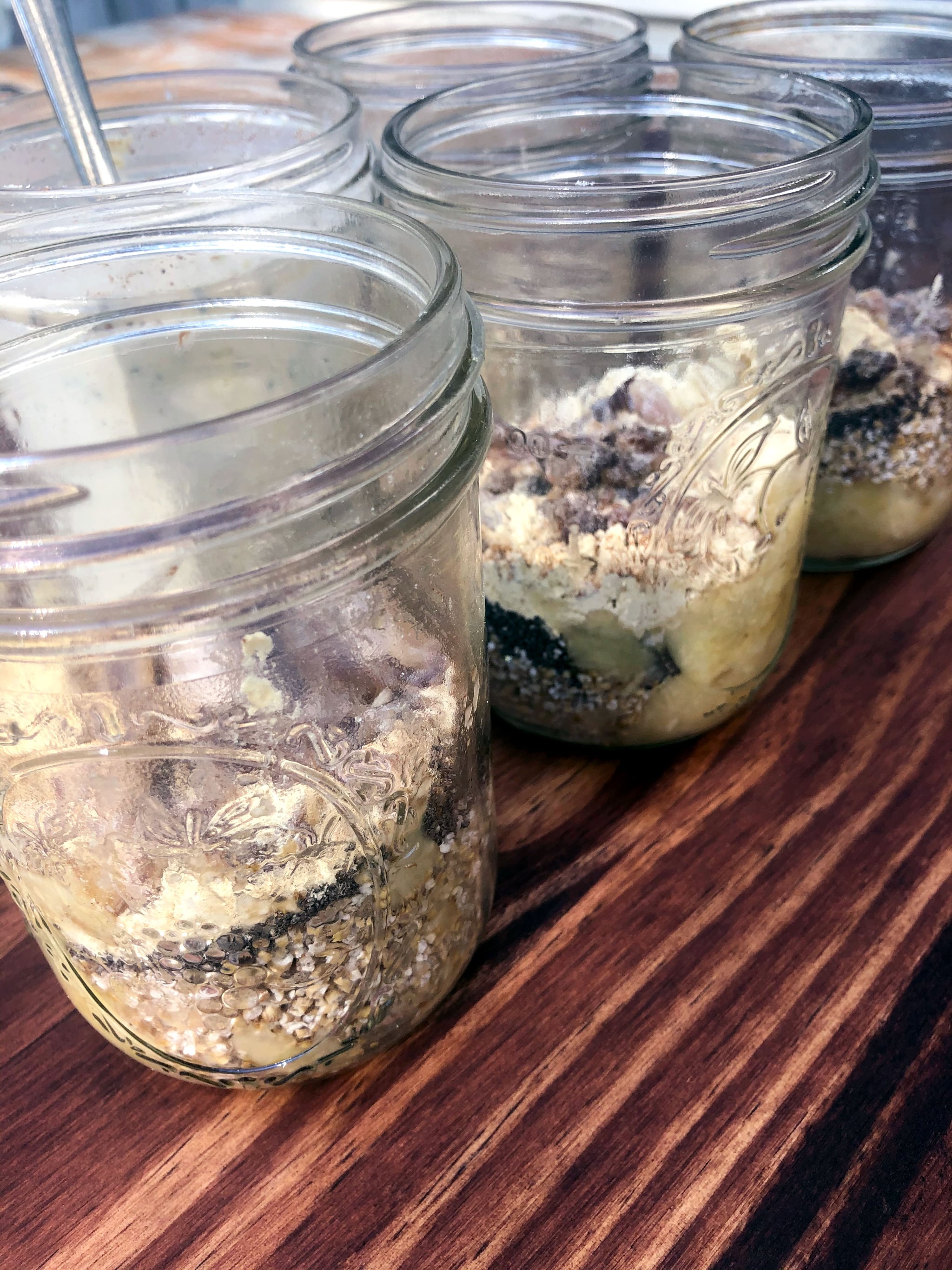 Did you know you can soak steel-cut oats overnight just like you can with rolled oats? If you've never tried overnight steel-cut oats, it is a breakfast game changer! The texture is soft, yet chewier than overnight oats made with rolled oats, and way more satisfying, in my oatmeal-loving opinion.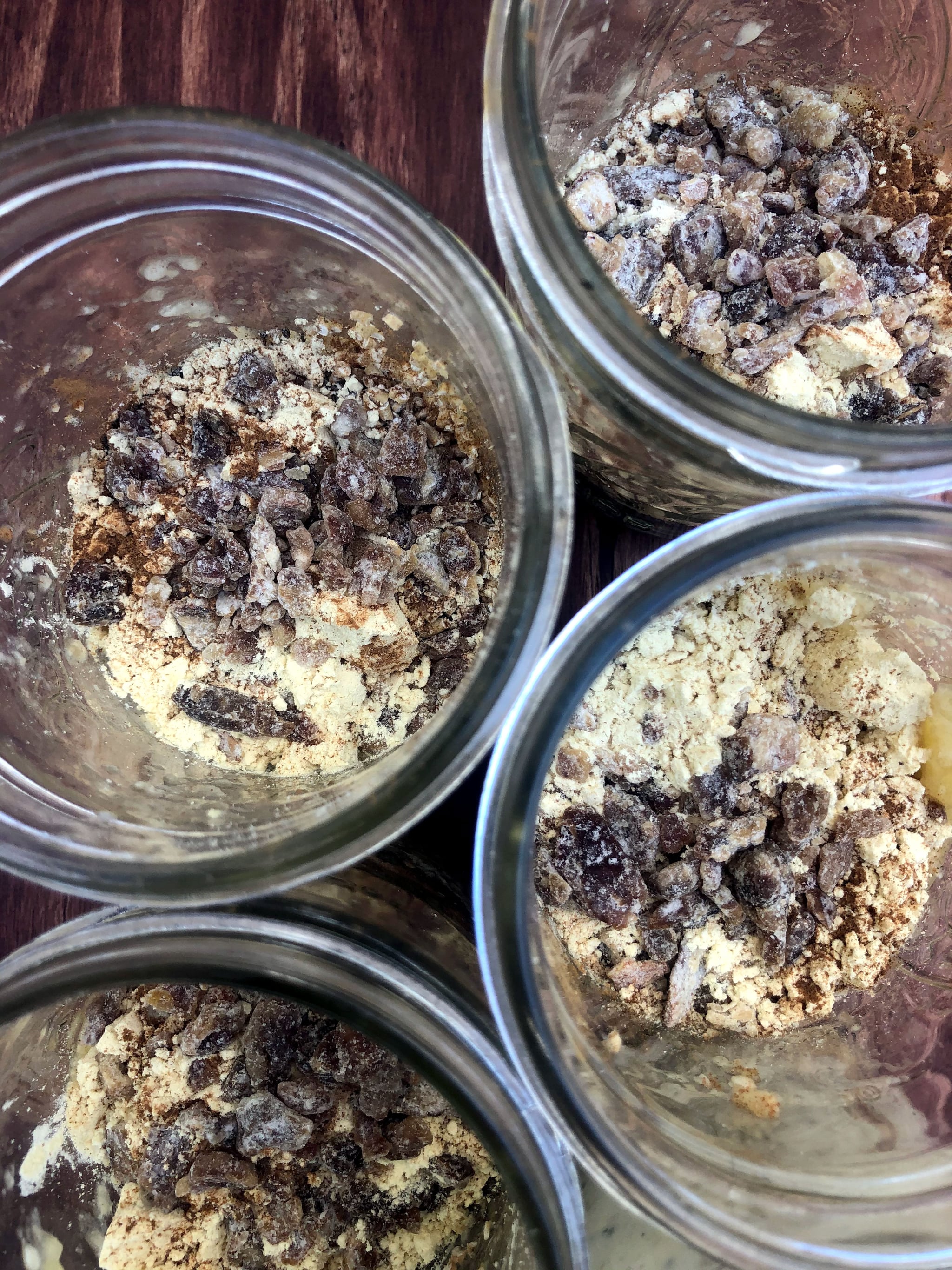 To make this breakfast even more magical, you can meal prep five in a row (or even seven if you want to do the entire week). Just add all the ingredients to the jar with the milk of your choice. It'll look really runny, but don't worry — the oats and chia seeds will soak it right up, and it'll look like oatmeal in the morning.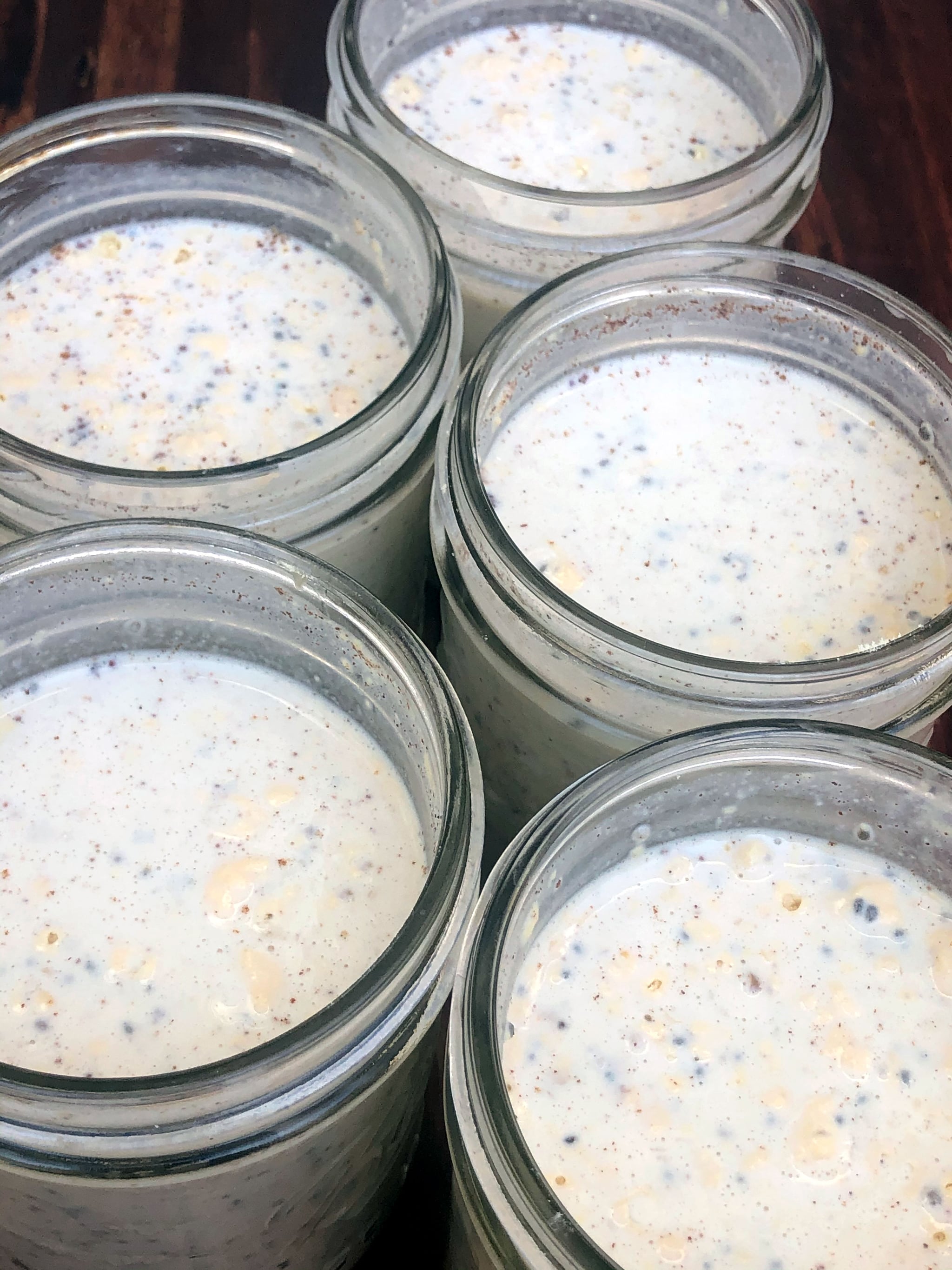 This recipe has mashed banana and chopped dates for natural sweetness, and I also added fresh berries in the morning. It was sweet enough for me, but feel free to add a drizzle of maple syrup or some chocolate chips if that's how you like your oatmeal.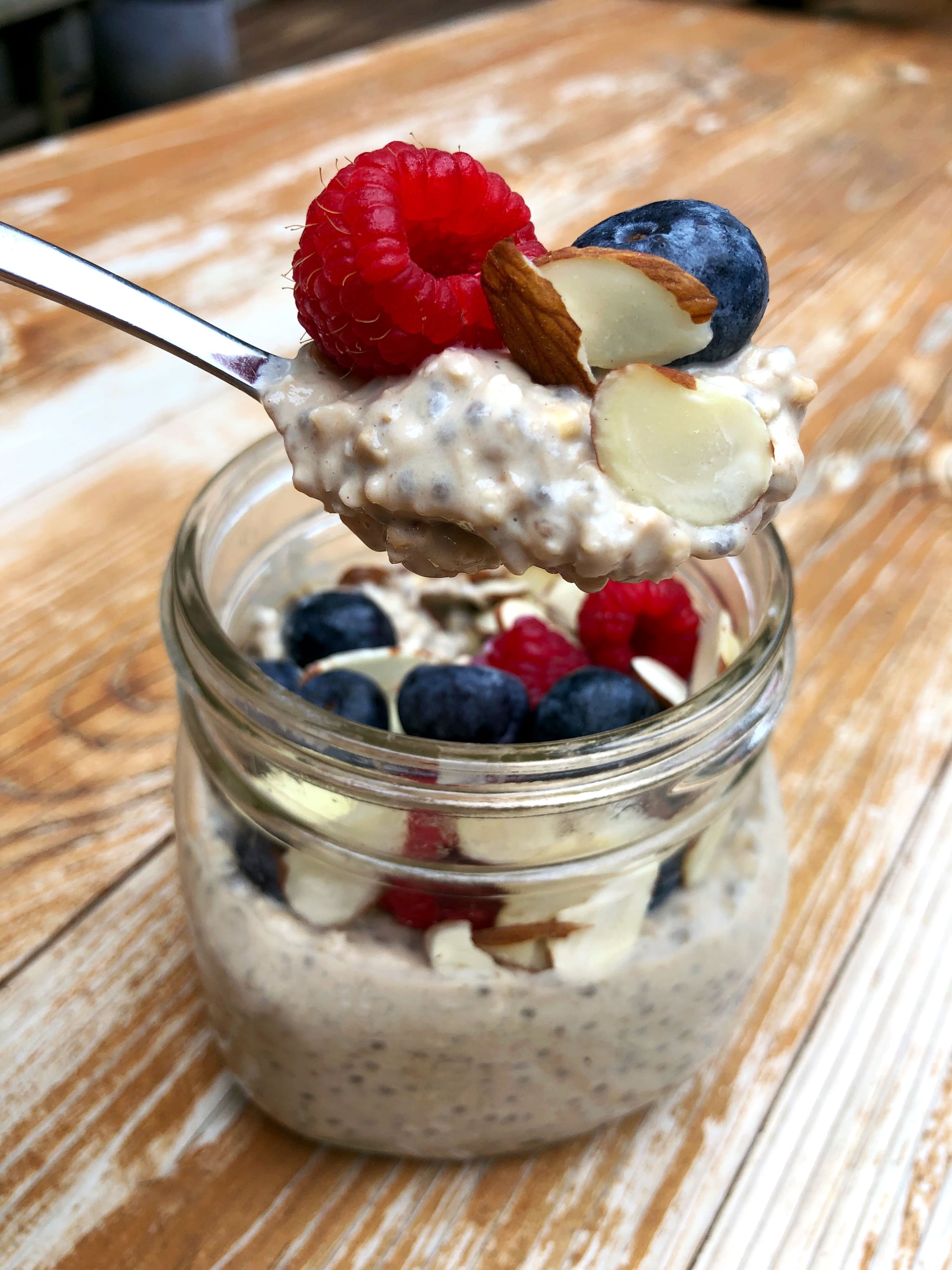 You can modify this recipe to whatever flavor explosion you want in your mouth. Use chocolate protein powder instead of vanilla, or add pecans and golden raisins instead of almonds and dates. Not a fan of chia seeds? Use hemp seeds instead. This is your breakfast, so get creative!
Meal Prep 5 Days of High-Protein Overnight Steel-Cut Oatmeal
From Jenny Sugar
Ingredients
2 1/2 bananas
1 1/2 cups steel-cut oats
5 tablespoons chia seeds
2 1/2 servings vegan protein powder (I used Plant Fusion vanilla; 1 serving (1 scoop) is 30 grams, so half (one-half scoop) is about 15 grams)
5 cups nondairy milk (I used unsweetened soy)
5 sprinkles of cinnamon
5 tablespoons raisins or chopped dates
1 1/2 cups berries or other fruit (save for morning)
5 tablespoons sliced almonds or other nuts (save for morning)
Directions
Grab five mason jars, and mash half a banana in each one using a fork.
Add this to each jar: one-third cup steel-cut oats, one tablespoon chia seeds, one-half serving vegan protein powder, one cup nondairy milk, a sprinkle of cinnamon, and one tablespoon raisins or chopped dates. Give it a good stir.
Cover each jar and let soak for at least 15 hours. Can be stored in the fridge for up to seven days.
In the morning, top yours with one-third cup of berries and one tablespoon of sliced almonds. Enjoy!
Here's the nutritional info for one serving of high-protein overnight steel-cut oats with berries and almonds: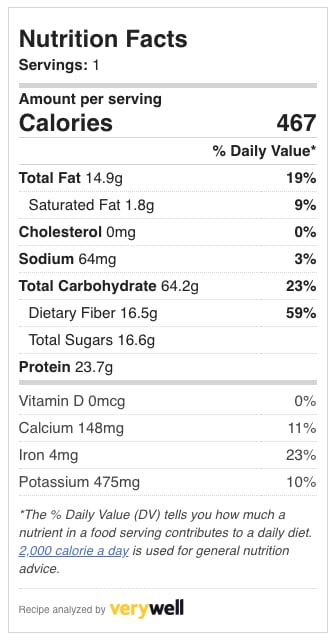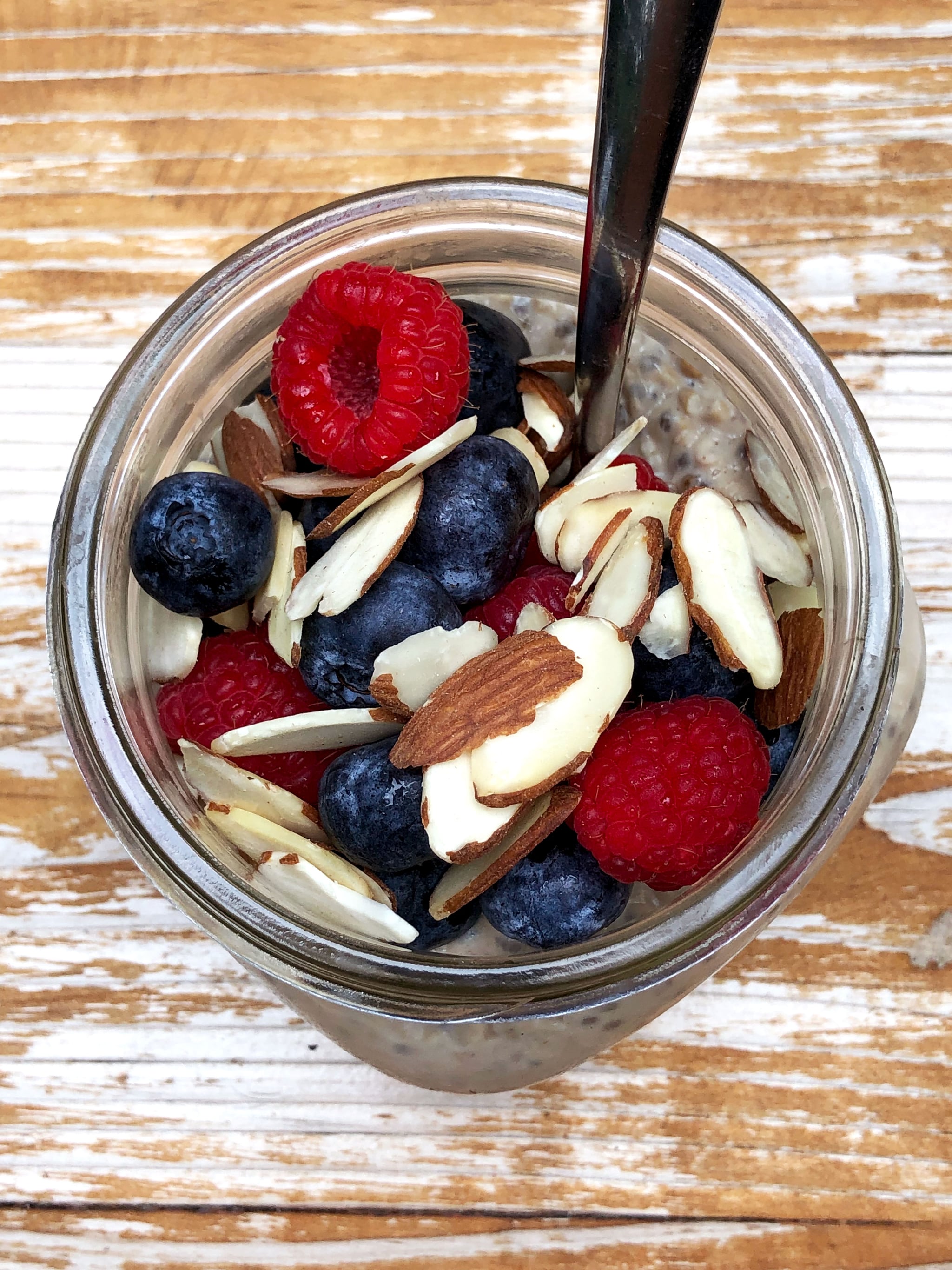 Information
Category

Breakfast/Brunch

Yield

5 servings

Total Time

9 minutes, 59 seconds
Nutrition
Calories per serving

467