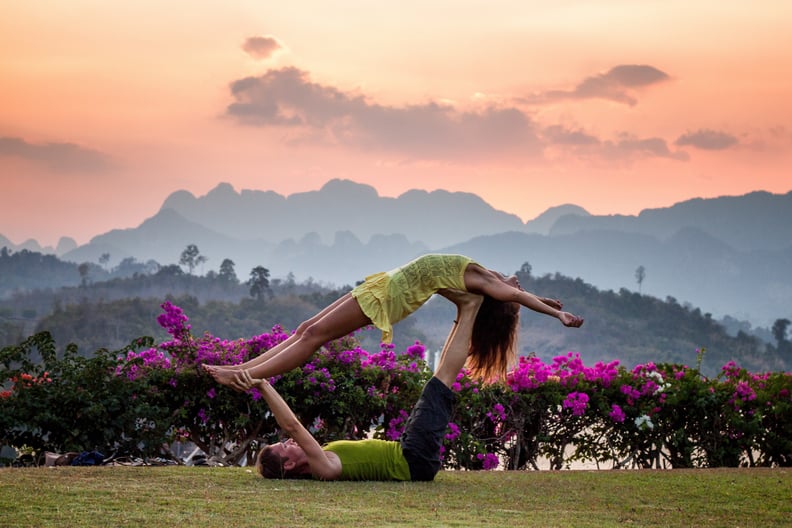 Unsplash | Ruslan Zh
Whether you are an experienced yogi or a total yoga newbie, partner yoga can be an amazing way to spend quality time and connect with a loved one. Yoga can help connect your mind, body, and spirit, and doing yoga with a partner can leave you more connected to each other than ever.
Yoga is an excellent form of self-care that can reduce stress and anxiety, and even boost your energy levels throughout the day. And couples can do yoga together to reduce tension in a relationship and reconnect. Couples yoga is a great idea for Valentine's Day, a fun way to change up date night, and a calming activity for a relaxed day in. So if you're looking for a new way to connect with your partner, try one of these 12 partner yoga workouts on YouTube.
Acro Yoga For Beginners by Koya Webb
Super Fun Partner Yoga Poses by Livin in Flow
Couple Yoga For Beginners 2 by Daily Yoga
Couple's Yoga Flow Routine by Ryan and Alex Duo Life
Fun and Simple Partner Yoga by Livin in Flow
Partner Yoga Class For Beginners by Dutch Smiling Yogi
Intimate Partner Yoga Sequence by Intimate Health Yoga
Couples Yoga Guided Instructions by Date Night in Box
Partner Yoga by Zach Beach
Beginner Partner Stretches by PsycheTruth
Partner Yoga by Elysabeth Williamson