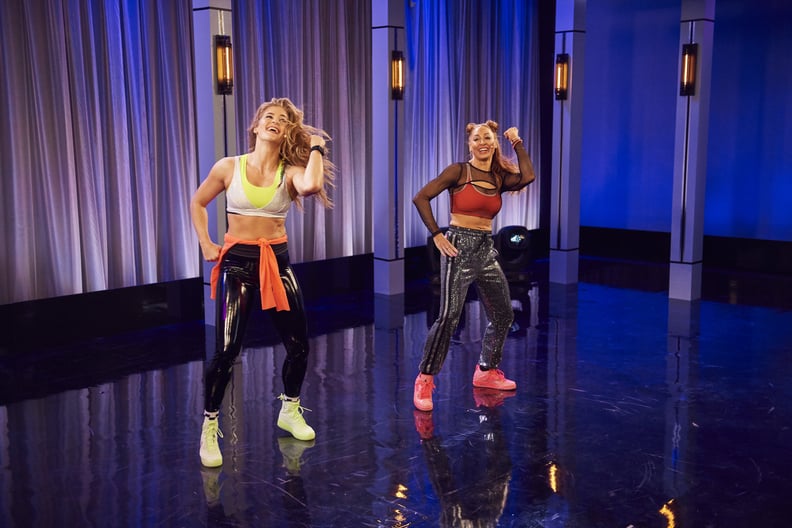 Courtesy of Peloton
Courtesy of Peloton
Despite my background as a gymnast, I admittedly have no rhythm (though I somehow won a ribbon for best dancer at fourth grade cheer camp). I also had a horrifying Zumba experience one summer in my teens, so I'm not so keen on dance cardio in groups. Want me to join a workout class at your gym? Sure! Oh, it involves twerking? No, thank you! However, I do like to try out new types of sweat sessions, especially when it's in the comfort of my own home. That's my one requirement: it has to be where no one can see me.
I'm a Peloton fan — I pay monthly for the brand's digital app (currently free at the time of this article's publishing) which gives you access to a slew of strength, yoga, treadmill, and bike classes that you can do with equipment you have on hand or at the gym — and I'm always excited when new workouts are added. Peloton recently launched dance cardio on demand, and I decided to give it a try late one night. (Note: I'm a night owl, but it's suggested that you avoid working out right before bed.)
I tested out a 20-minute dance cardio session with Jess King and Rebecca Kennedy, two amazingly talented and motivational Peloton trainers (pictured above) who happen to have dance backgrounds. The class, found in the "Cardio" section on the app, included a warmup and cooldown, as well as a big chunk of time devoted to learning choreography. The moves themselves were relatively new for a non-dancer like myself — I certainly wouldn't be able to learn them without the step-by-step instructions from King and Kennedy — but they were more or less easy to pick up with the amount of repetition we did.
Each move had a fun name like "Beyoncé," "Let's Get Physical," "Cheerleader," and "Snake." The House music playing also made me feel like I was smack dab in the middle of a dance party, even if it was in my own bedroom. And, I have good news for you: the dance cardio really was a full-body workout. For instance, the "Beyoncé" worked my legs with its booty pops, and the "Let's Get Physical" worked my obliques. It made me sweat in just 20 minutes (granted, I did complete a 10-minute bodyweight strength class on the app right before).
I recommend finding an open space that allows you to move around as much as you would if you were doing a HIIT cardio routine. Other than that, follow along and take water breaks as needed. Can I miraculously dance now? No. Did I mess up? Tons of times! But, this was just another way to change up my home workouts, and it was fun. It let me laugh at myself — and getting to smile through mistakes while feel-good music blasted in the background was just what I needed.