I Can't Dance but Loved This Hip-Hop Tabata Workout
I Can't Dance, but This at-Home Hip-Hop Tabata Was Fun as Heck and Got Me Extra Sweaty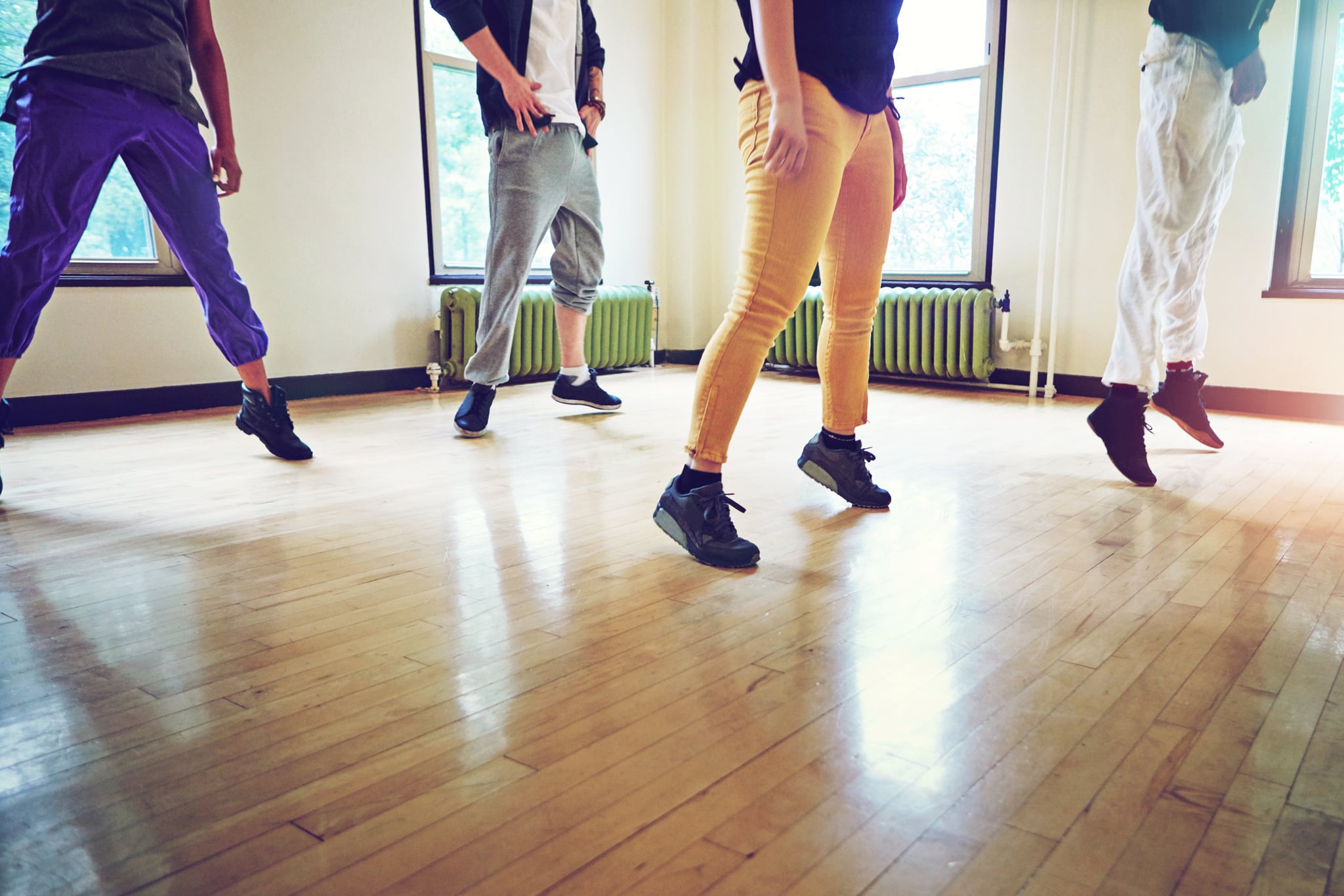 Despite the fact that I won best dancer at fourth grade cheerleading camp, I cannot, in fact, dance. Sure, I was a gymnast for over a decade, but I've been told by loved ones, though I won't name names, (looking at you, boyfriend of four years!) that my moves are less than subpar. Line dancing? Yeah, I can pull it off if it's easy enough, but it won't be pretty. Any type of ballroom dance? Not happening. And don't even get me started on that time my college roommate tried to teach me how to twerk. It was . . . horrendous.
So, when it comes to workout classes that involve dancing, I am beyond hesitant. That might also be due to my nightmarish Zumba experience 10 years ago when I sequestered myself to the corner after not being able to follow the tempo. (Plus, the women toward the front, with their bright spandex and confident freestyle add-ons filled with loud clapping, were regulars and I was clearly not on their level.) Never again would I take a class like that. But, I still like to find fun ways to incorporate cardio into my routine, and dance cardio always has been appealing.
I recently decided to try a 30-minute hip-hop Tabata class from Class FitSugar and AFAA-certified trainer Keaira LaShae of superherofitnessTV because I wanted to give dance workout classes a second chance, but in an environment I felt comfortable (aka, my bedroom). Besides a few minutes of warming up and cooling down, the bulk of it consisted of seven moves you did for four rounds of 20 seconds on, 10 seconds off, each. After those four rounds, you took an additional 30-second break for water.
Was I nervous to try the first move? Sure! After all, it was called "jump with twerk leg" and, as we know by now, I cannot, by any means, twerk. But Keaira had Class FitSugar host Anna Renderer stick to easier modifications that helped me understand that move — and others — better. Many of them, like the "knee lift with chest pump" and "leg lift with jump squat" made my glutes, hamstrings, quads, and calves burn (I also felt it in my core). The nonstop rounds really did get my heart rate up, and an added bonus was the music, which I personally loved and it kept me motivated.
Side note: my cat, whom I've worked out with before, was staring at me right from the beginning. I have to admit that I was a bit embarrassed for the first five minutes or so — he was surely judging me with his marble eyes and flicking tail — but I soon forgot he was there. He actually left the room in the middle of the workout (hopefully because he had better things to do and not because my dancing was that bad). Ahead, check out the video I found to be a challenge, yet a fun one at that. Will I sign up for Zumba now? Probably not. But I've learned that dance cardio like this is worth it, especially at home.
How to Make the Most Out of Your Dance Cardio Workout at Home
Before you give this a try, check out the following tips.
Move any pointy furniture or objects away from your workout space.
Put a workout mat down in case you're on hardwood flooring.
Keep water nearby so you don't have to run to the refrigerator.
Lure your pets away from the room you're working out in if they tend to get in the way (or you don't want to embarrass yourself in front of them).
If you're afraid of disturbing other people in your home, use bluetooth headphones while you're following along to the video.
But, for extra motivation, it's best to blast the volume so you feel like you're actually in a workout class.
Try not to hold back, and have fun. You're sweating in the comfort of your own home, which means you can try as many new dance moves as you want!