"Can't" Isn't in Peloton Instructor Logan Aldridge's Vocabulary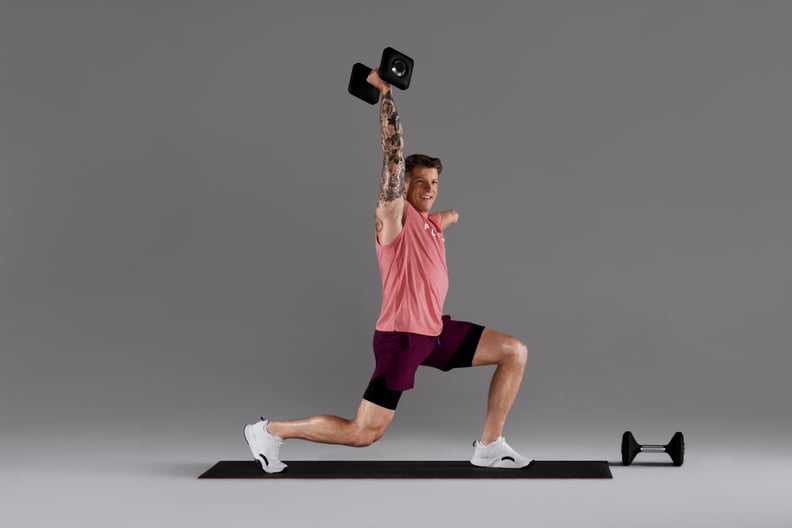 Courtesy of Peloton
Courtesy of Peloton
It's in the face of adversity that many people find their superhero strength. But for Logan Aldridge, a Peloton instructor and the brand's first adaptive training director, it didn't take losing his left arm in a wakeboarding accident at age 13 to find that drive — he's always had it.
That intrinsic motivation to succeed propelled him toward extreme sports from a young age, helped him return to those sports after losing his arm, and positioned him as a trailblazer in the fitness industry, championing a better experience for people of all abilities.
The accident that changed his life has given him a real purpose, but there's no doubt about it: Aldridge was destined for greatness regardless.
An Affinity for the Extreme
Born and raised in Raleigh, NC, Aldridge grew up with an older brother who paved the way into extreme sports; anything he was doing, Aldridge wanted in on. But while his brother and friends settled into a love of video games, Aldridge remained focused on sports. He played soccer, football, and lacrosse; surfed, snowboarded; and fell completely in love with wakeboarding.
"I recognized my desire to do difficult things and extreme things [was] very prevalent at a young age," he tells POPSUGAR. "That led me to a desire to pursue extreme sports in a more competitive way. I wanted to try to see if I could honestly make a career out of being a competitive surfer or snowboarder or wakeboarder, or all three . . . at the age of 13, I was doing just that."
"We're all far more capable than we know or believe, and we just need the right tools, the resources, the right language to reiterate that and remind us that we are."
When an unlikely accident during a routine sunset wakeboarding session resulted in the amputation of his left arm above the elbow, the "perspective and the lens at which I looked at fitness drastically changed," he says. And that meant recognizing fitness as a tool he needed in order to keep living the life he wanted — that is, participating in sports with his friends and being a competitive athlete.
"I recognized the necessity for me to begin trying to develop hand-eye coordination, dexterity, strength, stamina, agility, all of those components of fitness, with my right arm," he says. "I had, all of a sudden, a tremendous purpose behind why I would exercise or train."
He eventually relearned how to wakeboard, snowboard, surf, etc. with one arm — the latter was thanks, in part, to encouragement and support from legendary surfer Bethany Hamilton, who lost her own arm in a shark attack just seven months prior to Aldridge losing his. After his accident, Aldridge went on to compete and place highly in the CrossFit Games, participate in the Paralympic velodrome-cycling training camp, race in national Paralympic track and field and nordic skiing events, and set two Guinness World Records in fitness feats. And in his free time, you can catch him golfing, mountain biking, and playing hockey, among other things. Aldridge is, above all, an athlete, and it seems there's nothing he can't do.
"It's Just an Arm"
When Aldridge talks about his accident now, it appears as if he navigated the obstacle with wisdom beyond his years. It certainly forced him to mature in a unique way: "I came from a very privileged upbringing in childhood, very successful parents . . . as a young kid, I thought I was invincible, like most kids do. . . . I was fearless. And I think I grew up a lot at the age of 13 when this happened."
Aldridge recalls sitting in the ambulance with his mom and realizing that his arm might actually not be OK. "I asked my mom, 'What if I lose my arm?'" he says. And then, "without skipping a beat, she just looked at me and said, 'Logan, it's just an arm.' In that moment, that was so profoundly impactful for me to hear. And it immediately switched my brain to being grateful, recognizing that there's some abundance in this moment."
He still uses that phrase to this day — even during his Peloton classes — as his mantra or "empowerment term" to snap his perspective back into one of gratitude. "The statement, 'It's just an arm,' triggers me to recognize, first of all, be grateful, and that everything is about perspective and attitude. The way in which we see things, the way in which we see experiences and whether it's, 'Woe is me,' or whether it's, 'I'm so grateful for this,' is perspective."
Part of his mission now is bringing that mindset magic to others. "People that might be in this state of mind or frame of mind, or their environment or condition has gotten them in a negative mindset, or the perspective in which they're seeing the world is not an optimistic one, where there's not much hope — I am here to hopefully change that."
Changing the Way We Think About Adaptive Fitness
Aldridge had immense support from friends, family, and medical professionals during his recovery and beyond, but that didn't change the fact that the world — and the fitness world, in particular — was ill-equipped with the tools and guidance that adaptive athletes like Aldridge need to function fully and independently.
When he first started training after the accident, what he wanted and needed from fitness simply "didn't exist." He started using himself as a sort of test model, doing experiments to see what worked, like looping a resistance band underneath his armpit so he could do pull-ups or elevating surfaces for his left arm length so that he could get into symmetrical positions for planks or push-ups.
When it came time for college, he set his sights on prosthetics, studying additive manufacturing and 3D printing and its business applications, then went on to work in the industry. But he quickly realized that quality prosthetics weren't the barrier between people and movement. "If this individual doesn't understand the importance of movement and using that limb, then it just sits in the corner after we've got insurance to pay for it and give it to them," he says.
"I'm here to show that you can be confident, comfortable, and there's a place for you, not only in your pursuit of whatever your goals may be but also in your pursuit of longevity through health and wellness."
So, using everything he'd learned from customizing his own workouts, Aldridge shifted his focus to fitness education for people with differing abilities. He developed training principles, techniques, and a larger curriculum for health and fitness professionals that goes beyond the simple formula of, "If someone has this impairment, then do this exercise," he explains.
"You have all of these personal trainers, gym owners, coaches, and therapists that love the principle and the idea of enabling people with disabilities to be empowered to exercise and do fitness," he says. "We all stand for that, and we know it's the right thing to do, but there's this kind of unintended coaching paralysis, where individuals, they wouldn't know how to welcome someone in. They'd be so fearful of further injuring them, not understanding how to ask the initial intake questions to really develop a sound baseline and foundation of training for them and then how to progress through that onboarding phase."
Aldridge's goal is to help fitness pros move past that. He started doing this work under the CrossFit umbrella and at the Paralympic Training Center in Colorado Springs, and in 2012, he founded the Adaptive Training Academy, which aims to "not only educate the adaptive athletes, the individual, but also educate the trainer and the therapist and the gym owner, so that you understand, from all considerations, how to create truly an adaptive and inclusive environment and fitness programs and movement solutions," he says.
Now that he's teaching classes available to all seven million Peloton members, Aldridge has a giant platform to empower and educate.
"I think that might be a massive motivating factor for me: to want to be that resource and that individual for people who are not just missing an arm but who just don't see themselves as or are not the typical able-bodied individual, who see themselves as different," he says. "I'm here to show that you can be confident, comfortable, and there's a place for you, not only in your pursuit of whatever your goals may be but also in your pursuit of longevity through health and wellness. There's absolutely a place for you to not have to look at fitness through this therapeutic lens and rehabilitative lens, but instead to be able to look at it through a very empowering, purposeful process that we all go through, and to make it fun."