POPSUGAR Grounded Los Angeles March 7, 2020
Don't Miss Live Workouts From Madelaine Petsch With P.volve and More at POPSUGAR Grounded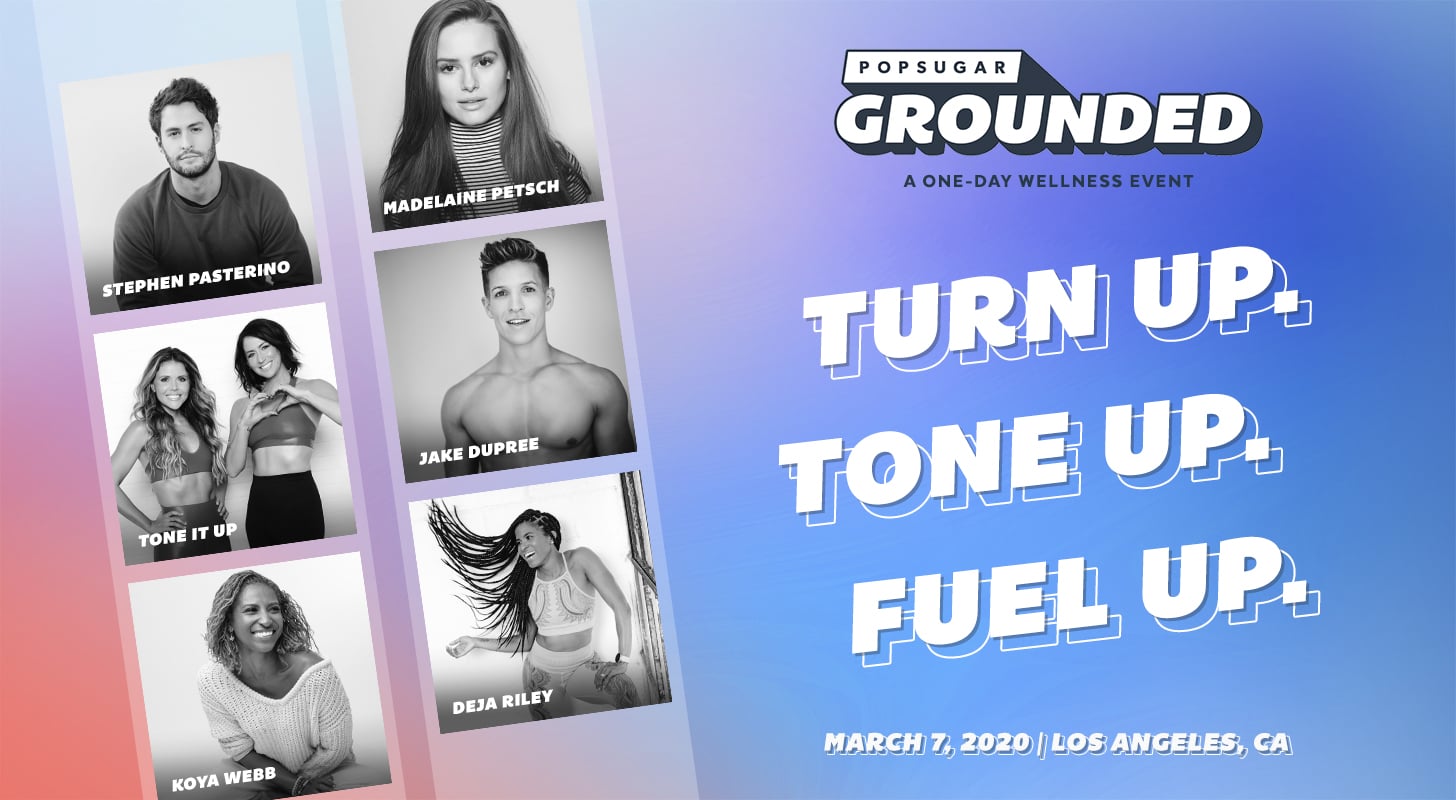 Get ready to turn up, tune up, and fuel up! The fitness and wellness programming you love from POPSUGAR Play/Ground is coming to LA for one day only. Don't miss the first-ever POPSUGAR Grounded, our immersive wellness event on Saturday, March 7, at Goya Studios in Los Angeles. There will be powerful workouts, soulful workshops, inspiring discussions with game-changing women, and more!
Whether you want to rev up or cool down, there are tons of fun activities to enjoy at the event! Visit the Body Garage to gear up your mind and body with electric workouts led by top instructors including Tone It Up and Koya Webb. Ready to take a breather? Cool down at the Rest Stop, a soul space for spirit-expanding moments, centering spaces, self-care workshops, and inspirational panels. Shop POPSUGAR merch at the PS Mini Mart, and stop by the Fuel Station to purchase breakfast, lunch, snacks, and more.
Don't miss all of the amazing trainers and fitness experts coming to POPSUGAR Grounded!
Plus, get centered with all of these soulful wellness activities from inspirational coaches, teachers, and speakers!
Sah D'Simone: Join international bestselling author and meditation teacher Sah D'Simone for a mind-blowing workshop combining ancient meditation techniques, ecstatic dance, breathwork, and mantra practice to rekindle your potential and self-worth.
Pursuers of Progress Panel: Activist, poet, and author Aija Mayrock will lead an honest conversation that helps drop the stigma around periods.
Ryan Weiss: Life coach Ryan Weiss breaks down the spiritual and psychological tools we need to thrive. Ask Ryan your burning relationship questions, then join him as he guides you inward.
Elizabeth Schieffelin: Relax and receive all the vibrations in this deeply restorative sound bath led by sound healer and meditation instructor Elizabeth Schieffelin.
Angie Rojo: Dive into a multidimensional universe to visit a past life and connect with your higher self with hypnotist and self-love mentor Angie Rojo.
Mary Beth LaRue: Take your thoughts off autopilot, and connect to the present moment in a deeply nourishing guided meditation with yoga teacher, mentor, and Rock Your Bliss cofounder Mary Beth LaRue.
JOMO>FOMO Panel: Screw FOMO: we're all about JOMO, or the "joy of missing out." This panel features a discussion on avoiding societal pressures and not getting caught up in social media.
Clean Beauty Panel: It's time to dethrone toxic ingredients and make room for the new wave of clean beauty. POPSUGAR Fitness producer Kahnita Wilkerson will lead a discussion about cleaning up your beauty routine.
Millana Snow: Join Wellness Official founder and energy healer Millana Snow for a life-changing, deep-healing breathwork experience
Sustain Your Sparkle Panel: Explore practical ways to bring a little magic into every day in this interactive, intention-setting workshop with the founders of Smudge Wellness.
Visit popsugargrounded.com to see the full lineup and to grab your tickets.There are three types of tickets available for the event:
Morning Rise from 9 a.m. to 1 p.m.
Afternoon Shine from 2 p.m. to 6 p.m.
Full-Day Rise & Shine from 9 a.m. to 6 p.m.
Tickets for the Morning Rise and Afternoon Shine sessions are $25, and the Full-Day Rise is $40. So, if you think about it, you could get four hours of amazing workouts, discussions, and more for the cost of your average one-hour workout class.
You can find the full schedule here. Tickets are almost sold out, so grab yours now!
Special thanks to our sponsors Core Hydration, Natural Vitality CALM, U by Kotex, Nature's Way Alive!, and Koolaburra by UGG for their support.