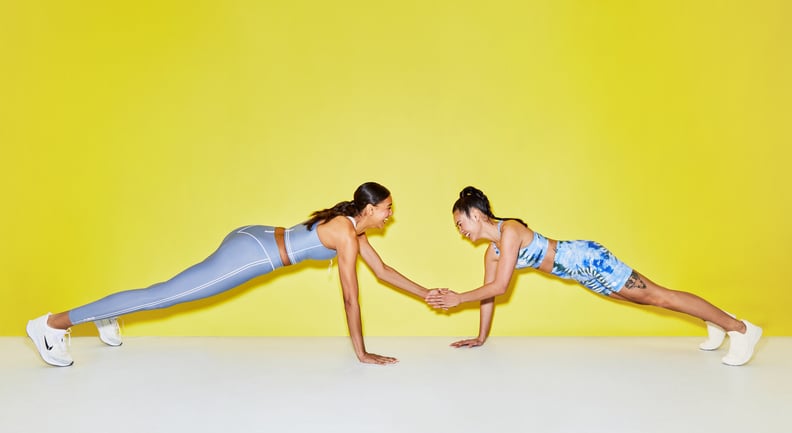 POPSUGAR Photography | Matthew Kelly
POPSUGAR Photography | Matthew Kelly
Was your fitness routine turned upside down the past year? Come on in and join the club! I went from hitting the gym four times a week to shoving furniture around my tiny living room to make space for a yoga mat. YouTube workouts were a godsend, keeping me motivated and on my game when everything else got overwhelming.
But don't just take my word for it; we reached out to members of our POPSUGAR Workout Club (join us!) to find out which workouts and trainers got them through the year. Some fitness fans relied on a couple of go-to routines (get ready for abs and squats!), others dove into a new favorite trainer, and all of us made sure movement was still part of our lives. So if your own workout routine needs a January refresh, keep reading for a treasure trove of fan favorites to get you started.
Love trying new workouts? Want a community to share your fitness goals with? Come join our Facebook group POPSUGAR Workout Club. There, you can find advice on making the best out of every sweat session and everything else you need to help you on your road to healthy living.
01
45-Minute Calorie-Burning Workout With Jeanette Jenkins
No surprise here: Jeanette Jenkins was our Workout Club's favorite trainer by far. Her combination of energy, motivation, and seriously tough moves just can't be beat! "The 60-minute and the 45-minute workouts are on my repeat list!" said Ingrid G.
02
30 Minute Fat-Burning HIIT Workout by Sydney Cummings
YouTube fitness fans LOVE Sydney Cummings. Sarah E. said Cummings is hands-down her favorite trainer. "Variety, variety and variety! A new workout every darn day. To me, it feels as though she's pushing you to be your best."
03
35-Minute Full-Body Workout With Weights With Raneir Pollard
Raneir Pollard is one of my personal Class FitSugar favorites, and I'm far from his only fan. Daydee C. rated this 35-minute weights workout as her favorite, and Maria S. said she loves his upbeat attitude and tough moves. "I appreciate him not taking himself too seriously, but he is serious about the workout. There are always great tips for modifications and he has great energy and a warm personality to keep me motivated to stay with him until the end."
04
30-Minute Barre Sculpting Workout by Marnie Alton
Another fitness fan named M/BODY-founder Marnie Alton as her favorite trainer, and we can see why. Alton's workouts have a unique flow that blends barre moves, stretches, and strengthening exercises for a full-body burn.
05
30-Minute Cardio & HIIT Workout by Charlee Atkins
"I love this workout because it's equipment-free and you don't need tons of space, but it's so effective," said Lisa P. of this intense workout from Charlee Atkins. It's a heart-pounding combo of cardio and HIIT that'll leave you sweating.
06
30-Minute Standing Cardio Workout With Anna Renderer
"I've done the 30-Minute Standing Cardio Workout with Anna Renderer more times than I can count," Lindsay D. said. "The cardio intervals tax my heart rate while the plyometric jumps burn out my legs. Anna's friendly personality keeps me company while I can't exercise with my gym friends. She's the best!"
07
30-Minute Abs and Butt-Toning Workout With Brittne Babe
This workout is "killer," Lisa P. said. Trainer Brittne Babe keeps the focus on your core and glutes, so it's all about squats, kicks, and intense crunch variations that'll have your muscles shaking.