Meet Khetanya Henderson, a New POPSUGAR Trainer
How POPSUGAR Trainer Khetanya Henderson Found Her Purpose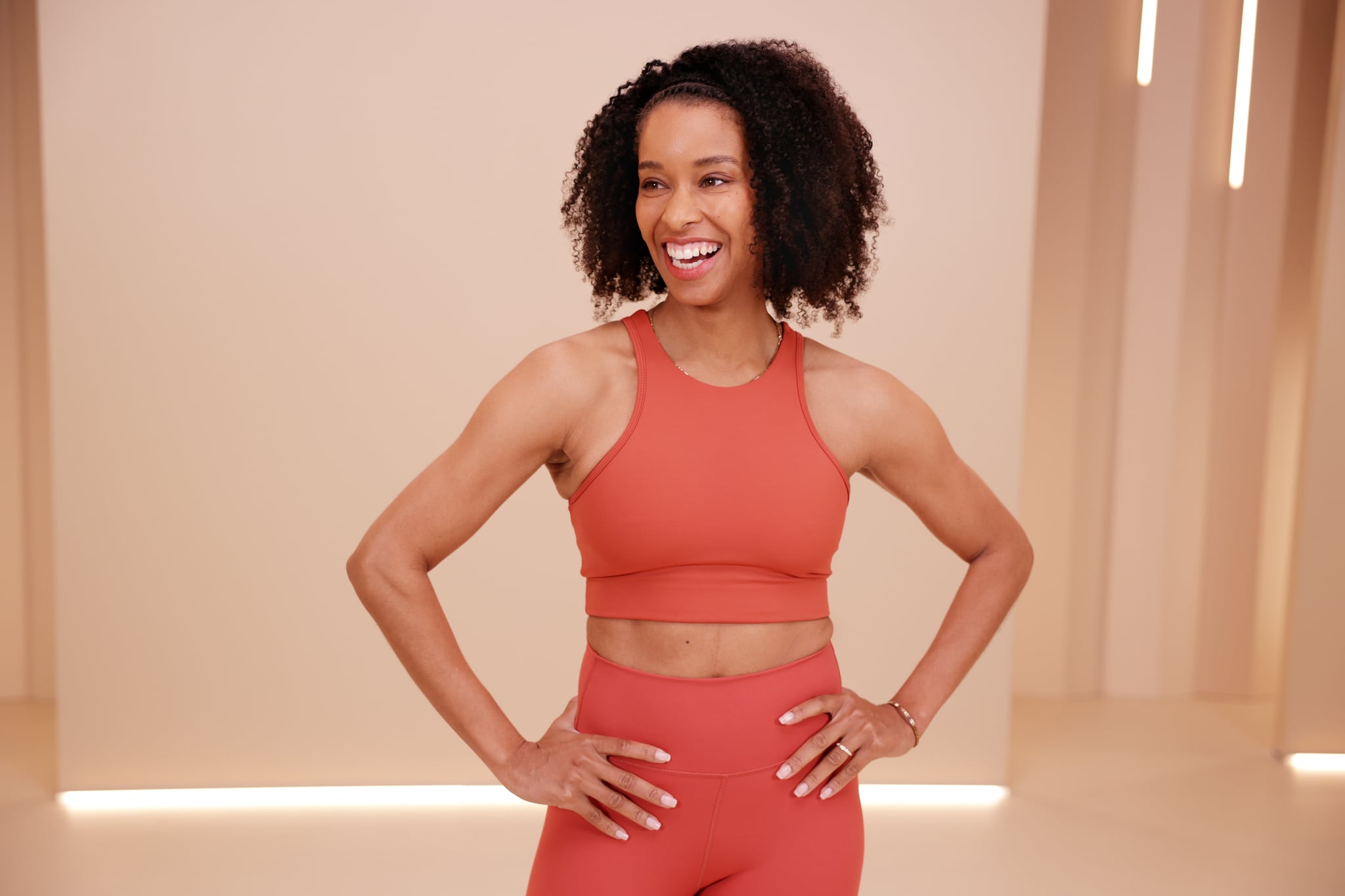 Image Source: POPSUGAR Video
Catch Khetanya Henderson and the other Class Fitsugar trainers in new episodes dropping every Sunday and Wednesday on the POPSUGAR Fitness YouTube Channel.

Khetanya Henderson's journey with movement began when she was just 5 years old. That's when her mom brought her to a West African dance class in Atlanta. The class mostly catered to adults, but Henderson fearlessly joined in, picking up the movements in no time and revealing a natural talent for dance. Fast forward about 15 years, and she was on scholarship at the iconic Alvin Ailey dance school, setting out to pursue a professional dance career in New York City.
Despite it being a notoriously tough industry, Henderson made it happen, touring with New York-based dance companies and earning spots in the movies "Hairspray" and "Enchanted," as well as a leading role in a Cirque du Soleil show in Las Vegas.
She was living her dream — that is, until the pandemic hit, when performing roles essentially vanished. But through that challenge, she found something else: her purpose. Read how she got there and why it's brought her to POPSUGAR as one of the new hosts of the Class Fitsugar YouTube series.
A Lifetime of Movement
Henderson excelled in dance as a kid, but by age 9, she began to channel more of her time and attention toward soccer — a bug she caught from her three older brothers. She displayed just as much talent on the field as she had in the dance studio, eventually going on to play in college. But she left school wanting to reconnect with what she calls her "first form of expression" — dance — and that's when she went to Alvin Ailey.
While Henderson had stayed fit to run the lengths of the soccer field, a full-time dance career requires a different level of physicality, and Henderson says she felt like she "had to do a lot of catch-up" to prepare her body. In an attempt to ramp up her training, she discovered reformer Pilates.
She started taking classes, but it wasn't long before she was teaching, too, as a way to earn money while in dance school. "I started studying reformer [Pilates] my early years of studying dance, and that's really what catapulted me in terms of my strength and my flexibility," Henderson says. "I thought, 'Oh, it's going to keep me fit and pay my bills, and it provides flexibility, so I'll teach.'" But it quickly became more than that.
Pilates as a Gateway
Pilates became a grounding force for Henderson, and although she remains passionate about dance, soccer, and many other forms of exercise, she tends to return to the practice. "It has always helped me stay centered," Henderson says. "In a way, Pilates hit me more spiritually. That might sound a little strange because a lot of people think of yoga as a spiritual movement practice, and it is. But for me, Pilates really helped me come back to my body and helped me ground myself. And it made me more confident in who I am as a person, so I'm able to show up to my day."
Pilates was a springboard to what became an impressively varied fitness career — one that she maintained even while dancing and acting, too. Henderson has taught dance cardio (a natural fit with her professional dance career), a unique mantra-driven class with The Movement, Body by Simone classes, rowing and strength with LIT Method, and some programming at Equinox.
A Pandemic Shift in Perspective
Like many people who experienced a radical shift in priorities during the COVID pandemic, the "Great Slowdown" — and the temporary disappearance of all dancing and acting gigs — nudged Henderson to see her work in a new light.
"I felt like, during the pandemic, fitness was community. It was a spiritual exchange; it was my purpose. And largely, I was contributing to something very positive."
"The pandemic really helped me understand what my purpose was," she says. "I've always felt like movement, in general, has been a spiritual exchange for me. And I feel like as a performer, there's only so far you can affect someone [who's watching], or it's something that's temporary. . . . At the beginning of the pandemic, I remember thinking, 'OK, what can I do to contribute? How can I be a part of the good in this situation?'"
Many of her clients were reaching out, asking if she was teaching, but as studios and gyms scrambled to get virtual platforms and makeshift business models off the ground, Henderson was stuck waiting for the green light. "I thought, 'I have that gift to share with people; let me just offer something,'" she says.
So she began running free classes on her social media, leading to a major realization: "This is part of my purpose," she says. "I've always been a goal-getter, a dreamer . . . But I realize that there are not many [people] like that. Fitness, to me, is about helping people show up, helping empower people, helping strengthen people beyond just their muscles, but [also] mentally and physically. I felt like, during the pandemic, fitness was community. It was a spiritual exchange; it was my purpose. And largely, I was contributing to something very positive." Nowadays, she considers dancing and acting to be side gigs (you can still catch Henderson in the occasional Peloton commercial), while teaching and training have become her main goal.
A Growth Mindset, but With Balance
As Henderson's client base grew during the pandemic, she decided to take on something bigger, teaming up with trainer and nutritionist Kara Griffin to create an affordable six-week program with both a food and fitness component called Sxysx (pronounced "Sexy Six").
Her next foray? Making Pilates available to more people who feel it's out of their financial means. "Accessibility is now part of my next mission," Henderson says. "I want to be able to get that content out to people who can't afford to take a Pilates class. . . . The price point for Pilates has never changed. It's always been expensive. And so to provide that would be really cool."
Eventually, Henderson also wants to dip her toes into the retreat space because it blends two of her biggest passions. "My happiness is traveling," she says. "The pandemic just did a bunch of [awakening] for me. And I was like, 'I have to sit in my happiness.' That's the only way I'm able to give to people, is if I'm in my happiness." For her, that means sticking with virtual coaching and training even though gyms and studios have reopened, so it gives her the geographical space to move.
"I think some of the things that I learned from that space [during COVID] was that, as much as I am giving and sharing out of my pot, I have to also fill my pot, too," she says. "So I made more space to do yoga. I started seeing a therapist once a week so that I can get some feedback as well, because I felt like I was just giving, giving, giving. And in doing these things, it helped me really understand and value my work."