POPSUGAR Trainer Rachel McClusky Is Proof That Vision Boards Work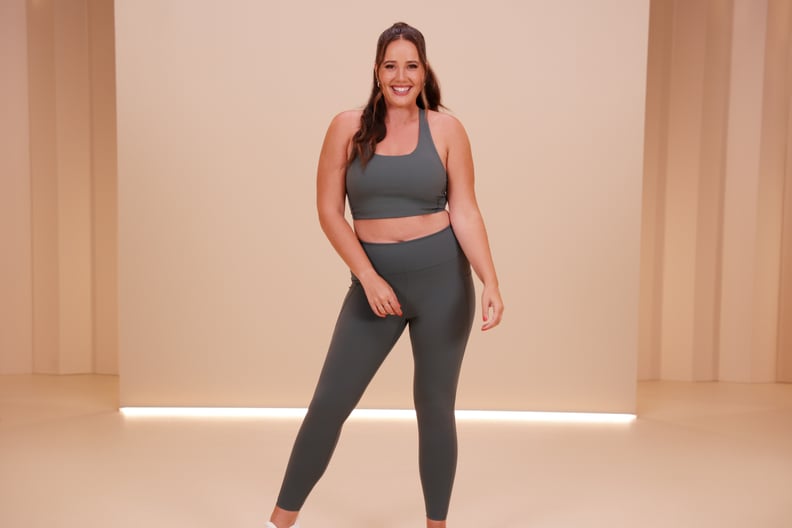 POPSUGAR Video
POPSUGAR Video
Catch Rachel McClusky and the other Class FitSugar trainers in new episodes dropping every Sunday and Wednesday on the POPSUGAR Fitness YouTube Channel.
Before Los Angeles-based trainer Rachel McClusky became the fitness entrepreneur she is today, her heart was actually in music. Born into a family of musicians and a self-identified singer-songwriter since age 11, jumping headfirst into that path always felt like "the natural thing to do," she says. "It was such a release for me to write, to perform." But it's not an easy industry, and the mounting pressure and the realities of what it takes to make it led to burnout by the time she was 19. Then she found fitness.
"I started taking fitness classes, and I realized, 'Oh my gosh, I'm healing in this space.'"
"I was going through a really difficult time around age 19-20, and I started taking fitness classes, and I realized, 'Oh my gosh, I'm healing in this space,'" she says. "And that was really what drew me into teaching fitness." She began as a Zumba instructor in college then decided to take a year off of music.
"Ultimately, the passion grew to help people move through their emotions and to feel safe, confident, and comfortable moving their bodies, and I felt so in love with it that I started teaching full time," she says. Fast-forward nine years, and she's joined the POPSUGAR team as one of the newest hosts of the Class FitSugar YouTube series — a position she manifested for herself. This is how she got there.
Finding Her Own Space in the Fitness World
After college, McClusky's fitness career began at a big-box gym, and she's gotten a ton of experience under her belt since then, teaching HIIT, boxing, strength, and cycling classes. Eventually, she developed her own signature style, The Recharge Method, which is designed to be a cathartic blend of dance cardio, moving meditation, and sculpt training (i.e. bodyweight strength and HIIT moves).
In addition to music, McClusky also grew up playing sports and dancing, which helped lead her to this special-sauce method that's "all about feeling as good as possible within the movements."
"Basically, I took everything that I loved and put it all into one class," she says. It starts with a moving meditation that can get a "little uncomfortable," thanks in part to the movements themselves and also from "tapping in so deeply." To rebound from that intense release, "I wanted to create the most elated feeling," she says. Enter: dance cardio, jumping, moving with complete freedom. "And then we end every class with a dance party," she says. "I think that's the best way to celebrate the hard work that you put in for the last 50 minutes."
After teaching so many modalities, she landed on dance-cardio-focused classes because "for me, it felt like the most intuitive way to move my body . . . it was what felt the most unique to me and where I had the most fun," she says. "When you're teaching 10 to 12 classes a week, you want to enjoy every single part of it because it's so taxing on the body. This class was fun every time that I taught. And I think having fun while moving your body inspires people to move more, and that was really important to me: to create the most fun possible way to move your body."
And though she no longer plays or writes music, that passion still shows up in her method: "I love music, and I love the emotion and motivation that it inspires in a fitness class or just in general, like hearing a good song that can make you want to dance or that makes you cry," she says.
Manifesting Her Dream Job
McClusky's newest gig as a POPSUGAR trainer isn't a coincidence: she manifested it. "I've always wanted to teach for POPSUGAR," she says. "I had written POPSUGAR on my vision board in 2019, and I was like, 'It's going to happen one day. I don't know how, but it's going to happen.' And [a video producer from POPSUGAR] sent me an email and it literally went to my spam inbox. I found it and panicked because my dreams were literally in my spam."
A frantic email reply and some phone calls later, McClusky was on the POPSUGAR set. She started teaching classes for Class FitSugar in April 2022 and is now a regular face on the channel as one of four new hosts — but that's far from all she has going on.
McClusky also hosts Recharged retreats, panels, workshops, and live and virtual classes, and she's cultivated a community around her method. In fact, she's so booked and busy that her most recent vision board was all about finding time for herself: "a few months into the year I had a business coach tell me to create a second vision board," she wrote in a recent Instagram post. "the one I had made in the beginning of the year was completely focused around work and a few months into 2022 I was feeling stuck and caught in the cycle that work was the main thing that was brining me joy. I made a second Vision board that surrounded around travel solely for me, carving out time to do fun things with friends, and start enjoying the things that I take for granted in LA.
the last few months I have been having SO. MUCH. FUN. and all of a sudden when I took the focus off of how to make excel in my work life and more on living a full well rounded life, work began to flow even more, and things truly just start d falling into place."
Whether you're getting to know McClusky to take her classes, feel inspired, or get the scoop on her retreats, let the story of how she ended up on POPSUGAR be a lesson: you might be just a vision board away from changing your life.