Should I Wear a Mask to the Gym?
Some Gyms Are Nixing Mask Requirements For Vaccinated People — Here's What to Know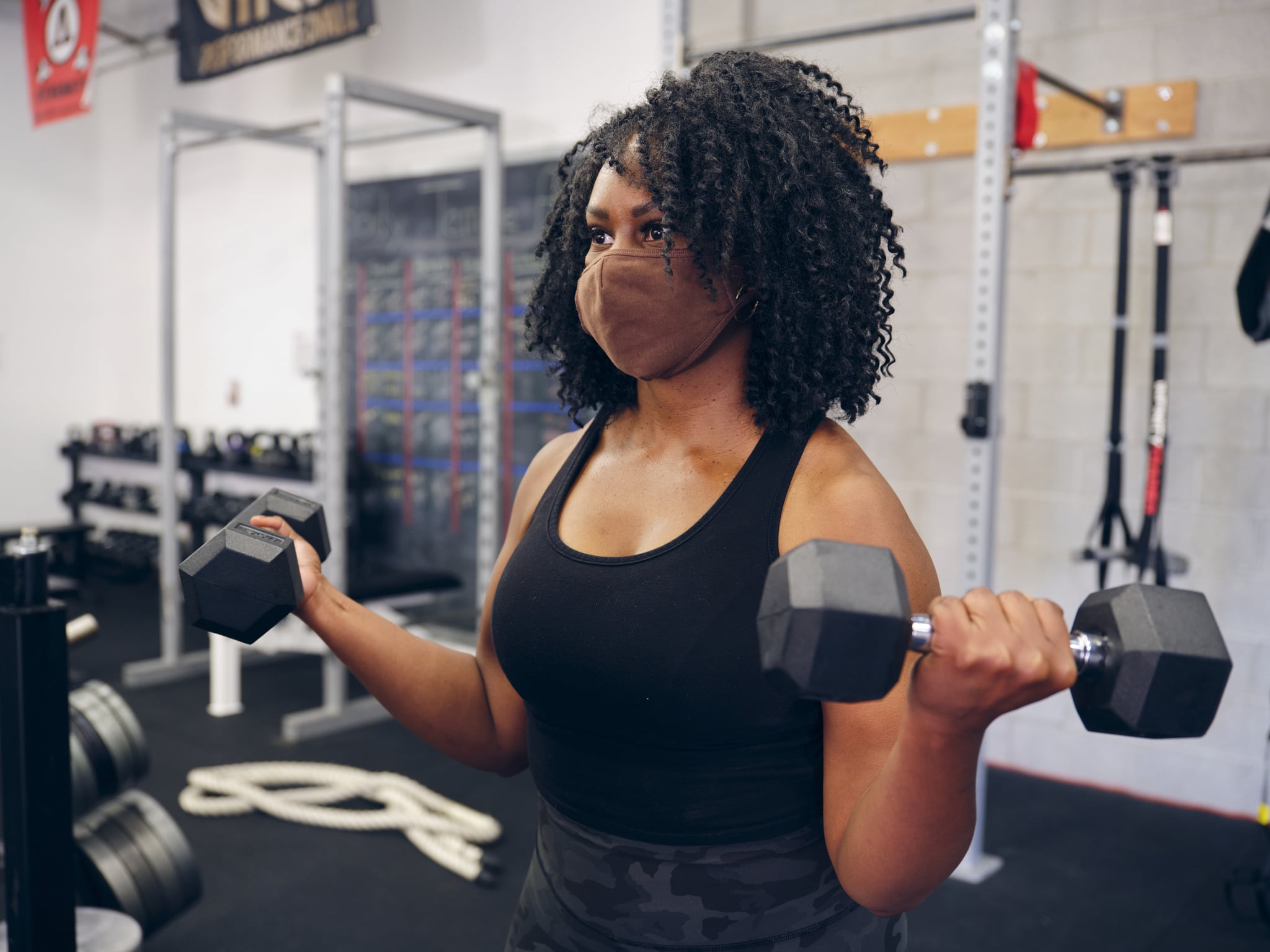 Under new CDC guidelines, fully vaccinated people in the US — those who are two weeks out from their final dose — do not need to wear masks indoors and outdoors in most situations, excluding public transportation, due to the vaccines' efficacy in thwarting infection and growing evidence about their efficacy in stopping transmission as well. Despite CDC recommendations, state and local mandates still apply, and individual businesses can call for masks. So, will you finally be able to go mask-free at the gym?
If a gym requires that you mask up upon entry, that's the way to go. However, some gyms are already coming out with announcements that say vaccinated people will not need face coverings. Starting May 19, Equinox members in New York, Connecticut, Maryland, and Chicago no longer have to mask up, and no proof of vaccination will be required either. POPSUGAR has reached out for comment.
Planet Fitness updated its COVID-19 FAQ page as recently as May 17 and stated that employees, members, and guests should abide by state and local mask requirements. A Planet Fitness spokesperson wrote to POPSUGAR that they will not be asking for proof of vaccination, "but upon entry, members must acknowledge through the PF App (or a questionnaire at the front desk) that they will wear a mask if they are in a state that requires one without vaccination."
Barry's Bootcamp in New York City, on the other hand, will require proof of vaccination through the Excelsior Pass app or by checking vaccination cards. Fully vaccinated NYC members are invited to sign up for classes at 100 percent capacity, but they're still offering classes at 50 percent capacity where masks are optional and social-distance rules apply. Barry's locations nationwide will follow the lead of local and state guidance — for example, the state of California won't be aligning with the new CDC guidelines until June 15.
Should You Wear a Mask to the Gym If You're Vaccinated?
If your gym requires it, then yes, you should mask up. If not, and considering CDC guidelines, you're good to go without your mask if you are vaccinated. Let's consider what we know: The vaccines are highly effective at preventing COVID-19, especially severe illness and death. There is a chance you can still get infected, but there's growing evidence that the vaccines also reduce the risk of people actually spreading the virus. Being fully vaccinated and going to a gym where nearly everyone else is fully vaccinated makes incidences of COVID-19 cases unlikely.
Though a full vaccination means you're protected, the fact that vaccines aren't 100 percent effective might cause hesitation about working out around unvaccinated people, especially if proof of vaccination isn't required in your gym (meaning you'd have to trust the honor system). Sharing gym space with unvaccinated members would be much less of a risk if they were wearing masks, Céline Gounder, MD, ScM, infectious-disease specialist and epidemiologist at NYU Langone Health and Bellevue Hospital, told POPSUGAR. Therefore, attending a gym that does not check if those going maskless are vaccinated would be considered more unsafe.
Dr. Gounder acknowledged that when making your decision on whether or not you should still wear a face covering at the gym, the risk also depends on what types of masks are being worn by other people, particularly unvaccinated people — the CDC recommends non-valved and multilayered cloth masks — as well as "the density of people in the gym, the duration of exposure, and whether there is good ventilation or not." If you're feeling wary about heading to the gym without a mask on, consider those factors and your own comfort level.
Should You Wear a Mask to the Gym If You're Not Vaccinated?
If you are not fully vaccinated, you should mask up at the gym for the sake of your own safety and the safety of others. The CDC guidelines stating that people can go maskless in most indoor and outdoor settings only apply to those who are fully vaccinated, and Dr. Gounder agreed, explaining that you are at risk of getting COVID-19 if you are unvaccinated and do not wear a mask at the gym. You are also more likely to infect others if you have COVID-19 and are not masked (this much we've known for a while). "Most of us breathe heavily when we're working out, so we're more likely to spew out more infectious particles if we're infected, and we're more likely to inhale those infectious particles if we're exposed," Dr. Gounder noted.
That said, the risk depends on local levels of community transmission and the percentage of people around you at the gym who have been vaccinated, Dr. Gounder said, as well as other factors previously discussed such as how crowded the gym is, how long you're there for, and the amount of ventilation. Of course, you should also just wear a mask if your gym requires you to wear one.
Is It Safe to Go to the Gym Now?
Out of an abundance of caution, Brian Strom, MD, MPH, chancellor of Rutgers Biomedical and Health Sciences, told The New York Times that he doesn't suggest that people go to gyms "anytime soon," calling them "too high risk." Dr. Gounder disagreed to some extent; she was particularly uneasy about places overlooking proof of vaccination. "Personally, as someone who worked out at the gym five to six days per week right before the pandemic and who hasn't yet gone back to the gym, I would feel safe going back to the gym now if vaccine verification were in place. In the absence of that, and until community transmission rates are lower and more people are vaccinated, I'm going to stick to working out at home with the equipment we bought during the pandemic."
Ultimately, follow the guidelines set in place where you live and where you're working out, and consider what you feel comfortable with. And if you are not vaccinated, for now, wear your mask while getting your gym sweat on.
POPSUGAR aims to give you the most accurate and up-to-date information about the coronavirus, but details and recommendations about this pandemic may have changed since publication. For the latest information on COVID-19, please check out resources from the WHO, CDC, and local public health departments.