Sky Brown Talks About Bronze Medal Olympic Experience
Sky Brown's "Never Give Up" Mentality Helped Her Claim Olympic Skateboarding Bronze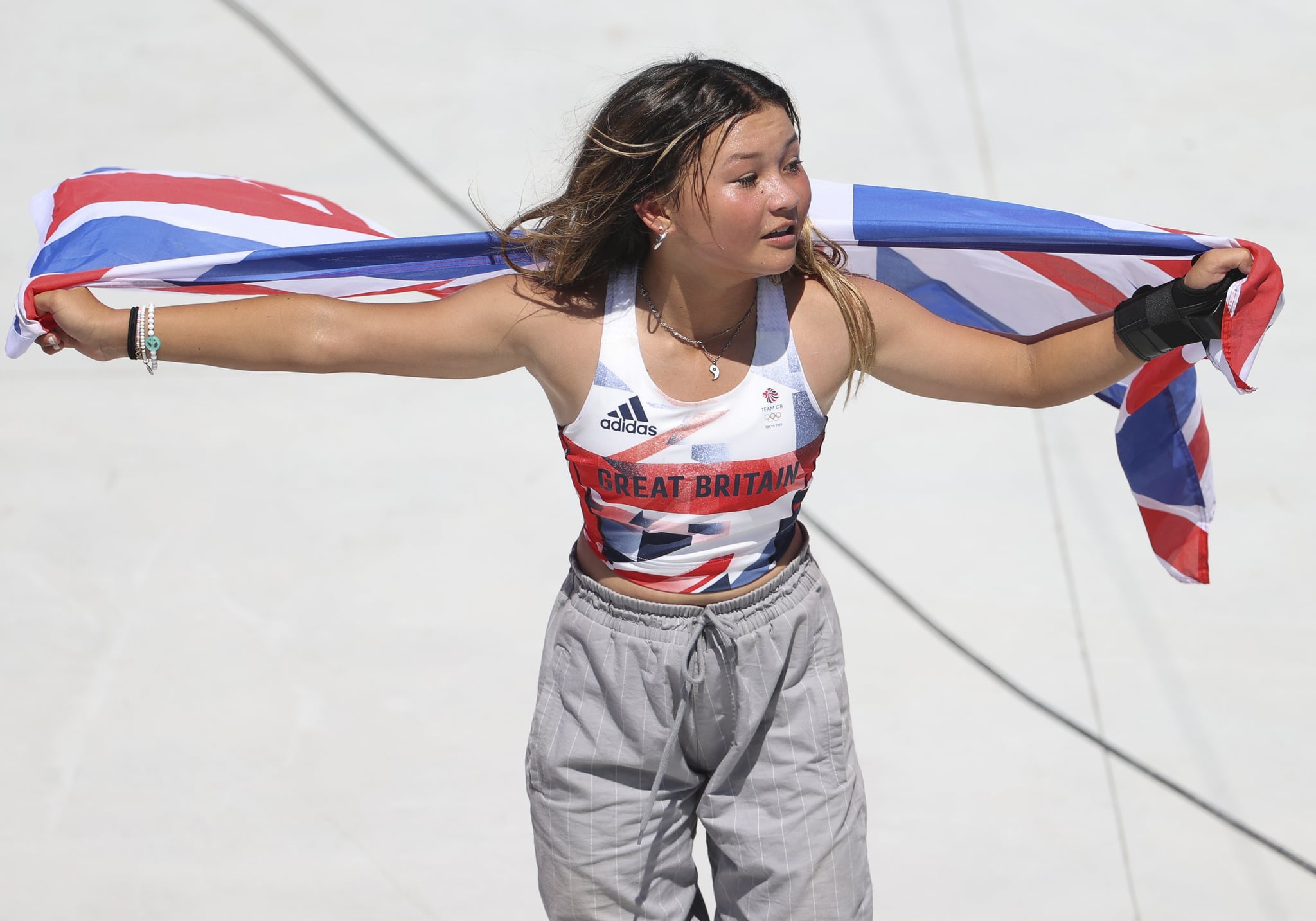 Image Source: Getty / Jean Catuffe
Sky Brown, representing Great Britain in women's park skateboarding at the Tokyo Olympics, fell on her first two runs. With only one run to go, she knew she had to skate hard. "You want to make your first two runs, that's really important," Brown told POPSUGAR, adding that she could have played it safer, but she decided last minute not to — and it paid off. After nailing a frontside 540 (her favorite trick to date, which she did at the 2019 X Games to make history for women skateboarders) as well as a fakie kickflip at the end of her performance, she threw her hands up in excitement. She felt for Japan's Misugu Okamoto, the world's top-ranked women's park skateboarder going into the Games, whom she bested for bronze, but overall, she was "stoked." A few more words to describe her Olympic experience? "Fun, dreamy, the best time . . . crazy!"
Before the COVID-19 pandemic, Brown, who has been skateboarding for as long as she can remember, would split her time between Japan, where she was born, and California; her father is British, and her mother is Japanese. She is Great Britain's youngest Summer Olympian ever, and she's also the youngest Olympian from Great Britain to medal.
Brown has a "never give up" mentality when it comes to skateboarding. With no official coach, she'll spend full days trying to learn a trick "and falling so many times and just getting so many bruises, so many cuts." Through it all, she keeps going and teaches herself tools to progress.
Even when Brown suffered her "worst fall yet" in the spring of 2020 that left her with multiple skull fractures, a broken arm and broken hand, and heart and lung lacerations, she chose to persevere. She urges other athletes to follow her example in the face of adversity. "It might hurt sometimes, but if you want to improve and get better and get your trick, you got to keep going and never give up," she stated. New skills, she added, feel even more rewarding to land successfully when you overcome hardships or fear you've dealt with along the way.
Brown is featured in the new International Olympic Committee and Rocket Sports series for the Olympic Channel, From the Top: Olympians and Rockstars, executive produced by Elton John. It debuted on Aug. 16 and chronicles Olympic athletes and musicians, both thriving in their careers, spending the day together and learning what it takes to excel in their fields. Brown is paired with British singer-songwriter Yungblud for three episodes, and they both tried the other's respective passions (Yungblud unapologetically went for the tricks, and Brown jammed out on the guitar!).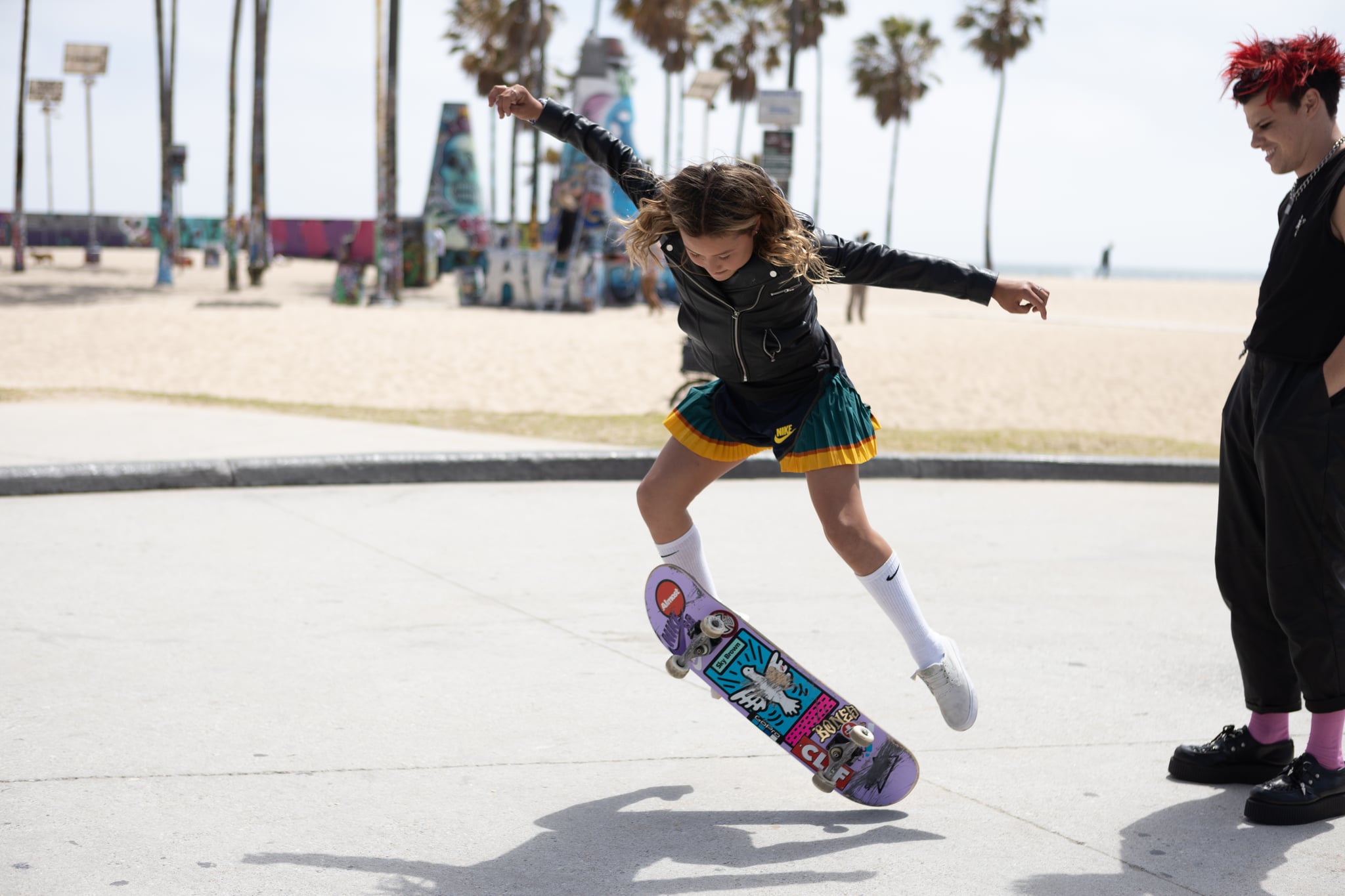 Image Source: Courtesy of the International Olympic Committee
One aspect of filming that Brown liked was that she was able to show a little bit more about her life. She's a bubbly 13-year-old who says she loves traditional Japanese food, Netflix's Outer Banks (Pogues For Life!), TikTok, and Olivia Rodrigo. She's a pretty "normal" teenager besides the fact that she's . . . well . . . an Olympic medalist in a sport that fosters endless flair and creativity ("There's no rules," she explained).
Brown wishes to return to the Paris 2024 Games as a skateboarder. She has interest in becoming serious in the sport of competitive surfing, too, and if she could spend one day with another athlete, she'd choose American surfer and Olympic gold medalist Carissa Moore. Either Moore or "John John" Florence, Brown noted. Her goals span beyond the Olympics, though. She's looking to continue her travels to underprivileged places around the world and teach kids how to skate. "It's always been my goal to inspire people, and having a big platform has been really helping me," she said. "And I'm really thankful."