Vegan Curried Coconut Lentils, Tofu, and Quinoa Meal Prep
This 45-Minute Vegan Lunch Meal Prep Offers Over 31 Grams of Hunger-Satiating Protein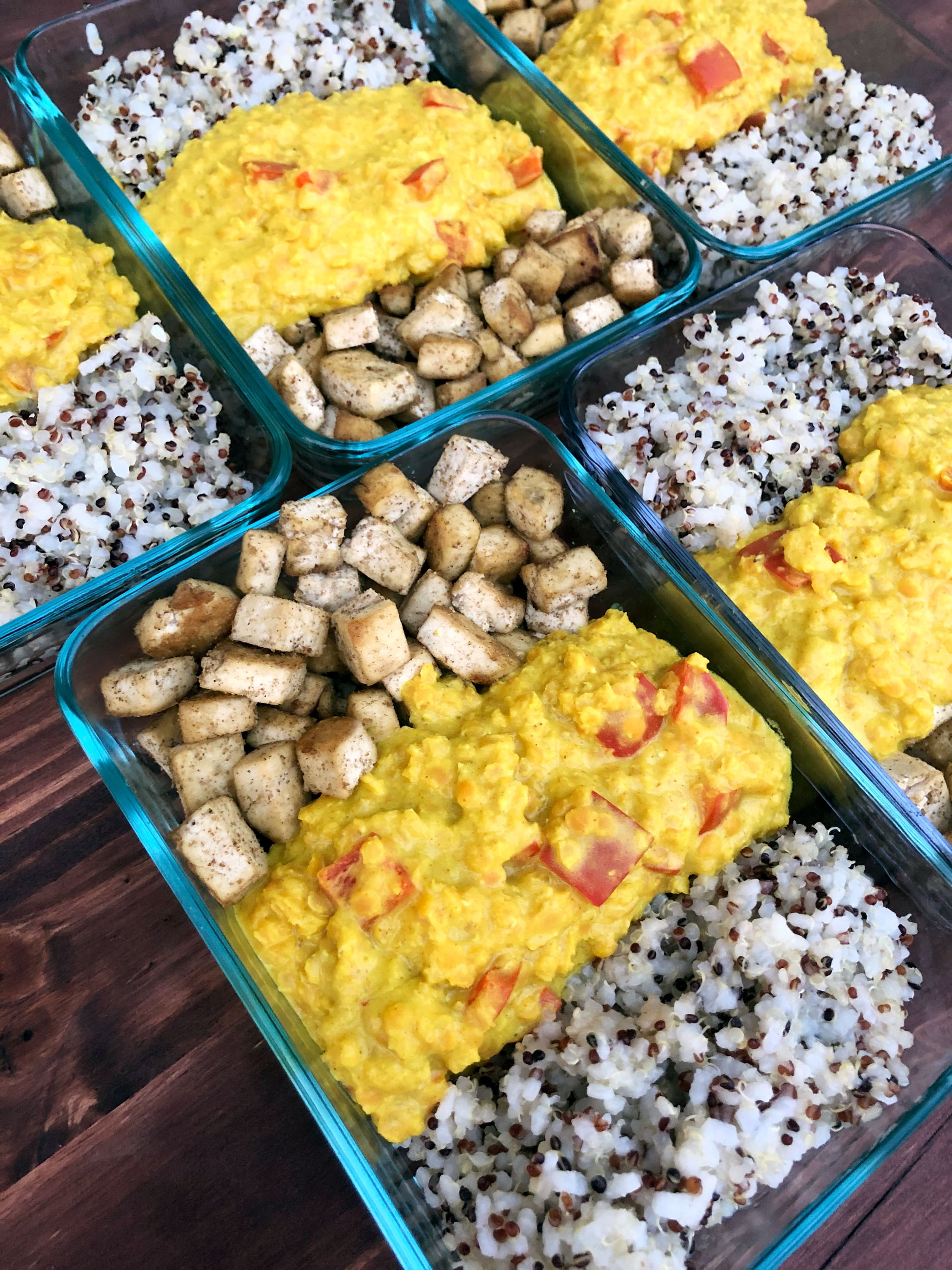 I love making curry for meal prep ever since I realized that making it isn't as complicated as I once thought. This coconut curry recipe comes together in under an hour and uses basic, whole-food ingredients, yet the flavor is so vibrant, I just had to share this meal-prep recipe with you all.
This recipe makes five servings, and there are three parts: the cooked quinoa and rice mixture, the curried coconut lentils, and the sautéed tofu. You prepare them all at the same time so you not only feel like a kitchen badass, but you're also not spending hours cooking. It keeps well in the fridge for four days, and it also freezes well, so if you get sick of this meal all in the same week, you can freeze some for later.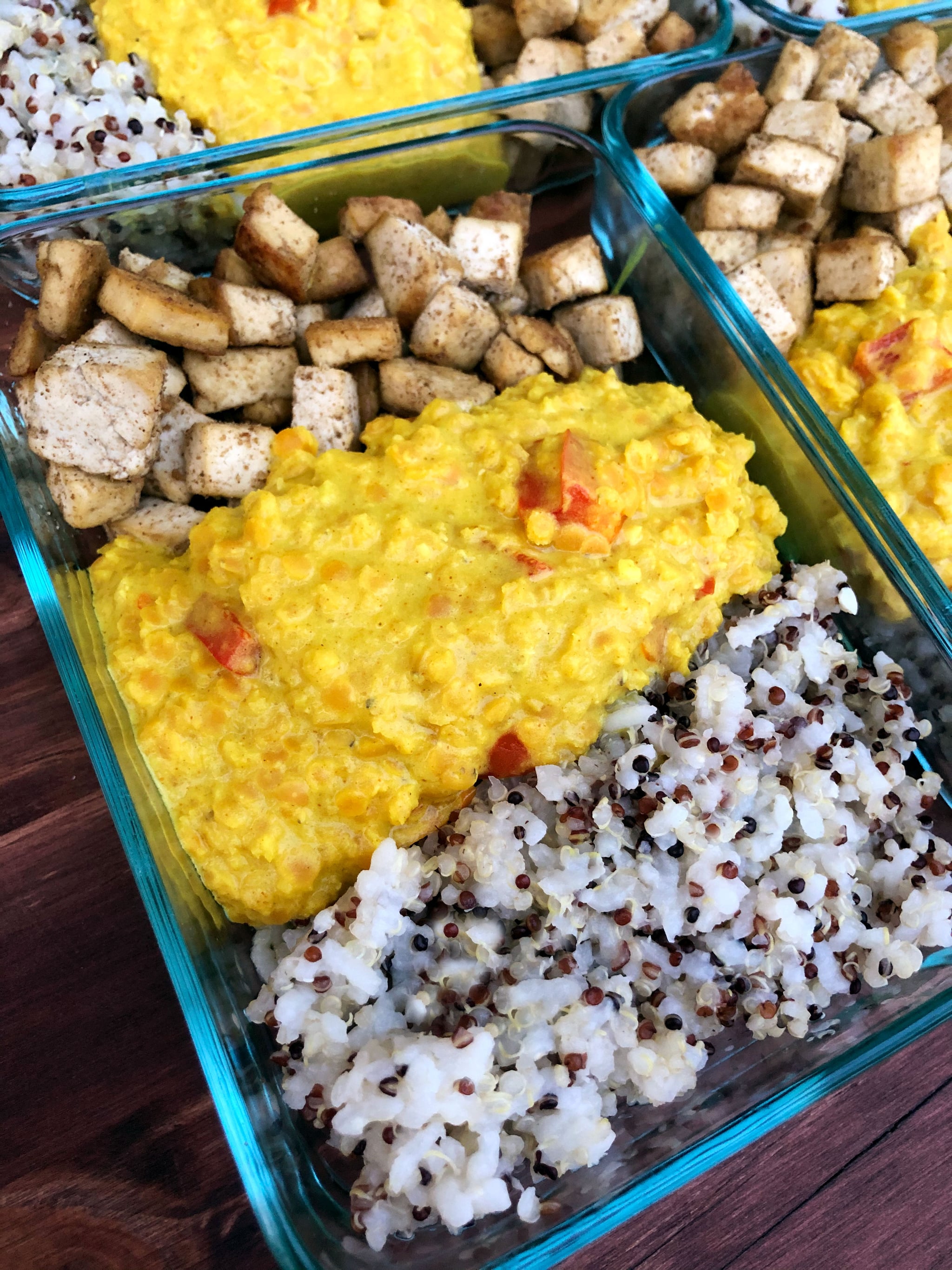 Curried Coconut Lentils With Tofu and Quinoa
Jenny Sugar From POPSUGAR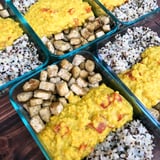 Ingredients
Quinoa mixture:
1/2 cup quinoa
1/2 cup rice
2 cups water
1/4 teaspoon sea salt
Curried lentils:
1 1/2 cups red lentils
3 cups water
1 tablespoon olive or coconut oil
1 teaspoon minced garlic
1 to 2 tablespoons fresh minced ginger
1 tablespoon curry powder
1 teaspoon turmeric
3/4 teaspoon sea salt
1 can coconut milk
1 tablespoon maple syrup
1 red pepper, diced
Juice from half a lemon (about 2 tablespoons)
Tofu:
1 tablespoon olive or coconut oil
2 14-ounce packages of tofu (I used Trader Joe's High-Protein), cubed
1 teaspoon garlic powder
1 teaspoon sea salt
1 1/2 teaspoons cumin
Directions
Add the quinoa, rice, water, and salt to a saucepan with a lid on high heat. Once it comes to a boil, lower heat to simmer and cook for 20 minutes, covered.
While the grains are cooking, cook the lentils. Add red lentils and water to a saucepan, and bring to a boil. Once boiling, reduce the heat to simmer and cook lentils uncovered for about five minutes or until just tender. Drain and set aside.
While the lentils are cooking, make the tofu. In a medium-size cast-iron pan or skillet, cook one tablespoon of the oil over medium-high heat. Add the cubed tofu, garlic, cumin, and sea salt. Cook for about 10-15 minutes, stirring occasionally, until slightly browned.
While the grains, lentils, and tofu are cooking, heat a large skillet over medium heat, and add the coconut oil, garlic, and ginger. Sauté for a few minutes, stirring frequently to prevent burning.
Add all the spices, including curry powder, turmeric, and salt, and cook for another minute more.
Reduce heat to low; stir in the coconut milk, maple syrup, and diced red peppers; and cook for 3 minutes. The gorgeous bright color and aromas are mouthwatering!
Stir in the lentils, the lemon juice, and add more seasoning if it needs it.
Grab five containers, and divide the quinoa rice mixture, the tofu, and the lentils evenly.
Here's the nutritional info for 1 serving: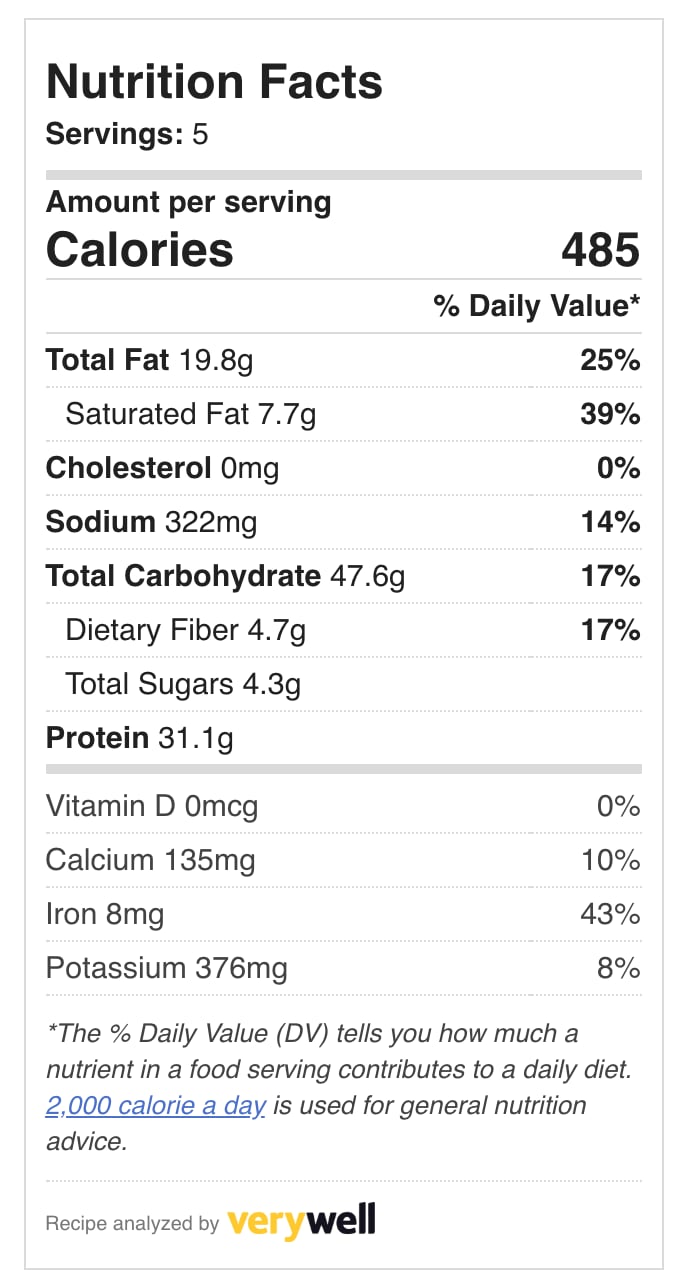 Information
Yield

5 servings

Prep Time

45 minutes

Cook Time

45 minutes

Total Time

1 hour, 29 minutes, 59 seconds
Nutrition
Calories per serving

485