Why You Shouldn't Worry About Stress Eating, Overeating, or Gaining Weight Right Now
We are all experiencing varying degrees of stress, worry, fear, and emotions right now. With the uncertainty and isolation this pandemic is bringing, I've looked to social media for positivity and inspiration, and was totally stunned to see so much crap joking about gaining the "quarantine 15," tips to "stop raiding your kitchen," or how to get a handle on emotional eating. Holy sh*t.
Do we not have actual serious things to worry about? Like, how will I work from home and homeschool my children for months? What if I can't afford food? What if I get sick and hospitals can't care for me? What if a loved one gets sick, or even dies? What if I never see my parents again?
With all of our lists of worries and fears, there's no need to add even more stress and anxiety to an already super stressful and scary time by adding "Will I gain weight?" to your list. We asked registered dietitians who specialize in intuitive eating and antidieting to help alleviate your concerns about why you shouldn't care about gaining weight right now.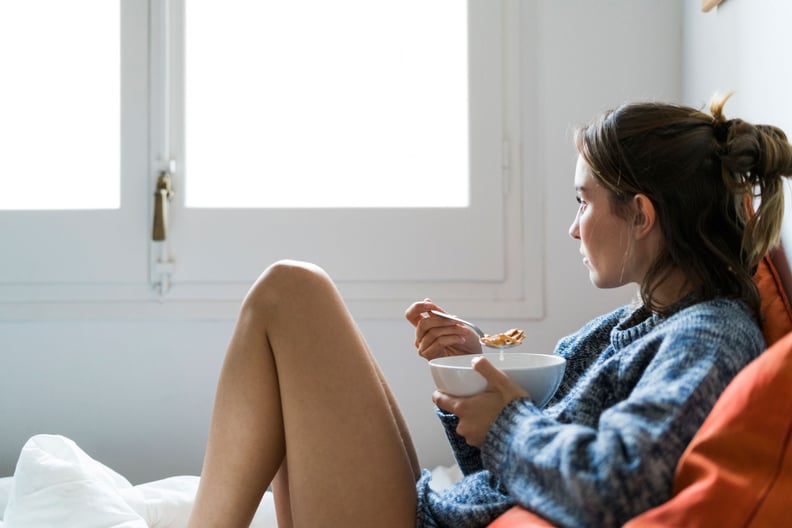 Food Helps Us Cope With Stress and Provides Comfort
Many of us have been conditioned to associate different feelings with food. We celebrate with food, grieve with food, and often turn to food for comfort. When we become stressed, anxious, or worried, it's common to gravitate to food to satisfy those emotions, especially if you're not used to feeling them, explained registered dietitian Mindy Black, MS, CSSD.
If you notice you're eating more or different foods than usual right now, this is also a natural response to stress and our changing environment, explained registered dietitian Brenna O'Malley, creator of the health blog The Wellful. She said, "Food is meant to be pleasurable and can be a coping mechanism or way to self-soothe." This might mean that you're craving different foods, foods you don't typically keep in the house, or foods you save for special occasions.
"It's very very normal to find yourself eating when you aren't hungry to cope with emotions that come up at a time like now," O'Malley reassured. The best thing you can do after emotionally eating is to be kind to yourself and treat yourself like you would a friend. Show yourself compassion; speak to yourself with reassuring, kind words that will make you feel better, and have patience with yourself.
If overeating, stress eating, or emotional eating is leading to binge-eating, or it's making you feel out of control or physically ill, psychotherapist Lynsey McMillan, MSc, who specializes in disordered eating said, "If you do binge, don't beat yourself up for it, and try to resist the temptation to fix the binge by dieting, skipping meals, or purging." Aim to press the reset button by eating again at the next possible mealtime.
McMillan added, "Remember this was not about food but was a sign of some stress or distress that requires attention and compassion." Focus on attending to the message rather than getting distracted by the messenger. Consider what your needs are and how they are being met with food.
If you are binge-eating and finding it difficult to stop on your own, registered dietitian, Kara Lydon, LDN, an intuitive eating counselor and owner of Kara Lydon Nutrition said to "reach out to a dietitian or a therapist who is trained in eating disorders and practices from a Health at Every Size (HAES) paradigm."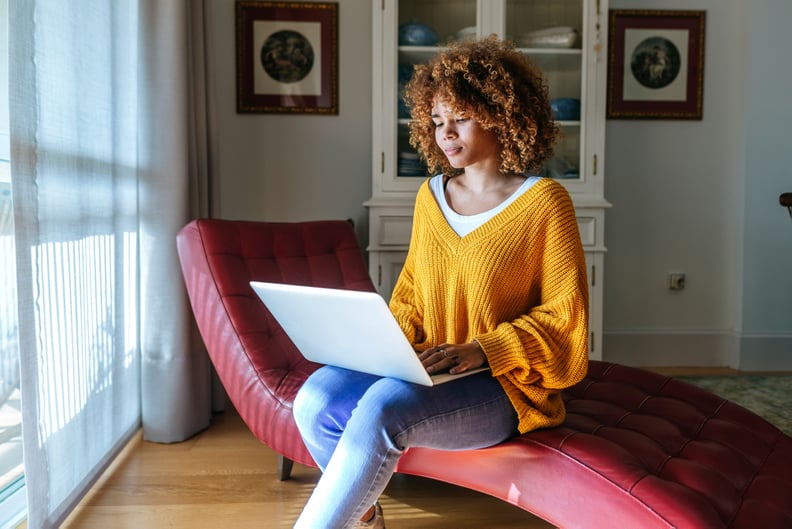 Your Life and Schedule Have Completely Changed
Having a rapid shift in life circumstances, like what we're experiencing right now with the quarantine, social distancing, and working from home, is likely to lead to increases in chaotic, out of control eating, explained Kirsten Ackerman, MS, RD, CDN, who hosts the Intuitive Bites podcast. This can be especially true if you've restricted food intake or experienced feelings of food deprivation in the past.
You might be constantly thinking about what's in the pantry or the refrigerator, grazing throughout the day, stress eating, overeating, or working odd hours. You may feel too upset or unmotivated to implement the eating schedule or workout routine you used to follow. "Diet culture would invite you to blame yourself, the food, and the changes in your schedule for the chaos in your behavior around food. I would invite you to blame the previous restriction and deprivation around food," Ackerman said. Show yourself compassion and patience in how you're coping with finding a new normal.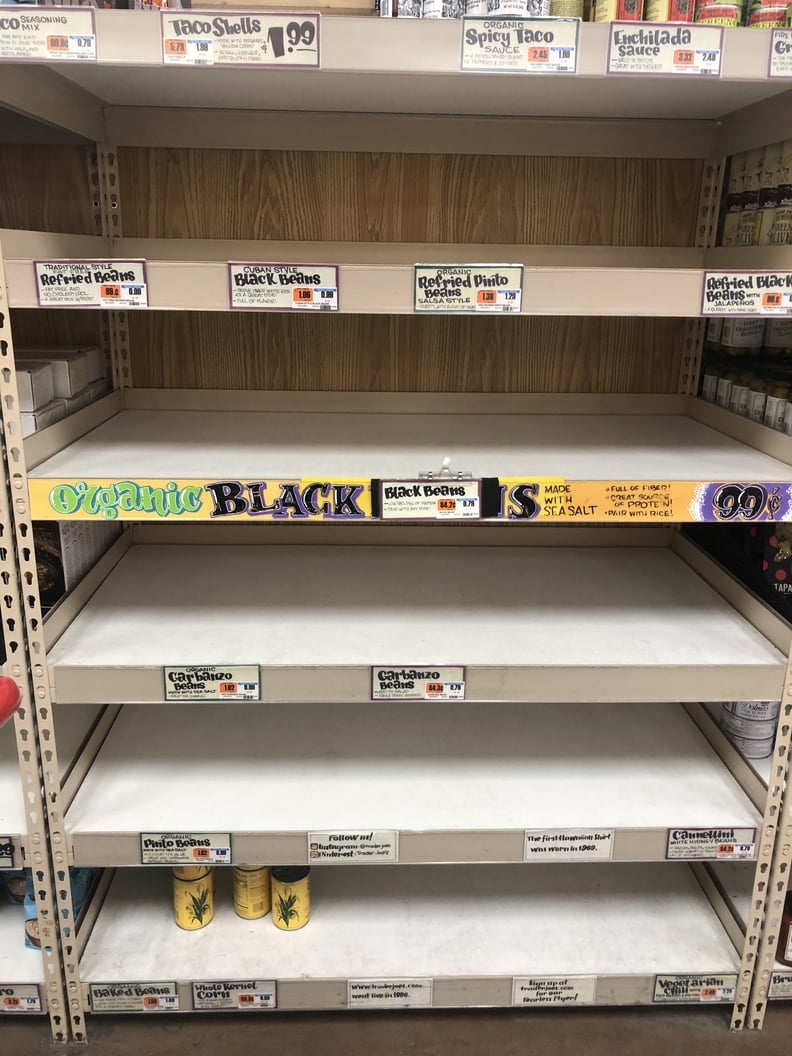 Access to Food Has Changed
"Your access to foods might be very different right now. Some stores have been overwhelmed by people panicking and stockpiling, creating temporary shortages. This creates both physical and mental scarcity when we feel like we only have a limited amount of something," O'Malley explained.
When we're talking about our relationship with food, this can change our behaviors, she explained. Just like when we limit our access to certain foods through restriction or a diet, we feel less in control around those foods. The same can happen when we feel restricted by a store not having our favorite brand of item, or if your income is now limited and access to food has changed, O'Malley said. Feeling like you won't be able to get certain foods or have enough might make you binge.
You may also not have access to the fresh fruits and veggies you typically buy, or can't go to the store as often, so you're buying more shelf-stable or processed foods. "This can be an opportunity to challenge some of your food fears and remember that your body needs enough to eat, and it's OK if those foods are different than normal right now," she explained. "Things are different than normal right now."
She added that to work through this time, we may need to create an environment of abundance. This might mean not limiting the groceries you buy, or including foods you typically don't buy such as chips, candy, chocolate, or ice cream. "Allowing yourself to have those foods around in addition to your other groceries can help create a positive food environment," she said.
The Kitchen Is Right There
Another point Black made is that many of us are not just working from home now, but working from our dining room tables. You may not be used to being around food 24/7 or being around your family eating. She said that if you're working near the kitchen, you'll tend to take more snack breaks — know that it's OK to take breaks, and it's OK to snack during those breaks!
Black added that it's also OK to step outside for a minute, listen to music, or call a friend instead if you're snacking out of stress or boredom instead of true hunger.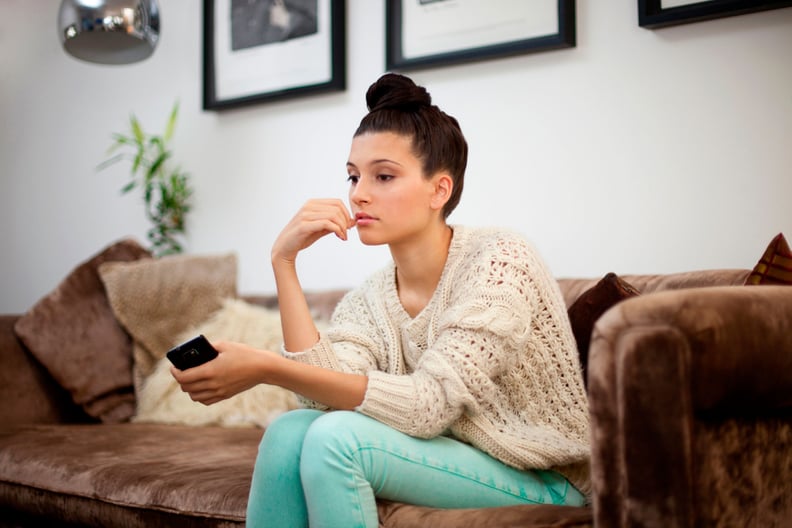 You're Too Worried and Upset to Work Out
"Many of us are worried about loved ones, family, friends, and the future. That can take a major emotional toll," O'Malley said. With emotions high, working out may be the last thing on your mind, and you don't need the added stress of feeling like you have to stick to your usual fitness routine. You're allowed to take this time to rest and not work out and instead do other things to take care of your mental health.
Give yourself full permission to not work out right now unless it makes you feel better. Or give yourself permission to choose more gentle forms of movement such as yoga or talking a walk outside. "You might find that the permission offers a bit of relief from some of the stress you were feeling around what you were 'supposed' to be doing around movement," Ackerman said.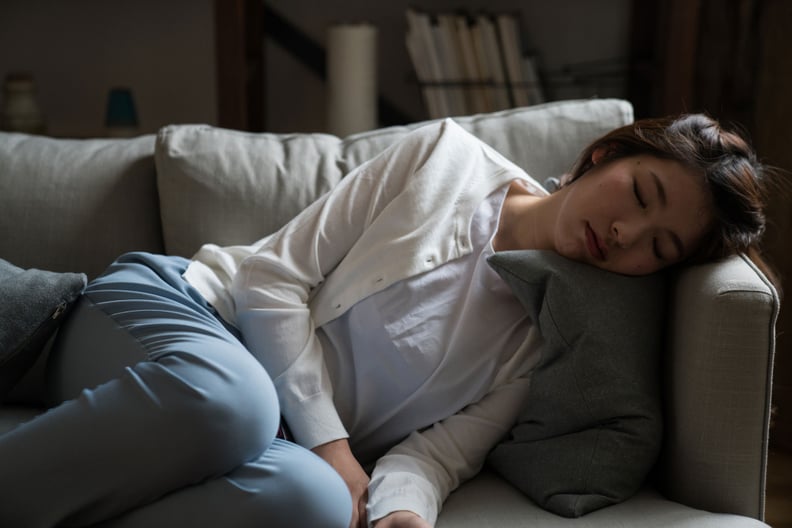 Stress Is Exhausting! Who Has the Energy to Work Out?
On top of changing eating habits, stress and anxiety can feel overwhelming and exhausting — they can literally deplete your energy reserves, Ackerman said. This means that you may feel too physically tired or may not have the inspiration to exercise right now, and that's totally normally and OK, O'Malley said. She added, "It's OK to rest and take a break from your usual routine." Remove the personal pressure of feeling like you have to work out, and focus on asking yourself what you really need right now.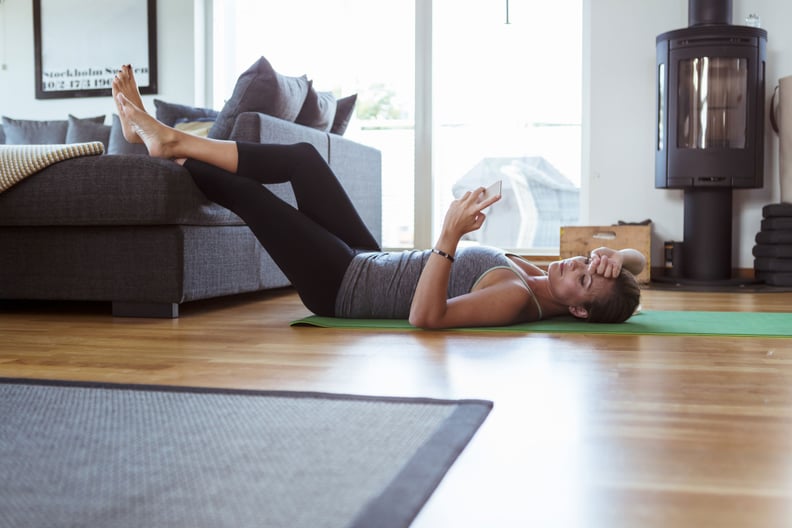 You Can't Physically Go to the Places You Used to Work Out
But maybe you really want to work out but you can't because your gym or studio is closed. Being off your normal routine with workouts can be disorienting. It can feel frustrating if exercise is one part of your life that you really enjoy, and you're not able to do the workouts you normally do, Ackerman said. Black added that many of us rely on a fitness community to be motivated to work out, and without it, workouts may not be happening, and that's OK.
It may also be eye-opening if you're experiencing more relief from not having to engage in movement during this time. "This may be a great opportunity to consider how you might make movement more joyful in your life," Ackerman said.
You Miss Your Workout Buddies
Workout routines also often double as an opportunity for socialization, whether it be the community at your yoga studio or meeting up with friends for a Spin class. Ackerman said that during this time of social distancing, missing out on that opportunity for connection with others while also engaging in healing movement can be especially difficult.
Try to find ways to attain that sense of community around exercise. Go for walks with your friends outside (maintaining recommended distance apart, of course) or FaceTime your gym buddy and do a workout together. You can also contact your gym or favorite instructors to see if they're offering live workouts.
With the change in daily schedules for work and workouts, you may take a little while to create your new routine and to find the new workouts that will inspire you. Just don't be so hard on yourself for missing a workout (or a couple weeks!). We're all navigating through these changes and will soon find our new normal when it comes to exercise.
How Can I Stop Worrying About My Eating Habits and Weight Right Now?
"If the fear of weight gain is coming up for you, know that you're not alone. You're not wrong for struggling with this — it's a message that has been prominent in our lives for years," O'Malley explained. She said to ask yourself, "Where does this belief come from? What's underneath my fear of weight gain? Is it the weight gain itself, or how you feel that would change your daily life?" This does two things: first, it helps us get closer to the root of what our actual fear is about our changing body. Second, by being aware of those thoughts or beliefs, we have the opportunity to challenge and change them.
"When everything feels uncertain and out of control, controlling your body size can feel like an obvious project to occupy your mind," Ackerman said. "Not only does it often fuel chaotic eating and weight fluctuation, it also distracts us from truly experiencing our emotions and placing our energy into what matters most to us," she added.
By allowing ourselves to feel the emotions underneath, whether it be fear, sadness, or uncertainty, we allow those emotions to move through us. Ackerman added that this also allows us more brain space to contribute to finding creative ways to stay connected to our loved ones and practice self-care.
This is a very stressful, scary, emotional time in our lives. "It makes sense that we are looking for control and normalcy in different ways, and unfortunately, since diet culture is so pervasive, it's sold us the idea that being smaller is how we find success, happiness, and control, and that is not the case," O'Malley explained.
Black added, "We have been given a gift of being forced to slow life down and really evaluate what is important. Reconnecting with old friends, spending time with family, cleaning out the clutter that we have collected, and studying new skills is now in the forefront." Don't let a scale overshadow the quality relationships you get to build over the next few weeks or months. "In five years, when you talk about this unprecedented time, you will not remember five pounds on the scale. You will remember the moments you created with others and with yourself," Black said.
Pin it!