Mezze Platter Ideas
How to Assemble a World-Class Mezze Platter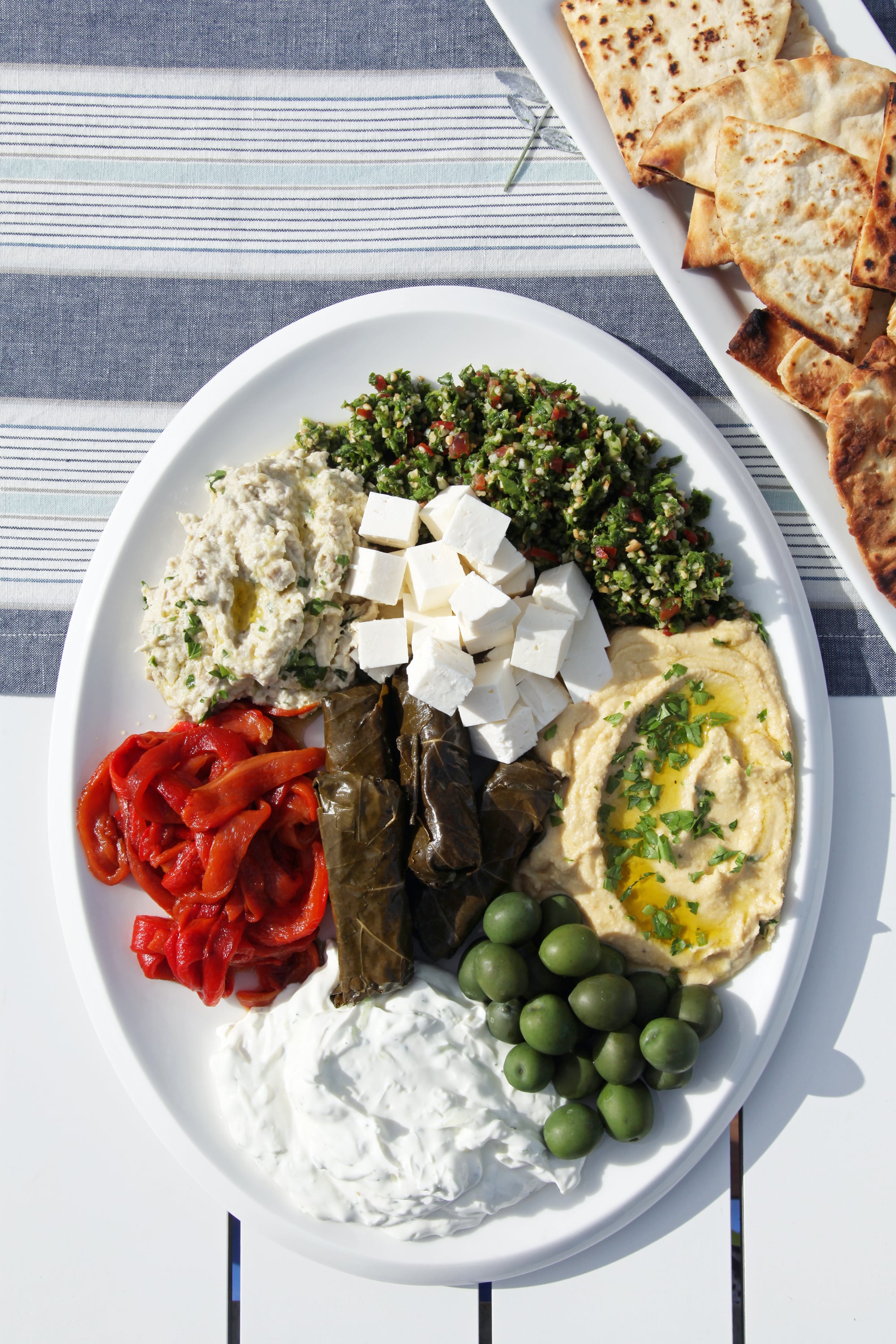 Summer entertaining should be fun, breezy, and low-stress, which is why we highly recommend centering your next party's spread around a mezze platter. If you're looking to show off your culinary chops, the individual components are all simple to make, share many ingredients, and for the most part can be prepped ahead of time. Or, if you're short on time, it's a great way to elevate store-bought components. Either way, it's a win-win; here's what you'll need (omit any elements you don't care for):
A large rimmed platter, a small bowl for olive pits, and a smaller platter or plate for pita.
Hummus; either classic, or with a spin. If going the store-bought route, our favorites are: Trader Joe's Roasted Garlic Hummus, Boar's Head Roasted Red Pepper Hummus, or Sabra Classic Hummus.
Olives; we used Castelvetranos.
Dolmas; if you don't want to make them yourself (we usually don't), look for them in the prepared foods section of Whole Foods and other supermarkets.
Tabbouleh; make the same day for best results. (If you're going to cook one component yourself, make this be it).
Cubed feta; our favorite is Valbreso but any slab of full-fat Feta will do. Make sure not to buy it pre-crumbled.
Grilled pita wedges or pita chips.
Extra-virgin olive oil and minced parsley for finishing.
To Assemble
Arrange the dolmas and feta in the center, stacking them up, reserving 1-2 dolmas and some feta for later.
Start with one of the dips (hummus, tzatziki, or baba ghanoush) and dollop it in one section. To keep things orderly and attractive, flank it on both sides with one of the more solid components, such as the olives, tabbouleh, or roasted red peppers. Continue this pattern (dip, solid, dip) to fill up the plate, using roughly the same space on the platter for each component.
If any of the dips have covered up parts of the feta or dolmas, arrange the reserved ones on top to keep things looking pretty.
Swirl the tzatziki, hummus, and baba ghanoush with a small offset spatula or butter knife. Drizzle the baba ghanoush and hummus with olive oil and sprinkle with minced parsley.
Arrange the pita on the smaller platter. Set beside the mezze platter, as well as the pit bowl.
Image Source: POPSUGAR Photography / Nicole Perry