Yellow Fruits and Vegetables
Taste the Rainbow: Yellow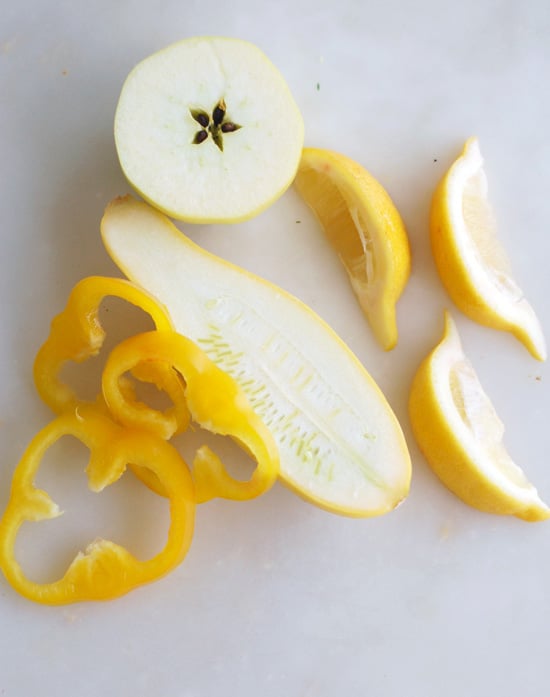 We're moving on to the yellow produce part of our taste the rainbow journey. When I think of yellow fruits and vegetables, I immediately taste lemons. But beyond lemons, crookneck squash happens to be one of my favorite vegetables to cook with. Golden delicious apples are often overlooked for fancier varieties, even though they boast a unique and refreshing flavor. And yes, you guessed it, we're looking at more bell peppers! For some colorful recipes using all of these yellow ingredients, keep reading.
Lemons
They're filled with vitamin C and they add a mouthwatering tang to just about anything. Lemons are probably one of the most useful fruits out there. Start off your morning with hot water and lemon. Use them in everything from cocktails to salad dressings. We also love lemon bars.
Yellow crookneck squash
Yellow crookneck squash is a relative of zucchini and pumpkin. It's got a mild taste, but its crunchy texture lends itself well to all kinds of preparations. You can shave it raw into your salad or slice it up and sauté it for a quick vegetable pasta. Roasted squash makes an ideal addition to a casserole. For a vegetarian meal, use the squash in tacos.
Golden Delicious apples
Perhaps it's because the pale yellow color doesn't stand out as much as the other bright reds, pinks, and greens, but I often feel like Golden Delicious apples get passed over. They're much sweeter than most apples, which makes them ideal for homemade applesauce. But I prefer biting into a whole Golden Delicious apple for the perfect afternoon pick-me-up.
Yellow bell peppers
We have just a few more bell pepper recipes to share. Yellow bell peppers are perhaps the mildest in terms of flavor, but that's not saying much. They add a memorable freshness and sweetness to dishes like roasted sausage and stuffed peppers.
What yellow produce do you like to cook with?
Image Source: POPSUGAR Photography / Camilla Salem