Chrissy Teigen Animal Crossing Bamboo Shoot Stir-Fry | Video
Chrissy Teigen and Pepper Thai Made Bamboo Shoot Stir-Fry With a Spicy Ginger-Garlic Sauce
Even Chrissy Teigen can't resist the adorable fruit-covered islands in Animal Crossing. Unlike most people, Chrissy's inner chef inspired her to turn an in-game find into an IRL recipe that looks so freakin' delicious: bamboo shoot stir-fry. In a video shared to her YouTube channel, Chrissy and her mom, Pepper Thai, cooked up a vegetarian stir-fry made with green beans, mushrooms, onions, and a generous amount of bamboo shoots. The spicy ginger-garlic sauce they made to go over it ties the dish together and has me craving a bite more than Luna Stephens craves spaghetti and fish sticks.
Of course, Chrissy also took some time to poke fun at her beloved husband, John Legend, during the video and even did an impression of him playing Catch Phrase! But the cutest part of the video by far is Luna's surprise appearance during John's taste test at the end. Watch the full video above to see what Chrissy and Pepper like to chat about while they cook, and read ahead to check out the entire bamboo shoot stir-fry recipe.
Animal Crossing Bamboo Shoot Stir Fry
Chrissy Teigen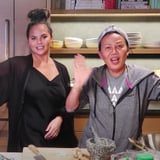 Ingredients
For the Base:
1/2 pound mushrooms of your choice
4 stalks green onion (chopped)
1 onion (chopped)
1 8-ounce package green beans
10 ounces bamboo shoots
1 teaspoon white pepper
For the Sauce:
1 tablespoon toasted sesame oil
1 tablespoon rice vinegar
2 tablespoons peanut oil (or oil of your choice)
2 tablespoons soy sauce
5 garlic cloves (chopped)
1 tablespoon ginger (chopped)
1/2 teaspoon corn starch + 3-4 tablespoons water
2 tablespoons oyster sauce or 2 tablespoons hoisin sauce (optional but recommended)
1 tablespoon Sriracha (optional)
Directions
Peel and chop the ginger, garlic, mushrooms, onions, green onions, green beans, and bamboo shoots. Set aside.
Put two tablespoons of oil in a wok or large pan over medium heat.
Add the ginger and garlic to the hot pan and cook until fragrant.
Add in the green beans, onions, and drained bamboo shoots. Cook until the vegetables begin to soften.
Next, add in the soy sauce, rice vinegar, peanut oil, Sriracha, and corn starch and water mixture. Stir over medium heat until the sauce begins to thicken.
Toss in the mushrooms and white pepper and cook for two more minutes.
Add the green onions and hoisin sauce (or oyster sauce).
Stir and cook for a few more minutes before serving with a side of jasmine rice. Enjoy!
Information
Category

Main Dishes

Cuisine

Other Asian