Pixar's Jack-Jack Num Num Chocolate Chip Cookies Recipe
Pixar Shared Jack-Jack's Ooey Gooey Chocolate Chip Cookie Recipe From The Incredibles
Just like Jack-Jack in The Incredibles 2, I've been known to, metaphorically, float off to another dimension when I haven't had my daily chocolate chip cookie. For anyone equally obsessed with the chocolatey treats, Pixar has shared its official recipe for Jack-Jack's Num Num Cookies (swipe through the Instagram photos above), and I may or may not already be preheating my oven. Made with just nine simple ingredients, including a lot of chocolate chips, the simple dessert is perfect to whip up for the whole family or to munch on yourself as you binge all of Disney's most underrated movies.
Eggs, flour, butter, sugar, brown sugar, vanilla, salt, baking soda, and chocolate chips are all you need to make your house smell like a Pixar-inspired cookie factory, and something tells me Edna Mode would approve. To make these cookies just like the ones you might find at Pixar Pier in Disneyland, you can also scoop the batter into large cupcake molds. So, preheat your oven to 350°F and keep scrolling to see what else you need to do to bring a little bit of Disney's snack magic into your home.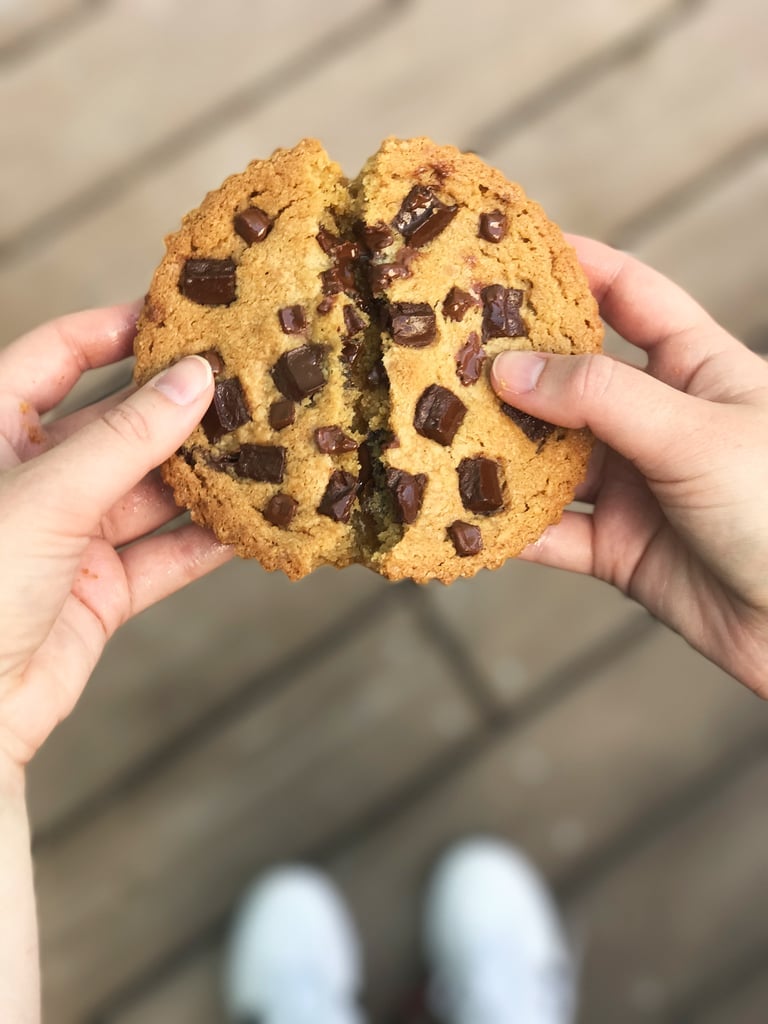 Image Source: Disney
Jack-Jack's Num Num Chocolate Chip Cookies
Pixar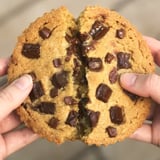 Ingredients
2 1/4 cups flour
1 cup butter (2 sticks), softened
1 1/4 cups brown sugar
1/4 cup granulated sugar
1 egg
1 egg yolk
1 teaspoon sea salt
1 teaspoon vanilla extract
1 teaspoon baking soda
1 cup chocolate chips
Directions
In a saucepan, brown the softened butter on medium heat, stirring frequently with a wooden spoon or spatula. Let the butter cool until it begins to solidify.
Cream the butter, sugar, brown sugar, and salt in a mixing bowl using an electric mixer or whisk until light and fluffy.
Beat a whole egg and another egg yolk into the sugar-and-butter mixture, along with the vanilla.
In a separate bowl, combine the flour, baking soda, and sea salt. Slowly mix the dry ingredients into the wet. Using a wooden spoon or spatula, fold in the chocolate chips until evenly distributed.
Then use an ice cream scoop to shape the dough into balls and place them two inches apart on a parchment-paper-lined baking sheet. Let the dough balls chill in the fridge for an hour, or preferably overnight.
Preheat the oven to 350°F. Once the oven is ready, bake the cookies for 7-10 minutes, or until the edges are golden brown but the cookies are still soft in the center. Enjoy!
Information
Category

Desserts, Cookies

Prep Time

10 minutes

Cook Time

10 minutes

Total Time

19 minutes, 59 seconds