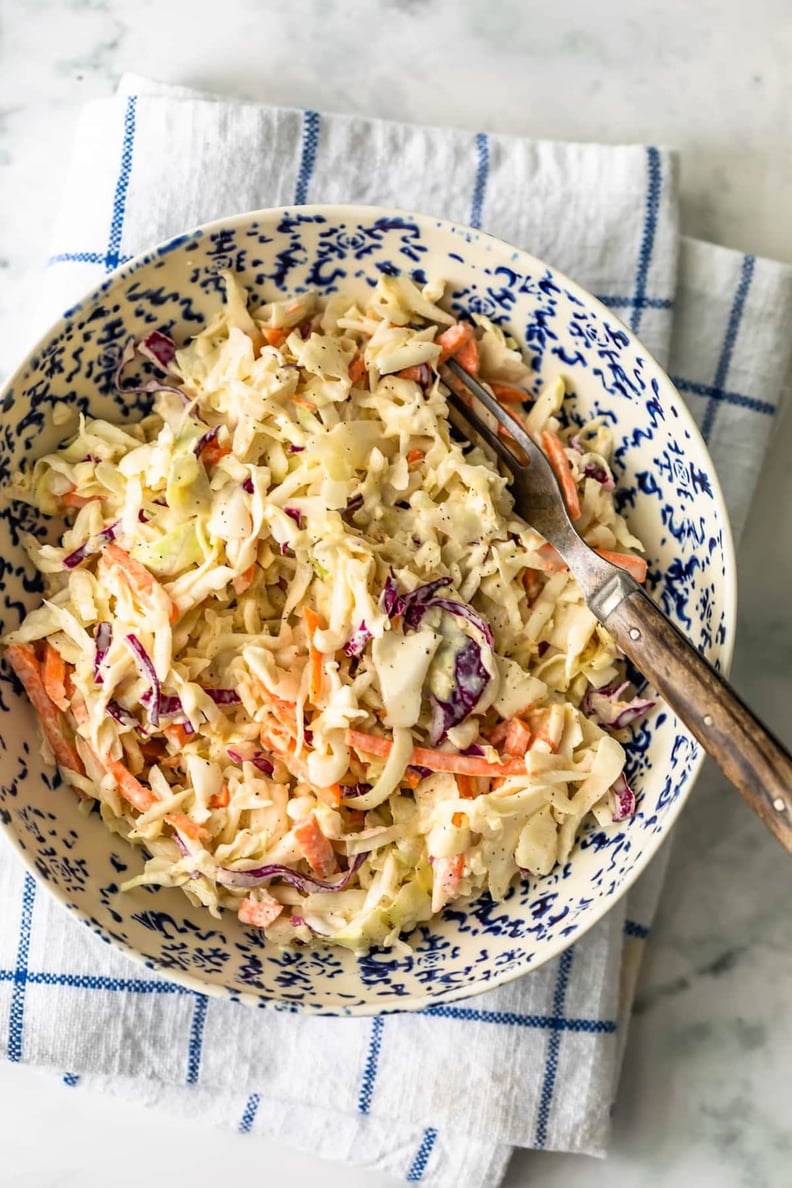 The Cookie Rookie
Without a doubt, slaw is the quintessential side dish for an outdoor barbecue. It can easily be paired with any of your summertime favorites like pulled-pork sandwiches, hot dogs, brauts, hamburgers, or basically anything that can be thrown on the grill. Whether you prefer your slaw doused in creamy dressing, like switching up your ingredients for flavor, or are looking for a healthier alternative, these recipes cover all the bases. Keep reading for a list of delicious slaw recipes you need to try this summer that'll bring so much crunch and fresh flavor to any dish.
01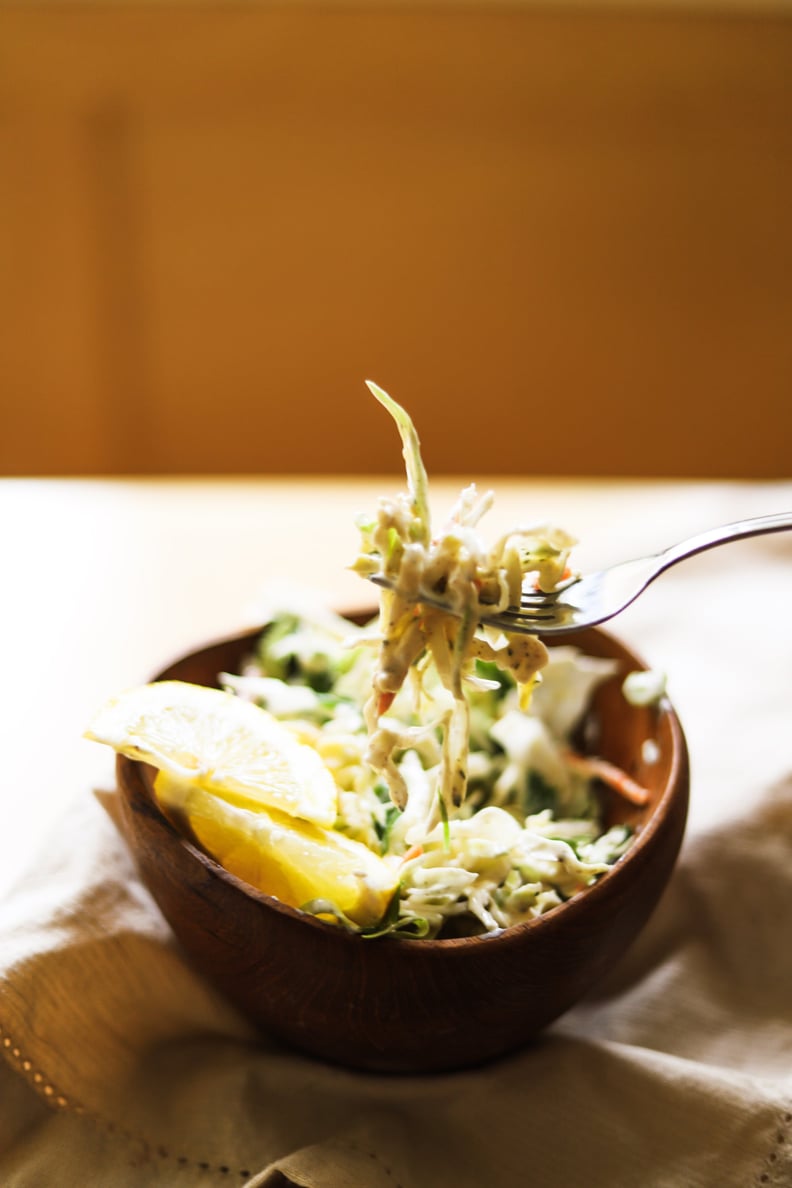 Healthy Low-Carb Coleslaw
Coleslaw is bound to make an appearance among your summery side dishes. And while it can feel light on the stomach, it's notoriously known as being a pretty unhealthy option. Luckily, this recipe is the perfect balance for a healthy low-carb snack! Swap out mayonnaise for Greek yogurt, and ditch the added sugars for a low-calorie sweetener.
Get the recipe: healthy low-carb coleslaw
02
Asian Slaw With Sesame Dressing
This slaw blends veggies including cabbage, carrots, and bell peppers with almonds and fresh herbs. It's then tossed in homemade sesame ginger dressing. Does anything sound more delicious on a warm summer night?!
Get the recipe: Asian slaw with sesame dressing
03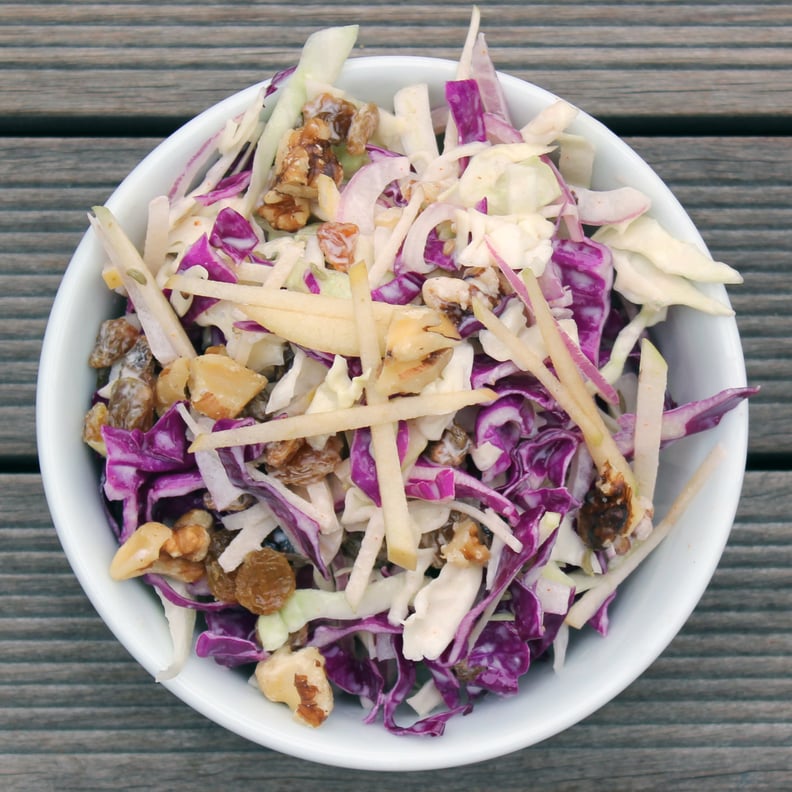 Apple and Cabbage Salad
Invented by Top Chef's Candice Kumai, this apple and cabbage salad is great for those seeking a detox and diuretic salad. Filled with apples, red and savoy cabbage, and cayenne, this slaw is just under 300 calories and packed with fiber.
Get the recipe: apple and cabbage salad
04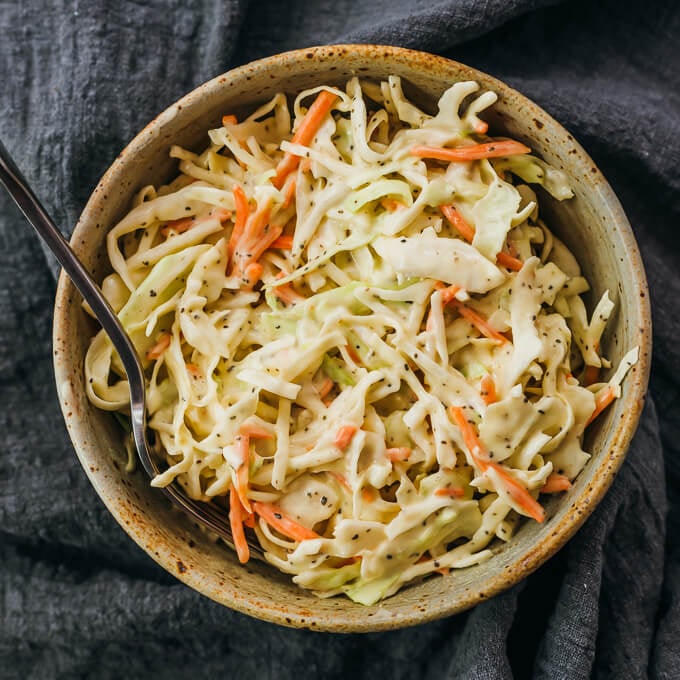 Keto Coleslaw
Put a spin on a timeless classic with this easy-to-make keto coleslaw. The recipe has the foundation of tradition coleslaw with just a few minor adjustments (like dressing) to make it a little more nutritious.
Get the recipe: keto coleslaw
05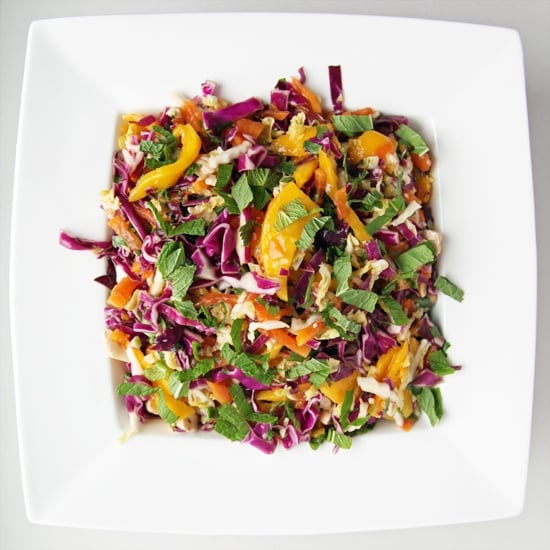 Spicy Mango, Papaya, and Cabbage Slaw
We're a big fan of meal prepping, and this slaw can hold up fully tossed and dressed for a few days in the fridge without getting soggy! With a combination of spicy, sweet, salty, and sour flavors, this slaw is sure to add a kick to any main course.
Get the recipe: spicy mango, papaya, and cabbage slaw
06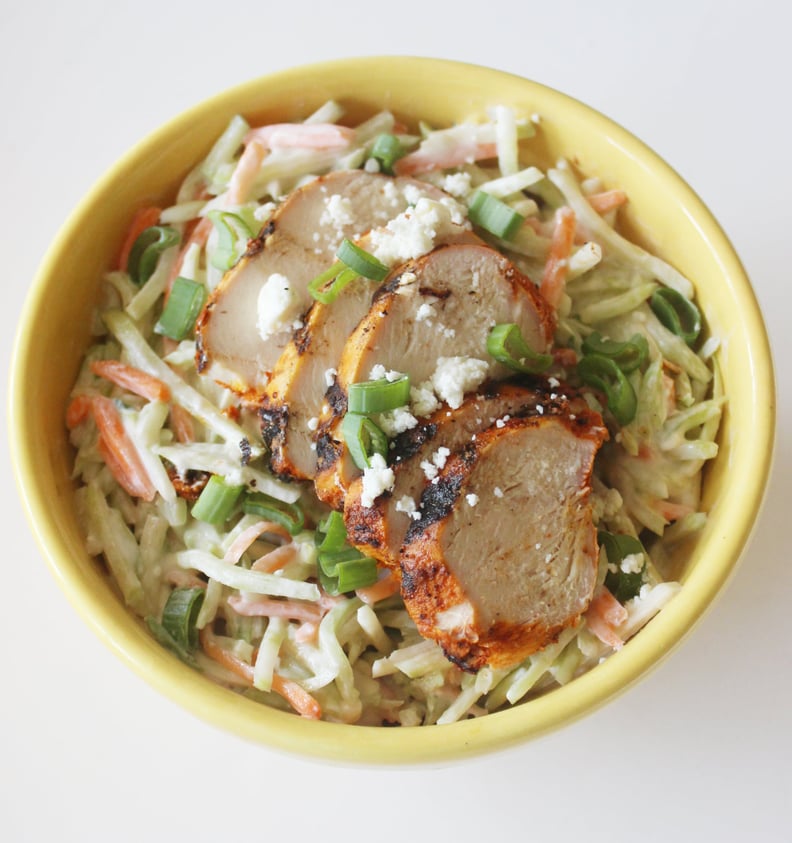 Chicken Slaw Salad With Blue Cheese Yogurt Dressing
07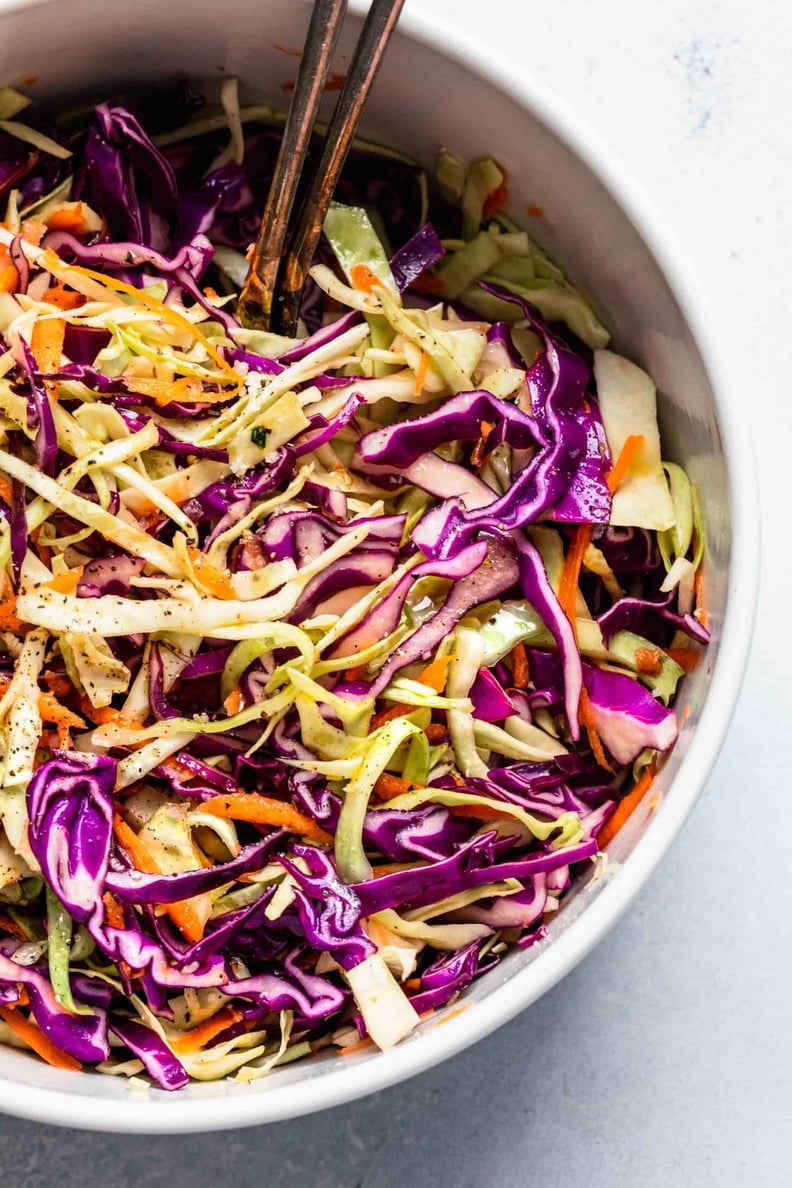 Vinegar Coleslaw
If you're not a big mayo person, this vinegar coleslaw is perfect! The side dish is tangy, crunchy, and oh so satisfying.
Get the recipe: vinegar coleslaw
08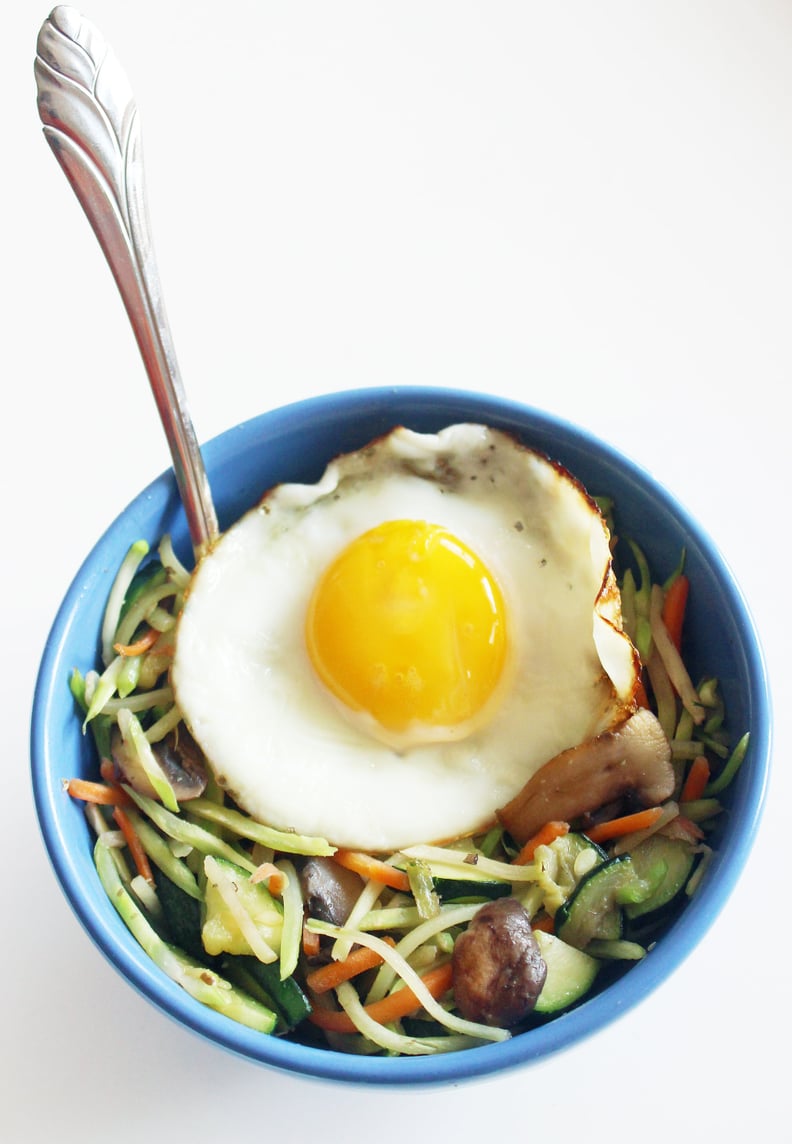 Trader Joe's Broccoli Slaw Breakfast
Jump-start your morning with this delicious breakfast slaw. The dish is overflowing with vitamin C, fiber, and protein! Who said you can't have slaw for breakfast?
Get the recipe: Trader Joe's broccoli slaw breakfast
09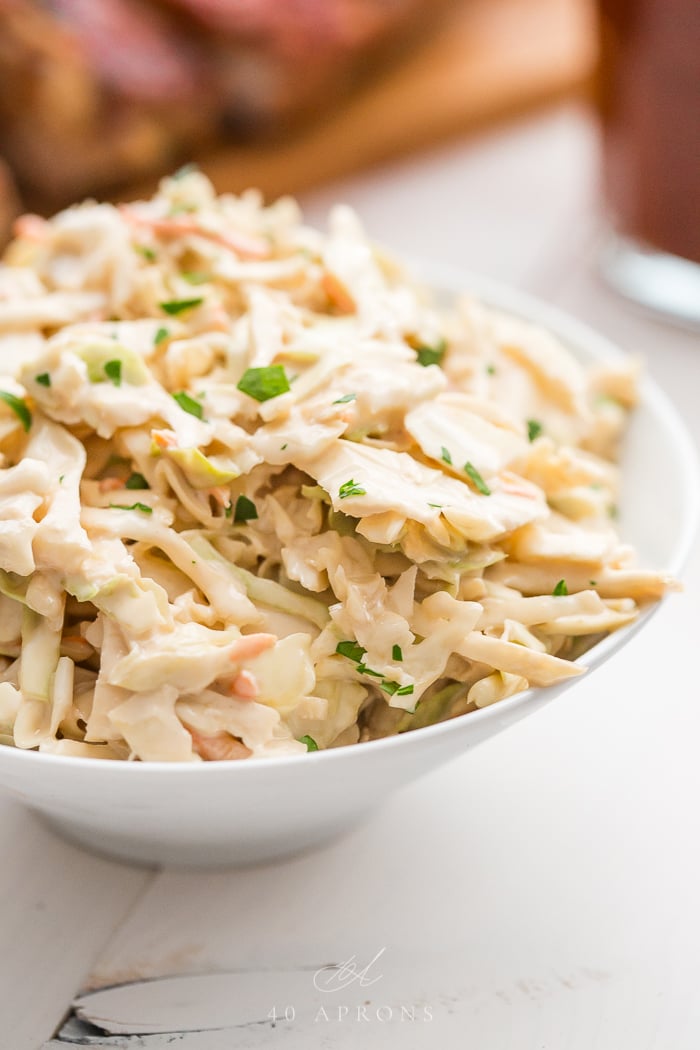 Healthy Coleslaw
This healthy coleslaw recipe has no sugar, takes only a handful of minutes to make, and is Whole30, Paleo, and vegan. Pair it alongside your favorite barbecue main dishes like ribs, pulled-pork sandwiches, or grilled hamburgers. Need we say more?
Get the recipe: healthy coleslaw
10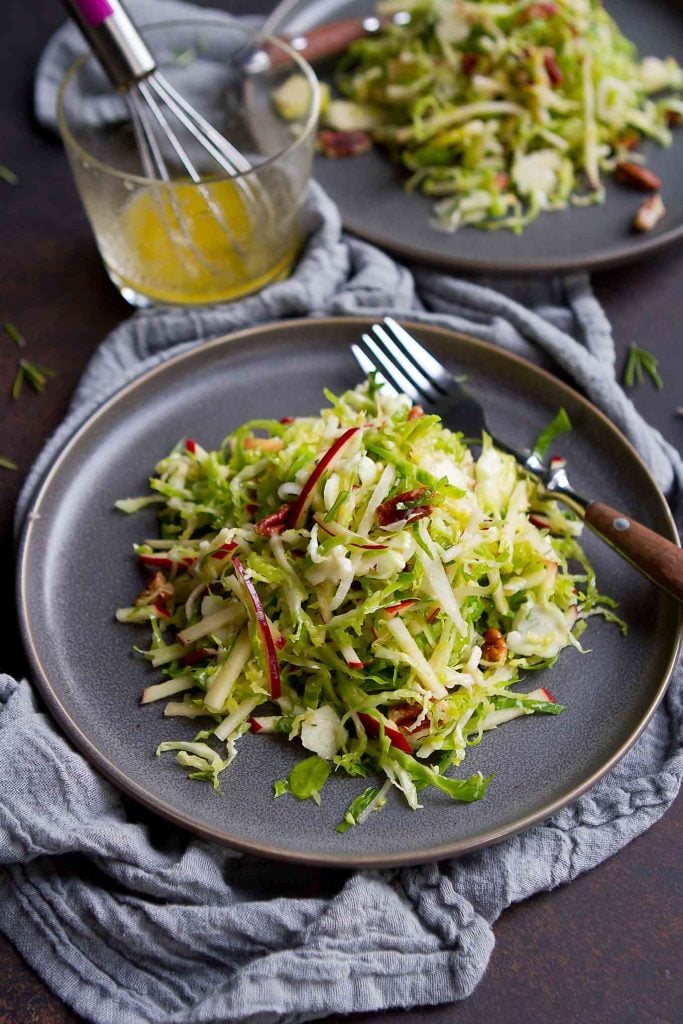 Apple and Brussels Sprouts Slaw
This apple and brussels sprouts coleslaw is so crunchy and delicious; it would pair perfectly with chicken or fish.
Get the recipe: apple and brussels sprouts slaw
11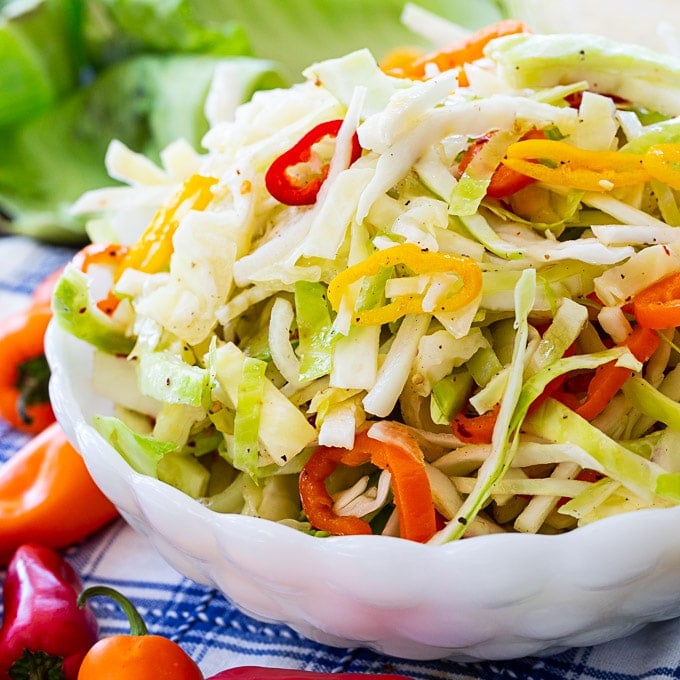 Marinated Cabbage and Sweet Pepper Slaw
Add some color and texture to your coleslaw with this sweet pepper slaw recipe. The dish tastes best after being marinated for at least eight hours in advance, so roll up your sleeves and get cooking!
Get the recipe: marinated cabbage and sweet pepper slaw
12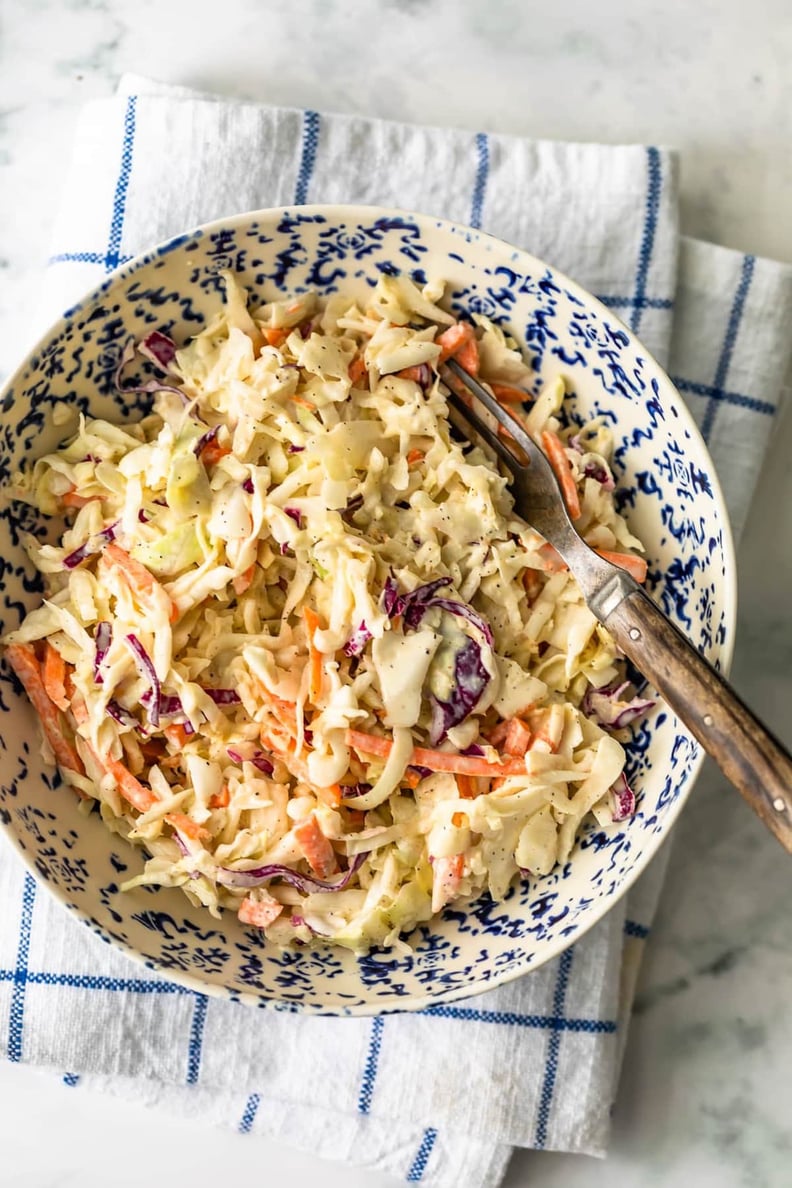 Creamy Coleslaw
Arguably the best part about coleslaw is the creamy dressing the cabbage and carrots sit in. The secret to making this dressing extra creamy is a mixture of apple cider vinegar, dijon mustard, and granulated sugar.
Get the recipe: creamy coleslaw