Trump Press Conference February 2017
16 Absurd Moments From President Trump's Sh*tshow of a Press Conference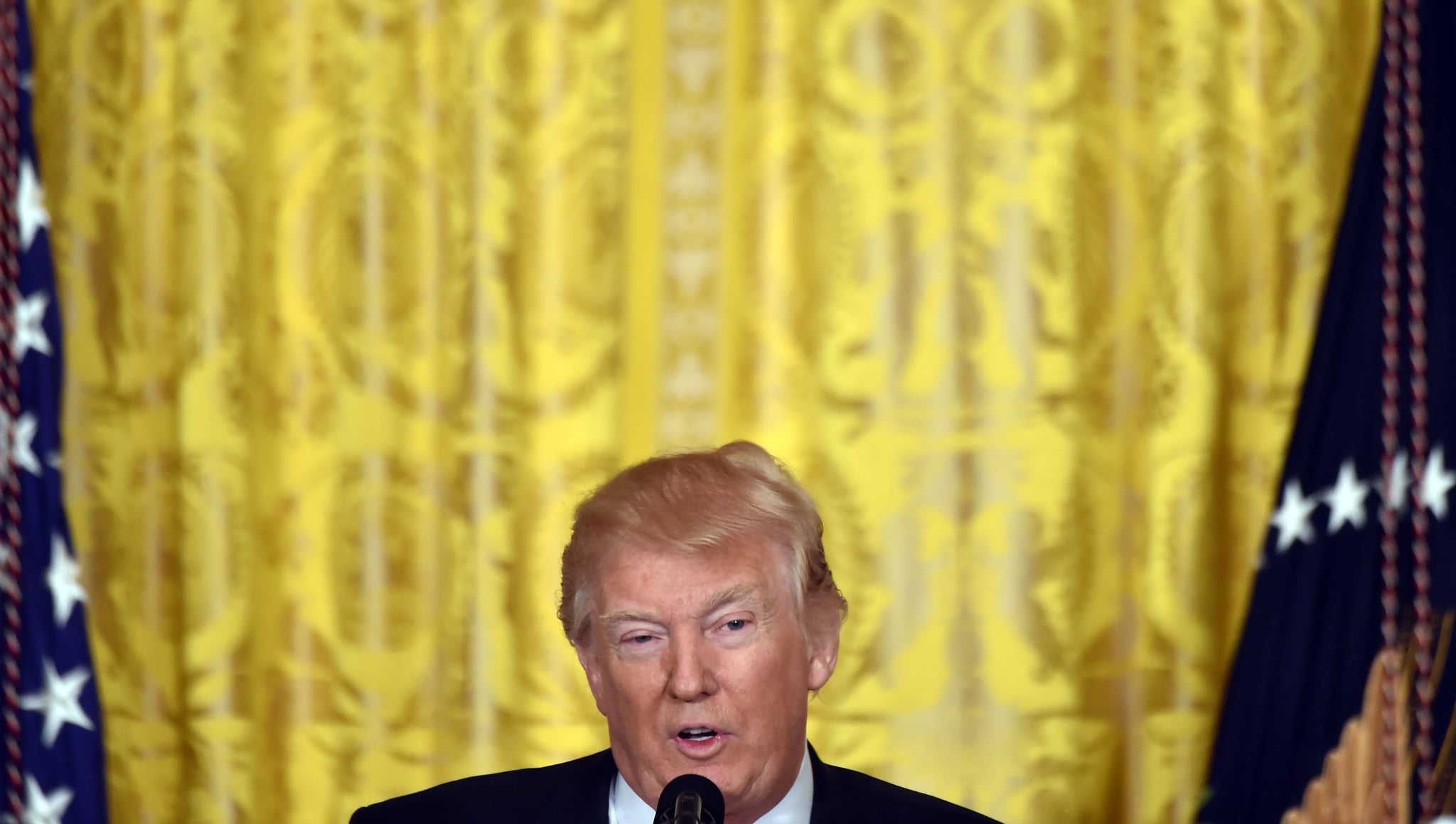 President Donald Trump held his first solo press conference since taking office on Thursday, Feb. 16, and surprise: it was a nightmare. Peddling one lie after another, Trump blasted the press and defended his administration's competency. Trump also brought up Hillary Clinton several times, as if he was still campaigning against her.
The entire press conference seemed more like an episode of The Apprentice rather than a presidential address, and here are 16 moments to prove it.
1. He falsely asserted the number of Electoral College votes he won.
Trump brags about "306 Electoral College votes." He got 304.

Also brags about "massive crowds" at a rally that hasn't happened yet.

— Marina Fang (@marinafang) February 16, 2017
Trump: "The biggest Electoral College win since Reagan" (if you don't count Bush '88, Clinton '92, Clinton '96, Obama '08 and Obama '12.

— Robert A George (@RobGeorge) February 16, 2017
2. When pressed about the false Electoral College numbers, he blamed someone else by saying he was "given that information."
.@PeterAlexander asks about this falsehood. Trump's response: "I was given that information, I don't know." https://t.co/ZwCE8NWQOK

— Dan Merica (@danmericaCNN) February 16, 2017
1. Hold press conference insisting media lies
2. Be confronted with factual error about electoral college
3. Blame someone else

— Chris Cillizza (@TheFix) February 16, 2017
3. He denied "firing" General Mike Flynn as national security adviser for speaking with the Russian ambassador about US sanctions; instead, he said Flynn was behaving correctly in contacting the Russian ambassador and was only asked to retire because he misled Vice President Mike Pence about the call.
Trump clarifies on Flynn: "He's fired for what he said to Mike Pence. Very simple."

— Kim Murphy, LA Times (@kimmurphy) February 16, 2017
On firing Gen Flynn, Pres says he didn't tell VP about calls to Russian Ambassador or didnt remember "and that's not just acceptable to me."

— Mark Knoller (@markknoller) February 16, 2017
4. He criticized leaks related to the Flynn controversy while maintaining that Hillary Clinton's leaked emails were OK because they were not classified, although some of them were.
Trump criticizes the leaks from his own administration, defends WikiLeaks posting hacked Clinton emails because they weren't classified.

— Matt Pearce (@mattdpearce) February 16, 2017
Trump just defended Wikileaks releasing Hillary & DNC emails stolen (by GRU, fyi) because they're not classified.

Yes, that just happened.

— John Schindler (@20committee) February 16, 2017
Trump now says Wikileaks is fine because it didn't release classified information

— Ben Jacobs (@Bencjacobs) February 16, 2017
5. He dodged a question about Russia by asking why the press hadn't covered how Clinton received a debate question beforehand.
Pres Trump again cites incident of CNN debate questions being given to @HillaryClinton. Doesn't think it got enough press coverage.

— Mark Knoller (@markknoller) February 16, 2017
5. He lambasted the press for reporting fake news, again, and claimed the leaks about his campaign advisers having communication with Russians during the election were "real," but the news was "fake."
"The leaks are real but the news about them is fake."
- The President of the United States

Straight from the pages of George Orwell

— Corbin Reiff (@CorbinReiff) February 16, 2017
Trump on reports citing leaks; "The press should be ashamed of itself"

— Zeke Miller (@ZekeJMiller) February 16, 2017
6. He continued to demonstrate his obsession with ratings and cable news.
Trump: "I'm really not a bad person...I do get good ratings, you have to admit that." pic.twitter.com/Vv0w1uEcyN

— Axios (@axios) February 16, 2017
President Trump to @Acosta: "I'm changing it from fake news, though. Very fake news." https://t.co/mkjPvSheuV pic.twitter.com/gQ1HU146rw

— CSPAN (@cspan) February 16, 2017
7. He said drugs were becoming "cheaper than candy bars."
Trump thinks drugs are cheaper than candy bars because he thinks candy bars cost $100, the smallest denomination of cash he acknowledges

— Patrick Monahan (@pattymo) February 16, 2017
President Trump says the U.S. is becoming drug-infested, and drugs are becoming cheaper than candy bars https://t.co/Lm9XXJu7oX pic.twitter.com/gmwKFrl9zk

— Bloomberg (@business) February 16, 2017
8. He claimed his administration was run like a "fine-tuned machine."
"this is a fine-tuned machine" pic.twitter.com/Rq7ECFKmyi

— Dave Itzkoff (@ditzkoff) February 16, 2017
9. He asserted that Clinton was closer to Russian officials than he was, described how you can do "bad things" with uranium, and mused about bombing a Russian ship that was spotted off the US coast.
Here is Donald Trump talking about the uranium. pic.twitter.com/crp7WzEbVp

— Dave Itzkoff (@ditzkoff) February 16, 2017
This is probably my favorite part so far pic.twitter.com/n61y5I8UrN

— Rachel Riederer (@readerer) February 16, 2017
10. He said he was having a great time during the press conference and declared he wasn't "ranting" or "raving," although that's how the press would spin it.
.@realDonaldTrump: "I'm not ranting and raving" https://t.co/KhfYzEioKy pic.twitter.com/TjLSiDxjI8

— POLITICO (@politico) February 16, 2017
11. He boasted Melania as a "great advocate" for "women's difficulties" and mentioned Ivanka in the question about Melania.
Pres. Trump on Melania: "She's gonna be a fantastic First Lady. She's going to be a tremendous representative of women and of the people." pic.twitter.com/fe7rv0XnWX

— ABC News Politics (@ABCPolitics) February 16, 2017
Trump says Melania cares very much about women's issues, and "women's difficulties." What??

— Amanda Terkel (@aterkel) February 16, 2017
Asked about Melania, he works it around to Ivanka

— Tom Scocca (@tomscocca) February 16, 2017
12. He maintained his claim that the travel ban's rollout was "smooth."
"We had a very smooth roll out of the travel ban." -@POTUS pic.twitter.com/S2y9rSUM71

— POPSUGAR News (@popsugarnews) February 16, 2017
13. He tried to silence a reporter for asking a question about the rise of anti-Semitism and said it was insulting.
Trump says a question from a reporter for a Jewish publication about rising anti-Semitism is "not a fair question."

— Maggie Haberman (@maggieNYT) February 16, 2017
Then tells him to "sit down." https://t.co/Tbb0iMpeAo

— Alex Leary (@learyreports) February 16, 2017
.@POTUS says he's the "least racist person" pic.twitter.com/6dTxsfCGOo

— POLITICO (@politico) February 16, 2017
14. He suggested that he "inherited" a mess from Barack Obama without acknowledging that America is actually thriving.
"I inherited a mess"--Trump. When Obama left office: unemployment 4.7%, gas at $2.37/gallon, Dow nearly 20k, income rising, 11.3M new jobs

— Brian Goldsmith (@GoldsmithB) February 16, 2017
Trump says he inherited a mess. Strange, because this is the economy Obama left him: pic.twitter.com/fjXndqyX4Q

— Steven Rattner (@SteveRattner) February 16, 2017
15. He asked April Ryan, a black journalist, if she could set up a meeting between him and the Congressional Black Caucus.
Here is the video of this ridiculous, outrageous interaction.pic.twitter.com/4wfdJ9p0tv

— Erick Fernandez (@ErickFernandez) February 16, 2017
16. He just realized he's a politician now.
"I can't believe I'm saying I'm a politician but I guess that's what I am now." —The president of the United States, everybody

— POPSUGAR News (@popsugarnews) February 16, 2017