10 Fun Ways to Decorate Your Hydro Flask (Whether or Not You're a VSCO Girl)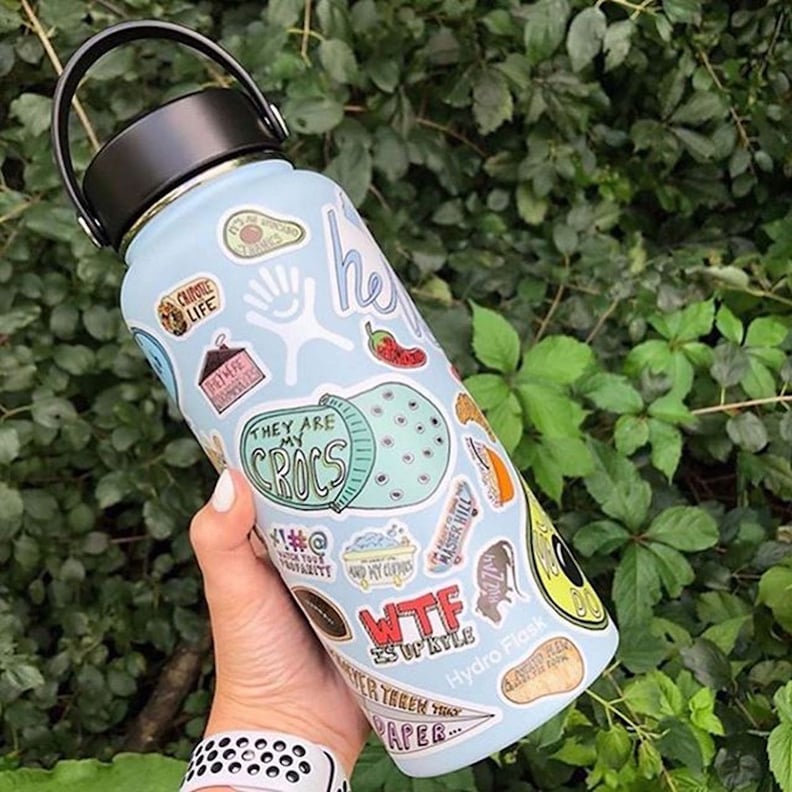 At this point, my beloved Hydro Flask ($33) is an extension of me. Keeping my drinks at the perfect temperature and knocking a few cents off my Starbucks orders on the daily, it also showcases my personality, covered in my favorite stickers. These cult drink holders are more than just functional — they've become canvases for beautiful art.
Decoration inspiration for Hydro Flasks is filling up the bright, aspirational corners of Instagram. That said, this artsy endeavor isn't only for the Etsy-oriented and the Monets among us. Anyone can add flair to a reusable water bottle with a little patience and creativity. Here are some of my favorite Hydro Flask decorating ideas from the Internet — Birkenstocks and puka-shell necklaces not included.
01
Go Classic, and Decorate Your Hydro Flask With Stickers
Stickers are probably the easiest and most common way to customize your Hydro Flask. I like to get mine from local craft fairs and cons, but you can also order them from sites such as Amazon or Redbubble. Just make sure the stickers are waterproof, so that they don't get damaged when you wash your bottle.
02
Add a Friendship Bracelet (or Five) to Your Hydro Flask Cap
A simple way to accessorize your Hydro Flask without doing anything permanent to it: find an already-made friendship bracelet or browse online for a pattern of your liking. All you have to do is tie it onto your cap, and you're good to go.
03
Glue Crystals or Rhinestones on Your Hydro Flask
Rhinestones are in — just look at the cool looks from Euphoria. Bejeweling your Hydro Flask can be precarious, but a little patience and deliberation goes a long way. Use rhinestone glue or an industrial strength glue to make sure the jewels stay put.
04
Jazz Up Your Hydro Flask With Acrylic Paint
Start with a pencil drawing, then carefully go over your sketch with acrylic paint. You can use a sealant like Modge Podge to lock everything in place.
05
Slip Pony Bead Bracelets Around Your Hydro Flask
Pony bead bracelets are a cute and colorful way to add personality to your Hydro. The supplies for making a pony bead bracelet can easily be found at your local craft store.
06
Engrave Your Hydro Flask
There are lots of companies online that will engrave your Hydro Flask for you, but you can also make it a DIY endeavor by browsing some tutorials online (though I'd personally leave it to the pros). Most guides recommend creating an outline on paper then using a cutting tool to etch it out carefully.
07
Knit a Cozy For Your Hydro Flask
08
Wrap Scrunchies Around Your Hydro Flask
Using your Hydro Flask as a scrunchie holder is definitely a sartorial statement for any VSCO girl. As someone who constantly loses hair ties, I'm into this idea. Putting one scrunchie on your water bottle might make it look a tad lonely, so jazz it up with a few other hair ties and add on a sticker or two.
09
Use Paint Markers on Your Hydro Flask
Paint can get messy, so if you want to decorate your Hydro Flask, it might be worth investing in some paint markers. These pens are usually waterproof and create nice, clean lines for your most intricate pattern ideas.
10
Give Your Hydro Flask a Glittery Update
Glitter never goes out of style, so why not feel a little sparkly when you're getting hydrated? There are different ways to go about it, but most of them involve a glue and sealer like Modge Podge and hand-poured glitter.