CES Trends 2015
The Hottest Tech Trends to Look Forward to in 2015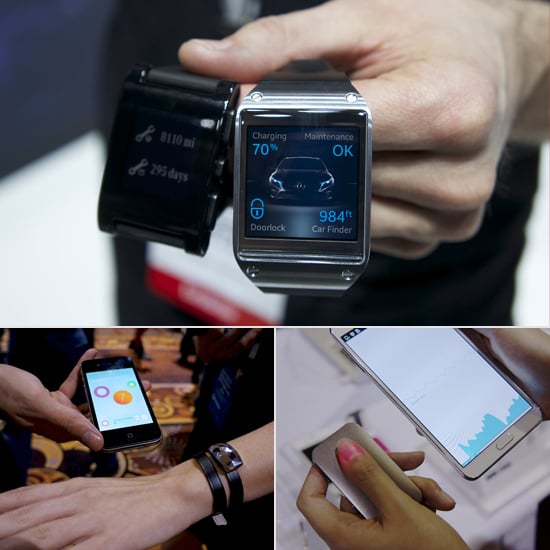 The Consumer Electronics Show is like the Comic-Con of tech. Gadget companies from all corners of the world descend upon Las Vegas for a few days of nonstop geeking out. The annual CES festivities are just around the corner (events start Jan. 6), so stay tuned for breaking news from the showroom floor. But before we land in Las Vegas, here's what we think will be the hottest trends at this year's CES extravaganza.
Very, Very High-Definition TVs
Last year, we saw the very first examples of 4K ultrahigh-definition TVs, but in 2015, we're expecting the mother lode. Content providers like Amazon Prime and Netflix are already offering streams in 4K, and the TVs themselves are finally at a consumer-friendly price point. LG is set to unveil a new line of 4K TVs that use "quantum dot technology," which allegedly displays even brighter colors. We'll have to see for ourselves.
The Next Generation of Car Tech
CES 2014 proved that futuristic automotive features have arrived. From cars with smartwatch integration to solar-powered vehicles, last year's show had plenty of car tech, and we expect no less from this year's show. Apple CarPlay and Android Auto, both announced this year, brought the smartphone interface right to the car dashboard. There will be plenty of buzz around the real-life implementation of both systems. Self-driving vehicles will probably be more prevalent in 2015. Audi is already working on the world's "fastest autonomous car," the RS 7.
Gadgets For a Very Intelligent Home
Smart home gadgets are on the rise. More ordinary household objects, from locks to coffeemakers, can now connect to the Internet than ever before. These intelligent appliances offer remote access, precision control, and constant monitoring. You can now brew coffee right out of bed, your thermostat can self-adjust to save money on your heating bill, and you can turn your curling iron off from miles away. It's all a part of what many call "The Internet of Things," and we bet this trend will explode at CES this year.
Wearable and Fitness Tech
Body-bound devices were all the rage in 2014. A sensor that can perfect your golf swing; a helmet that offers concussion data; and a UV-tracking, sunburn-preventing bracelet were just a few of the standouts. When it comes to wearable tech, there is no evidence that this trend is slowing down anytime soon. Fitbit unveiled a smartwatch/activity tracker called the Fitbit Surge, due to launch early 2015. No doubt we'll get to be up close and personal at the show. Microsoft even entered the wearable race with its own wristwear, the Microsoft Band. The much-anticipated Apple Watch is also expected sometime next year. We're excited to see what new health tech 2015 will bring.
The Wild Card: Virtual Reality
The Oculus Rift virtual-reality headset actually debuted at CES in 2013. Facebook CEO Mark Zuckerberg believed so deeply in the technology that he acquired the company for a few billion dollars this year. Samsung surprised all in September 2014 by unveiling its own headset, the Samsung Gear VR, which only requires a Galaxy Note 4 to operate. The time is ripe for even more virtual-reality products to hit the scene, and we may get a sneak peek at CES.
Image Source: Nicole Nguyen