Healthy Recipe for Deviled Eggs
Not So Devilish Eggs
Like us on Facebook
When it comes down to it, Easter is really all about eggs and plenty of them. There always seems to be an excess of hardboiled eggs after the day's festivities wind down. The eternal Easter question seems to be, what to do with all those left over eggs? (Actually, at my house I do field many earnest questions about how the Easter Bunny does his job.)



Here's a way to turn those leftovers into a wonderful snack. Traditional Deviled Eggs contain calorie and fat laden mayonnaise that really has no redeemable nutritional elements. So take your leftover eggs and try this healthy, easy, and super tasty recipe for Not So Devilish Eggs.
To check out the recipe, just
.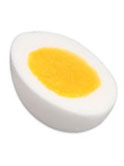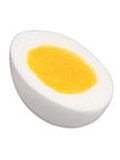 Ingredients
1 dozen hard boiled eggs
1 16 oz. container of Hummus (you can go with any variety you want)
A few pinches of Paprika
A handful of slivered almonds
Directions
What to do with all those left over hard boiled eggs? Make a healthy treat with this easy, recipe.
Cut the eggs in halves (length-wise) and remove the yolk.
Fill the hole where the yolk was in each half with a scoop of hummus.
Top with a few raw, slivered almonds and a pinch of paprika.
Serve and eat!
Why we like it: Deviled eggs are a typical and easy snack but hardly a healthy one due to the yolk and mayonnaise concoction that makes the deviled egg so devilish.
Hummus (rather than a yolk-mayo mixture) cuts the fat and adds iron.
Paprika adds a bit of Lycopene.
Almonds provide some good fats (yup, such a thing exists) that help lower cholesterol.
Egg whites are always a great source of protein.
Information
Category

Appetizers, Finger Foods

Cuisine

North American