Healthy Recipe: Oatmeal, Dark Chocolate Chip Pumpkin Muffins
Get Baking! Oatmeal Dark Chocolate Chip Pumpkin Muffins
Like us on Facebook
If the oven calls to you when Fall weather blows in, whip up a batch of these healthy pumpkin muffins. The fiber in the oats make them hearty and filling, and the dark chocolate chips add a little extra sweetness we all crave.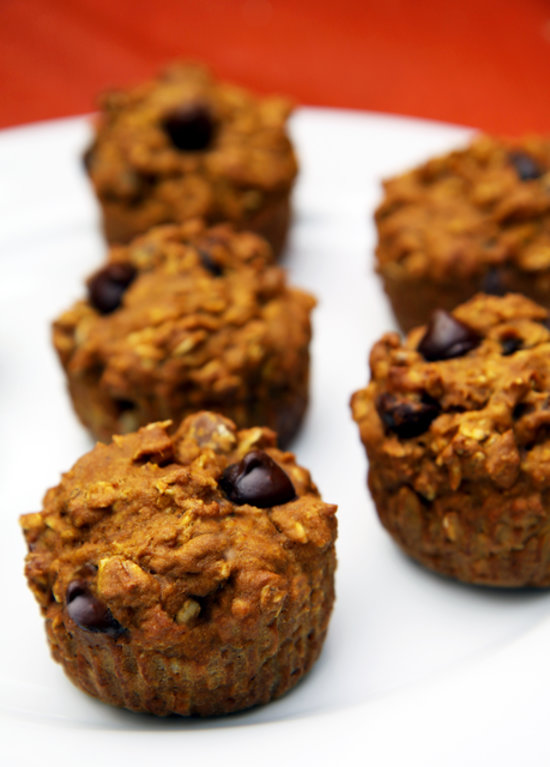 Mildly sweet yet satisfying, they make for a quick but surprisingly filling breakfast, offering five grams of protein and 2.4 grams of fiber. Plus, the walnuts add some heart-healthy fats.
Photos: Jenny Sugar
Ingredients
1 1/2 cups whole-wheat flour
1 1/2 cups old-fashioned oats
3/4 cup brown sugar
1 teaspoon baking powder
1/2 teaspoon baking soda
1 teaspoon cinnamon
1/2 teaspoon ground ginger
1/4 teaspoon allspice
1/4 teaspoon ground nutmeg
1 1/2 cups canned pumpkin
3 tablespoons canola oil
1/4 cup low-fat milk
One large egg
One large egg white
1/2 cup dark chocolate chips (optional)
1/2 cup chopped walnuts (optional)
Directions
Preheat oven to 375ºF, and line muffin tin with cupcake wrappers.
Whisk dry ingredients and spices together in a large bowl.
Add pumpkin, oil, milk, egg, and egg white to a medium-size bowl, and mix thoroughly. Add wet ingredients to dry ingredients, and mix well. Stir in chocolate chips and walnuts.
Fill muffin tins evenly, and bake for 15 to 18 minutes.
Makes 14 muffins.
Information
Category

Breakfast/Brunch