Recipe For Healthy Appetizer Made With Edamame and Pears
Edamame and Pear Crostinis
Like us on Facebook
If you're having a dinner party and are looking for a healthy app to serve, search no more. Try this crostini featuring edamame, fresh mint, Romano cheese, and pears. These appetizers are packed with protein and zesty vibrant flavor.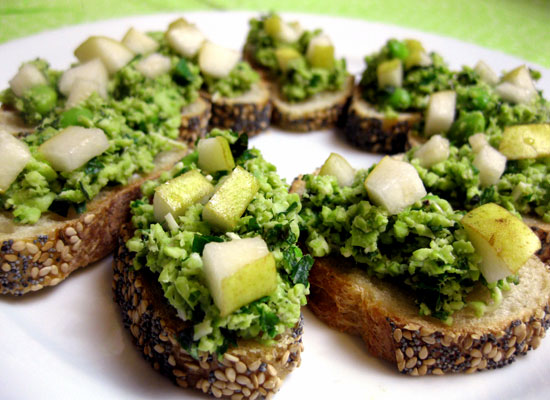 The topping can be made ahead of time and it's a cinch to whip up, making this recipe popular with hostesses and guests alike.
From Health magazine
Edamame and Pear Crostinis
Ingredients
16 ounce bag of frozen shelled edamame
4 tablespoons extra virgin olive oil
1 cup chopped mint
1/2 cup grated pecorino Romano cheese
1/2 teaspoon salt
1/4 teaspoon freshly ground pepper
1 baguette
1 Bartlett pear, diced
Directions
Preheat oven to 350° F.
Boil the edamame in salted water for 10 minutes. Remove beans with a slotted spoon and place in ice water for a couple minutes to cool; then drain.
Set aside 1/4 cup of the whole edamame and place the remaining edamame a food processor; process until coarsely chopped.

In a separate bowl, combine the mashed edamame with the whole edamame, three tablespoons olive oil, chopped mint, Romano cheese, salt, and pepper.

Thinly slice the baguette, brush each piece lightly using one tablespoon olive oil. Bake for eight minutes.
Remove from the oven, top each crostini with one tablespoon of the edamame mixture, garnish with chopped pears and enjoy.
Information
Category

Appetizers, Crostini
This recipe makes about 30 crostinis and they're quite healthy, so you can enjoy more than one.
| | |
| --- | --- |
| Serving Size | 1 crostini |
| Calories | 62 |
| Total Fat | 3.3 g |
| Sat. Fat | .8 g |
| Cholesterol | 1 mg |
| Sodium | 98 mg |
| Carbs | 5.3 g |
| Fiber | 1.1 g |
| Sugars | 1.2 g |
| Protein | 2.9 g |
If you have a tasty and healthy recipe to share, post it in the Healthy Recipe Group. I am always looking for new ones to try.