Recipe For Whole Wheat Mixed Berry Pancakes
Whole Wheat Berry Pancakes With Maple Cinnamon Yogurt
Like us on Facebook
The berries I bought at the beginning of the week were soft by the weekend, so I used them to make these whole wheat pancakes. The fruit adds natural sweetness, so you don't need much sugar in the batter. And instead of dousing them in a river of maple syrup, I increased the protein by making my own creamy maple-flavored yogurt sauce. They were outstanding and a huge hit with the fam.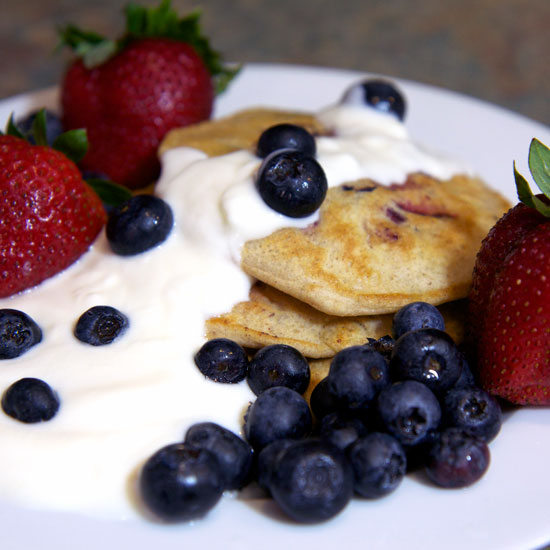 original recipe
Whole Wheat Mixed Berry Pancakes With Maple Cinnamon Yogurt
Ingredients
Pancakes:
1 1/4 cups whole wheat flour
1/4 cup ground flaxmeal
2 teaspoons baking powder
1 egg
1 cup skim milk, plus more if necessary
1/2 teaspoon salt
1 tablespoon brown sugar
1 cup mixed fresh berries
Yogurt sauce:
6 ounce container of plain Greek yogurt
2 tablespoons skim milk
2 teaspoons maple syrup
1 teaspoon cinnamon
Directions
Mix together the flour, flaxmeal, and baking soda in a bowl and set aside.
In another bowl, beat together the egg, milk, salt, and brown sugar until mixed well. Stir in the dry ingredients and the fresh berries.
Place a skillet over medium heat and spray lightly with cooking spray.
While the pan is heating up, mix together the yogurt, milk, maple syrup, and cinnamon in a small bowl. Set aside.
Drop 1/4 cup of the batter on the pan per pancake. Cook until bubbly, about 1 1/2 minutes. Flip and continue cooking until golden brown. Makes about 12 pancakes.
Place three pancakes on a plate and pour 1/4 of the yogurt sauce on top. Add fresh berries and enjoy. Serves four.
Information
Category

Breakfast/Brunch, Pancakes/Waffles
Source: Calorie Count
Source: Calorie Count

Image Source: POPSUGAR Photography / Jenny Sugar