Chloe Fineman's SNL Beauty Secrets and Botox Regrets
Yes, Chloe Fineman Has an Entire "Tray of Boobs" in Her SNL Dressing Room
As POPSUGAR editors, we independently select and write about stuff we love and think you'll like too. If you buy a product we have recommended, we may receive affiliate commission, which in turn supports our work.
Image Source: Pantene
Comedian Chloe Fineman is a lot like her day job on "Saturday Night Live": willfully funny, unabashedly honest, and impervious to a quick-change (even when a life-sized Elmo costume is involved). It makes her the perfect candidate for everything from celebrity impressions to improv to, as it turns out, hair commercials — Pantene's new "Can Your Conditioner Do This?" campaign in particular.
That's not to say she's fully mastered the art of hairstyling. "I'm way better at doing my makeup than my hair," Fineman tells POPSUGAR. Instead, she's always "just dreaming that I look cool and French, but not. Like Lily-Rose Depp or her mom, Vanessa Paradis. That is my dream hair."
You see, that is a very good thing, because getting into character and re-creating the iconic hairstyles of celebrities make up a large part of Fineman's (theoretically speaking) 9-to-5. That means one thing: lots of wigs.
"I've never worn my natural hair on the show," she says. "I have my own wig that Jodi [Mancuso] in the hair department meticulously helped get made, and it's beautiful. Every time I put it on, I'm like, 'Oh, this is the haircut I should have.' The length is perfect. The color's perfect. It's flawless."
Then she has her "hey, welcome to the show!" wig that she wears to warm up the crowd, and then her wig for the dress rehearsals and also her wig for the afterparty. (But who's counting?)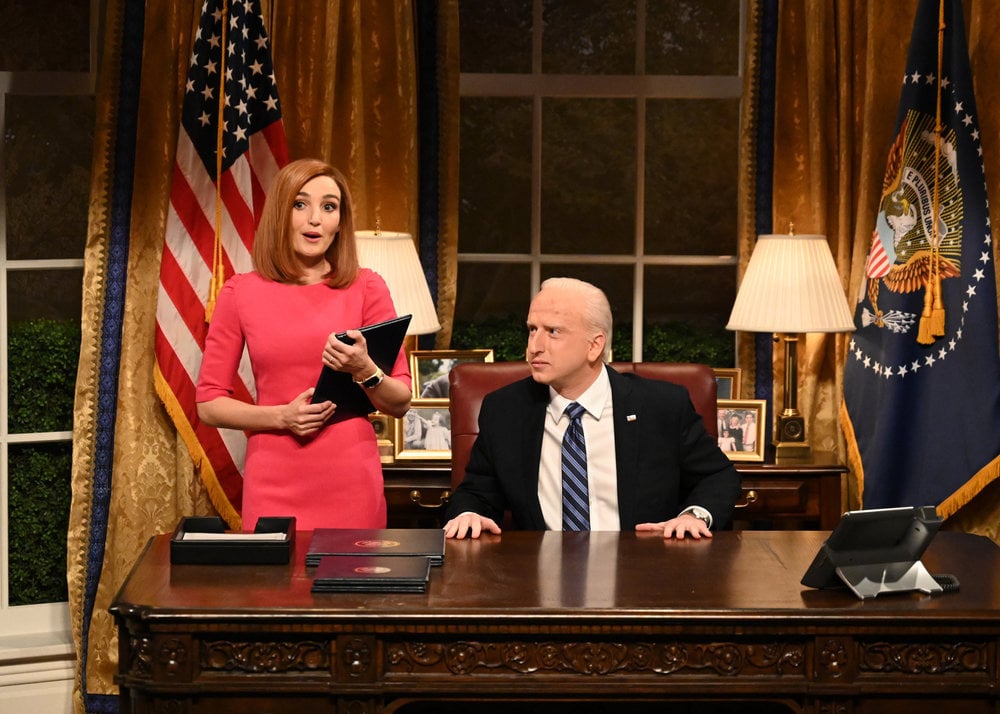 Image Source: Will Heath/NBC
"My favorite part is, only during the pre-tapes can I see who owned the wig before me," Fineman says. "There are so many wigs in these plastic bags with tape on them, and it'll be like 'Bill Hader, 2001.' I'm like, Bill Hader wore this wig? What the hell? So there's legacy to the wigs; they have been around the block. I think I wear a lot of Kristen [Wiig]'s wigs. My head shape must be . . . I don't know, similar."
That's not even the best behind-the-scenes secret from SNL. No joke.
A Note on Fineman's Backstage "Tray of Breast Options"
There's no logical way to transition here, so we'll get right to it: Fineman has her own personal "boob rack" backstage at "SNL." Yes, to change in tandem with each character's costume (for accuracy — why, who's asking?).
"I'm not the bustiest lady, but I do play a lot of women who have cool boobs," she laughs. "Every show, there's usually a tray of boobs. My dresser Renee [Borys] will be like, 'This one, no this one.' I don't know if other people have one but I have a tray of breast options. I'm always like, 'Should I just get a boob job?' Like, this is just exhausting. But then I like to play dudes, so what are you going to do?"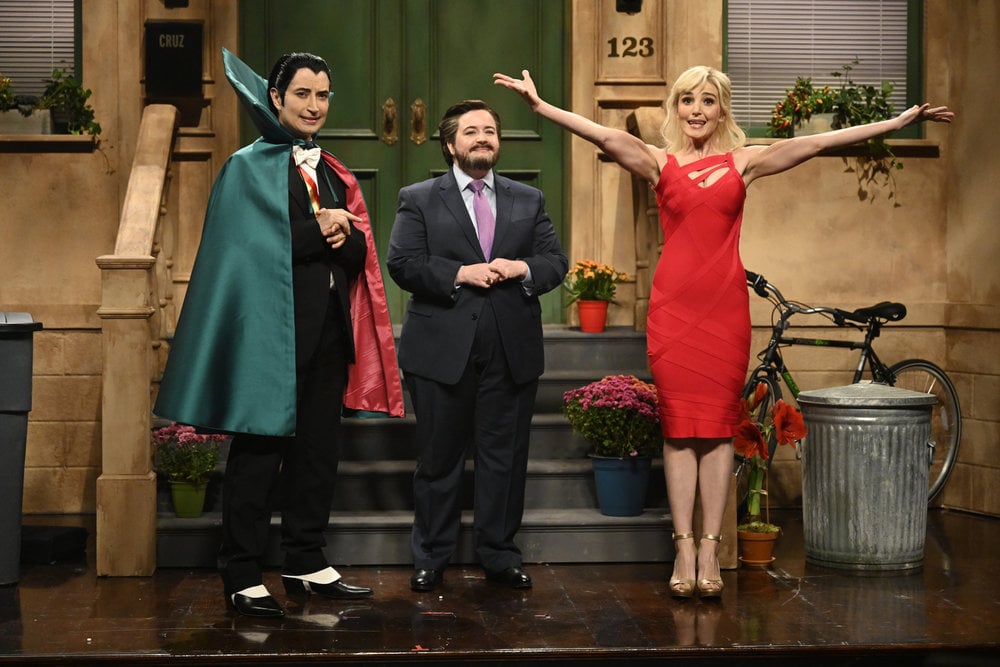 Image Source: Will Heath/NBC
This was one of a few cosmetic tweaks Fineman has entertained, even if only for a second, of late. Once stay-home orders lifted two years ago in LA, she also scrolled Groupon for places to get Botox (filter: "open now") after hearing rave reviews from friends and family. "I thought, if there's ever a time for me to try Botox, it's now because I don't have to go to work for, like, four months," she says. "So I went on Groupon, and that was a bad idea. It was so much Botox. You couldn't tell if I was scared or sad. It was bad."
She, for the record, does not hold this against anyone but herself (not even Groupon). "I still use it. Groupon all the way."
The Beauty Treatments She Swears By
Comedic timing, Fineman has down. Timing her more intensive beauty treatments? Meh, not so much. Like how, days before the 2021 Met Gala, she decided to try a Fraxel laser treatment, which normally requires up to 10 days of healing time. Her skin was "heavily burned" red.
"I didn't know you're not supposed to rub off [the numbing cream applied beforehand], so I had a red scar across my forehead," she says. "I thought I was OK, and then two days before the Met, I got sucked into Instagram ads for Dermaflash, which is that skin-fuzz remover, so I ordered that. I got in there and gashed open my nose. Luckily I have a bunch of makeup covering it, but by the end of the night I looked like Rudolph the Red-Nosed Reindeer."
Good news: once the inflammation quelled, all was well in the world, and she thought her freckles and sun damage were a thing of the past. "The laser changed my skin, and then guess what? The freckles came back. Because I don't wear sunscreen."
Her Go-To Products on "SNL" — and Off
OK, so she doesn't love sun protection. (Don't tell her dermatologist.) But she does love makeup and skin care — for which she saves and splurges, in that order. "I like treating myself for my birthday or a holiday on skin-care stuff," Fineman says. Recently, that means the Augustinus Bader Rich Cream ($280) and Dr. Barbara Sturm's Anti-Aging Serum ($350).
"The most expensive thing at Sephora," she says, laughing. "I don't know if it's made a difference; I think it's helped my skin. I don't know. I'm 33; I was in a dark place. You're just like, 'Do I need to do this? I should do this. I should get this.' It's preventative."
"I'm 33; I was in a dark place. You're just like, 'Do I need to do this? I should do this. I should get this.'"
Makeup, on the other hand, is where she draws the line. "Mascaras are the one that I'm like, 'Does it really need to be $9 million?'" she says (and for the record, her favorite is the L'Oréal Voluminous Mascara ($9)). "Lip colors I'll get from anywhere. Before I became a huge Drew Barrymore fan, she had some lip products from Flower Beauty that I thought were amazing. I would order them from Walmart."
It's also worth noting that Fineman has been using Pantene's shampoo and conditioners since at least the fifth grade. At least.
On set, it's a different story. She spends a collective number of hours each weekend in the hair-and-makeup chair (and takes full advantage of the perks, even when her character is "literally just a dowdy janitor, I'll be like, 'You can still put lashes on and contour my cheeks, right?'"), yet sometimes, those quick changes backstage are rushed. When time is of the essence, Fineman has been known to take matters into her own hands.
"I've stolen that Pat McGrath palette that you can use as highlighter, blush, shiny lipsticks from my makeup artist and then snuck into the makeup kit [on set]."
Like we said, she's honest.