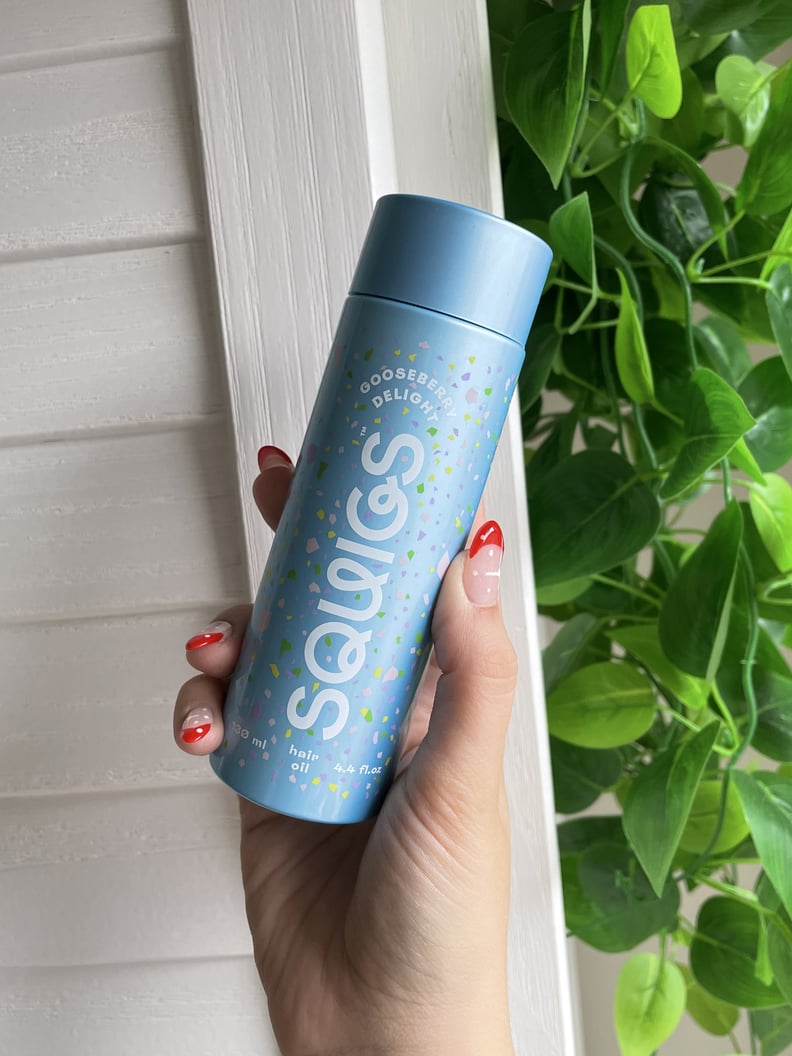 POPSUGAR Photography | Jessica Harrington
POPSUGAR Photography | Jessica Harrington
As POPSUGAR editors, we independently select and write about stuff we love and think you'll like too. If you buy a product we have recommended, we may receive affiliate commission, which in turn supports our work.
Hair oiling is an ancient Ayurvedic beauty practice that has many hair benefits.
The practice can increase shine, reduce frizz, and leave hair healthier.
Our beauty editor tried it out with the Squigs Beauty Gooseberry Delight Hair Oil.
Whenever I'm asked about my top hair-care goals, I always answer: reduce frizz and add shine. I'm on a constant quest to make my frizz-prone waves soft, healthy, and liquid-hair-like. That's why I've recently started testing out different hair glosses and "lamellar" rinses, but I've always been tempted by the ritual of hair oiling and its many benefits, so I decided to give it a go with the Squigs Beauty Gooseberry Delight Hair Oil ($34).
Before getting my hands on a bottle of the Gooseberry Delight Hair Oil from POPSUGAR's own fashion editor Nikita Charuza, I'd seen quite a few videos talking about the ancient Ayurvedic beauty practice on TikTok. People who tried hair oiling, or some form of it like hair slugging, were in love with the shine-boosting results. Needless to say, I was excited to see what it would do to my hair.
Before jumping in, I expressed my concerns to Charuza that the oil may be a little too heavy for my fine hair type, but she assured me that it wouldn't weigh down my ends like some styling oils. With that, I gave her oil a try on my next hair-wash day.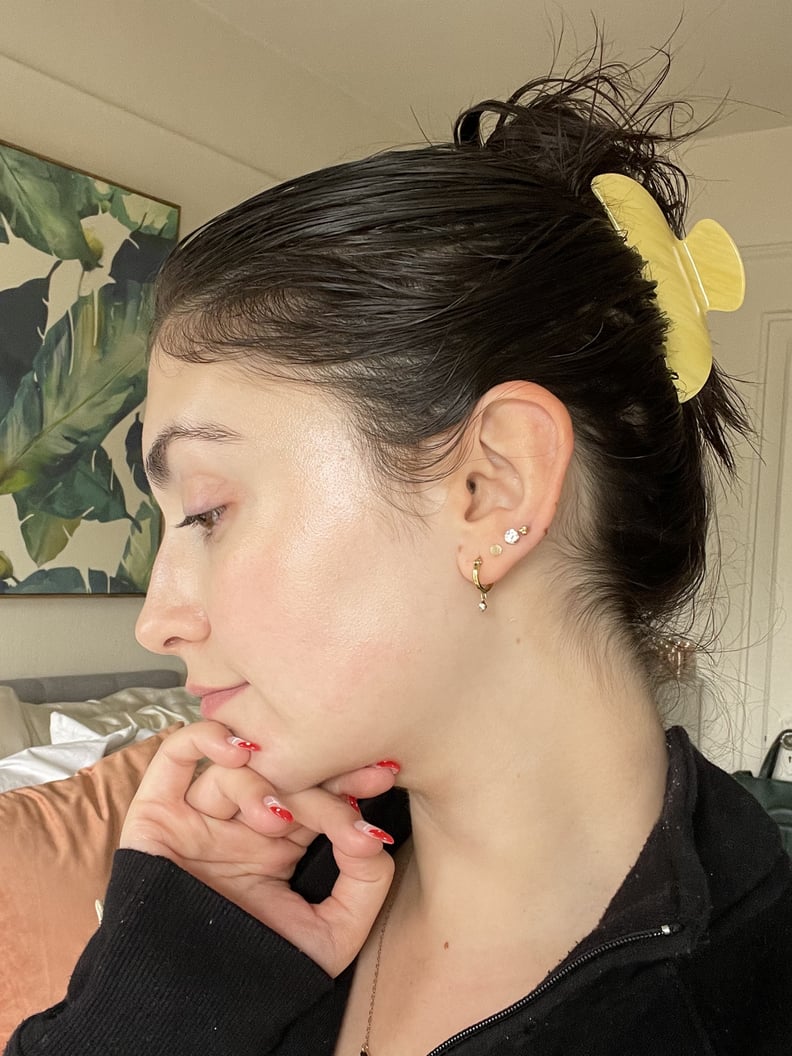 On dry, recently brushed hair, I applied some of the Gooseberry Delight Hair Oil into the palms of my hands before massaging it into my roots. Immediately I noticed the light fruity scent, which made me even more excited to douse my head in it. I had preemptively changed into a dark-colored sweatshirt just in case things got messy, but it ended up not being an issue. Once my scalp was covered, I applied more oil to the ends of my hair and brushed it through with a wide-tooth comb. After my hair was covered in the oil, I pulled it up into a claw clip to keep it out of the way while it soaked in (another option is to put your hair in a braid or loose bun).
The instructions say to leave it on overnight if possible, but if you're in a rush (like me), a few hours will also do the trick. When I put in the oil, it had just turned 9 a.m., and I went about my day as usual with the product in my hair for the next few hours. Though I didn't have anywhere to go that day, I could see myself running errands with the oil in my hair — it just looked wet as if I had taken a shower.
After about six hours, I decided to rinse the oil out. In the shower, I shampooed twice just to ensure my hair was squeaky clean and didn't have any residue left in it. While rinsing, my hair already felt softer than it usually does. I finished by putting a bit of conditioner in my ends, rinsing that out, and putting my hair up in a wrap to dry.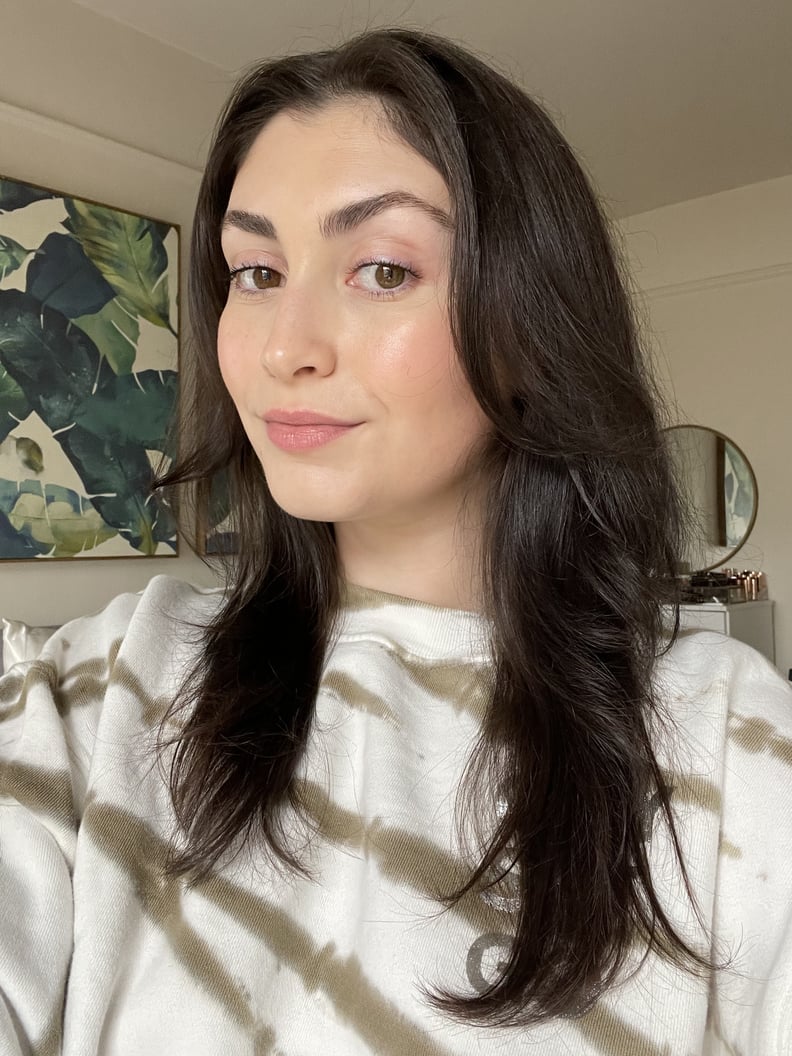 When it came time to style it, I could tell it was silkier just by brushing it. It also still had a hint of that amazing gooseberry scent to it. Though I alternate between letting my hair air-dry and giving myself a blowout, I was too impatient to wait for it to dry on its own, so I used a blow-dry brush to speed up the wait time. The biggest difference I noticed after I finished styling my hair was how soft my ends were — they felt super hydrated and healthy, despite not being trimmed in five months. My hair also had a nice shine that caught the light. I did, however, still need to use a couple of styling products to fight frizz at my roots, but it was a slight improvement from before.
All in all, I loved the ritual of hair oiling, as well as how it made my hair look. I was expecting hair oiling to be more disruptive to my day because of how long it takes, but I almost forgot that the Squigs Beauty Gooseberry Delight Hair Oil was even in my hair. I'm definitely going to include this treatment in my monthly beauty maintenance routine.
Stars: ★★★★