Brad Pitt and Jennifer Aniston's Relationship Timeline Is Seriously Complicated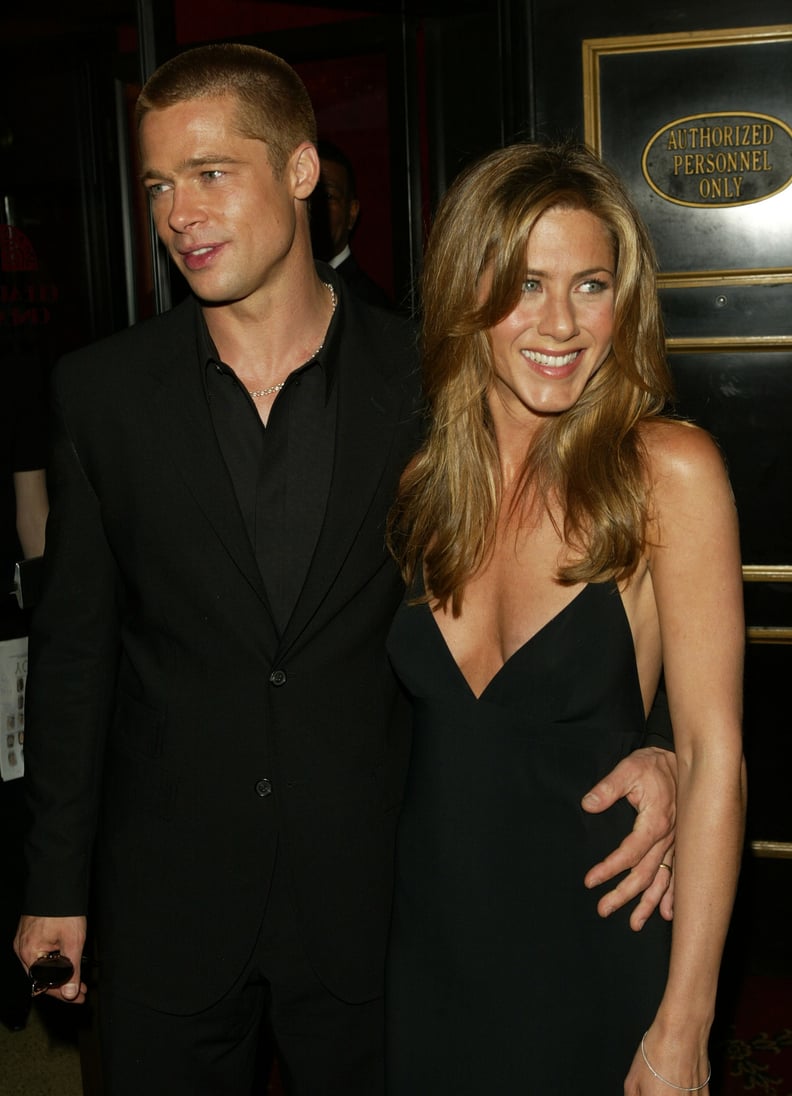 Getty | Peter Kramer
The early aughts had a lot of iconic celebrity couples: Justin and Britney, Tom and Katie, and — of course — Brad and Jen. If you're still not sure why Brad Pitt and Jennifer Aniston's interaction at the 2020 SAG Awards was such a big deal, it's time for a quick history lesson. Brad and Jen were married from 2000 to 2005 after a whirlwind romance, and for five years, they were Hollywood's It Couple — until Brad reportedly hit it off with his Mr. and Mrs. Smith costar Angelina Jolie. Since Brad and Jen's 2005 divorce, they've both remarried other people, divorced again, and now seem somewhat poised to rekindle their romance (though that may just be wishful thinking on our part). Let's revisit Brad and Jen's storied history, shall we?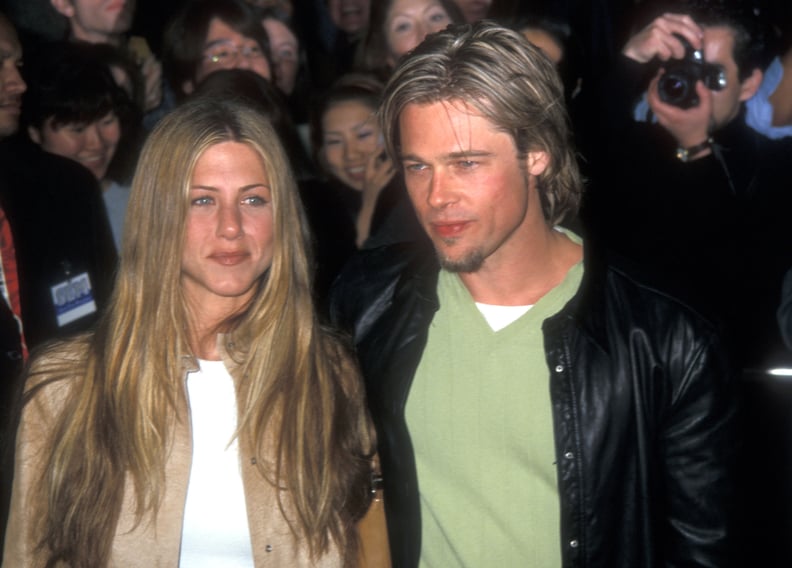 1998: Brad and Jen Go on Their First Date
Though Brad and Jen first met back in 1994 through their managers (who were friends), Brad was seeing his Se7en costar Gwyneth Paltrow at the time. Brad proposed to Gwyn in 1996, but seven months later, they called off the engagement. Around the same time, Jen called off her own engagement with actor Tate Donovan, whom she'd been seeing since 1995. Jen and Brad were both single, the stars were aligned, and in 1998, Brad and Jen went on their first date.
In a 2001 interview with Rolling Stone, Jen explained that their managers set them up on that first outing. "He was this sweet guy from Missouri, you know?" she said of Brad. "A normal guy." Three years later, during a 2004 appearance on ABC's Primetime with Diane Sawyer, Jen said she knew they were meant to be from that very first date. "That was a really easy evening," she said. "It was really fun."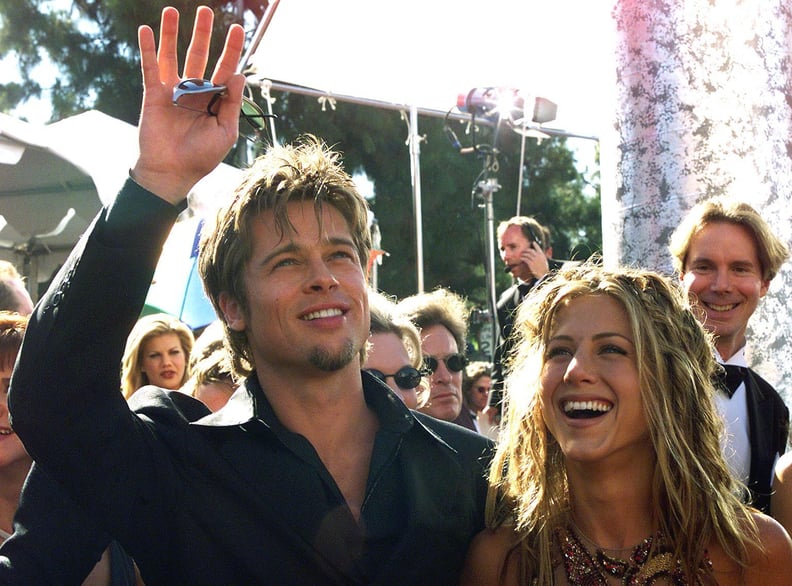 Sept. 1999: Brad and Jen Make Their Red Carpet Debut as a Couple
After months of speculation about their potential relationship, Brad and Jen made their first red carpet appearance as a couple at the 1999 Emmy Awards, where Friends was nominated for outstanding comedy series. Though Friends lost out to Ally McBeal, Brad and Jen definitely won the award for hottest new couple.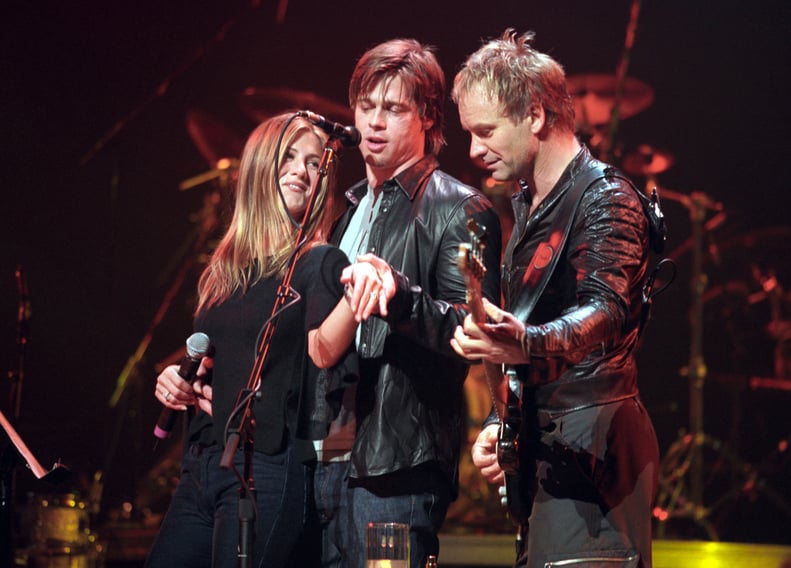 Nov. 1999: Brad and Jen Announce Their Engagement
Only a few months after making their red carpet debut, Brad and Jen attended a Sting concert at the Beacon Theater in NYC on Nov. 16, 1999, where they went up on stage so Jen could show the rock star her new rock — a diamond-and-platinum engagement ring from Italian jewelry designer Silvia Damiani. Jen reportedly joined Sting at the microphone to sing "Fill 'Er Up," and during the song, Brad put his arm around Jen and showed off her bedazzled hand to the audience. Though Jen's spokesperson claimed it was not an engagement ring, and Brad's spokesperson said it was a joke, since "Fill 'Er Up" is about getting married, it soon became clear that the engagement was legit.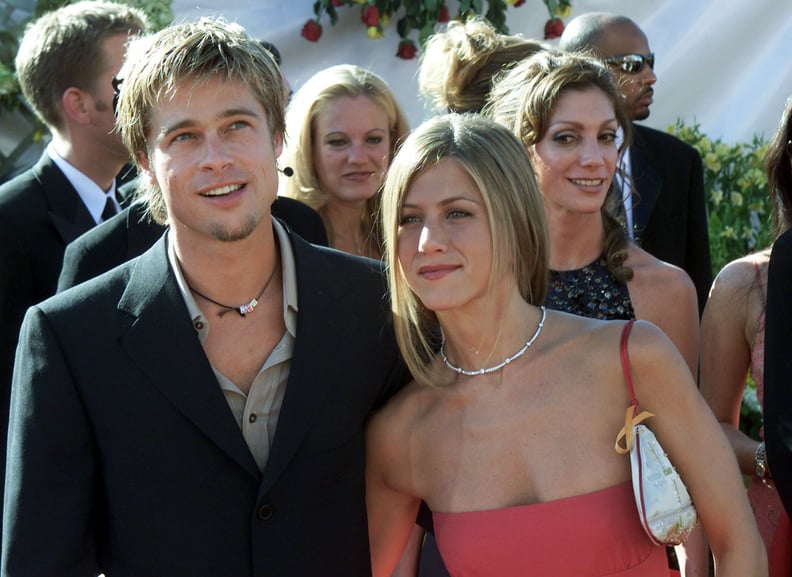 July 2000: Brad and Jen Get Married in Malibu
On July 29, 2000, Brad and Jen tied the knot in Malibu clifftop ceremony that, according to People, included 200 guests, 50,000 flowers, four bands, a gospel choir, and fireworks. An insider told the magazine that the wedding had a distinctly "un-Hollywood vibe," saying, "It was an emotional service. It was not like a business thing. It was friends and family and celebration." A year later, during her 2001 interview with Rolling Stone, Jen confessed that she'd been nervous on the big day. "I had those typical jitters the day before my wedding," she recalled, "but the day of, I was just excited in a good way."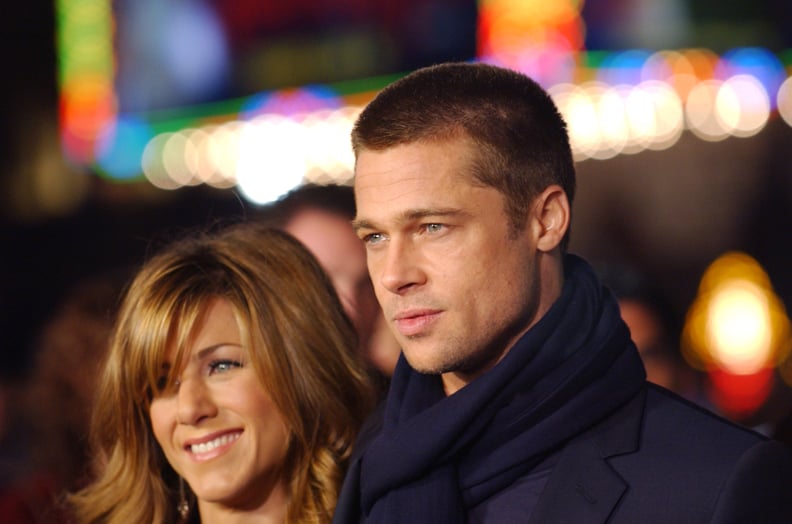 Feb. 2004: Jen Says She's Ready to Start a Family
In 2004, when Friends was nearing its conclusion, Jen revealed during an interview with The Guardian that she and Brad were thinking about starting a family. "It's time," she said. "You know, I think you can work with a baby, I think you can work pregnant, I think you can do all of it. So I'm just truly looking forward to slowing down." She added that — after Brad finished filming Mr. and Mrs. Smith — she planned on traveling with him while he filmed Ocean's Twelve so they could spend more time together.
Of course, it was while filming Mr. and Mrs. Smith that Brad first met his future second wife, Angelina Jolie. The two first met on set in 2003, and rumors eventually began to circulate about their on-set chemistry, even though the two still maintain that nothing happened between them until after Brad and Jen split.
"It took until, really, the end of the shoot for us, I think, to realize that it might mean something more than we'd earlier allowed ourselves to believe," Angelina told People in 2006. "And both knowing that the reality of that was a big thing, something that was going to take a lot of serious consideration."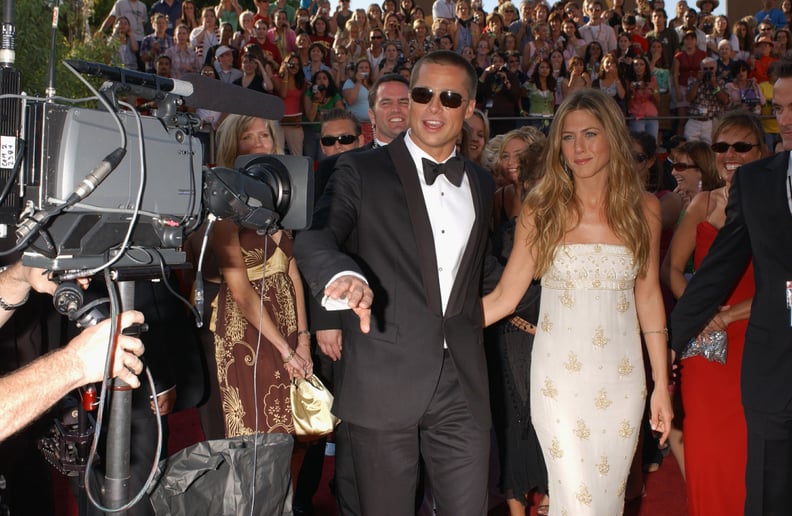 Jan. 2005: Brad and Jen Announce Their Split
On Jan. 7, 2005, a week after they reportedly spent New Year's vacationing in the Caribbean with Jen's Friends costar Courteney Cox and Courteney's hubby David Arquette, Jen and Brad announced their decision to separate.
"We would like to announce that after seven years together we have decided to formally separate," they wrote in a statement to People. "For those who follow these sorts of things, we would like to explain that our separation is not the result of any of the speculation reported by the tabloid media. This decision is the result of much thoughtful consideration. We happily remain committed and caring friends with great love and admiration for one another."
Nearly a year later, the two finalized their divorce, citing irreconcilable differences as the reason for the split. In a 2005 interview with Vanity Fair, Jen said the process was amicable. "We exited this relationship as beautifully as we entered it," she said.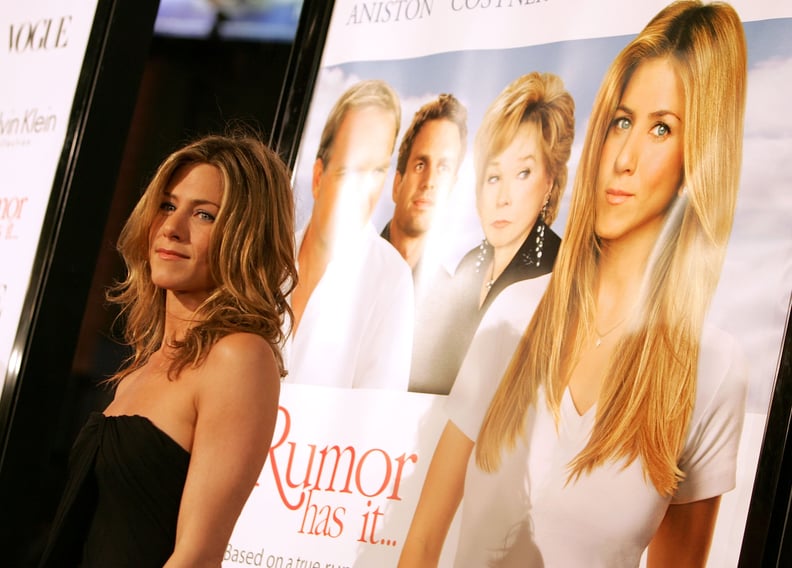 Sept. 2005: Jen Addresses Brad's Rumored Relationship With Angelina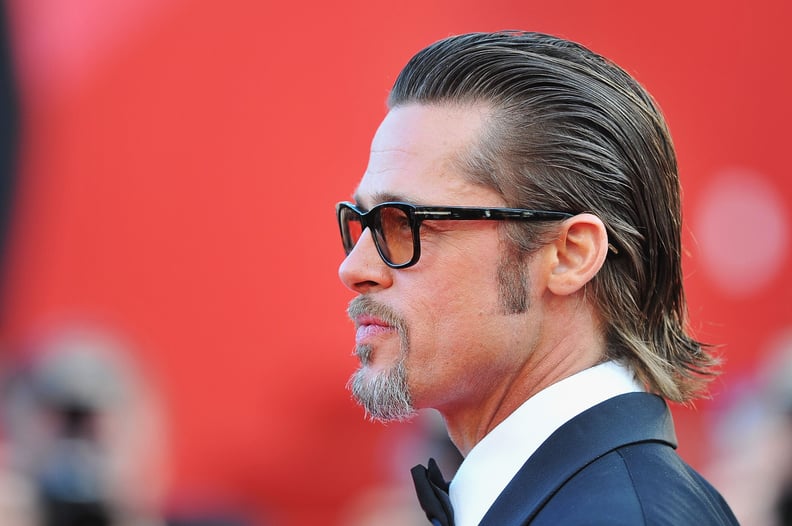 Sept. 2011: Brad Makes Questionable Remarks About His Marriage to Jen
Six years later — while Brad was still dating Angelina and after Jen had moved on to her Wanderlust costar Justin Theroux — Brad suggested during an interview with Parade that his marriage to Jen had been a mistake.
"It became very clear to me that I was intent on trying to find a movie about an interesting life, but I wasn't living an interesting life myself," he claimed. "I think that my marriage had something to do with it. Trying to pretend the marriage was something that it wasn't." He also mentioned that he'd finally found satisfaction with Angelina and the family he'd build with her.
The same day it was published, Brad issued an apology for the interview, saying his words had been misinterpreted. "Jen is an incredibly giving, loving, and hilarious woman who remains my friend," he said. "It is an important relationship I value greatly. The point I was trying to make is not that Jen was dull, but that I was becoming dull to myself — and that, I am responsible for."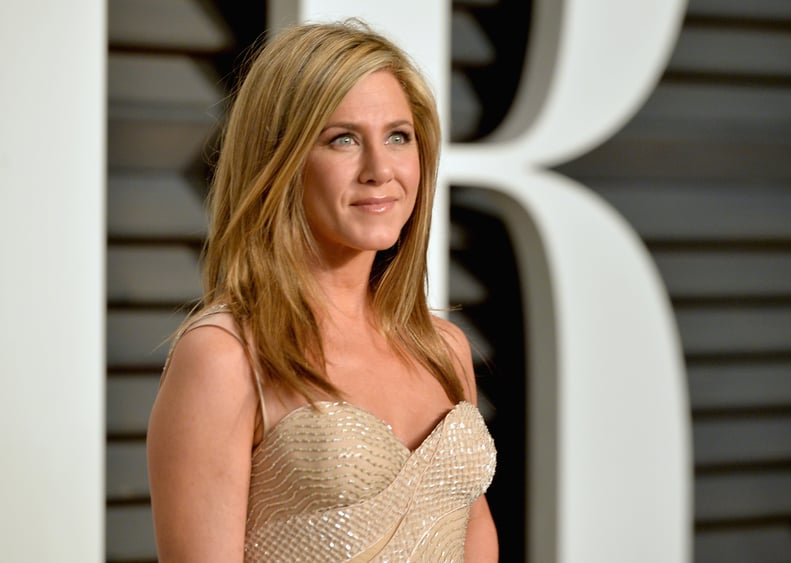 Jan. 2015: Jen Shuts Down the Cheating Rumors
In January 2015, five months after Angelina and Brad finally got hitched, Jen implied during an interview with The Hollywood Reporter that Brad never actually did anything wrong.
"We're not in daily communication," she explained. "But we wish nothing but wonderful things for each other. Nobody did anything wrong. You know what I mean? It was just, like, sometimes things [happen]. If the world only could just stop with the stupid, soap-opera bullsh*t. There's no story. I mean, at this point it's starting to become — please, give more credit to these human beings." By August 2015, Jen and Justin finally tied the knot as well.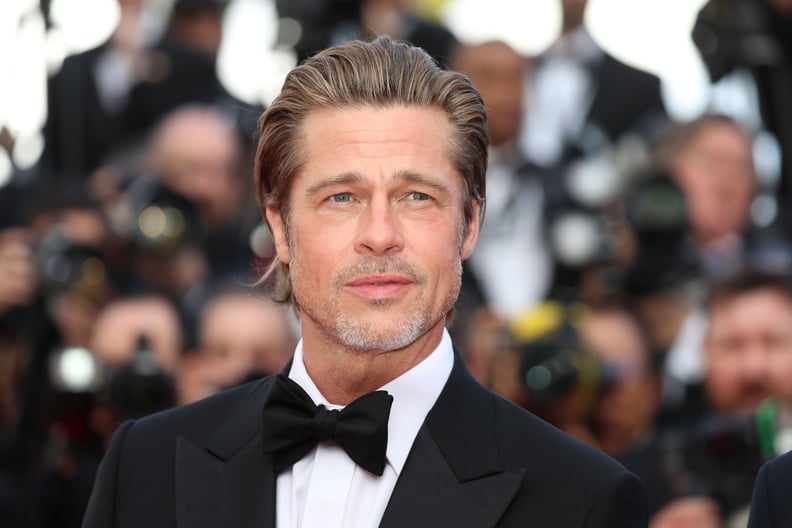 Feb. 2019: Brad Attends Jen's 50th Birthday Party
Spoiler alert: Neither Jen nor Brad's second marriage lasted. Angelina filed for divorce in September 2016, and after a long, messy process, their marriage officially ended in April 2019. Jen and Justin announced their decision to divorce in February 2018, and according to reports, Brad may have (indirectly) been involved in their relationship's demise. According to Us Weekly, Justin "stumbled upon old Post-it notes" that Jen saved from Brad.
A year after Jen and Justin parted ways, and soon before Brad became a (legally) single man again, Brad reportedly attended Jen's 50th birthday party at the Sunset Tower Hotel in LA. According to People, Jen was pretty occupied keeping her many guests entertained and "didn't really pay any special attention to Brad" during the party, but as a source claimed, "She was very happy that he showed up."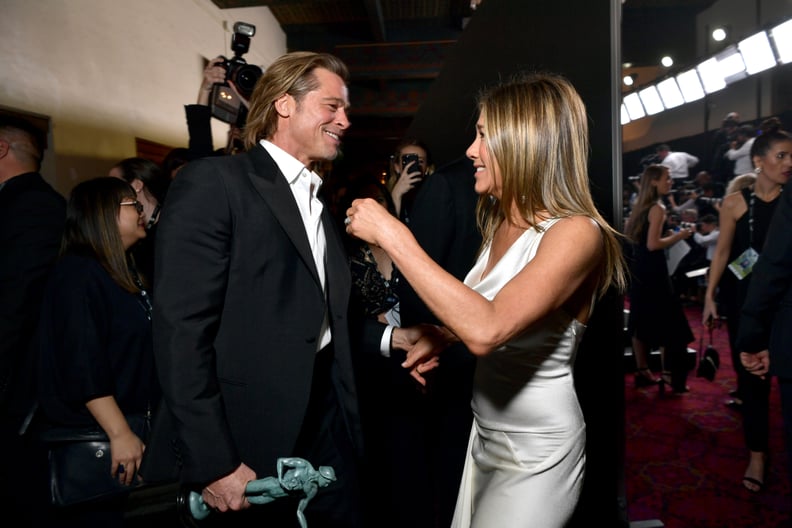 Jan. 2020: Brad and Jen Reunite at the SAG Awards
At the 2020 SAG Awards, Brad won an award for his supporting role in Once Upon a Time . . . in Hollywood, and Jen took home an award for her performance in The Morning Show, but the most exciting part of the night happened behind the curtains. Cameras caught Jen smiling affectionately in the audience while Brad accepted his award, and during Jen's speech, Brad was spotted intently watching on a TV screen backstage. "He was very into it. He wanted to hear what she had to say," a source told Us Weekly. "He looked proud. When he walked away after her speech ended, it appeared he wiped his eye."
After their respective wins, the two reunited backstage, where they embraced and chatted. Then, when Jen turned to move on, Brad reached out and grabbed her wrist, like he just wanted her to stay with him, and the internet collectively lost its mind.