Mark Sheppard Interview About Supernatural Season 11
Sorry, Guys! Supernatural's Mark Sheppard Maintains That Crowley Is Dead
Can't get enough Supernatural spoilers? Good! We talked to Jared Padalecki, Jensen Ackles, and Misha Collins at Comic-Con, but Mark Sheppard (aka Crowley) is the only one whose character might actually be dead. The fact that he showed up to Comic-Con at all is a good sign, but Sheppard refused to admit that Crowley may survive the season finale. We, along with a table of reporters, got to chat with him about what it's been like to explore Crowley's past, as well as who he would want to guest star on the show.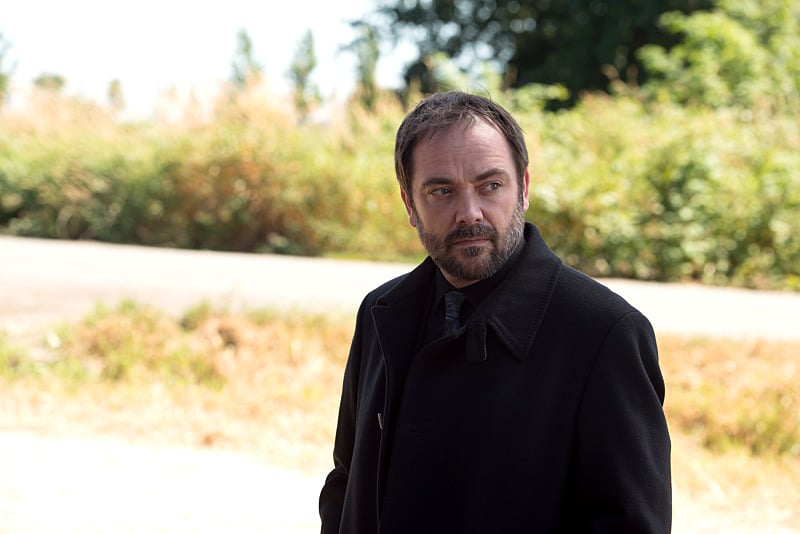 What did you think of the season finale and what it might mean for Crowley?
Mark Sheppard: It was great! I am dead.
How has it been for you to dig into Crowley's past?
MS: It can have its limitations, because you are making decisions about things. I was a little worried about the idea, but it is another side of Crowley to see. Ruth [Connell, aka Rowena] is wonderful, but I don't know how well the story went with the son, not to do with the actor, but it is an interesting path to go down. Once you go down that path, you are setting something in motion and there has always been an issue about how human Crowley is — or what he is. It is not Crowley, it is Fergus, so what you are really dealing with is Fergus, not Crowley, so you are de-Crowleying Crowley. You are Fergus-ing Crowley.
If you could get anyone to do a guest star on Supernatural, who would it be?
MS: There are plenty of people that want to; Jeffrey [Dean Morgan] would probably love to come back. I would love Matt Bomer to do it. We should ask him.
You have been in a lot of cult classic shows.
MS: Thank you, does that mean I am old?
No! If you could look back at any show that you watched as a youth and put yourself in it, which would it be?
MS: See, I don't know if I can. As a fan, I never really imagine myself in shows. I watched them and loved them, as I love music. I love any form of art that is done well; anything that is done with passion, I tend to enjoy. But I don't think that it works that way for me; I am very grateful for the things that I have done, and I never know how they are going to turn out when I start. Supernatural was a guest-star role, and I have done 48 or 49 episodes. It is quite amazing. I didn't expect it, and I have been fighting it every step of the way, but I have always been a fan. I am a fan of a lot of things, but I don't always imagine myself in them. Maybe Hill Street Blues, that is probably one of the most pivotal things I have watched.
Related Links: