Will Owen and Amelia Break Up on Grey's Anatomy?
Grey's Anatomy: Amelia Is Better Off Alone, and Here's Why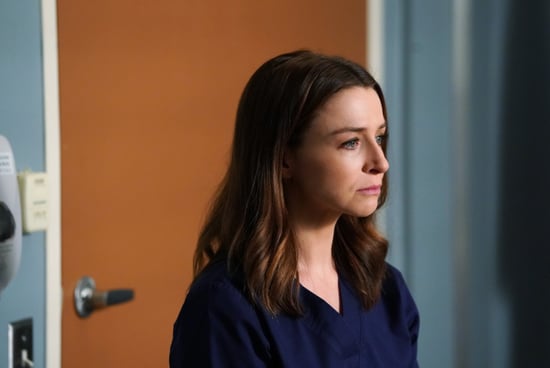 Grey's Anatomy has never been a show that shies away from a messy, Avril Lavigne lyric-certified complicated love triangle. Besides Meredith's Link or DeLuca dilemma, there's also Owen's baby drama with Teddy and Amelia. Now that Owen knows about Teddy's baby, it's only a matter of time until Amelia finds out. And the thing is, I'm sure that she's going to break things off with her ex-husband upon finding out. And I'm almost sure that it's going to be the best decision for everyone involved.
I've been on the fence with Owen and Amelia. Owen doesn't have a great track record with the strong-willed women in his life, and Amelia is definitely very smart and stubborn. (Cristina vibes, anyone?) Plus, it always feels like he's been holding a candle for Teddy since season six. On the other hand, his coparenting situation with Amelia has been a game changer. Betty and Leo bring out the best of their relationship. Still, as perverse as it may sound, I can't help but want for them to break up — amicably, of course.
Amelia has a lot going on. She had a brain tumor removed not too long ago, which pushes her into an identity crisis that's still uncoiling. One thing that has inspired purpose for her is her relationship with Betty, the recovering teenage drug addict who is Owen's foster son's biological mother. By season 15's midseason finale, Amelia decides to formally adopt Betty. It'll be tricky for the children to navigate the breakup, but Teddy, Owen, and Amelia are adults who, I'm sure, are more than capable of handling everything. The breakup would free up emotional bandwidth for Amelia to be Betty's sponsor and foster mother.
Plus, Amelia will need to be present for her sisters, even if she'll be pissed that they knew about the Teddy situation. Thatcher is in hospice for leukemia and will likely die this season. Even if Mer doesn't have a great relationship with him, I can't imagine his illness NOT affecting her. Maggie will also need to process Richard's bar incident and Catherine's tumor diagnosis. I just can't see Amelia ditching her sisters.
Speaking of Richard, both surgeons share struggles with sobriety. It's hard to imagine the writers ignoring this friendship when both characters are braving personal storms. Removing Owen drama from her life will allow Amelia to strengthen her other relationships, similar to how Meredith becomes her own McDreamy in season 14 after Derek's death.
And then, there's Teddy. Other than the fact that she's pregnant with Owen's baby, it's also hard to wish for Teddy to go away. (She's a main cast member now, after all!) Kim Raver brings a likable, nuanced performance to the cardiothoracic surgeon that's made us ship Owen and Teddy even from the days of Cristina. If Owen and Amelia part ways, their breakup lets Owen explore a relationship with Teddy. They don't share an explosive chemistry, but they do have a sweet history. And as Grey's has shown us with pairings such as Jolex, friendship is a solid relationship foundation.
Anyway, I'm rooting for Amelia and Owen to be happy, even if that means they need to leave each other. There's no chance that Teddy's news won't rock their relationship as it is now, and I'm more or less dying to see how it unfolds as the three of them stand awkwardly in the elevator together during the power outage.