Why Didn't Women Win That Many Grammys in 2018?
How the Grammys Failed Women and the #MeToo Movement This Year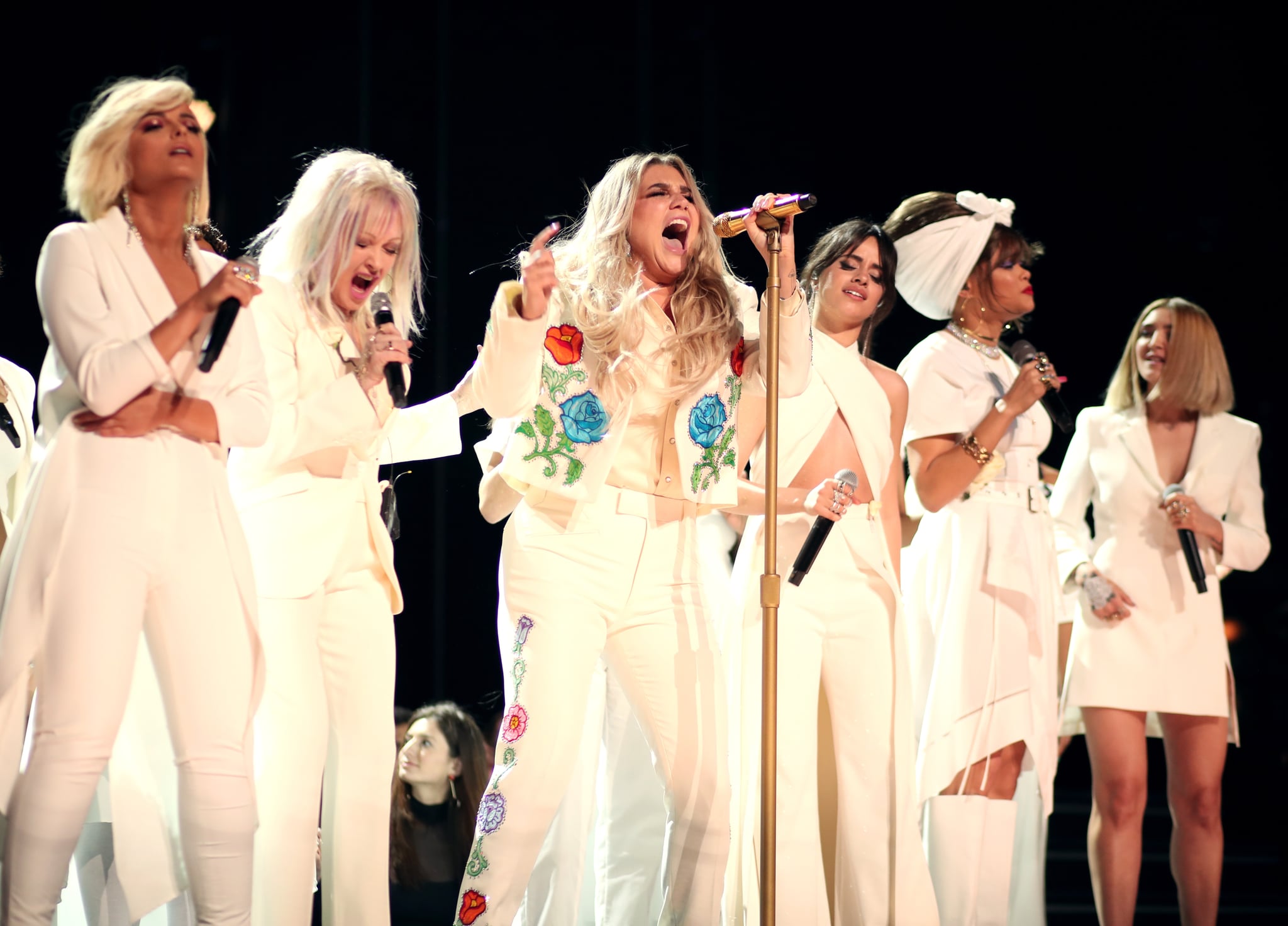 Image Source: Getty / Christopher Polk
Everywhere you looked at the Grammys on Sunday night, there were white roses. Artists, both male and female, proudly wore the flower on the red carpet to show support for the Time's Up movement, which was created ahead of the Golden Globes in an effort to combat workplace sexual harassment and assault across industries for women. As nice as it was to see musicians, actors, and even Grammys host himself James Corden incorporating white roses into their ensembles, the gesture felt hollow by the end of the night. All the flowers in the world don't mean anything if the music industry isn't actually honoring women for their hard work and talent, or at the very least, speaking out about #MeToo and the tidal wave of sexual assault and harassment claims that have dominated the national conversation over the past few months.
As the three-and-a-half-hour award show wore on, it soon became glaringly clear that, while there were an incredible selection of female performers and presenters on hand, very few women were actually stepping onstage to accept any awards. In fact, best new artist winner Alessia Cara was the only female musician to win a major Grammy. The dissonance was so jarring that it even spurred the hashtag #GrammysSoMale on Twitter. With so many immensely talented women in the music industry right now — many of whom were nominated — how did this happen?
If you ask Recording Academy president Neil Portnow, who obviously subscribes to the Bono school of musical thought, it's because they need to try harder. When questioned about the disproportionate amount of male to female winners by Variety after the Grammys, Portnow had this to say:
"It has to begin with . . . women who have the creativity in their hearts and souls, who want to be musicians, who want to be engineers, producers, and want to be part of the industry on the executive level. [They need] to step up because I think they would be welcome. I don't have personal experience of those kinds of brick walls that you face but I think it's upon us — us as an industry — to make the welcome mat very obvious, breeding opportunities for all people who want to be creative and paying it forward and creating that next generation of artists."
They need to "step up"? Really? To act as though the quality of albums that came out last year aren't on par with Grammys standards is to be willfully obtuse. I can only assume Portnow hasn't heard a single track off of Lady Gaga's Joanne, or a single second of Kesha's Rainbow. Or how about Kelly Clarkson's Meaning of Life? And Pink's Beautiful Trauma? All four of the aforementioned women were nominated for best pop performance for singles from those albums, but lost to Ed Sheeran's "Shape of You." Is "Shape of You" a good, catchy song? Yes. Is it deserving of an award? Sure, why not. Is it deserving of this award? Not in the slightest.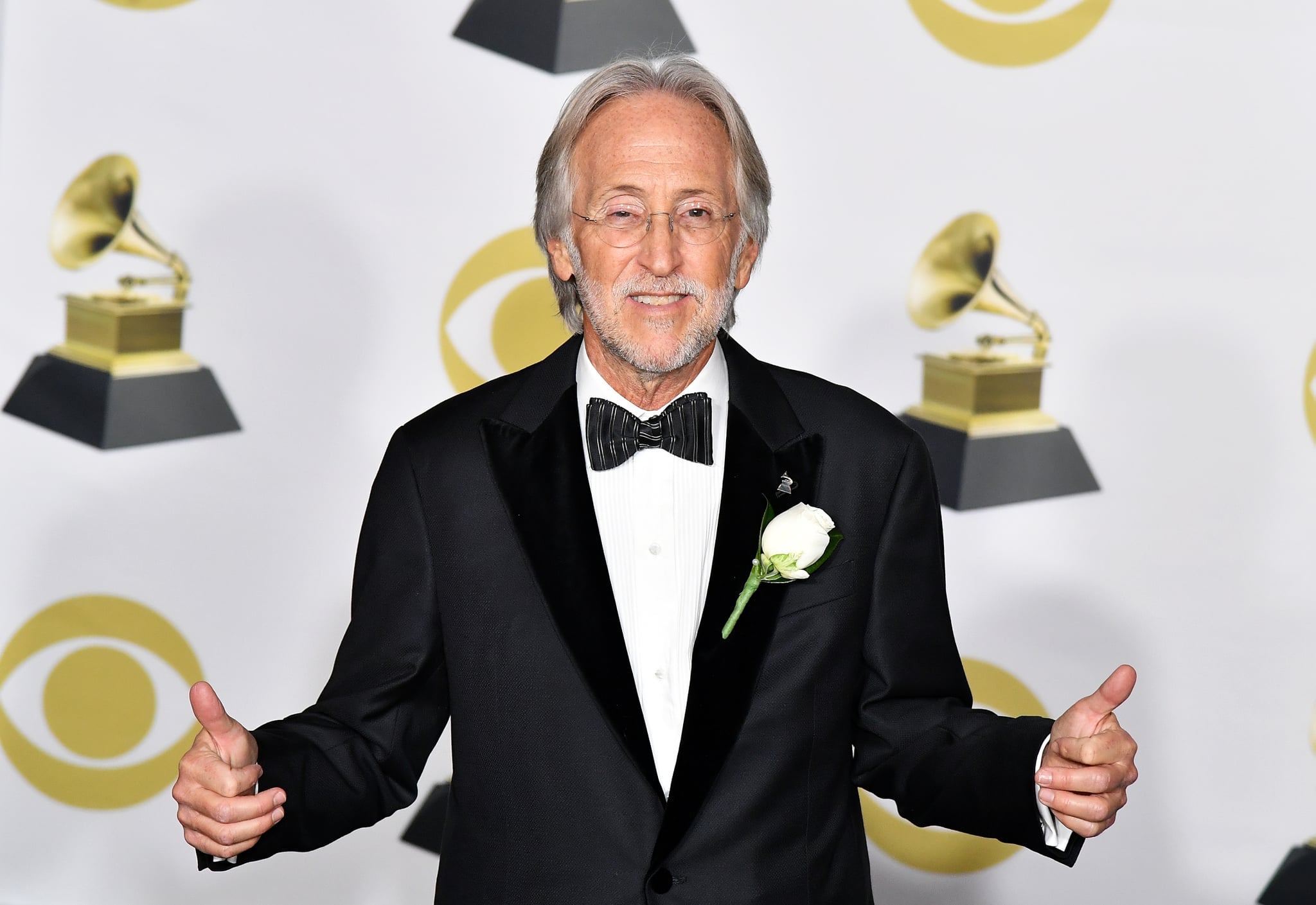 Pictured: Recording Academy President Neil Portnow. Image Source: Getty / Slaven Vlasic
I can only assume Portnow hasn't heard a single track off of Lady Gaga's Joanne, or a single second of Kesha's Rainbow.
The Grammys paraded people up and down their red carpet with white roses pinned to their lapels, but neglected to bring up #MeToo during the telecast, with the exception of Janelle Monáe, whose passionate introduction of Kesha's performance touched on "pay inequality, discrimination, harassment of any kind, and the abuse of power." Awarding Kesha with a Grammy for "Praying," which is about forgiving her rapist and surviving a waking nightmare, would have been the perfect opportunity to actually make those roses mean something. Not only that, but "Praying" is vocally stunning and Kesha's best work to date. In a similar vein, Gaga's "Million Reasons" is about recovering from devastating, life-altering heartbreak. Clarkson's "Love So Soft" is a soulful single from the first album she was able to make free from Clive Davis's control. Pink's "What About Us" is one of her most brutally honest tracks so far, complete with awe-inspiring vocals.
Sheeran's song is about the body of an anonymous woman in a club.
Best pop vocal performance wasn't the only major slip-up the Grammys made. Where was Lorde's solo performance? As the only female album of the year nominee, it was shocking to see her get zero stage time despite attending the show. A great deal of time was allotted for both U2 and Sting's solo performances, even though neither were nominated. Yes, Sting and U2 remain strong performers and fan favorites, but wouldn't those precious minutes have been better spent honoring one of the few women whose work got a high-profile Grammy nod this year? When asked about the decision to not to give Lorde a moment onstage by Variety, Grammys producer Ken Ehrlich deflected.
"I don't know if it was a mistake," he said. "These shows are a matter of choices. We have a box and it gets full. She had a great album. There's no way we can really deal with everybody." He also noted that things might change next year when Taylor Swift's Reputation becomes eligible for nomination, saying, "It wasn't her year. She was kind of off cycle. Hopefully we'll see her next year."
That's all well and good, but the Grammys don't need Taylor Swift in the building in order to give out a trophy to a female artist. Reputation is arguably the weakest of Swift's discography, paling in comparison to the emotional depth of Kesha's Rainbow and the lyrical ingenuity of Lorde's Melodrama. The fact those two albums barely made an impact on the Recording Academy this year is a tragedy, one that can't be fixed by flowers or pins.