Even Mariah Carey Was Sobbing Over Patrick's Wedding-Vow Song Choice on Schitt's Creek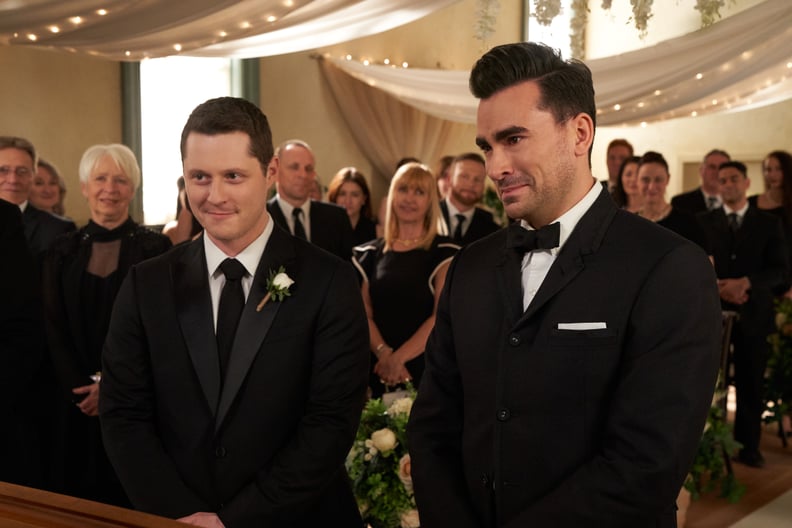 Pop TV
Pop TV
To be frank, I was a straight-up blubbering mess during the entire Schitt's Creek series finale, but my tears flowed the hardest when Patrick Brewer serenades David Rose with "Always Be My Baby" at their wedding. And it looks like the song's OG artist, Mariah Carey, had a similarly emotional reaction to the sweet moment.
In case you're waiting for season six of the Pop TV series to drop on Netflix and haven't watched the last episode yet, here's a quick recap of what goes down. David and Patrick's highly anticipated wedding day finally arrives, but it's torrentially downpouring, leading them to relocate their outdoor ceremony to the town hall. Alexis walks David down the aisle — wearing a white wedding dress, no less — as the Jazzagals sing "(Simply) The Best," the same Tina Turner tune Patrick sings to David at Rose Apothecary's open mic night. When it comes time for Patrick to share his wedding vows, he croons the second verse of Carey's 1995 hit "Always Be My Baby." The song choice is a subtle callback to when he tells David, "You're my Mariah Carey," after saying "I love you" for the first time in season four. *swoons uncontrollably*
The night the Schitt's Creek finale aired, Carey herself caught wind of it — likely due to the throngs of fans tweeting about it — and couldn't help but offer up her two cents on being included in David and Patrick's nuptials. "Spoilers!!!! But... OMG!!!" she tweeted, followed by several crying-face emoji — 11, to be exact. Welp, that pretty much sums up just how many tears I shed while watching it unfold IRL. I definitely need Noah Reid, the actor who plays Patrick, to release a full-length cover STAT.