9 Reasons Melisandre Could Bring Jon Snow Back to Life on Game of Thrones
01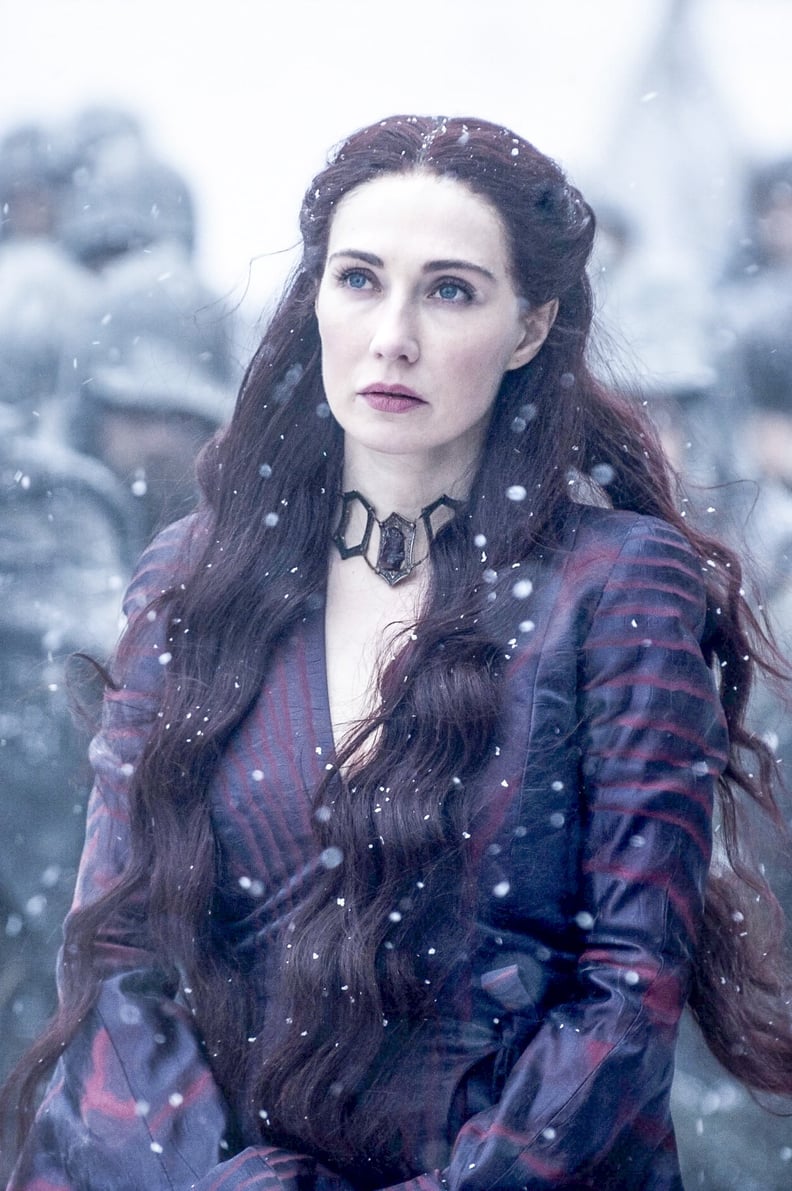 Melisandre Has Astounding Magical Capabilities
We've seen plenty of indications that Melisandre has magical capabilities, namely that crazy shadow demon she birthed to killed Renly Baratheon. In the season six premiere, though, we get an even more shocking reveal: she's centuries old, and she's been concealing her true appearance for as long as we've known her.
02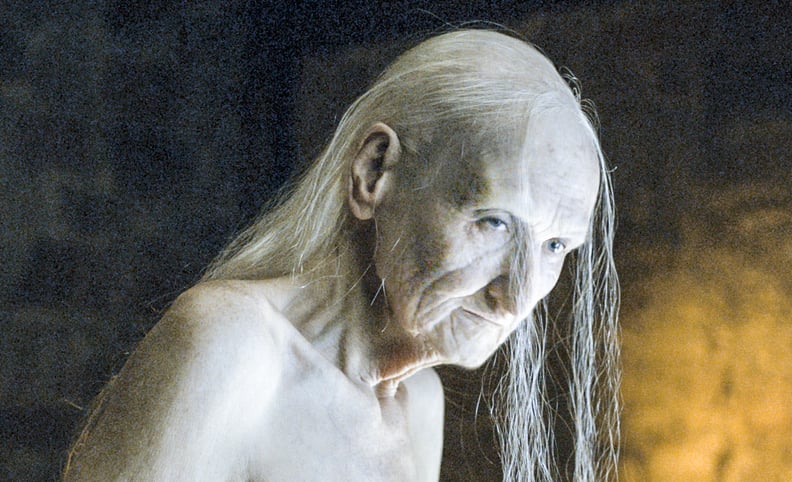 The Timing of Her Magical Reveal
This reveal should not seem arbitrary. Rather, the fact that we're getting an idea of her magical prowess right now is a good indicator that we'll see her use it on something this season. And that something could be Jon Snow. Otherwise, why would they be highlighting her prowess at a time like this? Ser Davos seems to drive the point home when he cryptically says, "You haven't seen her do what I've seen her do." This new reveal about her age makes one thing certain: we don't know the full scale of her magic.
03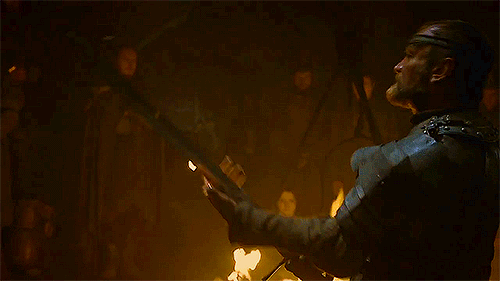 Resurrection Is Not a Foreign Idea in the World of Westeros
You might remember a character from earlier Game of Thrones seasons called Beric Dondarrion. He's the leader of an outlaw resistance known as the Brotherhood of Banners. In season three, the group has a direct run-in with Arya and The Hound. Arya accuses The Hound of murder, and Beric challenges him to trial by combat. However, when The Hound kills Beric, he's quickly revived by Thoros of Myr, a Red Priest who prays to the Lord of Light. Later, Thoros reveals he's resurrected Beric six times in total.
04
Melisandre's Status as a Red Priestess Makes Her Able Resurrect Jon Snow in the Same Way
Condsidering the fact that Melisandre prays to the Lord of Light and Thoros confirms that the Lord of Light can restore life, we're guessing you can finish the equation. Melisandre can utter the same prayer and reverse Jon Snow's tragic fate.
05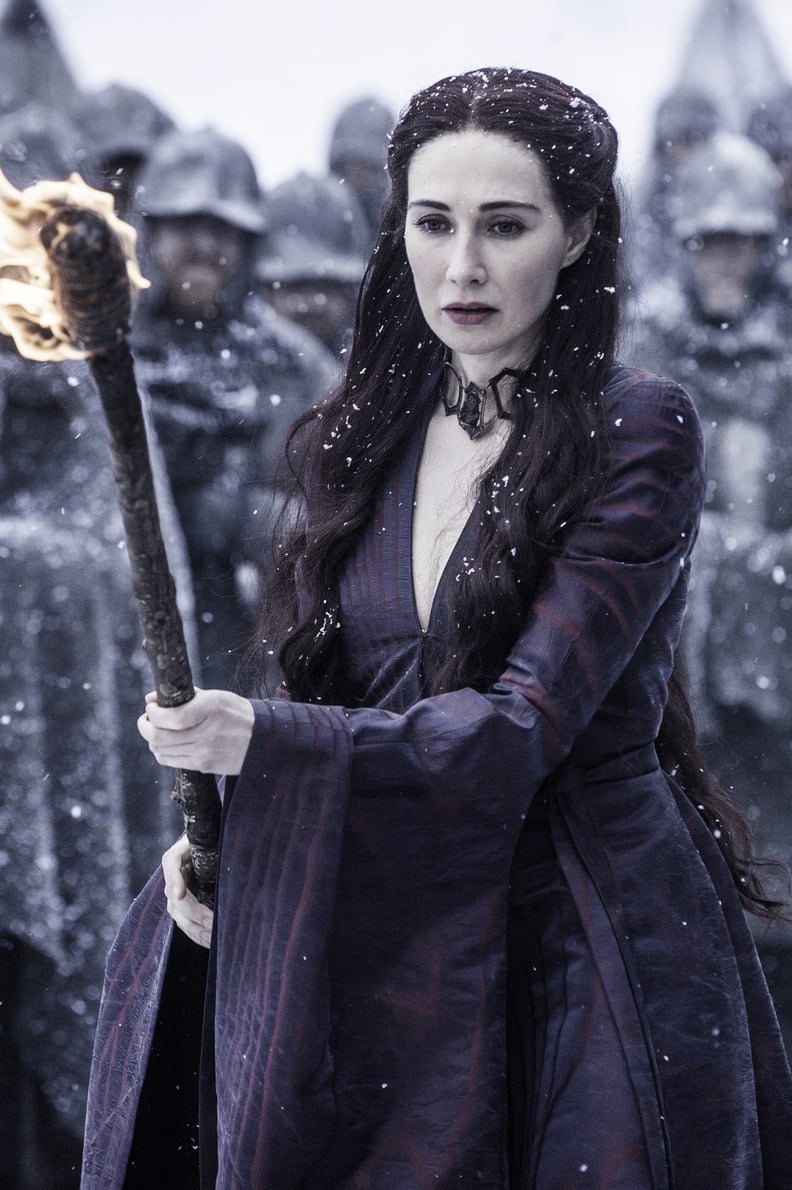 Jon Snow Seems Important to Melisandre
Remember back at the beginning of season five, when Stannis Baratheon and Melisandre arrive at Winterfell? In episode four, "Sons of the Harpy," Melisandre attempts to seduce Jon Snow. "This power in you," she says, "you resist it, and that's your mistake. Embrace it." She continues, saying their union could yield "power to make life, power to make light, and power to cast shadows." It's clear Melisandre sees a great deal of potential in Jon Snow. Consider the fact that her actions are constantly fueled by her belief in the Lord of Light, so this seduction likely has an ulterior motive behind it. If Jon Snow was so vital to her, we have a feeling she'd do anything to bring him back.
06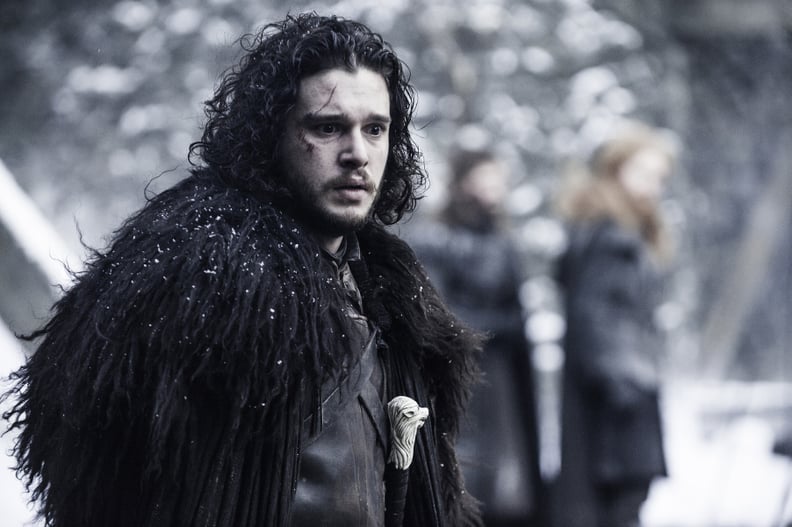 Melisandre's Many Visions of Jon Snow
One major part of the Sunday's premiere is just a passing moment. Melisandre appears especially crestfallen when she sees Jon Snow's corpse. "I saw him in the flames, fighting at Winterfell," she says. The fact that she thought he might still be alive — and the fact that the benevolent Lord of Light "showed" her Jon Snow in battle — suggests that he might not be all the way dead.
If you turn to the books, there's particularly striking passage when Melisandre again sees Jon Snow in her fire:
The flames crackled softly, and in their crackling she heard the whispered name Jon Snow. His long face floated before her, lined in tongues of red and orange, appearing and disappearing again, a shadow half-seen behind a fluttering curtain. Now he was a man, now a wolf, now a man again. But the skulls were here as well, the skulls were all around him. Melisandre had seen his danger before, had tried to warn the boy of it.
Here there seems to be a clear reference to Jon's ability to warg, or transfer his consciousness into another human being. In this case, we're assuming Melisandre is seeing Jon's direwolf, Ghost. The skulls and the flickering could signify Jon's death, which at this point has more or less been confirmed. Could Melisandre use her powers to help Jon in the warging process?
07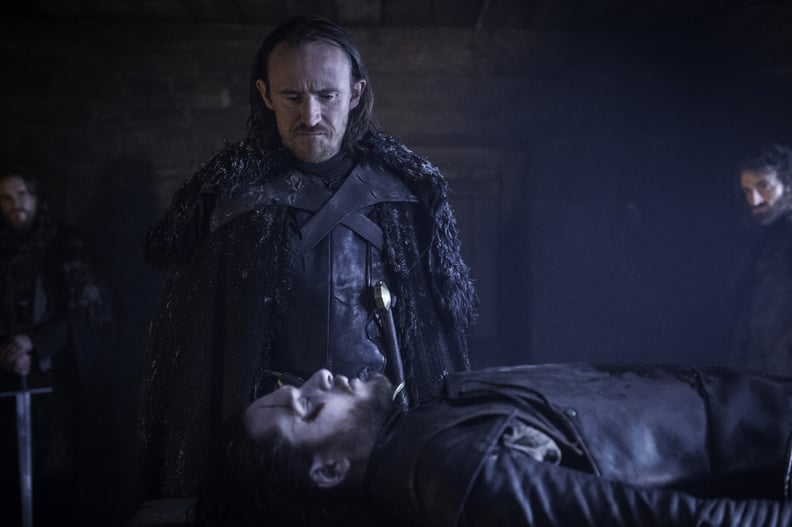 There Are Other Major Hints in the Premiere
At a time when so many other characters are facing terrible danger, the title of the premiere episode is "The Red Woman." The final moments of the episode, which are arguably always the most important, are focused on Melisandre and her transformation. This should not be taken lightly. Melisandre logically must play a big part in the episodes to come. And what bigger part is there than orchestrating the return of Jon Snow?
08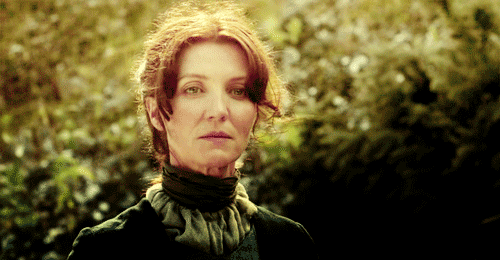 Jon Snow Could Be a Potential Opportunity to Incorporate Lady Stoneheart
Lady Stoneheart is one of the most intriguing characters in the Game of Thrones book series. Shortly after Catelyn Stark's murder, her body is discovered by none other than Beric Dondarrion. He bestows her with something called the "last kiss." It's a rite practiced by Red Priests; they fill a deceased individual's mouth with flames and breathe fire into their body, once again bestowing life. With that, Catelyn is alive again, albeit still looking quite unfortunately like a corpse. Her skin is soft and mushy, her wounds have not healed, and most of her hair is gone. The rest is stark white. Lady Stoneheart roams the lands of Westeros, exacting her revenge on those who betrayed her son, Robb Stark.
The showrunners have already sworn up and down that Catelyn would not return as Lady Stoneheart, but does that mean we could meet a similar character in another way? In case you think Jon Snow is too far gone to be resurrected, it's possible he could become a Lady Stoneheart figure in lieu of Catelyn. Melisandre seems quite equipped to perform the last kiss, seeing as she's a Red Priestess herself. On a thematic level, Jon Snow would absolutely have grounds to wander the world, seeking revenge.
09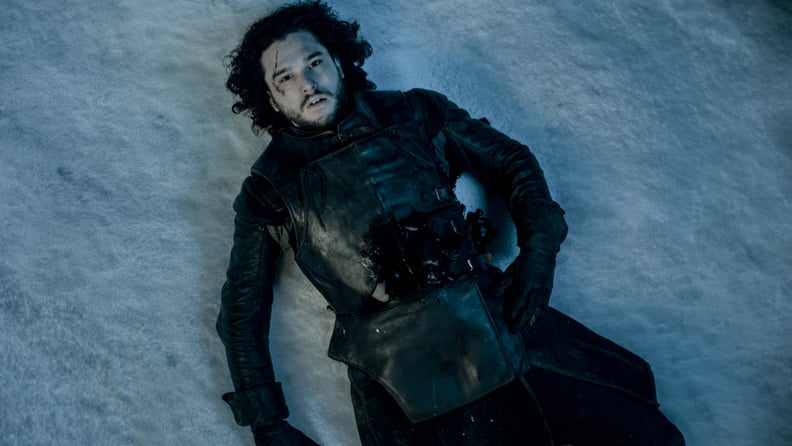 There's a Strong Possibility Jon Snow Is Azor Ahai, or The Prince That Was Promised
Bear with us on this one. The prophecy of Azor Ahai is probably one of the biggest in all of Westeros. According to myth, the Lord of Light has been battling against a force known as the Great Other since the beginning of time. During the last portion of this battle, Azor Ahai used a magical sword called the Lightbringer to defeat the evil. The prophecy states he will be reborn as The Prince That Was Promised to take out the Great Other once again.
Melisandre, who believes that The Prince That Was Promised will be "born amidst salt and smoke," originally pegged Stannis as the reincarnation of Ahai. But now, he's dead.
Here's where it gets interesting. If you follow the most popular theory about Jon Snow's parents, you'll know his mother and father are believed to be Lyanna Stark and Rhaegar Targaryen. As the theory goes, Jon was supposedly born during the battle at the Tower of Joy, which could easily correlate to the smoke Melisandre has seen. As for the salt? Some stories suggest Jon was born covered in the tears of Lyanna while she was dying, but it hasn't necessarily been confirmed.
There's one more interesting piece of this puzzle: the notion of the Lightbringer. According to the prophecy, "a warrior shall draw from the fire a burning sword." You might recall how Jon Snow burns himself badly in season one, while pulling a sword from the fire to protect Jeor Mormont, the lord commander of the Night's Watch. It's possibly Melisandre sees Jon Snow as the new potential vessel for The Prince That Was Promised. Perhaps his death is the perfect way to ensure Azor Ahai is reborn. And if the death isn't in the cards, it seems Melisandre would do anything to fulfill the prophecy, including pulling Jon back from the trenches of his demise.