What Happened Between Tayshia Adams and John Paul Jones?
A Quick Refresher on Tayshia Adams and John Paul Jones's Whirlwind Relationship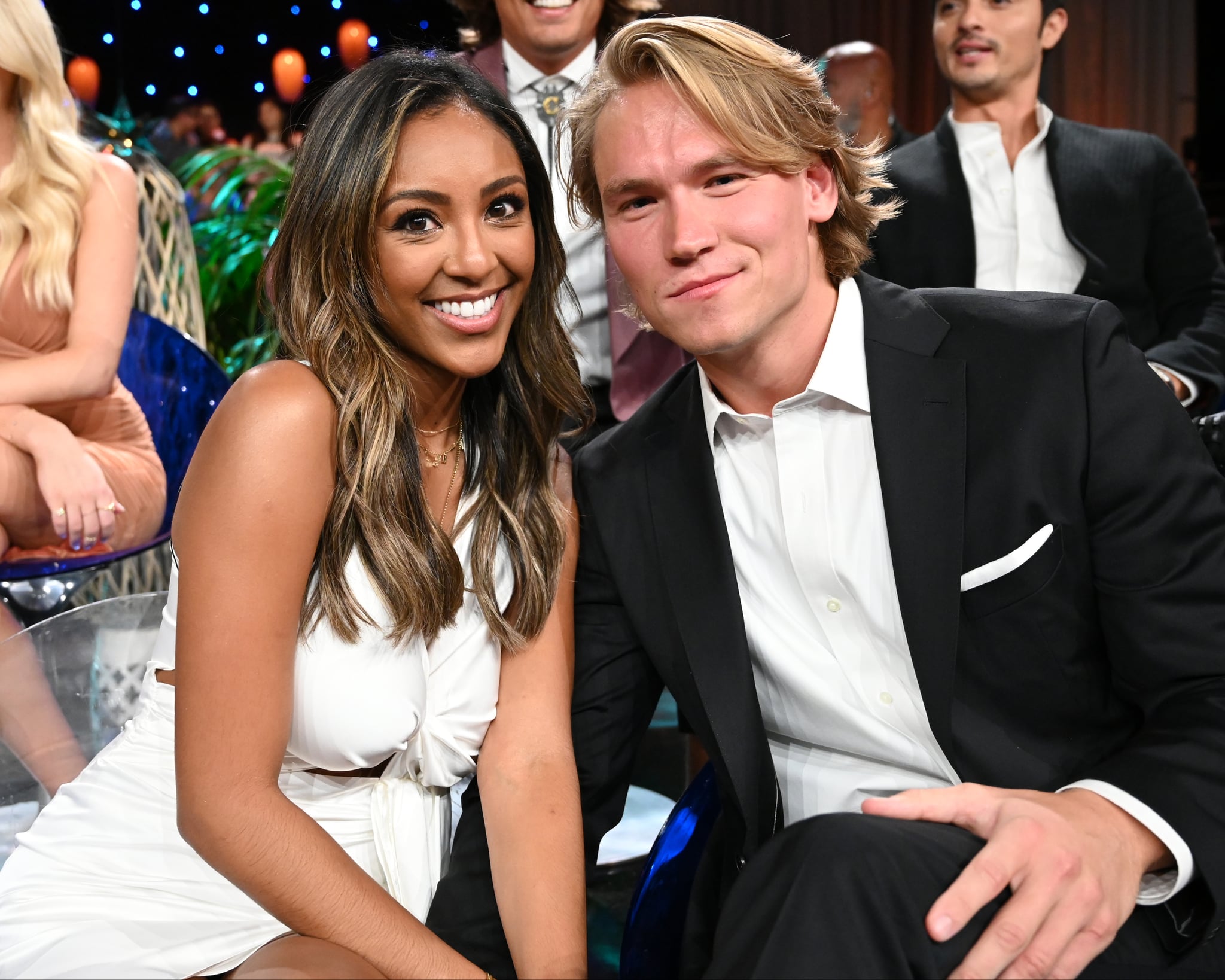 Rumors are swirling that Tayshia Adams will step in as the new Bachelorette lead following Clare Crawley's reported exit from the show, and although ABC has yet to officially confirm anything, we can't help but get excited to see Adams possibly have another shot at love. The last time we saw the 29-year-old dole out roses was on season six of Bachelor in Paradise, during which she formed a somewhat unexpected bond with Bachelor Nation's favorite chicken-nugget-loving goofball, John Paul Jones.
If you recall, the pair didn't connect from the get-go on the shores of Playa Escondida in Mexico — Adams started the season romantically interested in Derek Peth, while JPJ went on his first date with Tahzjuan Hawkins. But once Adams moved on from Peth and connected one on one with Jones, a carefree, zero-drama relationship ensued, and viewers rooted for them each week.
The duo wound up calling things quits — on two separate occasions — but it doesn't seem like there's any bad blood between them. Shortly after the news broke of Adams's potential Bachelorette takeover, Jones told Us Weekly that he's "really happy" for his ex and hopeful that her "new journey" results in true love. Aww! If you're still not over Adams and Jones's sweet, whirlwind romance either, you can refresh your memory on the full timeline and details ahead.
Why Did Tayshia Adams and John Paul Jones Break Up on Bachelor in Paradise?
Adams and Jones were seen as one of the strongest couples in Paradise — they never argued, and their chemistry was palpable — but things changed when Jones admitted that he was in love with her. When he professed his feelings during the season finale, Adams said she couldn't reciprocate and that Jones didn't know what he truly wanted in a partner. "To hear that you're in love with me, I wanna get there, but I'm not there yet," Adams said. After sharing a tearful embrace on the beach, the two left the resort separately.
When and Why Did Tayshia Adams and John Paul Jones Break Up For Good?
Let's fast forward to the Bachelor in Paradise reunion special in September 2019. Adams revealed that she had flown out to Maryland to talk with Jones a few weeks after filming wrapped because she realized she'd made a big mistake. "I talked to my mom about it and I decided I wanted to go after him . . . I'm a bold girl," she told host Chris Harrison. The two reconciled and chose to give their relationship a go in the real world, with Jones asking her to be his girlfriend on the spot.
It unfortunately didn't last long. Six weeks after the reunion special aired, Adams announced that she and Jones had split again due to the geographic distance between them. "The reality was, we were living on opposite coasts, and working insane schedules that made it impossible to see each other and build a life with each other," she wrote in a since-deleted Instagram post. "We truly did the best we could, but at this time have decided that what is best for the both of us is to go our separate ways. We are the best of friends and will continue to remain in each other's life because regardless of the situation, we make each other happy."