Basketball Player Skylar Diggins-Smith "Just Wanted to Be Isolated" After She Gave Birth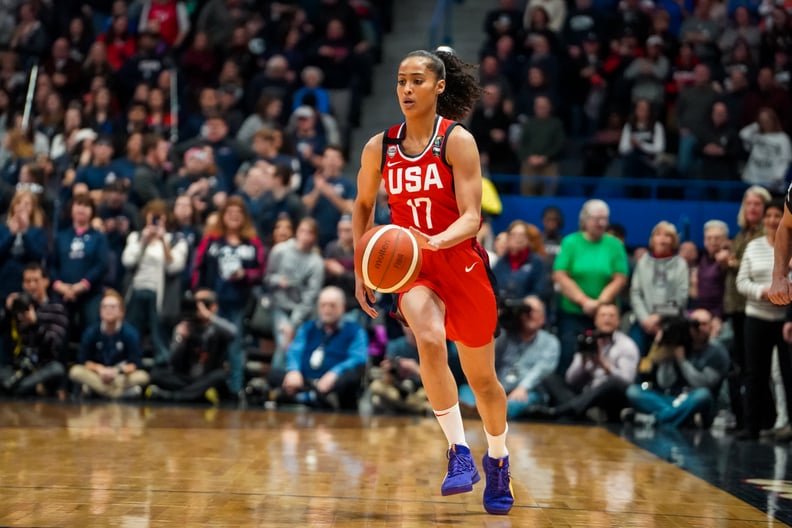 USA Basketball
USA Basketball
Update: Since this article was originally published on Feb. 11, news broke that Skylar Diggins-Smith was traded to the Phoenix Mercury.
The WNBA's Skylar Diggins-Smith revealed in October 2019 that she played the entire previous season of professional basketball while pregnant — she shared the news of her pregnancy less than two months after the Dallas Wings' final game in 2018. The US national team member and four-time All-Star point guard, who's going into the 2020 WNBA draft as a free agent, then gave birth to her son the following Spring and sat out the subsequent 2019 season. The mom of one told POPSUGAR that while she was on this break, she was going through postpartum depression.
Skylar, 29, admitted after a national team practice at the Nike NYC headquarters in January that, for her, being a new mom struggling through hard-to-describe darkness was difficult because she was never the type of person to ask for help. And, though her son was healthy and well taken care of, she "wasn't feeling right." Looking back, she compares the feelings to being in a cave — she would have separation anxiety and wouldn't leave her son's side. Additionally, she wouldn't eat or sleep and often didn't want people around her or her son. She "just wanted to be isolated," above anything else.
"Your mental health is your responsibility. You can't pour out of an empty cup."
Skylar said she felt guilty during this time because it was supposed to be the happiest of her life, but instead, it seemed to be the opposite; she was in a dark place. Despite the fact that she has struggled with anxiety her whole adult life, she said she never felt anything like this before. According to a tweet she shared last Fall, she spent a full two months "away from everything" due to postpartum depression.
However, after getting into a routine and slowly starting to regain confidence, Skylar said she woke up one day feeling better. "I still struggle with anxiety . . . that's never going to go away . . . but I don't think it's about that. It's how you manage it and how you choose your outlet," she told POPSUGAR. For her, that was her support system: her teammates, mom, husband, and best friends who were "a shoulder and an ear when I needed it." They also, she explained, "understood that my isolation had nothing to do with them. So they allowed me to come to them."
Although therapy wasn't something Skylar sought out — she said she wasn't comfortable sharing what she was going through with the team therapist at the time — she stressed the importance of seeking guidance from a professional or people in your inner circle. "I just encourage anybody that feels like they're going through that . . . don't be afraid to ask for help," she said, adding that she knows every case of postpartum depression is different but that "your mental health is your responsibility. You can't pour out of an empty cup."
There are so many mothers in the WNBA, Skylar said, but she and others haven't felt as supported as they needed to be. Under a new eight-year collective bargaining agreement (CBA) between the WNBA and the Women's National Basketball Players Association, expectant mothers will be able to get their full salaries while on maternity leave — under the old deal, they received as little as half. Last year, though, Skylar said she received her whole salary because she was still signed to Dallas and originally had plans of going back.
Players with children will receive a $5,000 annual childcare stipend and a two-bedroom apartment. Plus, there will be up to a $60,000 reimbursement for veteran players paying for family-planning-related costs such as adoption, surrogacy, and egg freezing. Skylar is glad that the new CBA takes mothers into account more, as she's advocated for these types of changes and, to her, it's a step in the right direction. (Read more about what she had to say regarding the new CBA here.)
Skylar will find out if she's made the roster for the Tokyo 2020 Olympics in the Spring — it would be her first Olympic Games. And, in terms of where she aims to end up for the 2020 WNBA season, Skylar said she's looking to play for a team and organization that has the resources to support the longevity of her career. Most importantly, she noted, "I want to go to a place that is the right fit for my husband and my son and our family . . . where we can grow."